Diversity And Inclusion
In the first six months of 2019, the Pulitzer Center made significant progress in supporting a diverse roster of grantees whose reporting appeared in international, regional, and local outlets.
From January through June of this year, 50 percent of Pulitzer Center journalist-grantees and student fellows self-identified as female, 32 percent self-identified as male, and 1 percent self-identified as non-binary. Forty-one percent of our grantees self-identified as non-white. The graphs above compare 2019 YTD with 2018 grantee diversity data. 
Journalism Impact
In the second quarter of 2019, Pulitzer Center-supported projects led to government investigations, policy changes, and even community-level impacts. Highlights include: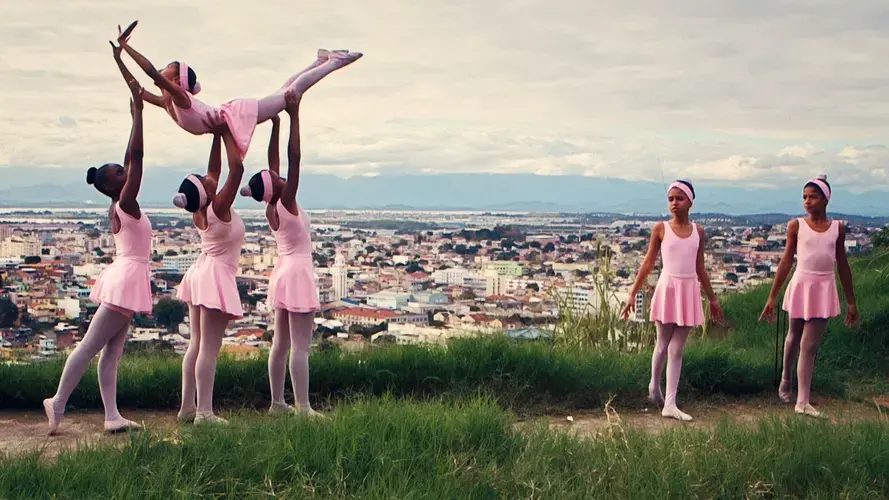 Pulitzer grantees Frederick Bernas and Rayan Hindi's documentary for VICE,  "Dancing Through Gunshots in Brazil's Favelas," about a makeshift ballet school for girls in a Rio de Janeiro favela, inspired a crowdfunding campaign that raised enough money to build a permanent community center for the young dancers.
"Construction on the community center began at the end of February and is finally taking shape," Bernas wrote in a recent update on the school for VICE. "This couldn't have happened at a more important time, as right-wing authorities have been sanctioning brutal police violence across Rio, and this building will act as a sanctuary for [the teacher] and her students."
In a recent episode of Patriot Act, a popular weekly comedy show on Netflix, comedian Hasan Minhaj used Pulitzer Center grantee Sam Eaton's PBS NewsHour story "Amazon Forest Guardians Fight to Prevent Catastrophic Tipping Point" to highlight growing threats to Brazil's Amazon rainforest. The video clip was watched more than 800,000 times on YouTube.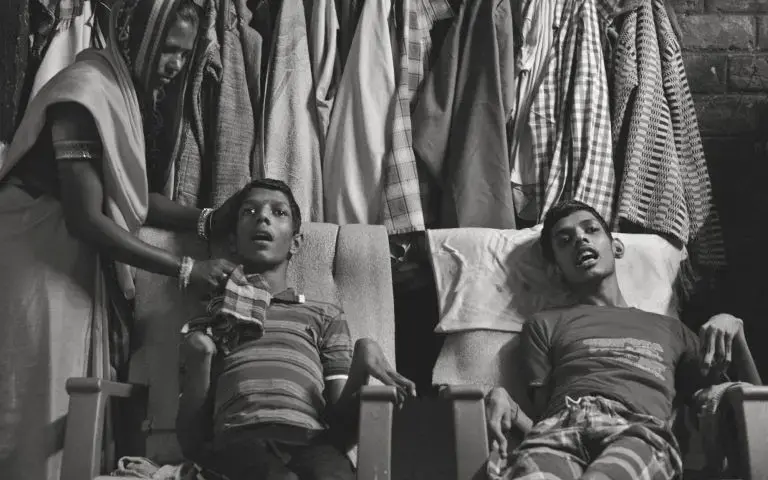 Rohit Jain's Pulitzer Center-supported reporting on children disabled by the Bhopal gas tragedy for The Hindu was used by Bhopal Medical Appeal in its campaign to pressure the Indian government to extend welfare rights to affected children and families. 
---
After Krithika Varagur's Pulitzer Center-supported project "Foreign Influence in the Balkans" ran in POLITICO and The New York Review of Books, the U.S. National Security Council asked her to share deeper insights from her reporting on jihadism in the Balkans.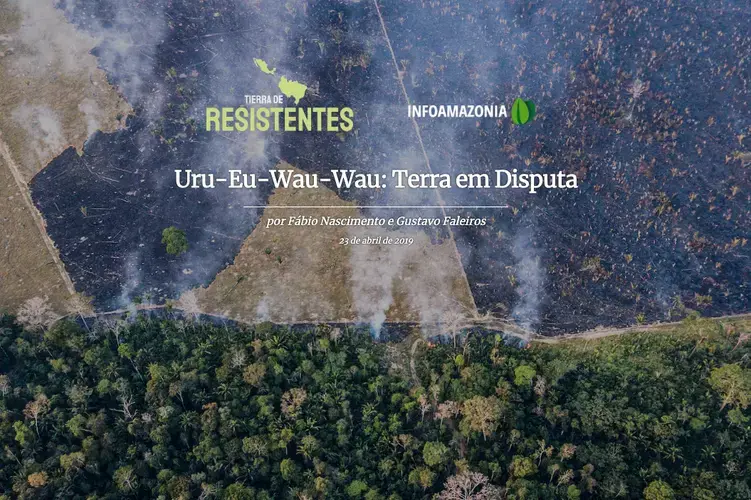 InfoAmazonia, a network of journalists in nine countries, partnered with Colombia's Consejo de Redacción and others for a six-month investigation to expose economic and political drivers of violence against environmental defenders in Latin America.
The result was 16 in-depth stories and a database compiling 1,357 attacks over the last decade. The Rainforest Journalism Fund and the Pulitzer Center were among the supporters of the project, which got wide attention across the Amazon region. The New Yorker credited the project with raising awareness of seizures of indigenous lands by powerful interests seeking to commercially exploit the Amazon rainforest.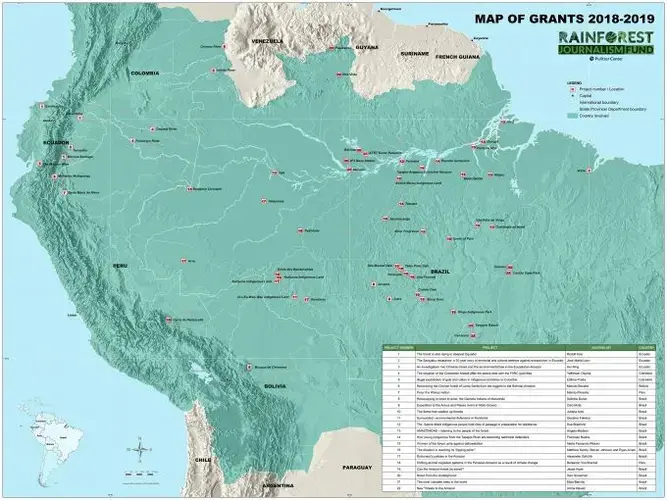 The first convening of the Rainforest Journalism Fund in Manaus, Brazil, in July brought together 80 journalists from around the region to share their reporting on the Amazon, learn from each other, and discuss common issues. Since the initiative's launch a year ago, RJF and the Pulitzer Center have supported 22 in-depth and ambitious reporting projects for Latin American and international news outlets.
Education, Outreach, And Student Fellows
So far this year, the Pulitzer Center has organized nearly 500 events in K-12 schools, colleges, and public venues to showcase and help audiences learn from our grantees' reporting on systemic global problems and solutions, reaching at least 17,000 people. Highlights include: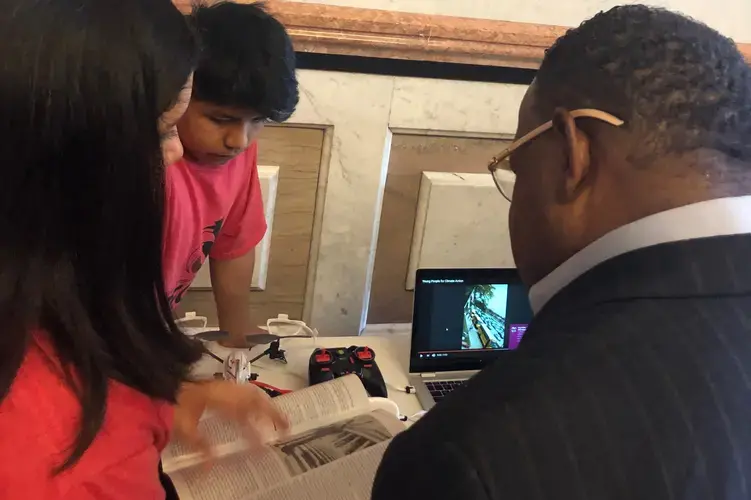 Students from London Middle School in Arlington Heights, Illinois, who studied Nathaniel Rich's project "Losing Earth" for The New York Times Magazine, were inspired to turn their school into a "no-idling zone," where cars and buses are not permitted to run their engines while they wait for pickup and drop-off.
They presented the article and their initiative to Julie Morrison, a state senator, who started drafting legislation for "No-Idling Zones" at schools across Illinois. 
---
San Francisco District Attorney George Gascón cited Pulitzer Center grantees Brian Frank and Justin Maxon's project, "Visions of Justice," a photography workshop for court-involved individuals, as deeply affecting policymakers in San Francisco and encouraging them to think of new solutions. The workshop, supported by the Pulitzer Center in partnership with Project Rebound and CatchLight, has led to Frank and Maxon teaching inside of juvenile detention facilities and schools in areas that are disproportionately affected by mass incarceration. California Sunday Magazine produced a major feature with students from the workshop and did a behind-the-scenes feature on the students who reported on their own communities.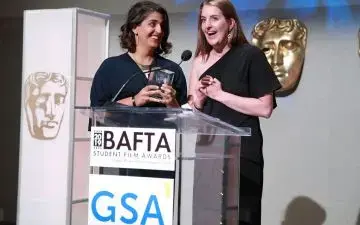 In June, Pulitzer Center 2018 student fellows Ingrid Holmquist and Sana Malik were awarded the BAFTA Student Film Award for Documentary in Santa Monica, California. Their film, Guanajuato Norte, tells the story of a migrant farm worker in Connecticut and the family he left behind in Mexico.
A feature-length documentary by Erin McGoff, an American University graduate and former Pulitzer Center student fellow, got its world premiere at the Landmark Bethesda Row Theater this month. This Little Land of Mines, which got seed funding from the Pulitzer Center, looks at the long-term effects of U.S. bombing in Laos during the Vietnam War—and the 80 million unexploded ordnances that remain. It is a nominee for Best Feature Documentary at the Stockholm Independent Film Festival and an official selection of the Mill Valley Film Festival. It will screen in Dallas, Vermont, Arizona, California, and Barcelona, Spain, and has been picked up by Journeyman Pictures.