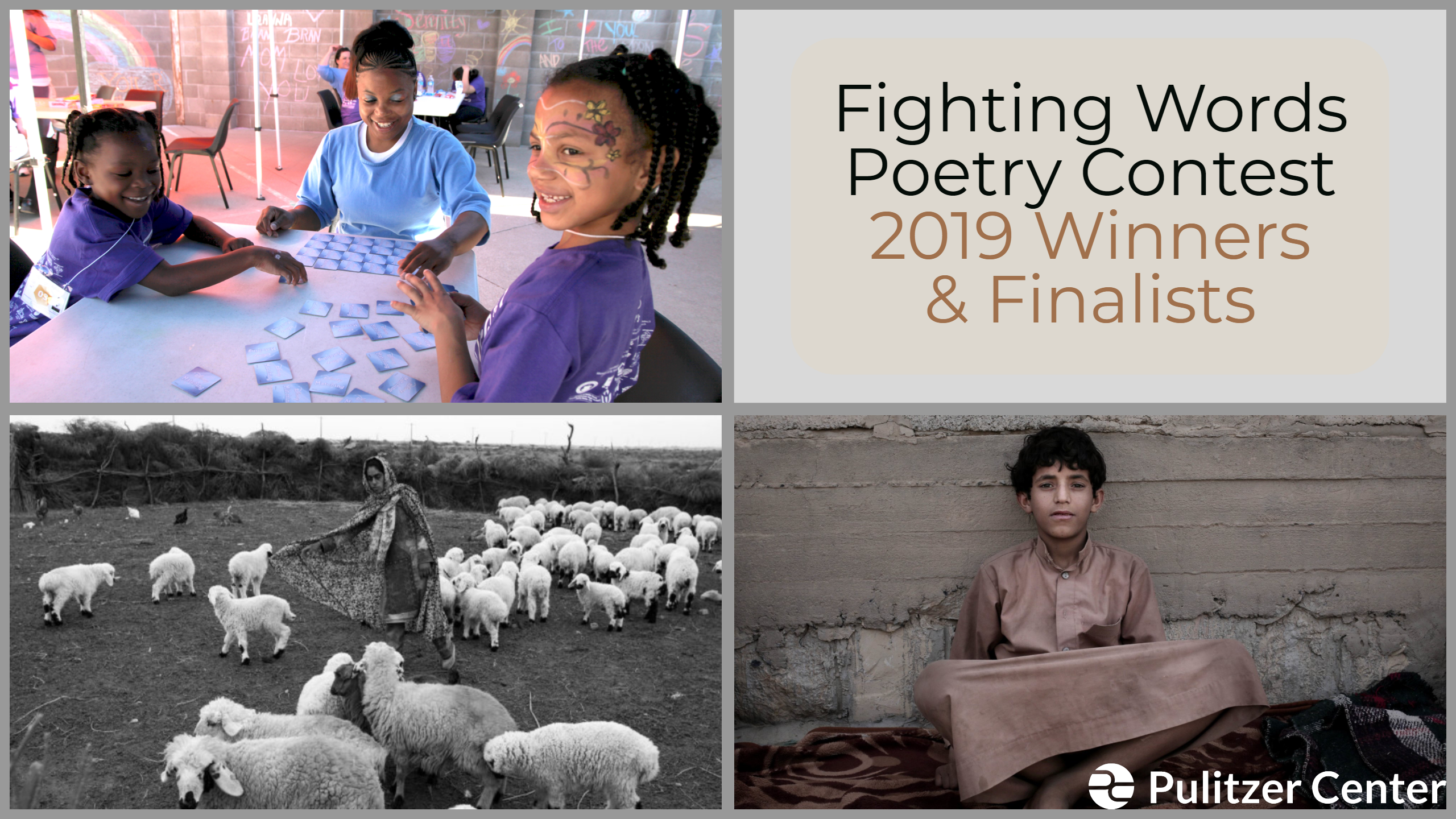 The Pulitzer Center congratulates the 2019 Fighting Words Poetry Contest winners and finalists!
These eleven exceptional poets, whose work and bios appear below, were selected from among 275+ entrants from 21 U.S. states and five countries. These young people have used poetry to effectively connect global issues with their local and personal contexts, amplifying pressing under-reported stories while also making their own distinct and necessary voices heard.
Contest Winners:
1st Place:
The Joy of Togetherness by Taylor Jamie Yarns
11th grade, City Honors School, NY
Comments from judge Seema Yasmin: Moments of tenderness and moments of quotidian horror clash in this stunning poem. It hurts to read The Joy of Togetherness, to imagine the toothy smile destined for the milk-carton photo.
2nd Place:
Cholera Laughed by Eugene Jang
10th grade, Gyeonggi Suwon International School, South Korea
Comments from judge Seema Yasmin: This poem drips terror and rage across the page. With urgency and lyricism, Cholera Laughed confronts the easy biology of an organism as it charts its course across borders and membranes, and questions the humanity of those who fuel contagions.
3rd Place:
Dining on Paradox by Audrey Dinh
5th grade, Cold Spring Elementary School, MD
Comments from judge Seema Yasmin: Is it a fish or is it our future? This stunning poem awes with a lightness of touch and a matter-of-factness about who we are, what we eat and where we are headed.
Finalists:
The Dream Houses by Taylor Fang
11th grade, Logan High School, UT
Gone by Sarah Tumblin
6th grade, DC International School, DC
The Fury Inside Me by Prisca Afantchao
10th grade, Windsor High School, CT
A Tale of Colliding Lives by Casey Chapman
11th grade, New Tech Academy @ Wayne High School, IN
Peace, Pieces by Cindy Phan
11th grade, Skyline High School, UT
orchids by Emma Lee
6th grade, James Weldon Johnson College Preparatory Middle School, FL
A Language All Their Own by Amaela Bruce
11th grade, New Tech Academy @ Wayne High School, IN
Bag of Bones by Kristen St Louis
10th grade, Ethel Walker School, CT
---
Thank you to contest judge, Dr. Seema Yasmin. Entries were judged based on the success of the poem on its own terms (craft, linguistic style, emotion, etc.) and successful inclusion of lines quoted from a Pulitzer Center story. All identifying information was removed from the poems before being presented to the judges.
This contest is the result of Pulitzer Center education programming. In April and May, education team staff led workshops for over 800 K-12 students in Chicago, Winston-Salem, and Washington, DC, and teachers have independently guided student writing in classrooms worldwide. Students considered how journalism and poetry can be effective responses to current events and wrote poems in conversation with Pulitzer Center news stories. You can view the workshop guide here and stay up to date on education opportunities and resources by signing up for our weekly education newsletter.