Gone
By Sarah Tumblin
6th grade, DC International School, DC
With lines from "How Climate Change is Affecting Iran" by Claire Potter and Ako Salemi
Forced to move away
with nowhere to escape from the dry desert.
A problem you never thought would reach you yet
its fingers seem to graze by your home,
sucking up the water, leaving a dry, empty desert.
You look out the window to see people fleeing from the
nothingness left, leaving with the water,
leaving you behind, everything deserted.
Completely gone.
Those words ring in your head, and you
realize how much you take the drops coming
from the sky, hitting your roof, for granted—
now gone.
But now, all you feel is the heat of the sun,
brushing your shoulders,
pushing the water you once had out.
Those problems have returned, the carefree days
gone.
The environment has become so unfriendly.
Tourists splashing in the lake, now gone.
Now a cracked, salty desert.
The reflection on the clear blue water, now gone.
Sandstorms which bury villages and destroy farms
The town you grew up in, the memories you had, now gone.
Industries left with the water.
The shop your dad owned,
the farm your uncle had, now gone.
Way of life depends on those disappearing lakes.
You get sick and tired of the emptiness you feel inside,
the nothingness you feel and you pack up your things and leave.
You look at your home one more time,
internalizing the changes.
You turn away.
You too are gone.
---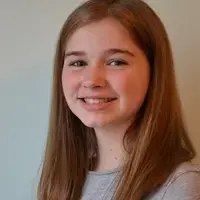 Sarah Tumblin is a rising seventh grader at DC International Public Charter School, class of 2025. She loves to read and write. This year, thanks to various writing assignments, she has discovered an affinity for writing poetry. She also plays the viola and for the last three years has been a member of the Maryland Classic Youth Orchestra of the Strathmore Music Center.
Read more winning entries from the 2019 Fighting Words Poetry Contest