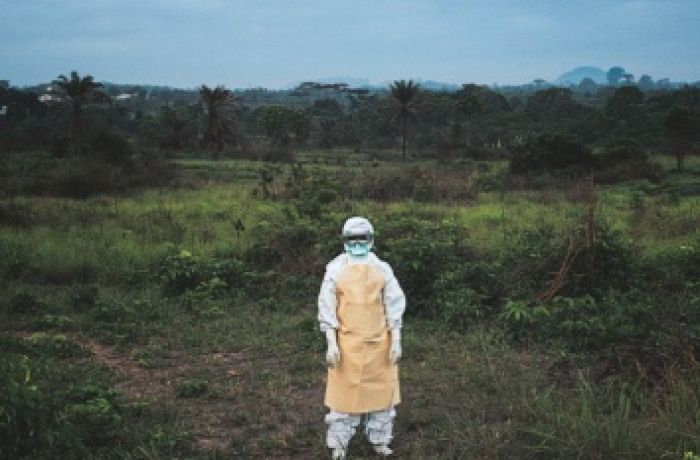 On Sunday, January 31, 2016, Al Jazeera America broadcasts In Ebola's Wake, the latest documentary by Pulitzer Center grantee Carl Gierstorfer. The documentary depicts the deep societal effects of Ebola and focuses on the struggles locals face long after international aid agencies and news outlets have gone.

"In Ebola's Wake" is set to air on Al Jazeera America at 10pm EST on January 31.

"I always had an interest in diseases and also how diseases not only affect people, but also how diseases affect communities and often change history," Gierstorfer, a German filmmaker with a background in biology, said during his "Meet the Journalist" video for the Pulitzer Center.

Through the story of one Liberian resident, the filmmaker illustrates the emotional toll of the disease on those who lived to see Ebola's aftermath.

Stanley Juah, an Ebola survivor, lost his entire family because of one decision he made at the height of the outbreak. Despite a strict quarantine order, Juah brought his son, a suspected Ebola patient, from Monrovia to his home village of Taylor Town. A few days later, Juah's son began showing signs of the illness and ultimately infected other residents of the village. As a result, 14 people, including Juah's son, died.

Villagers blamed Juah for the deaths and excommunicated him from Taylor Town. In Ebola's Wake follows Juah's journey of atonement as he tries to reconcile with his neighbors.

The inspiration for the documentary stemmed from a desire Gierstorfer and producer Antje Boehmert had to create a human interest piece about the virus. They knew the film would have a quick turnaround—it only took them 13 months to make the documentary—but decided to pursue the project because they saw the importance of producing an intimate portrayal of the community in crisis.

"I wanted to understand how it feels to be in the midst of this outbreak," Gierstorfer said.

He also wanted to go beyond the typical coverage of science or investigative news and give a voice to the Liberians.

"I had the feeling that often when these things happen, especially in Africa, the focus is on the international relief effort," Gierstorfer said. "But at the end of the day, the people who are affected, the people who do all the work… and the people who stay behind are, of course, the people on the ground. And, in this case, it was the Liberians."

In Ebola's Wake has been broadcast since late December 2015 in four countries under the title "We Want You to Live: Liberia's Fight Against Ebola." An interactive web documentary, useful as an educational resource, also has been developed.
RELATED ISSUES