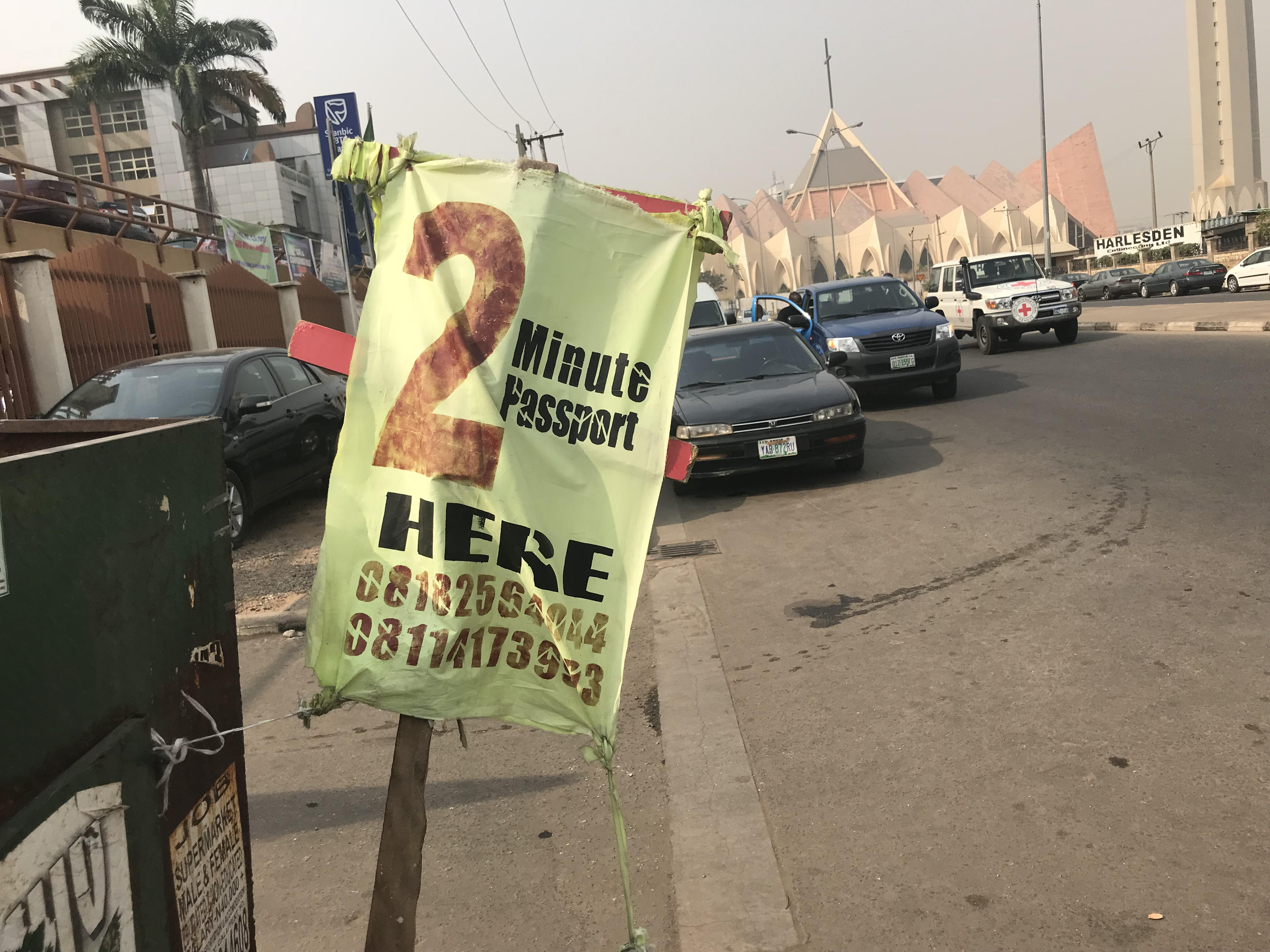 In January, I traveled to Makurdi, Nigeria, with a still photographer shooting pictures for a Science magazine feature I was writing about HIV/AIDS in the country, a three-person crew from the PBS NewsHour working on companion video pieces, a driver, and a four-person security team that had its own follow car. Moving from place to place with an entourage in remote Nigeria is a recipe for being late, so we stressed to our hotel that we needed breakfast served by 7 a.m. sharp. The first day, only about half the meals arrived on time, which I didn't learn until that afternoon when our guards complained of hunger. So that evening, I pleaded with the hotel staff to meet our deadline the next morning.
My phone rang at 4:49 a.m. "Mr. Joe, your breakfast is ready."
"It's 4:49 am," I said, not bothering to point out that my name isn't Joe. "We're not supposed to have breakfast until 7."
"Oh. Is this a problem?"
"It's 4:49 am."
"Oh. So this is a problem. You want breakfast at 7?"
"Yes, that's what we arranged."
"Oh. Can you tell your brothers?"
At 5:44 am, I received a text from an outreach worker we were meeting that day who asked me what time we were leaving, and I then noticed an earlier text from his boss that said, "Sorry I think there is a mix-up with time."
English is the common language in Nigeria, and I did not expect to have difficulty communicating. But in Nigeria there was a "mix-up with time," again and again and again. It goes far beyond appointments.
I've worked in many developing countries, most of which have wobbly infrastructures that are linked to a looser sense of timing. I live on the border of Mexico, where mañana culture is enshrined and locals routinely ask visitors why they're uptight about time. We also have fill-in-the-blank Standard Time jokes that tie running late to countries, religions, genders, and even individuals. Nigerians, in short, aren't the only ones who have a peculiar relationship with clocks. But there is something distinct—and distinctly comic—about their sense of timing.
Even official times, as in scheduled airplane flight departures from major carriers, are flexible. Our trip began in Lagos—we flew to Abuja and then drove to Makurdi. When we arrived at the Lagos airport at 6:30 a.m. for the 8 a.m. flight to Abuja, I asked at the check-in counter whether it was on time.
"Yes, all is well," the agent said.
We went through security and listened to flight after flight being called on the loud speaker. I finally asked the airline rep when we would be boarding the Abuja flight. She looked at my ticket. Probably 7:30 or 7:40 she said. At around 7:45, I went up to her again. Oh, that flight leaves at 8:50, not 8, she said. But our tickets said 8.
"They changed it yesterday," she said, altogether ignoring our earlier conversation.
"Yesterday?"
"Yes, you must have been notified."
"No, I was not."
"Well, it's on time," she said.
We left at 8:50, which I suspect was documented as an on-time departure.
At our topnotch hotel in Abuja, I received a phone call at 1 a.m. from the front desk. I stumbled across the room to reach the phone, smashing my toe on an incongruous step. "Your laundry is ready, sir."
"My laundry? What time is it?"
"1 a.m. Your colleague said you were leaving early. May I deliver it?"
We were leaving at 7 a.m., but what could I say? I put on a pair of pants, and soon was thanking the kind man for delivering my clean clothes.
Driving through downtown Abuja, we passed an advertisement in front of a store front that said, "2 Minute Passport here." Now of course the shop owners may simply have forgotten to include the word "photo" after passport. Or maybe not.
Most perplexing of all, in many interviews, a chronological confusion occurs.
I'm 27, a woman says, and when I then say, so you were born in 1990, she says, no, 1988. So you're 29. Yes, that's what I said, she says.
My baby is 2 months old, another woman tells me. Later, someone comments that the mother looks terrific for having given birth only 2 weeks ago.
We visited an Internally Displaced Persons camp in Abuja and met with a woman who came there after Boko Haram killed her husband. She told me she had three kids, the oldest being 9. She said she was 21. Her first child, she insisted, was born in 2007. But that means her oldest would be 10 or 11, and she would have been 10 or 11 when she gave birth, which seemed improbable. I was with a translator and so we switched from English to the woman's native language, and nothing became clearer. The translator finally explained that people from the displaced woman's home village don't track time that carefully, which of course makes perfect sense, but still complicates attempts to tell her story.
I concluded that it's often safest to elide or altogether dodge the details around the when, and put more emphasis on the who, what, where, why and how.
As the video cameraman for the NewsHour has taught me, I personally suffer from a disease called time optimism. I cut things too close. I stack up too many interviews in a day, which is especially dangerous in cities like Lagos where a one-mile drive can take an hour. I have difficulty accepting that in many countries, arriving at an airport one-hour before a domestic flight is asking for trouble. I often draw up the schedule for the team, and I forget to budget in time for lunch. I forget how long it takes to go through the meet-and-greet formalities at each new place I visit. Time and time again.
So at the end of the day, who am I to complain about Nigerian Standard Time?
RELATED ISSUES