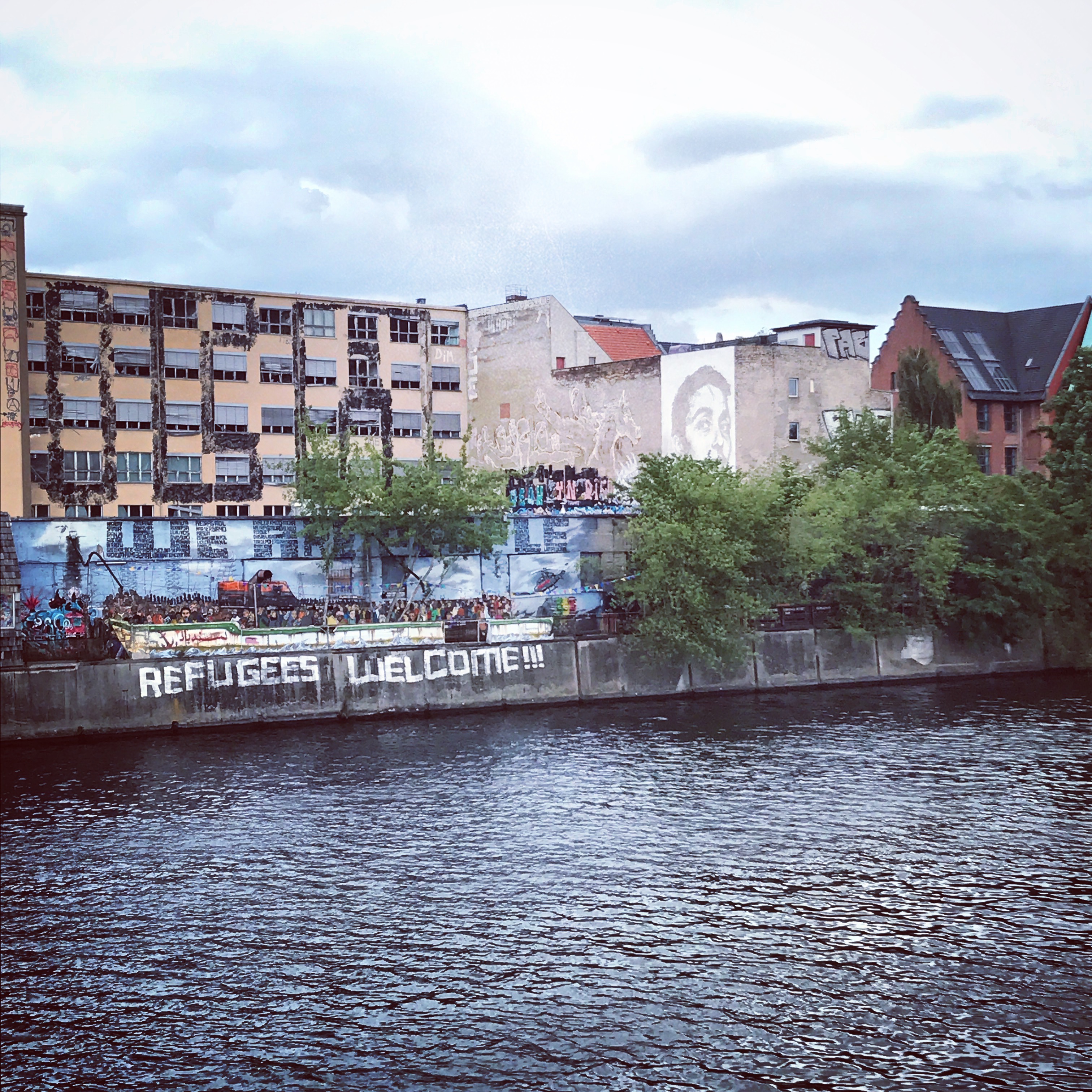 GÖTTINGEN, GERMANY – During Germany's recent election campaign, the far-right party Alternative for Germany (AfD) zeroed in on the religion of Muslim refugees. Their election posters celebrated "bikinis over burkas" and criticized Muslims for not eating pork.
AfD, which gained its first national parliamentary seats in last month's vote, capitalized on German anxieties following the arrival of over a million asylum seekers since 2015, many from Muslim-majority nations in the Middle East. Meanwhile, many German liberals see religion as a taboo subject, without confronting its role in integration.
Refugees in Germany tell a far more nuanced story. Before the election, I spent several weeks interviewing people from Syria, Iraq, Palestine, Iran and Afghanistan now living across Germany.
Fayez Qaddas wasn't comfortable talking about why he prayed. The 24-year-old Palestinian had only recently become friends with Shaheen Simoqi and Namer al-Kahldy, both 22-year-old Iraqis who had also recently come to Germany alone. They met through an integration group at the University of Göttingen.
The friends had adjusted to each other's Arabic dialects and become like brothers, sharing their stories of escape from ethnic cleansing, war or death at sea. "Ask us anything!" al-Kahldy said. But when the topic of religion came up, all three paused.
Simoqi was the first to speak. In 2014, he and his family had fled their home on Mount Sinjar, northern Iraq, as the so-called Islamic State (ISIS) approached. They are members of the Yazidi religious minority, who faced discrimination in Iraq long before ISIS's campaign of mass murder and sexual enslavement. "Everything that happened to us was because of religion," Simoqi said.
On his first day of first grade, Simoqi's teacher asked the minority students to leave the classroom before holding their religion class. Afterwards, his classmates cornered him, saying, "Are you 'ibn Shaytan,' a son of the devil? Pull off your pants so we can see your tail, infidel." They were six years old.
That is why Simoqi disdained any kind of religious practice now – though he was proud to be a Yazidi. "Religion is politics," Simoqi said, setting his bottle of German beer on the table.
Al-Kahldy, a Shia Iraqi who'd also fled ISIS, nodded. "People need humanity, not religion," he added.
Growing up in a conservative society, al-Kahldy hadn't prayed much, but had taken Islam and the way it was taught in Iraq for granted. "When I came to Germany, I thought Muslims were the best people. This is what our society taught. We're the chosen people. Everyone else is an infidel," al-Kahldy said.
But the people who had helped him most as a refugee – finding a place to live outside the shelters, learning German, facing his trauma, making friends – were all non-believers.
Meanwhile, al-Kahldy could find no divine explanation for what had happened to Iraq. "We're Muslims, we're praying, and every day we have wars. People say it's a test. What is a test? It's a test to flee from ISIS? It's a test to see a hundred people die every day?"
Al-Kahldy became an atheist in Germany. "Look what's happening to Iraq, Syria and Palestine. Every day we're waking up and praying, 'Ya Allah,' and there's no answer. Germans aren't praying, but they have freedom and choice and they're not Muslims."
After listening to his friends in silence, Qaddas mumbled, "Alhamdullilah, I still pray." To him, the problem is not religion itself, but rather political manipulation of religion.
In 2014, Qaddas fled the Gaza Strip to escape bombing from Israel and threats from Hamas, the political and military group controlling the territory. A few years earlier, Israeli bombing of his neighborhood killed his brother, cousin and neighbors, and permanently injured Qaddas's arm and leg. When another war began in 2014, Qaddas asked Hamas not to shoot rockets from the field near his house in Jabalia Camp and received threats in response.
"I didn't go to mosque in Gaza because they use mosques as a way to control people. On Fridays, they talk politics, not religion," Qaddas said. "They're using Islam for their own interests. If someone is really Muslim, you serve and help others. You don't kill lots of other Muslims."
Qaddas had not been to a mosque yet in Germany, but mostly because he has class on Fridays. "If you want to worship God, do it here, in the streets," he said.
Abdulraqib Hakim Zade, a 55-year-old Afghan, goes to a Turkish mosque in Euskirchen, a small town outside of Cologne. While the language is incomprehensible to him, it gives him a sense of belonging in his new home.
Hakim Zade lived in Iran for 18 years after fleeing the Taliban. But in 2013, Iran's Islamic Revolutionary Guard Corps visited him one night and asked the former military doctor to go fight in Syria.
"I said, 'I'm a Muslim, but I left Afghanistan because I'm tired of fighting. I don't want to fight. This is not my war,'" Zade said. Under pressure from Iranian authorities, he returned to Kabul, only to be threatened by the Taliban, so the family left for Europe.
"Germans don't like if we talk about Islam," Hakim Zade said. "For me, Islam is a religion of peace. I understand very little on Fridays, but we pray together. It's a good thing."
Some refugees – especially women – spoke of the different social roles religion plays in Germany and the Middle East.
In Berlin, Yara Aldebeyat, a 23-year-old from Hama, Syria, wore a black tank top with matching eyeliner, snacking on chocolate despite the Ramadan fast.
"I'm Muslim, but sometimes I wear a cross necklace in the 'Arab Street,'" she said, referring to a street in Berlin that has become a hub for Arab businesses. "Otherwise Arabs are telling me, 'Sister, why do you dress like this? Are you fasting or not?' Some of them are Lebanese, Palestinian, not even refugees, and they think they can tell me what to do."
Syrians have brought their divides over religion with them to Germany, she said. "The liberal, secular people are still fighting the sectarian and religious people. The pressure we feel is not so much between Germans and Syrians as it is between Syrians," Aldebeyat said.
By contrast, 27-year-old Avin Alyusuf felt more pressure from Germans than back home in Syria's Qamishli, where she says she hadn't even thought about whether or why her friends wore hijabs. When she arrived in Germany, a friend who'd arrived six years earlier advised her to take off her hijab.
"I felt really uncomfortable wearing it. I was pregnant and we didn't have papers, and people looked at me like an alien," said Alyusuf, who is Kurdish and now living in Cologne. "Religion is something private and personal here. No one asks if you're Christian or Muslim. But if you put on a hijab, it's like you're saying, 'I'm Muslim.'"
Alyusuf didn't have a religious leader that she trusted in Germany, so she turned to the Internet, researching different opinions for a year before she decided to remove her headscarf. "When I took it off, I felt fine, like I could be anyone," Alyusuf said. "But I'm still not sure if it was the right thing."
For many refugees, the constant rhetoric about a civilizational clash between Islam and the West is exhausting.
In Cologne, one of Germany's most diverse cities, 29-year-old Syrian archaeologist Jabbar Abdullah felt afraid when a spate of sexual assaults in the city on New Year's Eve, 2015, prompted a backlash against migrants. "Sometimes I feel the whole world is against me, even though I know that's not true. I hear the media and feel the whole world is talking about it, that refugees are harassers and criminals," Abdullah said.
He rarely goes to mosque in Germany; he didn't like that someone would always ask his name and whether he was a refugee. "You feel immediately like you're just a number. Then they try to convert you, to make sure you're part of their sect or confession or religion," he said. "You're a project. You're not a person."
"I want to go to mosque like I go to a cafe – like a normal person, anonymous, with no one asking where I'm from or what I am," Abdullah said. "That's how I want to talk about Syrians, too: not Syrians as Muslims, Syrians as refugees, but Syrians as Syrians. Syrians as people."
RELATED ISSUES

Religion

Issue
Migration and Refugees
Migration and Refugees