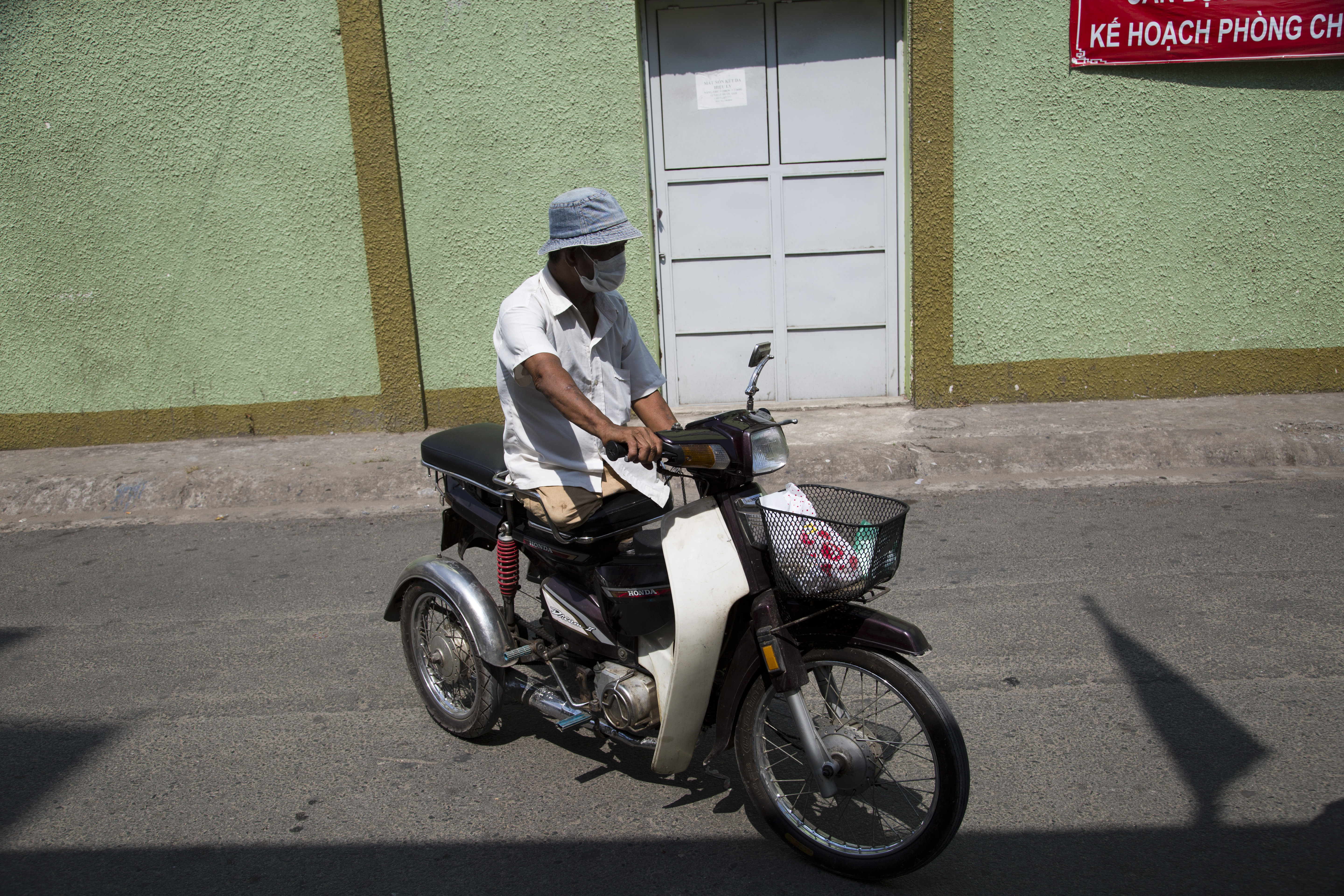 HO CHI MINH CITY, Vietnam—Motorcycles are everywhere on the streets, alleys and sidewalks of Ho Chi Minh City, and the entryway to this district health center is no different. Every morning, patients arrive here on bikes to wait for their daily dose of medicine. They park their vehicles wherever they can, clogging any semblance of a pathway, and then weave by foot through a maze of bikes and exhaust fumes to find nurses who are counting their pills. Once they locate them, patients still strain to hear their names called, fending off the din of bikes coming and going.

Of all the motorcycles here, Bui Van Thiet's stands out the most. Unlike the others, its foot pedals attach to long metal rods reaching upwards and culminating in handles—a makeshift contraption that allows the driver to accelerate and brake with his hands. The motorcycle's owner is calmly perched on top of it. Thiet isn't scuttling to get his medicine himself. He can't because he has no legs.

A veteran of the war against the United States, the 68-year-old was shot in action and subsequently had both legs amputated. When I asked Thiet about the battle, he and our translator spoke at length before responding to me. "Can you not ask about this?" the translator eventually asked me. "It's about war and I don't want to hurt him anymore."

Indeed, there's been plenty hurt in Thiet's life. He begs on the streets for a living and is only able to enjoy the shelter of a tiny home because the government gave it to him. That vulnerable existence led Thiet to contract tuberculosis. He checked into the country's largest TB hospital, went on a treatment program, and eventually began feeling much better. But he soon became infected again, this time with a drug-resistant form of the disease. "One of my lungs is damaged," Thiet says. "I have to come here for another treatment." His TB care is free, but treatment for his wife's cancer wasn't. He didn't have enough money to pay for it, and she recently died.

While Thiet's treatment may be helping, his habits surely aren't. As he speaks, Thiet coughs deeply, and I spot the outline of a pack of cigarettes in his shirt pocket. When I inquired, Thiet said he has smoked ever since he was 12 years old. "It's really hard to give up tobacco," he said. He's managed to reduce his daily consumption to one pack a day, down from three. I asked if he knows how damaging that can be. "He knows about the effect of smoking on his health, but he cannot give it up," the translator responded.

Sadly, Thiet's stark poverty represents why fighting tuberculosis worldwide isn't a priority. There is no glamour here. Celebrity activists would be unlikely to advocate for Thiet as they did for HIV patients. He's unlikely to find himself on a charity poster as a child suffering from malaria would. His doctors and nurses are seldom heard either, often underpaid despite subjecting themselves to a high-risk work environment. TB is largely an illness of the voiceless poor, which is part of the reason funding pales in comparison to a disease like HIV.
RELATED ISSUES