This is Part 1 of our four-part #LadangHutan series. The series investigates forest plantations in Peninsular Malaysia.
In 2006, Acacia Industries Sdn Bhd planted its first rubber tree in Gua Musang, Kelantan. Its 8,800 ha was one of the state's earliest and largest private forest plantations.
Er Ka Wei, the company's managing director, was drawn to the promising returns of TLC forest plantations. His partners were veteran timber traders, and they foresaw a shortage of rubberwood – the key timber driving the growth of the Malaysian furniture industry.
---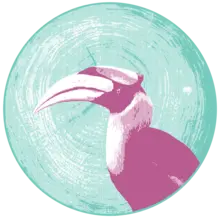 Whistleblowers and others in possession of sensitive information of public concern can now securely and confidentially share tips, documents, and data with the Pulitzer Center's Rainforest Investigations Network (RIN), its editors, and journalists.
---
Furthermore, in the years before the final timber harvest, they could sell the latex produced by the trees. They planted a then-new variety of rubber trees called Timber Latex Clone, or TLC, which grows faster and bigger.
Fifteen years later, Er regrets his decision.
"I won't consider [getting into] this industry altogether [now]. I tell you honestly. No way." He advises newcomers to stay away, especially from rubber trees.
Farming trees for posterity
Forest plantations are tree farms. Planters clear the land to grow fast-growing trees to sell as pulp and timber. Malaysia regards such plantations as forests too, following the definition set by the Food and Agriculture Organisation.
Proponents say the industry could monetise idle land and provide a reliable and renewable timber supply. In turn, natural forests would be logged less. Sustainability all around.
State governments – the ultimate authority on land-use – are keen supporters of forest plantations. In Peninsular Malaysia, they have licensed 256,769 ha of forest reserves to be cleared for plantations. About 80.4% of these were in Kelantan and Pahang.
But forest plantations demand deep pockets. To attract planters, the Malaysian federal government started the Forest Plantation Development Programme in 2007.
The Programme has disbursed RM914 million in soft loans to planters across Malaysia, including Acacia Industries. These loans support about 25.3% of the projects approved by state governments since 2007.
The government is injecting another RM500 million into the Programme through to 2025.
However, Macaranga's year-long investigation reveals that forest plantations in Peninsular Malaysia have incurred high costs with few signs of delivering on their promises.
We focus on Peninsular Malaysia, where in the last two decades, such plantations have emerged as one of the top drivers of forest cover loss.
In our four-part series, we look at: (Part 1) why planters cannot maintain their fields; (Part 2) why many plantations are abandoned, and timber harvest is jeopardised; (Part 3) case study of plantations in Kelantan; and (Part 4) the impact on Orang Asli.
Not giving up on plantations
Forest plantations have a long, bumpy history in Peninsular Malaysia.
The idea took root in the 1900s with small plots of teak trees. Larger estates of pine and Eucalyptus trees followed in the 1950s. Then, mainly led by the state, the Compensatory Forest Plantation Programme established about 63,000 ha between 1982—1999, mainly of Acacia trees.
All these efforts were eventually terminated due to diseases or weak markets. A century of mainly state-led efforts failed to produce sustainable forest plantations of significant size.
But researchers, government agencies, and industry players kept calling for more forest plantations. In the 1990s, they warned that wood industries, which contributed 4% to the country's economy, were threatened by an impending timber supply shortfall. Deficit estimates ran as high as 55%.
However, the new engine of growth would be privatisation, which the Malaysian government strongly promoted in the 1990s.
Wanted: private planters
In 2003, the Malaysian Timber Council came up with a study to build a forest plantation industry led by the private sector. Financial incentives and land availability were vital.
Shortly after, in 2007, the Ministry of Plantation Industries and Commodities launched the Forest Plantation Development Programme. Administered by the Malaysian Timber Industry Board (MTIB), the Programme aimed to establish 375,000 ha of forest plantations across Malaysia by 2020. This target was later revised down to 130,000 ha due to escalated costs.
The Programme was allocated RM1 billion in soft loans to attract planters. The loans would help growers enter this business that requires millions of ringgit of upfront capital.
Loans are disbursed after planting and run for 15 years, accruing 3% annual interest. Borrowers repay between the 16th–20th years.
In Peninsular Malaysia, the Programme only covers a portion of forest plantations.
However, because these new plantations would be developed in forest reserves, all planters must apply to state forestry departments and get state governments' approval for their projects. State forestry departments regulate all forest plantations inside forest reserves.
Planters pounced at the Programme. According to a parliamentary reply (3 November 2021) by Willie Mongin, the Deputy Minister of Plantation Industries and Commodities, by 2020, the Programme had disbursed RM913.7 million to 70 private companies and government agencies. The minister did not name the borrowers.
The Programme is also close to meeting its targeted plantation area of 130,000 ha. The MTIB 2019 annual report says that the Programme had approved about 124,767 ha, of which 115,628 ha has been planted. About 64,862.8 ha are in Peninsular Malaysia.
The Programme is set to continue through to 2025 with an injection of RM500 million from the federal government. It would be called the Forest Plantation Development Programme 2.0 with Syariah-compliant terms, MTIB tells Macaranga. Details have yet to be announced. 
More loans, more plantations
Logger-turned-planter Sia Beng Hock joined the Programme in 2011. He calls it "a very good plan" that offset about 70% of his cost to start a plantation. He began planting rubber trees in Kelantan in 2008.
The Programme accelerated the expansion of his business. He now owns about 5,000 ha of rubber forest plantations in Kelantan, all inside forest reserves. The state government gave his company, SBH Timber Sdn Bhd, 50-year leases on the land.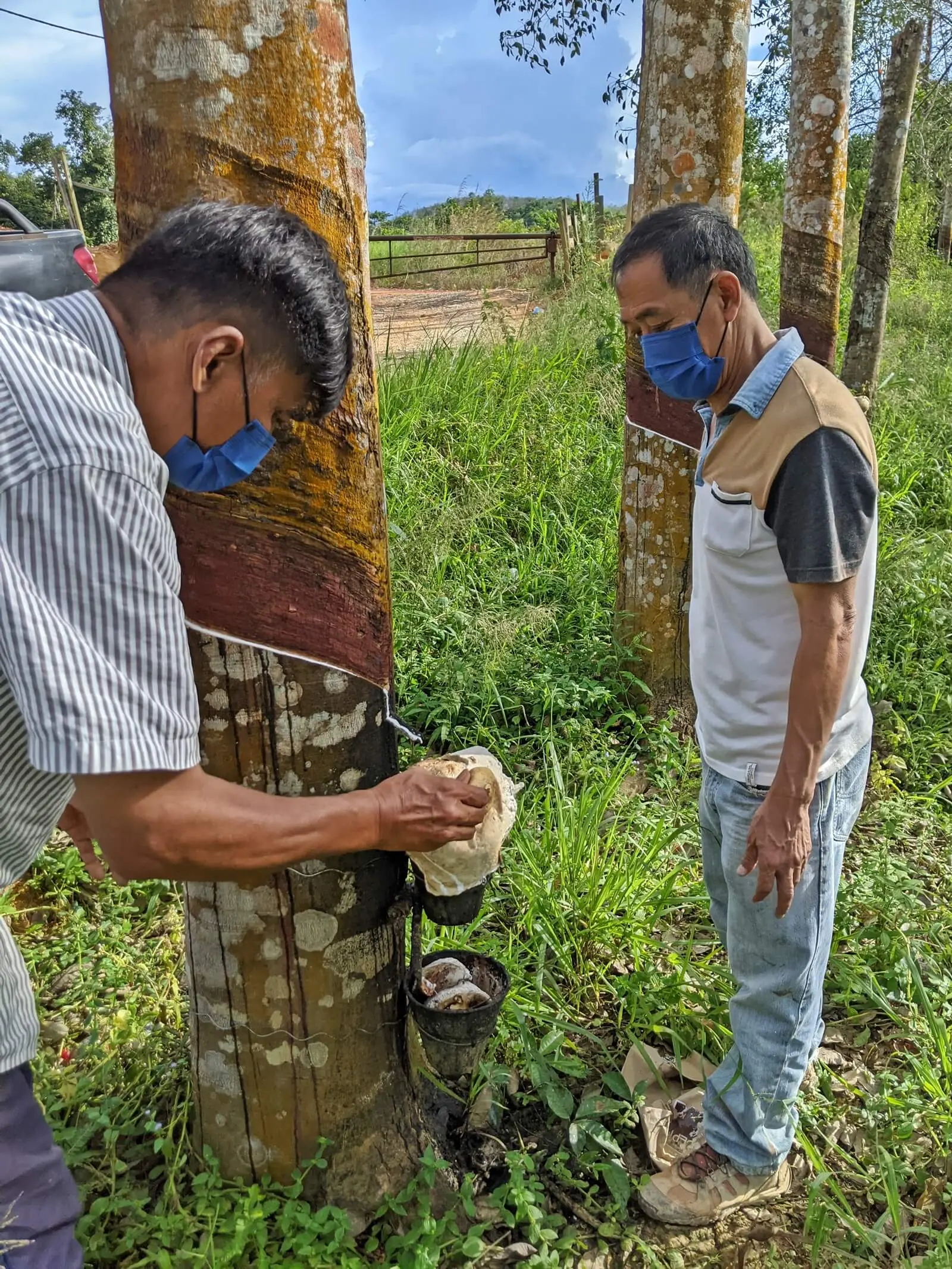 Sia repeatedly tells Macaranga that plantations are tough work. He has had to clear the sites, sell the logs, build roads and terrace hills. He has to keep his fields free of weeds and wait for 7 years before he can tap his rubber trees for latex.
"We get not a sen of income in these [first] 7 years," Sia told Macaranga in November 2021. By the time he fills his first cup of latex, he estimates he would have sunk at least RM37,000 into each hectare.
Financial records show that Sia's company registered no revenue in 2009–2018, and has lost more than RM14 million. It finally sold about RM440,000 of latex in 2019.
The Programme loan is critical because Sia does not own the land on which he plants, so he cannot get a bank loan. The Programme lends planters up to RM10,000 per hectare of rubber trees, and Sia is due to receive RM45 million in total.
But Sia's biggest problem is not money – it is labour shortage.
Mayday! Where are my workers?
Plantations in Malaysia have been relying on foreign workers, Indonesians in particular, since the 1980s to tend the fields and harvest the crops.
But Malaysian plantations have been losing their appeal to Indonesian workers as the pay gap between the two countries narrows.
Labour shortage is exacerbated by the government's freeze on the intake of foreign workers in the ongoing Covid-19 pandemic.
Sia, also president of the Kelantan Forest Plantation Association (Persatuan Pengusaha Ladang Hutan Kelantan), fumes at what he perceives as the government's cold shoulder.
"[Forest plantations] are facing a huge labour shortage problem, but the federal government doesn't even want to look at us."
In recent years, most of Sia's several hundred workers had left the country or moved to better-paying factory jobs. He is forced to skim on pesticides and weeding.
The few remaining workers tap only 10% of his rubber trees. "Latex has a good price now, but 'we can see, cannot eat' (can't take advantage of that)," he says in Chinese.
Likewise, Er, who runs Acacia Industries, is frustrated too. He is short of 400 tappers, and is missing out on up to RM4 million a month in untapped latex sales.
He sees no end to the labour shortage. "Without foreign workers, this industry is gone for good."
In November 2021, Macaranga visited rubber forest plantations in Kelantan. Many plantations were overgrown with shrubs. Mosquitoes were breeding in latex collection cups filled with rainwater. A good number of the plantations looked abandoned.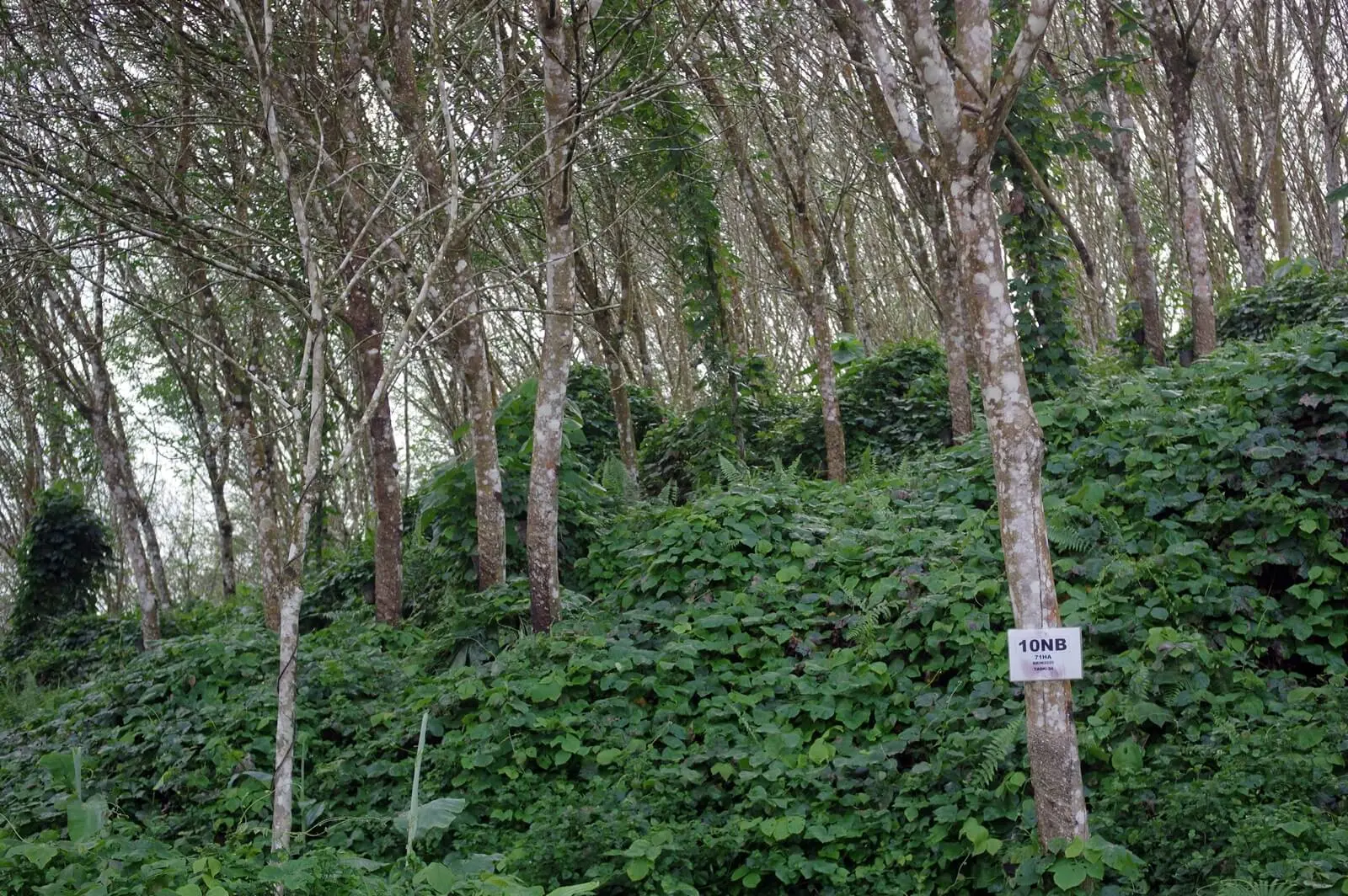 In response to the planters' labour crisis, MTIB deputy director-general Kamaruzaman Othman says his office has "done its part" to inform the Ministry of Plantation Industries and Commodities.
Their hands are tied because other ministries govern labour matters. He thinks the government is helping the most affected sectors first, chiefly palm oil. The others would eventually get their turn.
A low maintenance but risky solution
But the forest plantation planters are not sitting still as their cash burns. They had begun looking for alternatives to rubber trees that need less labour. 
They found one in batai (Paraserianthes falcataria) – a native tree that grows fast, requires little care, and can be cut for timber within 10 years. Many TLC planters in Kelantan, including Sia, are switching to batai. Some did so as early as five years ago.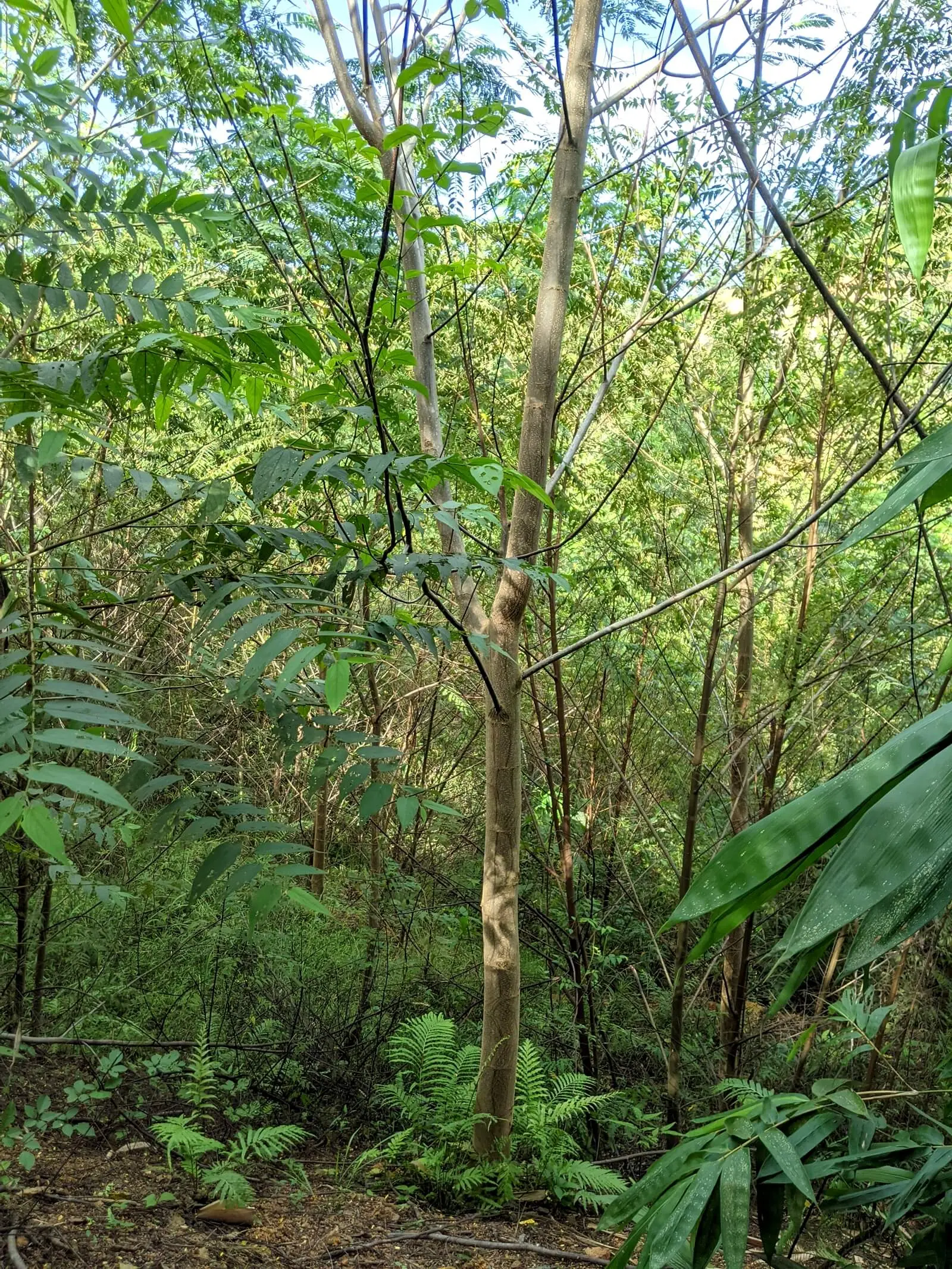 It is a risky bet because there is no proven market demand for batai wood in Peninsular Malaysia. Planters hope that in a few years when they have a big crop of batai logs to offer, mills will be keen to buy. 
Forest plantations are good, say Sia and three other planters with whom Macaranga spoke in Kelantan. They describe forest plantations as a long-term initiative that benefits the economy and the environment. 
But it is a harsh industry. Sia describes his band of pioneering peers as the "idiots" who are suffering the most. He adds that many give up because they lack capital or patience. Some could not endure the demanding fieldwork.
It appears that most planters do not make it. Statistics show that about two-thirds of the forest reserves cleared for forest plantations since 2012 had not been replanted. 
Does this mean that forest plantations have failed their stated objective to conserve natural forests?
RELATED ISSUES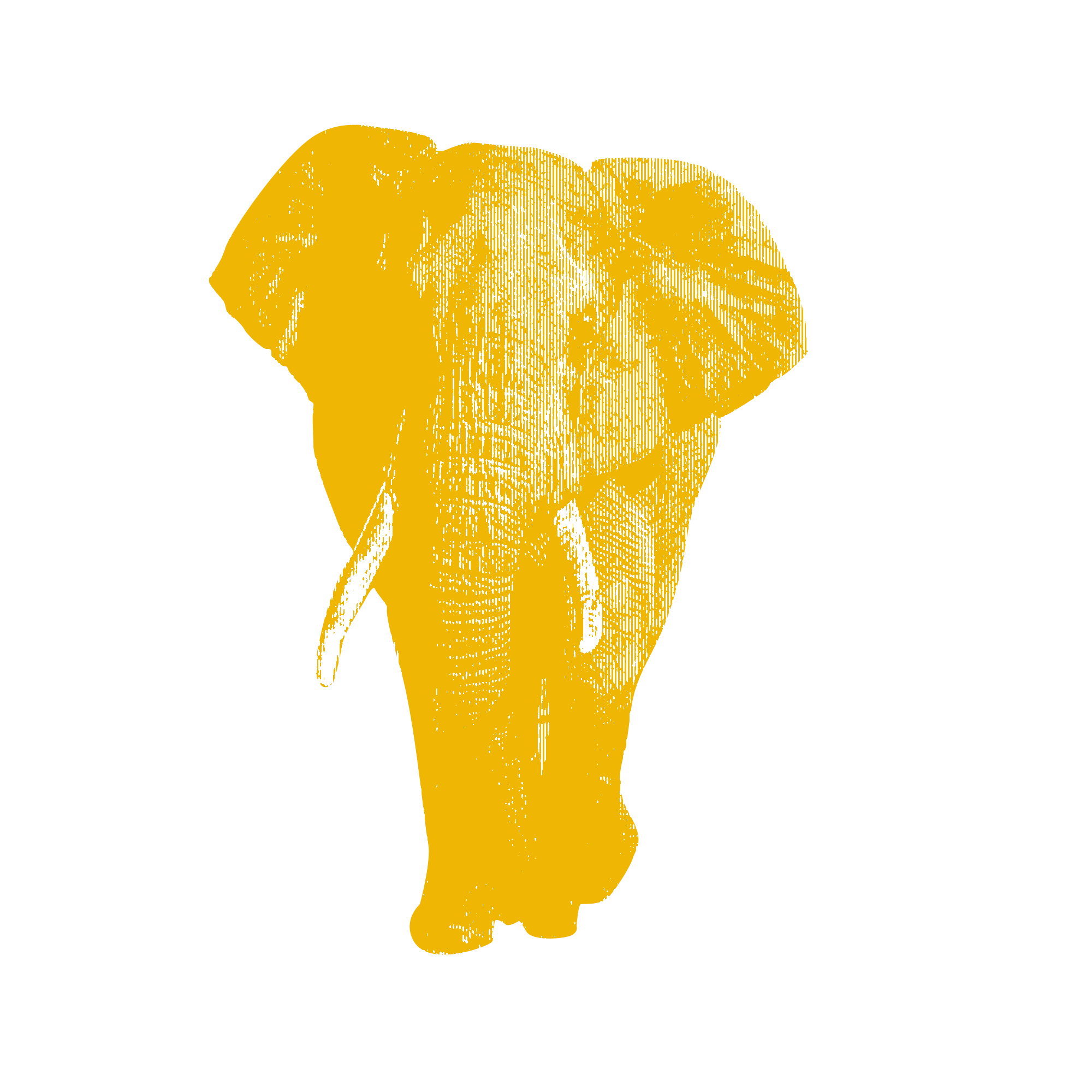 Issue
Environment and Climate Change
Environment and Climate Change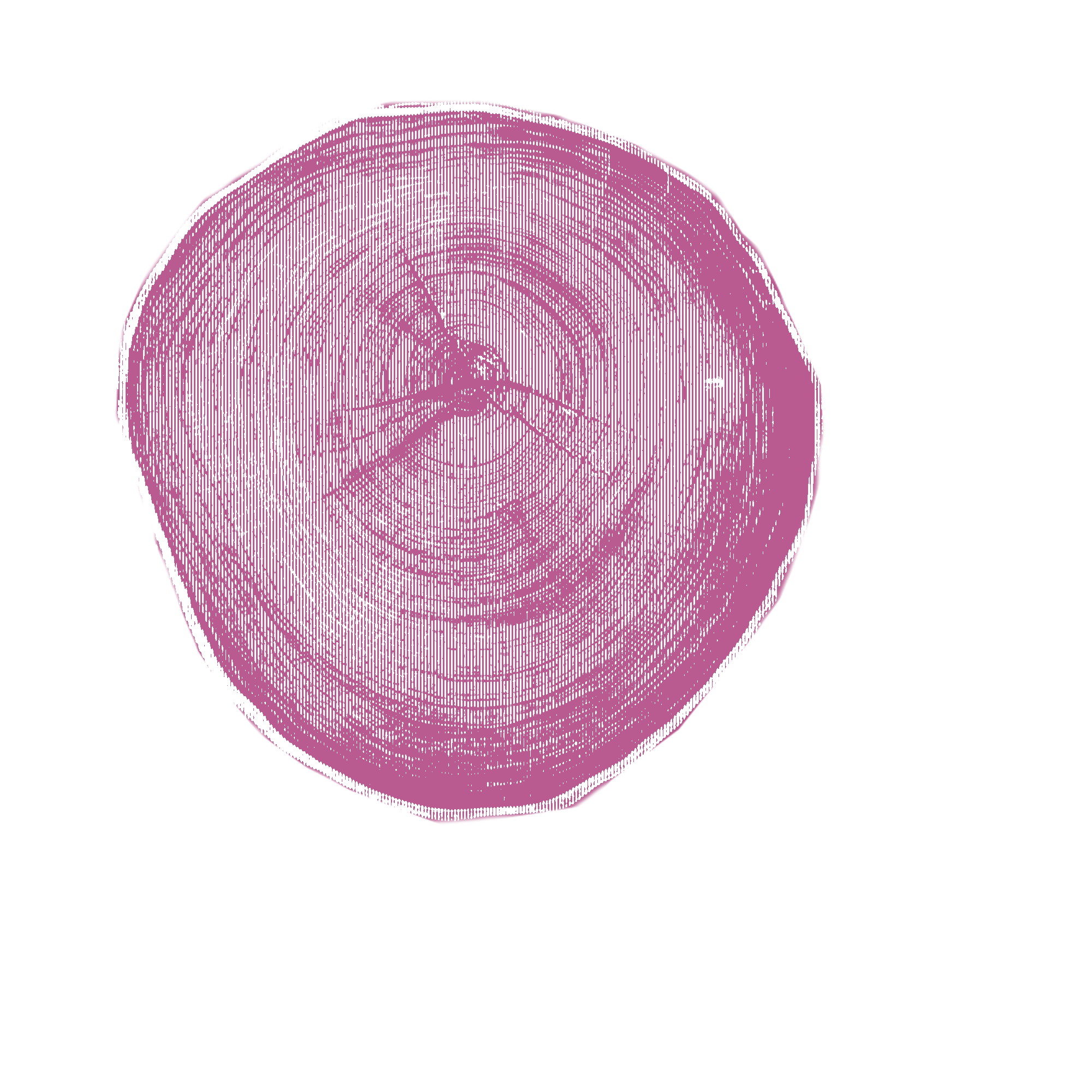 Rainforests
RELATED INITIATIVES