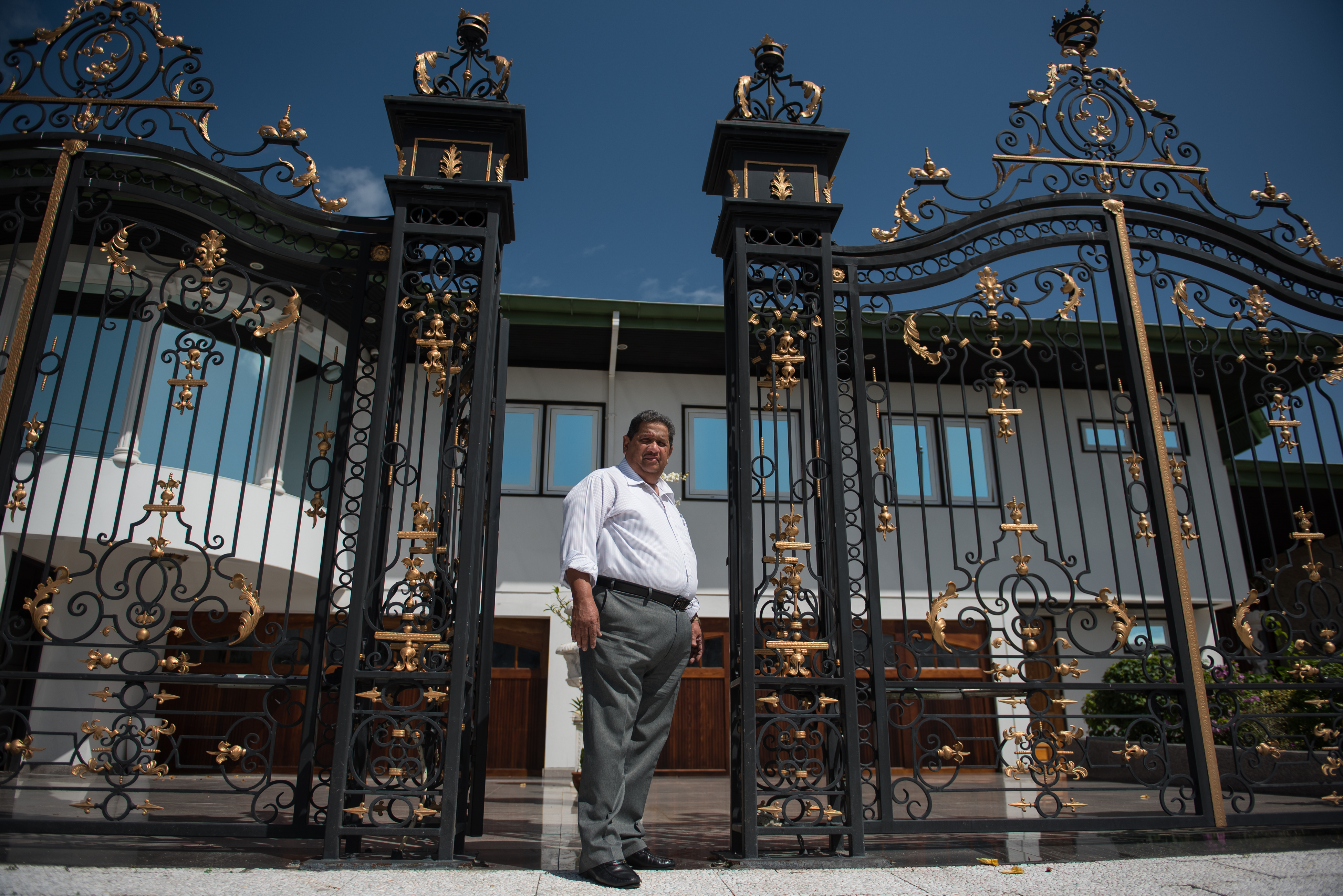 PARAMARIBO, Suriname — When consumers in this recession-bound South American nation purchase anything, there's a good chance they are doing business with Rudi Dilip Sardjoe.
Widely acknowledged as Suriname's most successful businessman, Mr. Sardjoe's Rudisa International's ventures include the media, where he owns Suriname's largest newspaper, a radio station, as well as a television station that has broadcast rights to National Basketball Association games.
He controls 70 percent of the country's cement business, and also has interests in construction, heavy equipment and finished wood.
Thirsty? Mr. Sardjoe can sell you a bottle of his Diamond Blue water, Gatorade or Pepsi.
Hungry? Have a Whopper and fries from his Burger King franchise. Or one of the Kraft Heinz products he distributes.
"More or less, we are in everything," says Mr. Sardjoe, the 67-year-old grandson of a contract worker who emigrated from India to Suriname when it was a Dutch colony.
"Whatever we do in the country, we are No. 1. In some cases, we are No. 2," Mr. Sardjoe adds, wrinkling his nose as if to indicate being No. 2 is unacceptable.
Mr. Sardjoe's success in business has thrust him into the political arena. President Desire Delano "Desi" Bouterse has named him head of a commission negotiating the terms of Alcoa's departure from Suriname after 100 years.
The appointment has sparked speculation that as a negotiator Mr. Sardjoe, who supported Mr. Bouterse's 2015 re-election campaign, will be more motivated by his personal business interests than national interests.
Mr. Sardjoe scoffs at that notion.
"I am doing this because I love the country," he says during an interview in the boardroom of his expansive office, located in a fashionable western Paramaribo neighborhood.
Next door is his 43,000-square-foot home, featuring a swimming pool guarded by two 5-foot-tall stone lions, a basketball court and soccer field, fountains and a metal gate modeled after Buckingham Palace.
"I think we will do a fantastic job because every day I have to look in the mirror," he promises.
An Alcoa spokesman wrote in response to questions that the company's interactions with Mr. Sardjoe's commission "is limited to that official process. We do not have business relationships with any members of the negotiation team, including Mr. Sardjoe or any companies affiliated with him."
Jennifer Simons, chairman of the National Assembly, the legislative branch of Suriname's government, is not sure whether Mr. Sardjoe has a conflict of interest as the government's chief negotiator.
"That's not clear to me. I can't really tell you about that," she said in an interview, adding that a lot of rumors circulating about Mr. Sardjoe are based on hearsay.
Mr. Sardjoe's insistence that he will act in the public interest does not comfort skeptics, who believe he and other entrepreneurs use their influence in politics to advance their business interests.
Among the matters up for grabs in the negotiations are management of Alcoa's Afobaka dam, which provides much of the country's electricity; the contract for demolishing the Paranam refinery; and a role in the industrial park being considered for Alcoa's Paranam site along the Suriname River.
Economic development specialist Deryck Ferrier said Mr. Sardjoe helped Mr. Bouterse win the election "and now he wants to be repaid." Mr. Sardjoe is one of a group Mr. Ferrier describes as "industrial vultures" hoping to profit from the outcome of the country's talks with Alcoa.
Mr. Ferrier's father, Johan, was Suriname's prime minister in 1958, the year the then-Dutch colony and Alcoa signed the Brokopondo Agreement that led to the building of an alumina refinery and aluminum smelter at Paranam, as well as the hydroelectric dam at Afobaka that is the focal point of the negotiations between Mr. Sardjoe's commission and Alcoa.
Mr. Sardjoe is a short, substantial man, with a thin black mustache and a shock of wavy black hair. One of nine children, his entrepreneurism began in the food business because, as he says, if you want to live, you have to eat.
"We started out as a one-man show. Today, we have 2,000 people working," he said.
His ventures include a soccer team — which he admits is not yet good enough to beat the one owned by Ronny Brunswijk, the former leader of the Jungle Commando guerrilla force that sparked a six-year civil war that began in 1986. Mr. Brunswijk is now a member of the National Assembly.
But his team will be good enough to beat Mr. Brunswijk's squad next year, Mr. Sardjoe said with a smile.
Failed first attempt
Despite his success at dealmaking, Mr. Sardjoe's first effort at striking a bargain with Alcoa — a nonbinding memorandum of understanding proposed by Alcoa in October 2015 — was unanimously rejected by the National Assembly.
The lawmakers' biggest problem was the provision that would allow Alcoa to retain control of the dam until 2019 and continue to sell electricity to the government at what many consider to be inflated prices.
National Assembly member Krishna Mathoera thinks Mr. Sardjoe should have resigned given the overwhelming opposition to the deal he negotiated.
"If that was the case for me, I would resign," Ms. Mathoera said.
Paramaribo energy consultant Viren Ajodhia believes Mr. Sardjoe's self-interest will result in an agreement that is not good for Suriname. "The negotiations are corrupt," Mr. Ajodhia stated.
He can't believe that Alcoa didn't just walk away from the country rather than enter into negotiations with government and business officials who are pursuing self-interests. Alcoa shareholders will not miss Suralco on the aluminum producer's financial statements, but they will notice if the company is exposed to dealing with corrupt officials, he said.
Ruben Halfhuid, managing director of Alcoa's Suriname subsidiary, said, "There is no chance of that. I can guarantee you that."
"Everybody thinks the job is going to go to Mr. Sardjoe, the port is going to be Mr. Sardjoe's. The whole Paranam Industrial Center is Mr. Sardjoe. And he has nothing to do with that," Mr. Halfhuid said.
"Alcoa cannot afford to get into those types of things. We know the rules. We know the regulations."
Mr. Sardjoe said the mutual agreement that benefitted Suriname for most of the last century has become a one-sided bargain favoring Alcoa that must come to an end. Although he believes the company will do the right thing — particularly with the environmental cleanup — Mr. Sardjoe said he would have handled negotiations with the multinational differently.
His first step would have been terminating the 1958 agreement when the company closed its Paranam smelter.
"In 1999, I would have told Alcoa at that time that it's over. But I was not the guy who was calling the shots at that time," he said with a shrug.
As for the current talks, Mr. Sardjoe said he will remain on the job as long as the president wants him. He is confident of striking a fair deal with the multinational company, describing the talks as a match among equals.
"What Alcoa has, I have much more than that," he said. "If they have land, I have a lot of land."
Mr. Sardjoe said he is one of the few business leaders in a country of about 560,000 capable of plotting Suriname's economic development. Any suspicion of his motives comes from people who resent millionaires and want to bring them down to their own level, he says.
"We have a Dutch mentality. The Dutch never liked rich people," he explained.
RELATED ISSUES