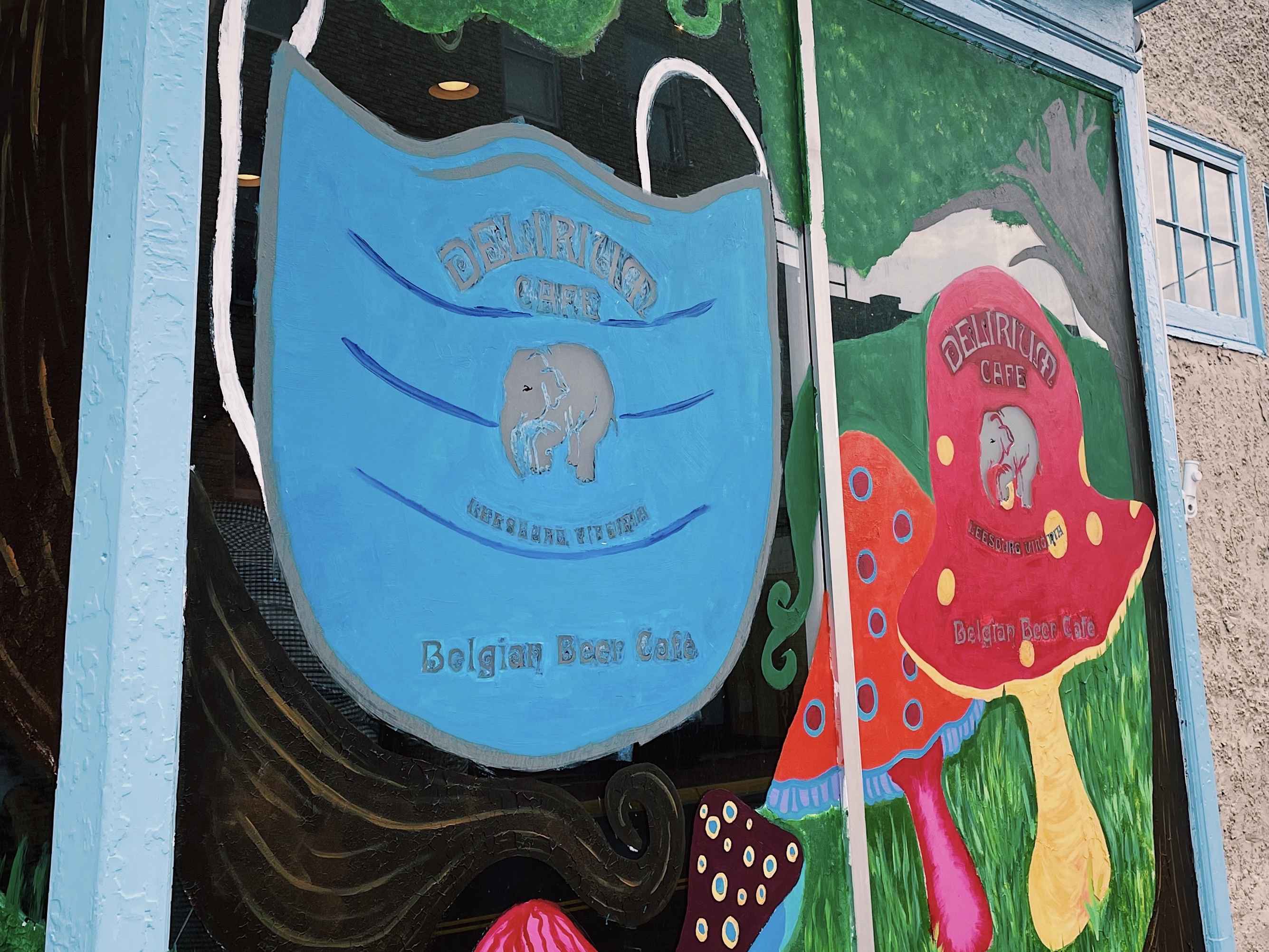 Curtis Allred, a Virginian restaurateur, meticulously julienned fire chilies and fresh herbs to accent a diver sea scallop ceviche. Once cooked by an acidic bath of citrus juices, the shellfish rested upon a brushstroke of gastrique. The vibrant dish was for a private dining experience at Delirium Cafe in Leesburg, Virginia, in late September 2020. 
This intricate culinary experience was a rare form of luxury during the COVID-19 pandemic, a time of heightened restrictions. Allred seemed to remember this sentiment as he "squeezed the life out of some oranges" in frustration.
But Allred relaxed as he recalled his new mantra. Memento mori, he said, as he chopped a aromatic handful of cilantro, "Remember your death." 
While this phrase can be taken in a literal sense, Allred considers it when thinking about his legacy beyond the stress of the pandemic. He asks himself, "If [the business] had to end right now, are you currently operating the way you want to be remembered?"
In the context of the pandemic, a time of significant loss, memento mori seems to carry a new meaning. It can mean the death of restaurants or businesses. And, increasingly, of the mental health of those working to make sure those privileged enough to afford it can still have chef-prepared ceviche.
Like the harsh marinade that cooked the scallops in Allred's dish, a restaurant's brutal environment can make it difficult for food service workers to stay afloat. As a result, Allred has seen some turn to drugs and other substances to cope with the stress of their job. While this trend has been prevalent in the industry's recent history, the COVID-19 pandemic has heightened this behavior's stakes.
The consequences of this trend have been devastating for Allred's staff in particular. Since the beginning of the pandemic, Allred has seen two of his employees struggle with substance abuse. One is now homeless and the other is in jail.
From his perspective, "If you're using [substances] as a crutch and something that's as shocking as this pandemic [happens with] the crush it has caused, those who I had suspected to have some 'extra-curriculars' in the beginning went to s--- in a hurry."
Substance Use Rates Before and During COVID-19
These cases of substance use are not unique to Allred's restaurants. The United States has seen growth in substance use rates during the COVID-19 pandemic.
The Recovery Village, a company providing rehabilitation and mental health services nationwide, has published research on this issue. In a 2020 survey, it found that 55% of respondents reported an increase in past-month alcohol use, whereas 36% reported the same of illicit drugs. Fifty-three percent of the survey participants involved in these activities attributed this increase to their effort to cope with stress.
There is reason to believe that these statistics might be far worse in the restaurant industry. According to a 2015 survey from the Center for Behavioral Health Statistics and Quality, full-time restaurant workers have the highest percentage of past-month illicit drug use and substance use disorder compared to all other industries studied.
Research often connects this trend to the accessibility of alcohol in the workplace as well as the intense stress levels of the restaurant environment, whether it be in a scorching kitchen or a dining room packed with hungry customers.
The COVID-19 pandemic has filled these blazing kitchens with mask-wearing, and dining rooms buzz with antsy customers seeking normalcy. In consequence, food service workers are facing new levels of and new kinds of stress. As the COVID-19 pandemic intensified, the pre-existing prevalence of substance use and addiction within the American food service industry followed suit.
Food Service Workers Faced with New Kinds of Stress
"Drugs are everywhere [in restaurants], always," says Ben Goldsmith, a seasoned restaurant worker who used to work for Allred. Goldsmith says he believes this trend to be the case because of the amount of cash tips a restaurant worker may have on hand, the long hours they may work, and their proximity to the substances themselves. In Goldsmith's eyes, this "hedonistic" cycle, in which workers push themselves to the point "where [they] cannot function," is perpetual and unbreakable.
Within the context of the COVID-19 pandemic, workers like Goldsmith have had to adjust and cope with new safety regulations, like wearing personal protective equipment (PPE) in environments that are already arduous. From his perspective, "Wearing a mask while cooking next to a 700℉ [pizza] oven is intolerable. It's the worst."
Goldsmith seems to have had a lucky streak with customer interactions despite the difficulty of the new safety regulations. He says that customers have been "empathetic" to this added layer of stress. For other restaurant workers, however, this empathy is not the norm.
Jimmy, who asked to be referred to by his first name to maintain privacy, is a restaurant worker in Leesburg. He has had more experiences with guests of the opposite attitude. "The worst thing about COVID is engaging with people who are non-maskers," he said.
Jimmy says that anti-masking customers continually meet him with cursing and anger. In these situations, Jimmy said, he kindly asks them to "put a cloth on [their] face" and deals with the turbulent aftermath.
"[Anti-maskers] made going to work a lot more difficult because … all these people thought that they were safe and free from everything," he says. Meanwhile, Jimmy says, he is putting himself and his family at risk of infection by working at the restaurant.
Disagreements and tensions are commonplace in the food service industry. Jimmy says, however, that the maintenance of professionalism within these interactions can be "a lot easier [and] a lot more fluid [with] drugs." In his six years of experience in the field, he says, he has seen coworkers use a myriad of substances on and off the floor, even hard drugs like heroin and crack cocaine.
Substances Provide Both Relief and Added Stress in Restaurant Work
As Jimmy's job and professionalism became more difficult to maintain during the pandemic, he saw his substance use intensify.
Before his shifts, he says, "I'd smoke [marijuana] a little bit … just to relax … I hated going in [to work]." After his shifts, he felt "drained." So, Jimmy says, he "really started drinking a lot more … it became a numbing thing."
Even as he spoke about his habits, he sipped on an India pale ale to calm down before his night shift. While Jimmy says that he does not "like" to drink, the relief from stress that it provides him has made him "[find] a love for it" throughout the pandemic.
Jimmy says his main source of job-related stress relief has been marijuana and alcohol, but, he admits, "It is the first time in six years that I am genuinely thinking about going back [to opiates] … I can't deal with the constant bickering."
Jimmy says he is always stressed, and not only at work. "I smoke [marijuana], I get stressed out. I drink, I get stressed out because I'm drinking too much, which causes me to smoke, and then I start stressing about work. Then the opiate thoughts come into my head, so then I stress again, and I drink … It's just constant back and forth."
A fellow restaurant worker who has personally experienced this toxic cycle is Sharon, who asked to be known by her first name only to respect the anonymity of Narcotics Anonymous. She is now in recovery from heroin and cocaine addiction, she says. She says she has witnessed substance use within the industry ever since she entered it in the early 2000s.
Now that she is in recovery, however, she says, she feels "sad" to see others struggle with "the harmful consequences of [addiction]," like when coworkers "have to go to their car to use in the middle of work because they can't get through a shift [without substances]."
Although Sharon feels a somber sense of empathy toward those who show signs of addiction, she feels "a sense of importance … that maybe [she has] set a good example of recovery."
Outside of her restaurant job, Sharon uses her background to guide others through recovery as a trauma-focused yoga teacher. Through her training, she says, "There [are] certain people who are on a trajectory that if they continue going, they're gonna end up in a place where it's probably gonna become more severe because that's the nature of addiction—it's progressive." Sharon has witnessed this progression as the pandemic has raged on.
Those battling addiction, like Jimmy, may be struggling to see the light at the end of the tunnel, Sharon suggests. When asked about the future of restaurant work in a post-COVID world, Jimmy expressed fears about the stress and unpredictability that will come with a "normal" restaurant scene.
Although he would like to be optimistic, he sighed, "I'm gonna be doin' the same thing I was doin' last summer: smokin' and drinkin'. That's just how it is, and, you know, if the people get better, maybe I'll get better, but in the meantime, I'm just gonna be doin' the same s---."
Allred: Focused on Getting Better
The core of Allred's drug policy has always been quite simple, he says. "If you come to work f------ high, you better be the most amazing person in the world doing your job so that I don't know you're high."
As the pandemic's downward spiral took form in the spring of 2020, Allred decided he needed to do something more to help his business and his employees. "We're in a situation where we don't know if our company is going to make it," he says. So, his new mantra guided the way.
Through the lens of memento mori, he asks himself, "Are you doing the things, while you have the time, that if things don't work out and you have to close, you can go out feeling like … you did all you could the best way you can, the best way for your community, the best way for your staff, the best way for yourself?"
Allred says that this "best way" included unheard-of business decisions. He raised all his employees' hourly wages to $15 and began offering better health insurance with "a strong mental health component." He explained that making this change for his staff is "very counter to what is generally accepted as 'how you do it.'"
By alleviating the workers' financial pressure, Allred expressed hope that it would "improve retention." Although some servers, like Jimmy, can make adequate money on a tip-based, wageless income, Allred noted that this phenomenon is "dependent on the charity of others," which is worrisome in the "charity fatigue[d]" context of the COVID-19 pandemic.
Allred was unsure about whether his efforts caused a significant decrease in stress among his workers. He reflected, however, that he has not "had [substance use issues] with any of [his] existing team." 
While Allred's choice to raise wages resulted in a personal financial blow, he sounded willing to take on the burden in light of his "move" to a memento mori mindset. As he meditated on this phrase, he reminisced about advice from his mother, who passed away in August 2020: "We're all just doing the best we can."