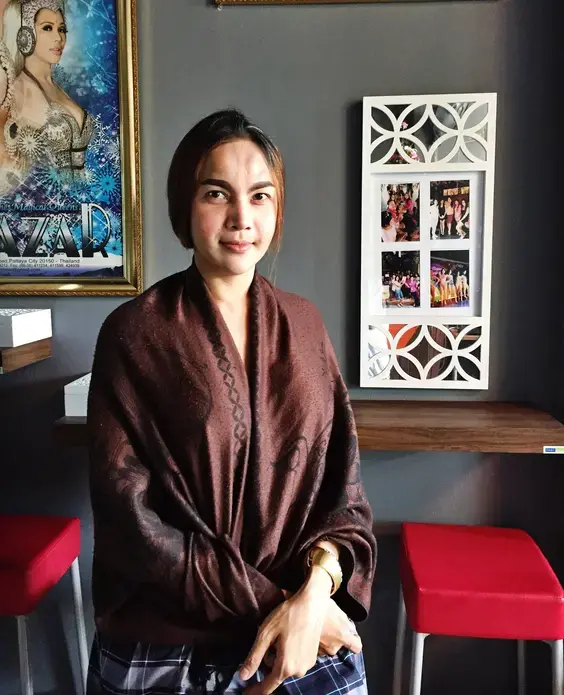 When asked if she feels society looks down upon her for her chosen career, Aris "Alice" Sangkharom says her actions, not her occupation, should determine how people publicly treat her. Image by Julia Boccagno. Thailand, 2015.
Thitiyanun "Doi" Nakpor says the door to Sisters is always open to those seeking assistance—whether it be a hot drink from the barista stand or a place to sleep above her office. Image by Julia Boccagno. Thailand, 2015.



PATTAYA, Thailand—It's 8:00pm in this popular beach resort, well-known for its nightlife. The flashes of electrifying neon signs stand out against the black sky; the sounds of competing bar music make it impossible to decipher any lyrics; the sights of men wrestling with cobras make tourists go googly eyed with amazement and anticipation.

This isn't any special night in Pattaya, a city about two hours south of Bangkok. Rather, these sights, and these sounds, have come to define this town of about 100,000 residents.

However, there's another cultural staple that has come to define Pattaya—its red light district, known for its flourishing sex industry.

Interestingly, Pattaya is only one of many locations where sex work flourishes. The sex industry in Thailand employs about 250,000 people and brings in about $6.4 billion dollars in annual revenue, accounting for 10 percent of Thailand's GDP, according to Havocscope, a database which provides the public with information about the global black market.

Though illegal, sex work is widely tolerated and does more than play a substantial part in Thailand's economy. It also creates opportunity for some of the most marginalized groups—for transgender women, often referred to as lady boys—in Bangkok and in tourist areas like Pattaya.

"So many lady boys do sex work because it's easy for money," says Aris "Alice" Sangkharom, a 34-year old sex worker in Pattaya.

Sangkharom wasn't always a sex worker, nor did she ever envision herself as one. But, her prior employment—competing in lady boy contests in Isaan, a region in Northeastern Thailand—wasn't a stable source of income. In search of economic opportunity, Sangkharom moved from her home in Isaan to Bangkok. After briefly working at a bar in Nana Plaza—one of Bangkok's notorious red light districts—she relocated to Pattaya after her friends invited her to work at Club 131, a go-go bar that recently opened in the area.

Sangkharom, who has been working in the sex industry for about 10 years, speaks with pride when she talks about her occupation. Not only does sex work allow her to be economically self-sufficient, but, as someone with an exuberant personality, it also provides her with the freedom she desires.

"I like sex work because… it makes me feel good," she said. "I can choose [the man]. It's up to me. I can do my way. I can dance and have music, drinking [and] relax."

Thitiyanun "Doi" Nakpor, the director of Sisters, Center for Transgenders—an organization that supports transgender sex workers and provides them with proper health and social services—says Pattaya serves as the hub of sex tourism in Thailand. Of the 5,000 transgender people who live in the area, about 75 percent are sex workers. Most of them, according to Nakpor, are stigmatized as infectious, violent criminals.

"Prostitution is an occupation that's unacceptable for Thai society, because it runs against [conservative] morals and traditions," she said in an interview. "Hence, that's why transgender prostitutes are being discriminated against twice: for being a 'kathoey' and a prostitute."

Sisters, since 2004, has been working directly with key stakeholders and those marginalized to reverse negative stereotypes through community-building activities, workshops and research.

"I want to support and promote you—what you are, what you were. Some of my friends from other organizations… they ask me about why Sisters [doesn't help change] her work for another job," Nakpor said. "Sex work is work—[to] make money for her, for her family."

Providing financial resources to family members is a way for members of the transgender community in Thailand to gain acceptance, says Rapeepun Jommaroeng of the Rainbow Sky Association of Thailand, a community-based organization that supports and advocates for people of diverse sexualities.

"I would say that more than 95 percent of trans working in Pattaya, they are the main source of family income," he said in an interview. "Thai society is gratitude—paying back society, so the children will live with the family until they get married or until the end of the parents' life… It's a norm for the Thai society, for children who have graduated [to] work [and] to keep paying back their parents, keep feeding them until they die."

According to Havocscope, sex workers in Thailand send an annual average of $300 million to family members who reside in more rural areas of Thailand. That's more money raised than any form of government development project has contributed in the past.

As a part-time sex worker, Sangkharom earns about 20,000 baht—roughly $570—per month. This is higher than the average income in Thailand, which, according to the International Labor Organization, is $489.

Though Sangkharom enjoys the financial stability of sex work, she says it comes with a dangerous price tag, as transgender sex workers commonly encounter disproportionate police violence and arbitrary arrests.

Nakpor agrees that police officials unfairly target "lady boy" sex workers when compared to born female and male prostitutes. In order to escape arrest, trans workers bribe police—usually with 200 to 1000 baht (about $6 – $28). Because sex work is illegal in Thailand, transgender sex workers are unable to report police corruption.

This is one reason why Amnesty International voted this past August to pass a resolution that would decriminalize sex work. Tarah Dermant, senior director of the Identity and Discrimination Unit for Amnesty International, says the decriminalization of prostitution is the best way to protect the rights of sex workers.

"Sex workers are often times some of the most marginalized people in a society exactly because of their criminal status," she said in a phone interview. "Our policy, which calls for the decriminalization of sex work, is based on the evidence that the criminalization of consensual, adult sex work can lead to increase human rights violations against sex workers."

Nakpor, who advocates for the decriminalization of prostitution, says such a policy would not only reduce violence, but it would also provide workers with welfare, such as social security, for them and their families.

However, the resolution—which Amnesty's board will discuss in detail in a future meeting—could play an important role in empowering sex workers.

"Stigmatization of sex workers makes them more vulnerable to human rights abuses. Decriminalizing sex work helps to de-stigmatize some of society's most vulnerable by recognizing that the work they do is, in fact, work and that they are themselves worthy of the protections and guarantees that any worker enjoys," Dermant said.
RELATED ISSUES