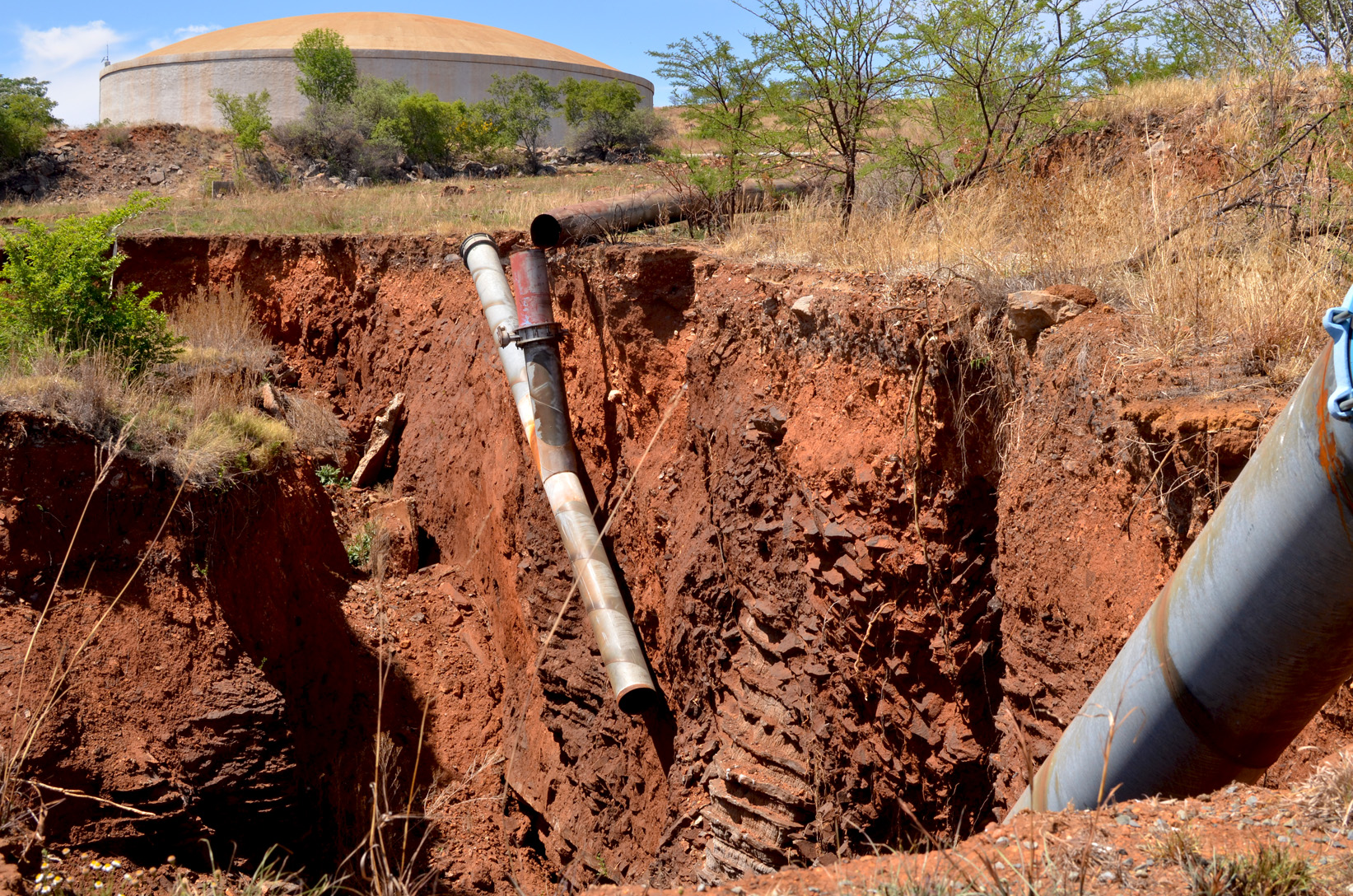 On Thursday, October 27, the Merafong City Local Municipality council voted to declare Khutsong, Welverdiend and Carletonville a local state of disaster under the Disaster Management Act.

This comes as a response to numerous sinkholes destroying water access and waste disposal infrastructure, leaving thousands without access to basic services.

The Far West Rand is the area hardest hit by sinkholes, an issue dating back more than 50 years to gold mines pumping water out of the underground void. Now, poorly managed infrastructure creates new sinkholes which endangers service delivery, schools and other public works.

Sinkholes form in areas sitting atop dolomite, a type of sedimentary rock prone to become a solution when combined with water and weak acidity. This can be caused by things as simple as rainwater flowing from a gutter or a leaking water pipe.

According to the Council for Geoscience, millions live in 50 towns either completely or partly underlain by dolomite.

These include Mogale City, Potchefstroom, Sasolburg and Vereeniging. Parts of Joburg and Pretoria are also dolomitic.

While roughly 2 500 sinkholes have been identified, nearly half occur in the Far West Rand alone.

Last year, the floor of the Khutsong main reservoir failed, likely due to a sinkhole, and residents relied on water supplied by trucks for three weeks. More recently, a pipeline linking a reservoir to Khutsong South, Khutsong New Extensions and Welverdiend fell into a sinkhole, leaving an estimated 23 802 residents without piped water until September.

Carletonville's reservoir is no longer operational either due to sinkholes claiming its pipelines. The short-term fix to all these issues has been directly piping in water, leaving communities with no back-up in case of service interruption.

"Currently we have 10 open sinkholes affecting services, which must still be rehabilitated, pending availability of funds," Merafong spokesperson Chris Spies said in a statement.

Sewer lines in Carletonville and Khutsong also collapsed recently when leaking caused sinkholes.

"The sinkhole rehabilitation and re-routing of the outfall sewer is hampered by a lack of funding," Spies said.

Additionally, a visit by The Star to Hlanganani Primary School near Carletonville confirmed that the ground was shifting and slowly separating the foundation from the building.

Oupa Bodibe, spokesperson for the Gauteng Department of Education, said there were historic sinkholes on the school's property, but the sinkholes had since been closed.

Bodibe added that other schools may still be impacted by sinkholes.

"Given the fact that a substantial portion of Gauteng is underlain by dolomite, it stands to reason that a number of buildings including schools are located on dolomite land. Some of these schools were built before dolomite awareness and foundations and wet services therefore do not necessarily comply with the more recent South African National Standards," Bodibe said in the statement.

A Rehabilitation of Sinkholes project is under way in Merafong to address ageing and leaking infrastructure. Part of the project includes fixing Khutsong's water delivery, a task expected to cost R70 million.

KBO Projects construction company is contracted by Merafong to fill sinkholes.

General manager Riemer Wijnja said impacts to infrastructure were wide ranging.

"We've done a couple of sinkholes that damaged houses and buildings. There's one particular one that's very close to a classroom in a school, and they had to evacuate that classroom," Wijnjna said, declining to identify the school.

According to Eric Stoch, an environmental consultant who currently researches sinkholes at North-West University, flooding from a silted canal system in the area threatens nearby housing developments. As water including that pumped from mines overflows the canal, the additional water can cause sinkholes close to houses.

"If you are not managing infrastructure,and you are allowing it to become progressively worse, it gets to a stage of no return when it becomes almost more expensive to maintain than it does to build a completely new system," Stoch said.

The sinkhole problem is also taking a toll on local businesses.

Paulo de Gouveia is a Carletonville business owner who has plans to open a new filling station at the entrance to town. After he invested in the drilling and permitting necessary to build on dolomite, two large sinkholes formed on his property, most likely caused by leaking water pipes. He will have to push his plans back to next year and likely re-drill samples in a new area.

"This is all due to bad maintenance. If they walk the line once a week, check there are no leaks, then we won't be having this problem here," De Gouveia said. "Rand Water must come to the party and sort us out."

Rand Water declined to comment.

By 2001, the cost to fill South Africa's sinkholes had already exceeded R1 billion, and that number continues to rise.

According to Spies, the last sinkhole Merafong remediated cost R11m alone, and the Department of Human Settlements spent an additional R23m last year to rehabilitate sinkholes in Khutsong Extension Five.

"The Far West Rand area is one of those areas that have been highly influenced by sinkholes. This phenomenon dates as early back as the 1960s when the mines started the de-watering of the area to access the underlying gold deposits," Sifiso Ngubelanga, a senior scientist from the Council for Geoscience, said.

The government and mining houses together formed the Far West Rand Dolomitic Water Association (FWRDWA,) in 1964 when it became apparent that de-watering the area allowed water ingress to form sinkholes into the newly opened void. The association's purpose is to mitigate the impacts of mining's water use.

According to a statement from the Sibanye Gold media department, the company now owns more than 90 percent of the mining operations holding responsibility in the FWRDWA.

However, the association's obligation to purchase buildings and land affected by de-watering ended at the end of 1999, and no new amendments have been passed to continue mines' liability for sinkholes.

The government's draft Regional Closure Strategy for the Far West Rand Goldfield, provided to The Star by the Federation for a Sustainable Environment, identifies sinkholes as a major issue for mines to address.

"In some instances, these sinkholes have been filled in with mine tailings increasing the pollution on ground water in the (Far West Rand)," the strategy stated.

Ewald Erasmus, a sinkhole expert working for the Mine Water Research Group, said companies used this practice because filling sinkholes with soil dug from nearby would simply open a new area to a sinkhole and trucking in material from a non-dolomitic area was considered too burdensome.

Mine waste is also often mobilised as a liquid slurry to make it easier to transport through pipes. Sinkholes form under these unlined tailings piles, as the excess water percolates into the dolomite. For example, the tailings piles at the abandoned Blyvooruitzicht Gold Mine near Carletonville have hundreds of sinkholes underneath them.

The response to sinkholes is also without a central governing body, as the State Co-ordinating Technical Committee, formed in 1963 to control de-watering, is since defunct. The Geoscience Amendment Act makes a provision for reinstating the committee, but the government has not yet done so.

"That has not been funded by Parliament, so we have not gone into full implementation of that plan," Ngubelanga said.

The Department of Mineral Resources and the Department of Water and Sanitation did not respond to repeated requests for comment.

Experts say human activities pose a significant threat, as the re-watering of the Far West Rand when mines stop pumping will probably reactivate many filled sinkholes.

"You will never, ever be able to build a house or a property or a road over the old sinkhole or the filled-up sinkhole because of the natural reactivation," Erasmus said.

According to the draft regional mine closure plan: "It is proposed that upon re-watering a renewed phase of sinkhole formation will occur should water be allowed to rise into the dolomitic units."

In its statement, Sibanye estimated that de-watering could take between five and seven years for the underwater compartments to fully recharge with water once pumping halted. It pumps 200 megalitres daily, and that would begin flooding the void post-pumping.

According to Erasmus, re-watering is a matter of when, not if. "When the re-watering will happen, those sinkholes will fall again," Erasmus said.

As soon as water rises to the level that it touches the bottom of filled sinkholes, the material would be reactivated and fall again.

As mining houses abandon their old workings, the companies still operating are often forced to take on their responsibilities.

This already happened at Blyvooruitzicht, where AngloGold Ashanti now pumps two of the abandoned shafts to keep its own mines from flooding.

"The mining is not something that is here for good. At some point it will stop. What will happen when the mining will stop?" Ngubelanga said.
RELATED ISSUES