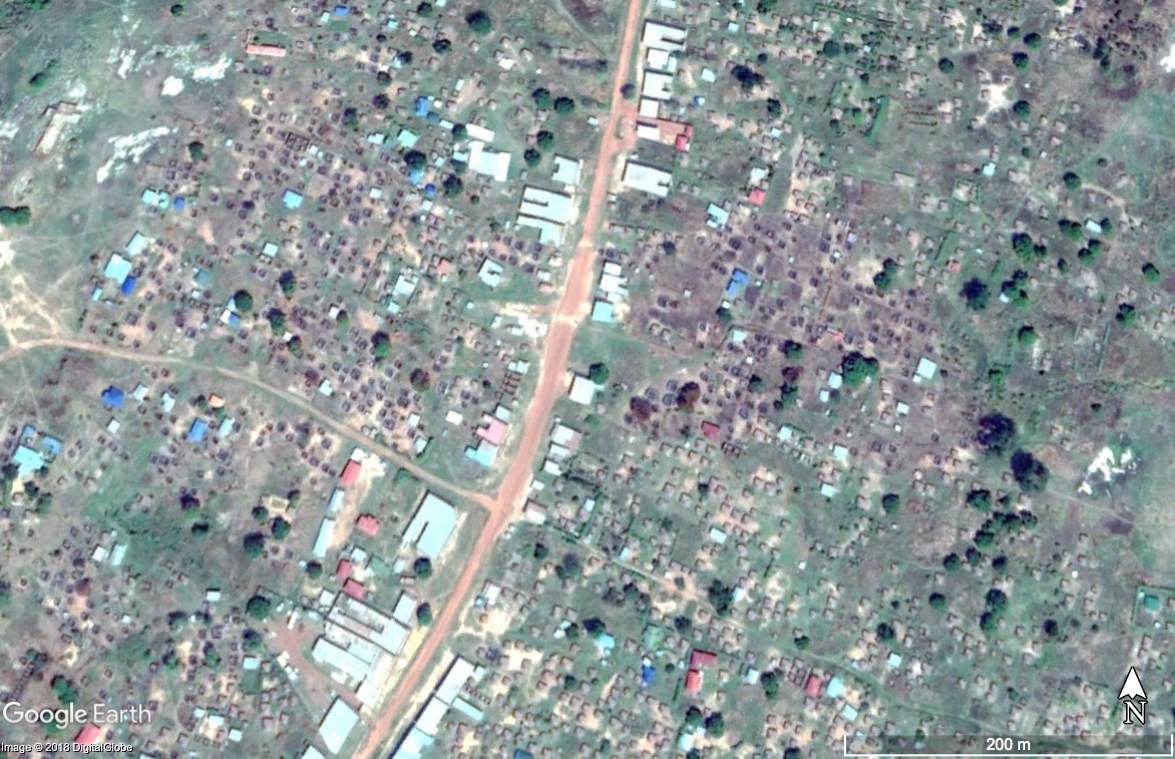 I sat cross-legged in the dirt, computer on my lap, surrounded by the curious faces of four primary school teachers originally from South Sudan's Kajo Keji region. We were using my cell phone to hotspot so that we had Internet access in this northern Ugandan refugee camp. On the laptop screen was a satellite image of a cluster of houses in a small village—called tukuls.
"Are you ready to see what it looks like now?" I asked one of the teachers. He said yes.
I selected a more recent snapshot of the same location. High resolution. As the image loaded, we could feel everyone grow tense. In this one, the grass wasn't a lush green, and the tukuls weren't little brown circles clustered in cleared areas. Here, the image showed outlines where the walls would have been, dark charred marks on the ground where the brush must have burnt.
I was reporting on land and property rights in South Sudan as part of a project funded by the Pulitzer Center. We wanted to access people across the country—those who are displaced, illiterate, or in areas barred from access by the government—so we designed a mobile phone survey that could be answered simply by pressing buttons on the phone. After many months of research, we had data from across the country of people who felt they had been forced out of their homes. Many blamed the government.
We needed the data, but without the real stories of those affected the story wouldn't be complete. One team of journalists, supported by African Defence Review, traveled to Malakal and Wau Shilluk, where many people have been forced to take shelter in a camp under the protection of the United Nations.
Meanwhile, South Sudanese journalist Lagu Joseph Jackson and I went to the refugee camps in northern Uganda, where people fled the fighting across the border. In the camps, we documented dozens of stories of people recounting violent incidents. Soldiers coming to their village, shooting at civilians, homes set on fire, people being forced to run.
For every story, we wanted to identify matching layers of evidence in our data, from the images provided to us by sources and from satellites passing overhead every few weeks.
By using a public dataset with geolocations of primary schools, we led each refugee through a group of questions to identify the area of their home. When we started we would show the person the satellite imagery. It became clear very quickly that it didn't work. People living in the camps were often so desperate for news, for confirmation of their situation, that they would make assumptions we later found out were wrong. This must be the school, they'd say. This must be the church. This must be my house.
After a few experiences of confusion, finding out later that we weren't even looking at the right village, we developed a method that proved much more effective. Jackson would sit with the person, talking directly to them, while I'd be looking at the imagery and guiding the dialogue with questions. First, which primary school was closest to your house? From the school, do you face the river or the road? Would you walk toward the market or away from it? Were you near the forest or not? How many tukuls were on the property? Was there a fence? What color was the tinsheet roof?
By using the same process with multiple sources from the same village, we were able to cross-compare and create a geo-located data set of damaged property and violent incidents.
And for the people who were able to see the satellite imagery of their homes, it was bittersweet. In some cases, it confirmed suspicions or reports from friends that their homes were destroyed. For others, it was an unpleasant surprise. But most told us they preferred to know—better to be fully aware of the realities waiting for them back home.
RELATED ISSUES