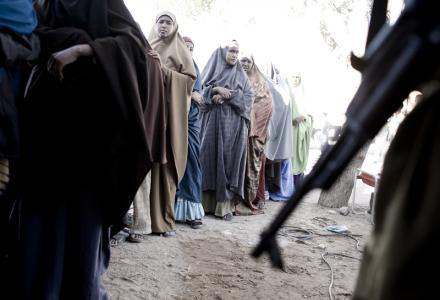 What began as a way for exiled Somalis to send money to relatives at home has become a company that almost single-handedly keeps the entire war-torn country afloat.

"Remittances are a lifeline to Somalis," said Abdirashid Duale, chief executive of Dahabshiil, at his Hargeisa headquarters. "They are the main income people here receive."

Dahabshiil, a family-owned money transfer company, is a household name among Somalis. It is also Somalia's economic linchpin connecting the wealthy diaspora with the impoverished homebodies.

In Dahabshiil's headquarters, the uneven staircases, woozily slanting walls and off-kilter balustrades lend the office a half-finished feel. Duale, a fast-talking and broadly smiling man who lives between London and Hargeisa, sweats in the heat despite the air conditioning whirring in the background.

The office has the relaxed charm of many a family-run African business. Duale's father, Dahabshiil's founder, shuffles by in his sandals, a length of printed material wrapped around his waist and a short traditional walking stick tucked under his arm as he makes his way to a private office on the roof where he sits cross-legged on the floor in front of a computer.

It is all a far cry from Western Union's Colorado headquaters or Moneygram's in Minnesota. But then Hargeisa is an unlikely place to find a multi-million dollar financial services company.

The heat is stultifying, the dusty streets filled with potholes, battered cars and ambling pedestrians. The tangled birds' nests of wires that cling to every telegraph pole are testament to the recent boom in telephone connections. Informal stalls that sell imported goods and Ethiopian-grown khat, a popular plant chewed as a stimulant, line the roads. Money changers sit behind bricks of local currency.

The Dahabshiil name is ubiquitous: etched into concrete posts that mark crossroads, emblazoned on spare wheel covers on the back of 4x4s and stuck on signboards outside shops and offices offering money transfer services.

The World Bank estimates that remittances worth around $1 billion a year reach Somalia from emigres in the U.S., Europe and the Gulf states. And industry experts reckon that Dahabshiil may handle around two-thirds of that and as much of half of it may reach the semi-autonomous region of Somaliland.

Continue reading full article at GlobalPost.
RELATED ISSUES

Governance

Issue
Conflict and Peace Building
Conflict and Peace Building