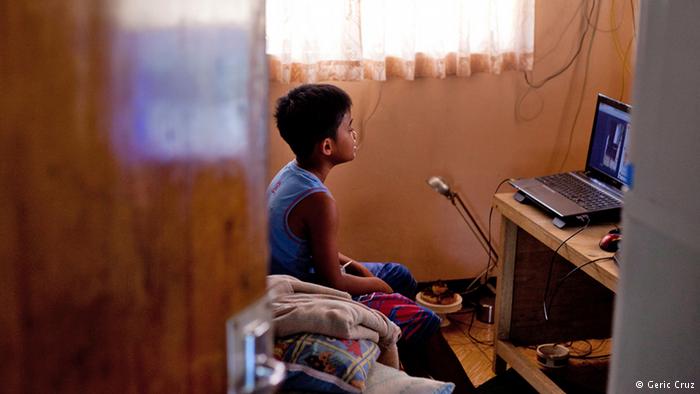 It is nearly midnight and like most working mothers, 39-year-old Gemma, is preparing for the next school day before turning in.

It is about 5:30 a.m. in the Philippines and Gemma picks up her phone and goes on Viber to wake up her nine-year-old son, Vlad, and her husband, Nielson.

If the soft whir of the Viber ring doesn't wake them up, she will try Skype from the laptop on the stump of a nightstand next to her bed.

"If that still doesn't work, I'll try calling the landline. That's the loudest, you can hear it ring throughout the entire house," said Gemma, chuckling at the familiar struggle of rousing a young child from slumber.

Gemma will only be able to sleep once she has performed the daily ritual of mothers everywhere: seeing her child off to school. Only for a migrant mother like her, it will mean that her goodbye kiss will have to be sent over the tiny screen of her laptop or mobile phone.

This is what parenting has been like for Gemma in the five years that she moved to Paris as an undocumented migrant. In her family home in Cavite, a suburb outside the Philippine capital of Manila, her image and her voice are felt, but her presence never completely is. She is a virtual mother parenting her child from another country, another time zone.

Transnational parenting

Transnational parenting, or parents who attempt to raise their children from another country, is the home arrangement for some 25 percent of children in migrant-sending countries.

The Philippines, an archipelago of more than 100 million people, is one of the top labor exporters in the world. More than 10 million Filipinos work overseas and about half of this number are on fixed-term contracts working low-paying jobs, which make it almost impossible for their families to join them.

Official data is scarce, but based on the numbers of contract workers abroad, researchers have extrapolated that there are about 2.56 million Filipino children who have one or both parents working overseas.

Social media has become the link to keeping family ties tight.

Filipinos spend about 53 hours a week socializing online, or 11 hours more than the global average of 42 hours, according to a survey of more than one billion active Internet users conducted by UM, a division of advertising consortium IPG Mediabrands.

Of the 40 million who have social media accounts, about 74 percent use these platforms "to stay in touch with family and friends."

"With some 11 million Filipinos living overseas, social networking has become a way to connect and communicate with friends and family. Filipinos now lead the world in the amount of time spent socializing online," UM found.

State-assisted labor migration

Labor migration is a common employment option in many developing countries, but unique to the Philippines is the government's view of labor migration as an economic development strategy. In 2014, remittances from overseas workers totaled about $25 billion, equivalent to roughly eight percent of the country's GDP.

In the 1970s, government facilitated the deployment of able-bodied Filipino males who poured sweat equity into the oil rigs and construction sites of the Middle East. The women stayed behind, keeping the home intact and the children in line, playing the role of both mother and father.

Two decades later, the market shifted. Aging populations and more working mothers in developed countries created job openings for caregivers and nannies prompting Filipino women to pack their bags to work abroad.

Currently, more than half of Filipino labor migrants are women. But unlike the men before them, their absence in the home is not easily filled by the fathers left behind.

"Migration has not emancipated women from traditional gender norms. Their roles as mothers are emphasized by migration," said Filipino sociologist Asuncion Fresnosa-Flot, who has done research on transnational families.

Not that they want to be relieved from their maternal obligations. Migrant mothers are desperate for ways to make their presence felt as something more than a "money angel" who magically wires money home every month.

Research by University College London shows that connectivity through the mobile phone allows for "intensive mothering," where migrant mothers can be involved in everyday parenting, micromanage meals and homework and administer discipline."

Virtual umbilical cord

Vlad was around four when Gemma left for Paris. She has watched him grow up on her computer screen, on Facebook and through pictures sent via email or on Viber.

"I told him Mama was going to a seminar," said Gemma about leaving. "I couldn't bear to say goodbye."

She says Vlad was too young to understand, but Gemma knows the deeper reason for denying herself a farewell. She needed hope that she would be with her son and her husband again someday and feared that wish might be jinxed by the finality of a goodbye.

Her laptop and her smartphone are her umbilical cord to "my two boys," a baby monitor of sorts that allows her to be part of her family's life even while she is miles away.

It also helps her manage what the lonely monotonous routine of cleaning strangers' homes and looking after other people's children.

"I used to carry lesson plans. Now, I carry cleaning products," she sighed, thinking back to her life in the Philippines as a school teacher.

Certainly, pictures stored on phones, Skype sessions and messages sent back and forth on instant messenger are a luxury migrants of earlier days did not enjoy.

"Migrants say technology helps them cope. But it is still not enough. It is still not a substitute for the warmth of a mother's embrace," said Susan Ople, head of the Blas Ople Foundation, a labor rights NGO in the Philippines.

It is a stinging reality Gemma knows too well.

"Once Vlad told me to come home even just for awhile so he could give me a hug - for real. I made up an excuse to hang up. I couldn't let him see me cry," said Gemma.

Tonight and every night Gemma will bid her son good morning and he will wish her sweet dreams. Vlad will go off to school and Gemma will go to sleep hoping that she will be one day closer to the moment when she can hug him for real.
RELATED ISSUES

Issue
Migration and Refugees
Migration and Refugees

Women

Children and Youth