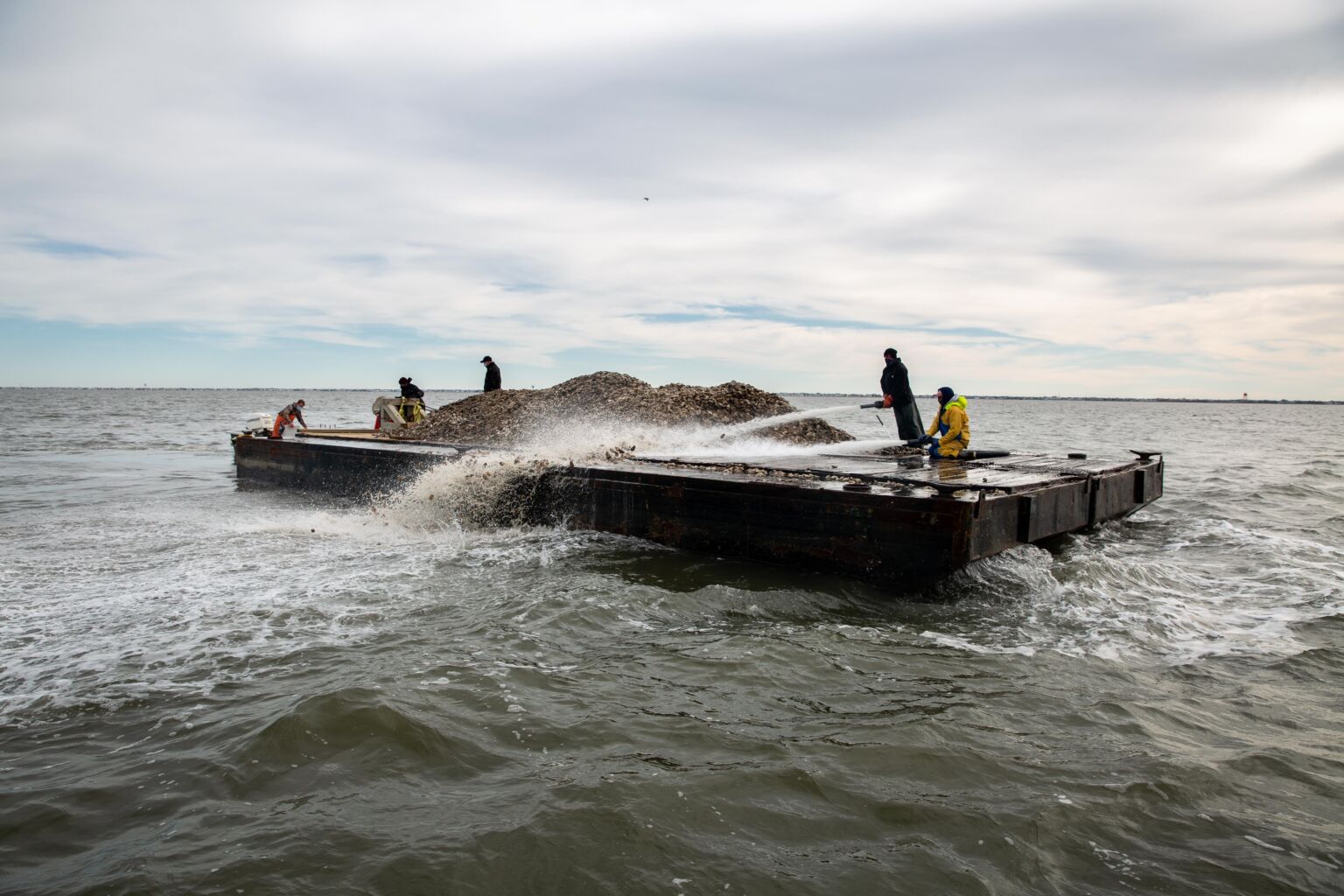 For the small-scale oyster growers of Barnegat and Delaware bays, the challenge of finding enough customers to buy their harvest is growing more difficult by the day, as the still-surging pandemic converges with winter, forcing restaurants to scale back orders or shutter altogether.
But a partnership recently forged between The Pew Charitable Trusts and The Nature Conservancy is working to counter the ongoing economic impact of the pandemic on the oyster aquaculture industry, which supports around 3,000 jobs nationwide.
The initiative, called Supporting Oyster Aquaculture and Restoration (SOAR), has designated $2 million to buy back some 5 million oysters from over 100 oyster farmers in New England, the mid-Atlantic and Washington state. Once the bivalves are purchased, they are transported back to the water to be "replanted" on existing oyster reefs in need of restoration.
'Restoration at its finest'
The program reached New Jersey earlier this month (a total of seven states are involved) and is dedicated to purchasing over 620,000 oysters from some 20 Barnegat and Delaware bay growers. "We still have some limited follow-up plantings on both coasts, but the bulk of our phase one is now complete," said Pew's Zack Greenberg, who heads the project's New Jersey effort. "It really has been community-wide restoration at its finest."
"The oyster farmers were hurt worst," Dale Parsons said recently during an interview from his narrow office at Parsons Seafood, a wholesale and retail distributor in Tuckerton, a borough on Ocean County's Little Egg Harbor Bay that has been in his family since 1909. A laundry basket bristling with rolled-up nautical charts sat next to his desk. "Retail outlets are the only source of market right now; I mean, what kind of restaurant is going to serve raw oysters on takeout?"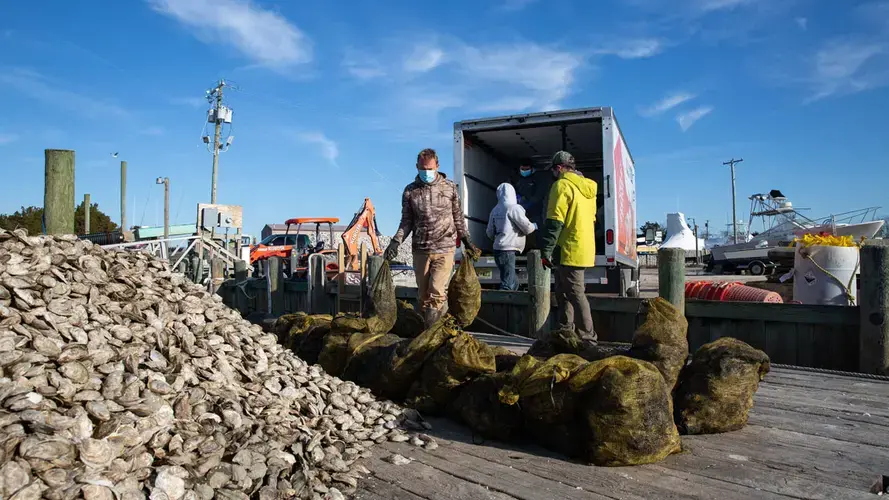 In the first week of December, Parsons Seafood hosted two of Pew's four buyback drop-offs. Parsons figured about nine farmers came by to offload roughly 240,000 market-size oysters — bivalve mollusks that, in normal times, would be in high demand by restaurants and raw bars bustling for the holiday season.
Parsons and his crew loaded the haul — about 50 tons — onto a 48-by-24-foot barge and made their way to a designated reef in nearby Tuckerton Bay, where they used a high-pressure hose to push the oysters overboard. "It took a day and half to load the barge," Parsons said, "and literally about 20 minutes to hose it over."
The restoration site — Tuckerton Reef — was established by Parsons in 2017, in collaboration with Stockton University's Marine Field Station. The effort is called the Parsons Oyster Reef Recovery. At the program's hatchery at nearby Great Bay Marina, oyster larvae are added to tanks lined with oyster and clam shells that have been recycled from local restaurants, along with conch donated by Cumberland County-based canner La Monica Fine Foods. Within a day or two, the larvae "set" on the shell and begin to grow. At that point, they're ready to be transported out to Tuckerton Reef.
The magic of oysters is that they create their own, self-sustaining habitat. Using a calcium carbonate, cementlike substance, they clump together once they've settled onto the sea floor. They then form reefs that not only filter enormous amounts of seawater — a single oyster can filter 50 gallons a day — but protect themselves against predators like the cownose ray, which much prefers an individual shellfish over an impenetrable mass. A robust oyster reef nurtures a robust ecosystem of fin fish, shellfish and seagrasses, and can also stabilize an eroding shoreline by providing a natural buffer against wave action and sea-level rise.
"Shell is a really good resource to restore shellfish in the bay," said Parsons, whose recovery team this year has put 2,600 cubic yards of clam, oyster and conch across eight acres of bottom. "It shouldn't be thrown away. It shouldn't go on a driveway. It should go back in the bay."
'Coral reefs of the East Coast'
"Oyster reefs," Pew's Greenberg said, "are like the coral reefs of the East Coast." The two ecosystems also share the unfortunate condition of decimation — globally, over 85% of oyster reefs have disappeared due to overharvesting, disease and habitat loss. In North America, they are considered "functionally extinct."
At the beginning of the 20th century, Barnegat Bay held some of the largest oyster reefs in the Northeast. Today, its natural population is less than 1% of the size it was 100 years ago. The Delaware Bay's oysters have suffered the same fate.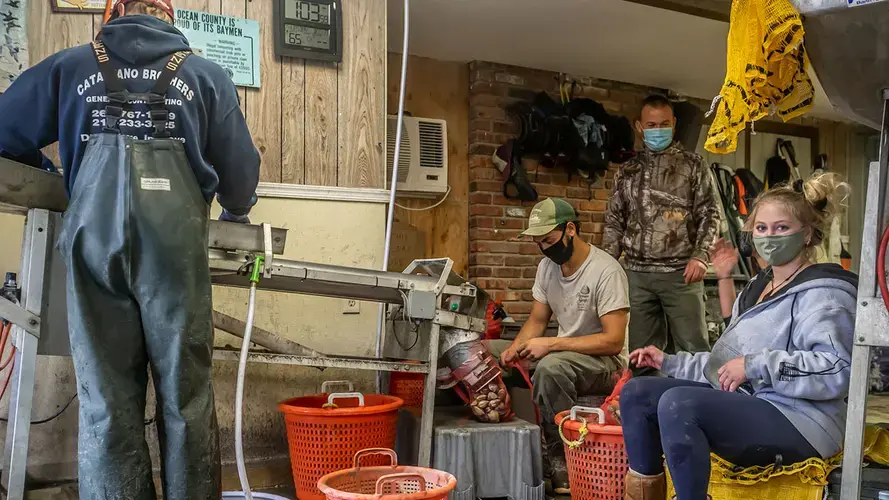 But in recent years, oyster and clam populations have started to bounce back in both bays — and across the country — thanks in large part to aquaculture efforts that began in the late 1970s but have really gained popularity in the past decade. In Barnegat Bay, clam aquaculture came first, in the 1980s, followed by oyster farmers. Today, there are about 60 shellfish farms in New Jersey's Atlantic coastal bays and Delaware Bay shore.
Currently, only hard clams and oysters are commercially grown in the state, but a recent NOAA (National Oceanic and Atmospheric Administration) Sea Grant-funded project by Rutgers University has successfully bred scallops and surf clams that grow fast and are able to adapt to the coastal bays' rising water temperatures. The scallops and surf clams have already been given to several farmers for planting on their farms.
Meanwhile, Greenberg said he hopes that Pew's restoration program will continue to grow beyond its immediate emergency mandate of offering financial relief to oyster farmers whose businesses have been paralyzed by the pandemic. "The follow-on that we see is developing a resiliency grant program," he said. "Although, it's still early days."
Something old, something new
For Parsons, aquaculture and the Oyster Reef Recovery program have helped his business to both pivot and continue to generate income. But that doesn't stop him from feeling nostalgic for the old ways, which, these days, few bay-men — and women — around Barnegat Bay remember. A lot of the new farmers, he said with a laugh, "couldn't even fix their own motor, can barely even change a spark plug, and yet they are having an influence on the industry."
He hopes his involvement in the bay's burgeoning aquaculture industry as a fifth-generation bayman will help keep Barnegat's cultural history alive — and, by osmosis — encourage some newbies to learn how to maintain their own equipment. "I do this because I'd like people in the area to know that this body of water is more than just a place to exploit resources," he said. "My work is based off of culture, not just seafood."
The business, he said, has evolved into an idea — a model for a future in which shellfish farmers thrive. The plan is for his 6-year-old daughter, Natalie, to someday take the reins and advance his efforts in farming and restoration. She'll be the sixth-generation Parsons to run the business — and carry on the bay culture her father cherishes. "Reshelling the bay bottom isn't an immediate turnaround," Parsons said. "But I look at it like I'm planting the olive grove for Natalie."
RELATED ISSUES

Issue
Bringing Stories Home
Bringing Stories Home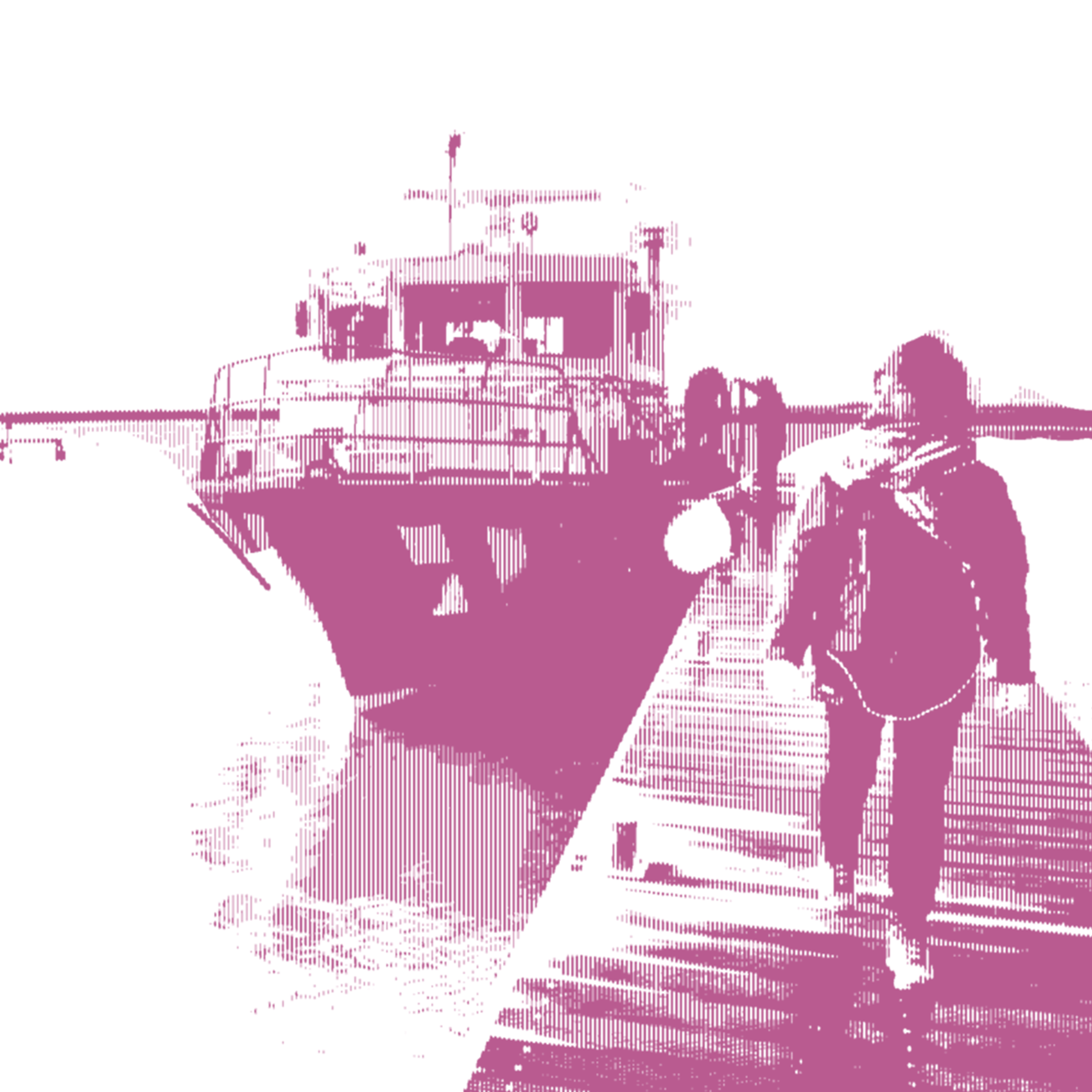 Issue
Connected Coastlines
Connected Coastlines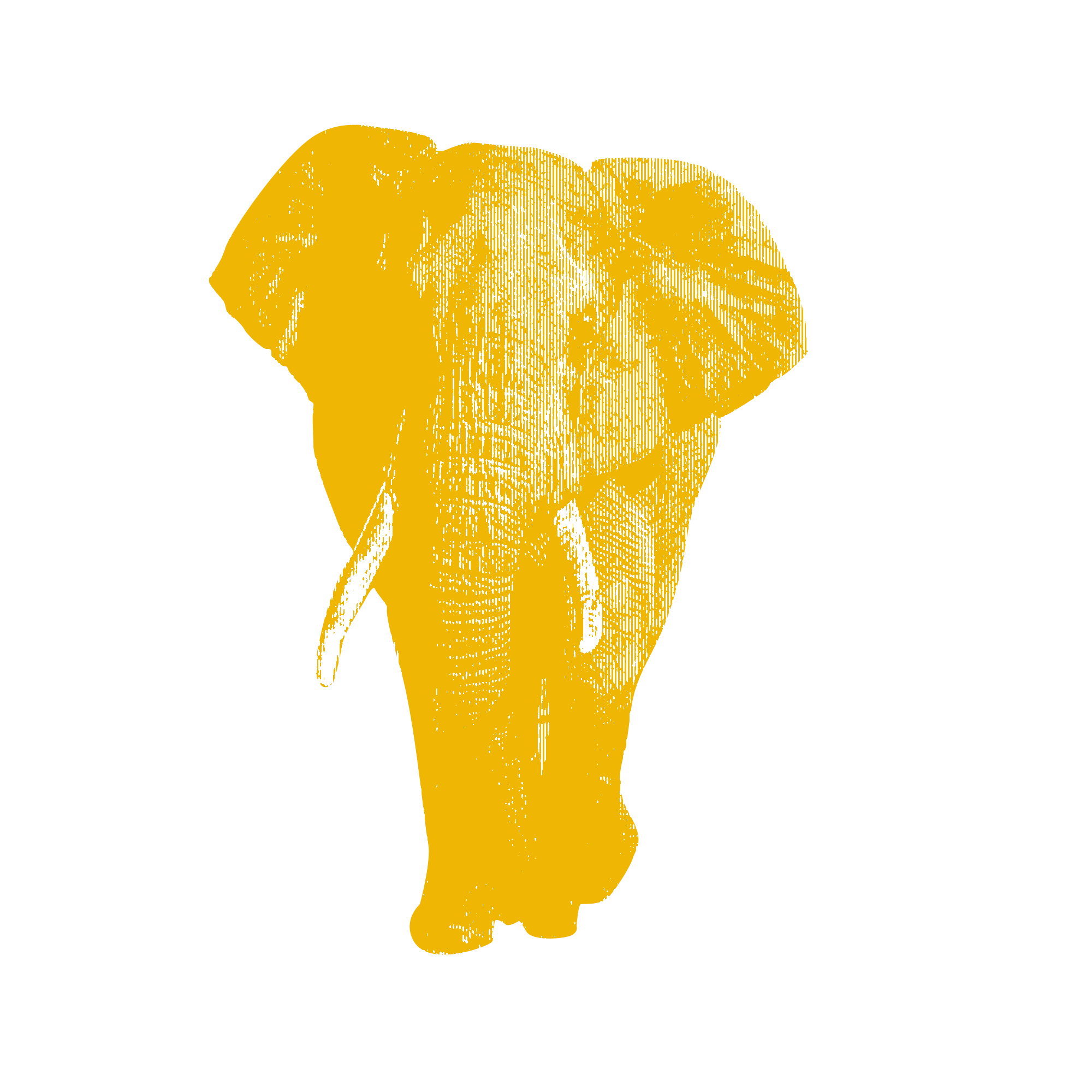 Issue
Environment and Climate Change
Environment and Climate Change
RELATED INITIATIVES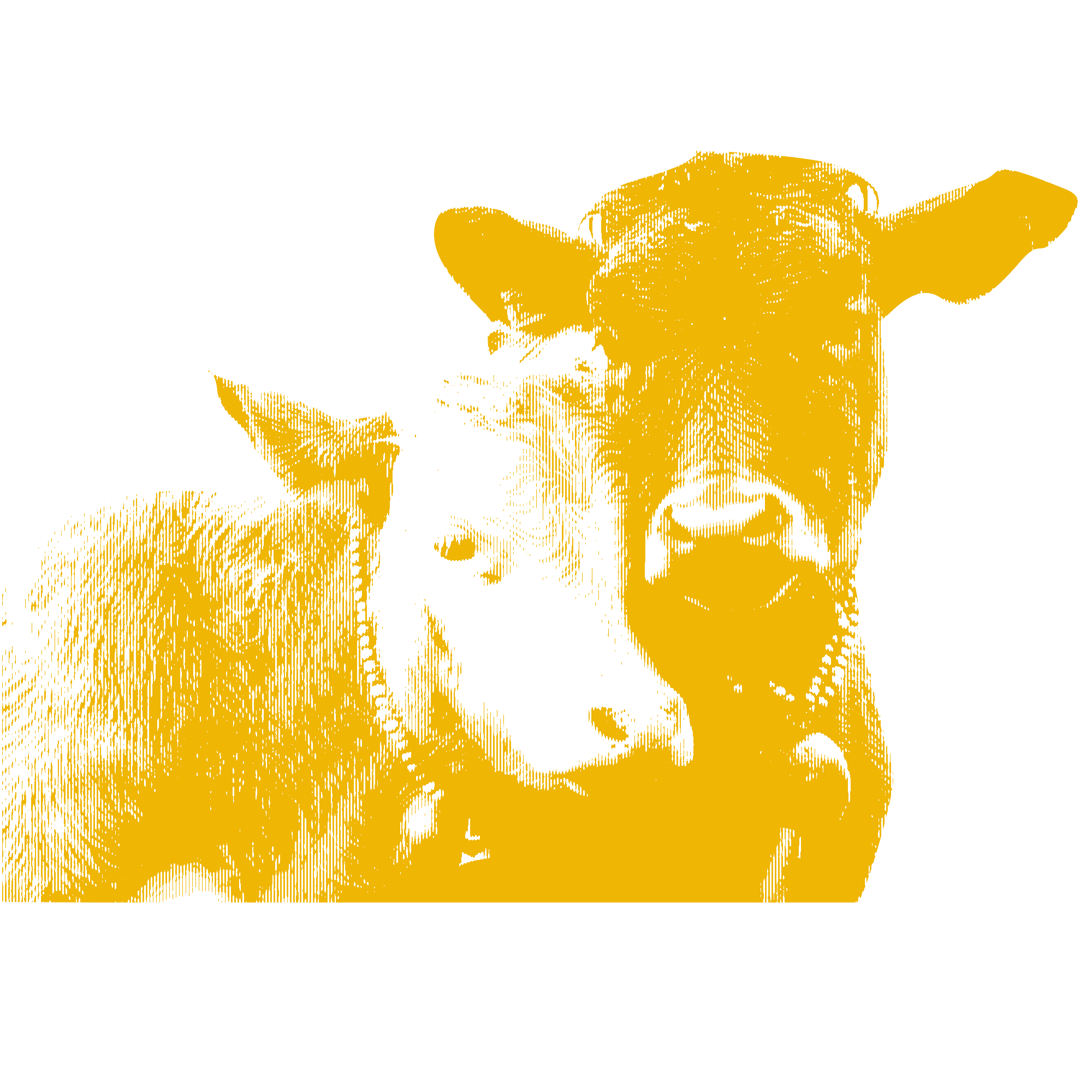 Initiative
Bringing Stories Home
Bringing Stories Home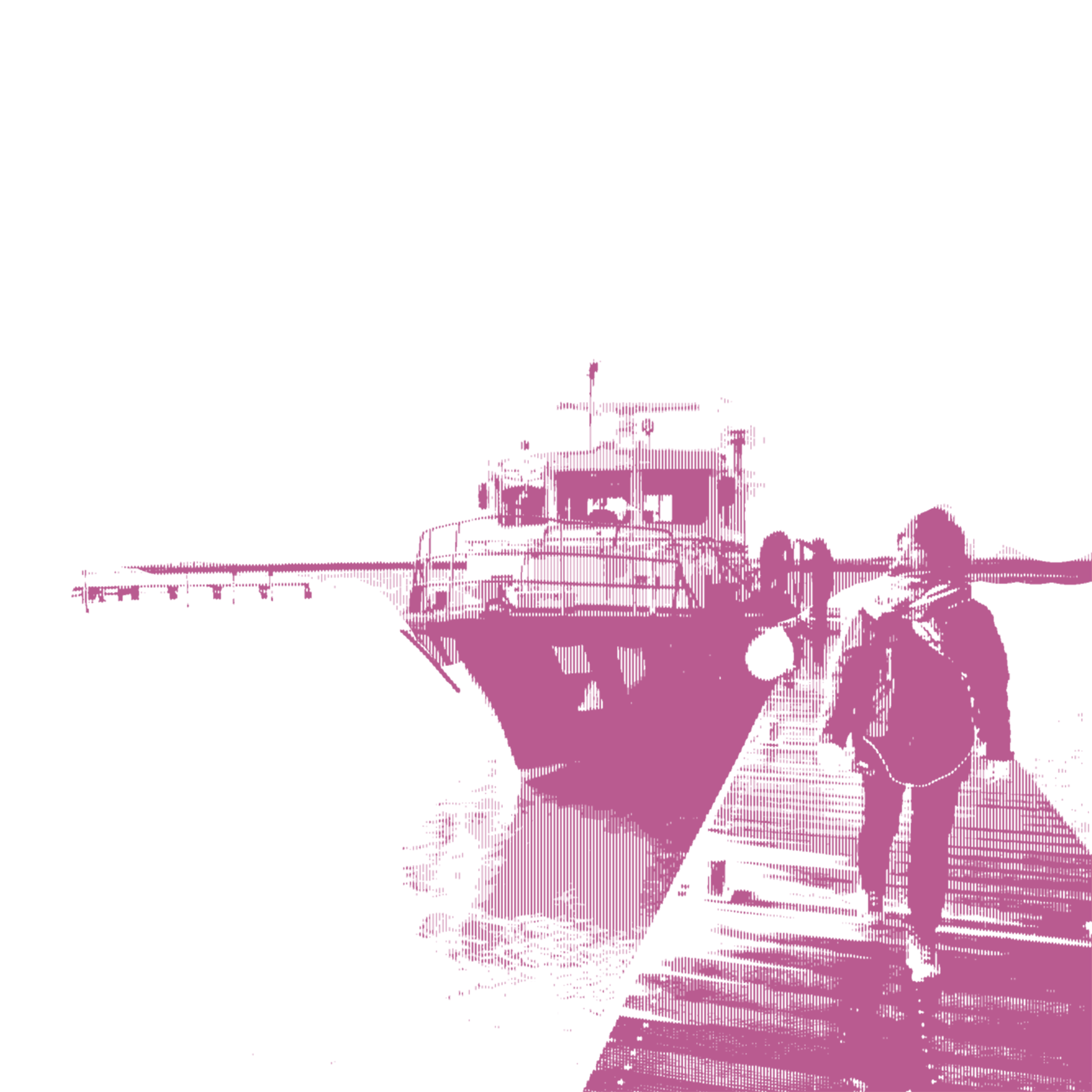 Initiative
Connected Coastlines
Connected Coastlines