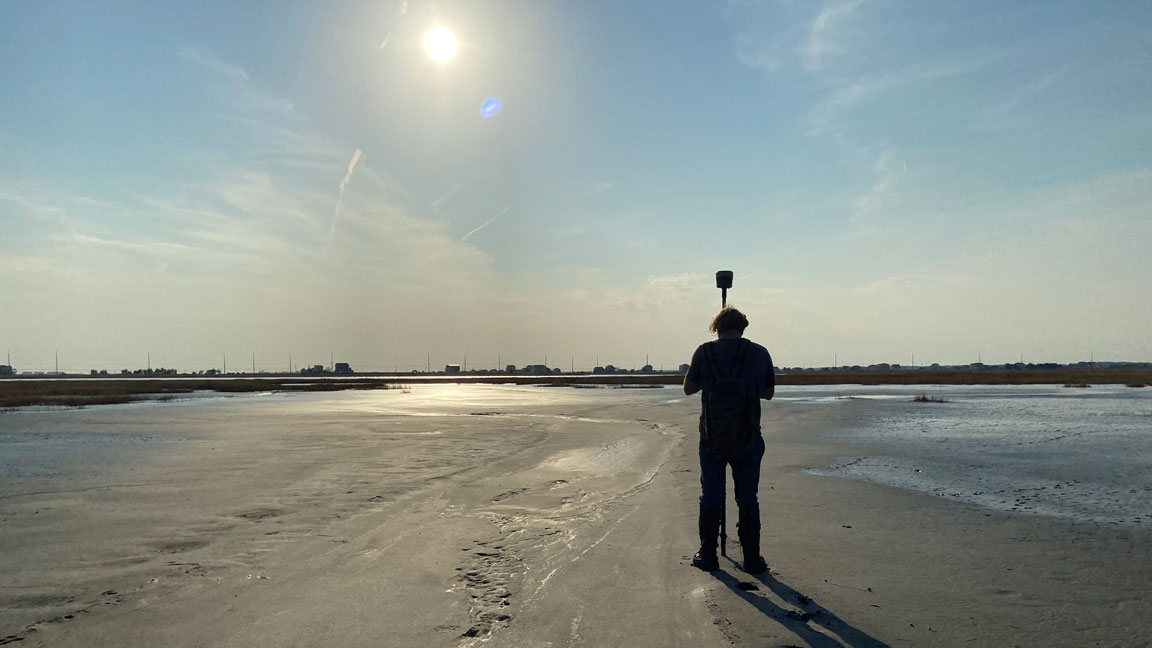 On Monday, one of the most active and tumultuous Atlantic hurricane seasons on record will end. That's reassuring news for New Jersey's oceanfront communities, who, for another year, were spared a direct hit and continue to benefit from a 50-year beach-replenishment project by the Army Corps of Engineers that has left most of the state's beaches in better shape than ever.
But a healthy oceanfront provides little solace for the bay sides of New Jersey's barrier islands, where land elevation is lowest and most homes run to the water's edge, protected from inundation by nothing more than bulkheads whose heights are becoming less effective with each centimeter of sea-level rise.
Ask any local official on the Jersey Shore — or Army Corps engineer tasked with "solving" the state's coastal-flooding issues — and they will tell you that it is no longer the oceanfront that keeps them up at night. The fight has fallen back to the long-ignored bay sides of the islands, and time is running out.
The first clues on how this battle will unfold came with the Corps' 2019 Back Bays study, which was born out of the wreckage of Superstorm Sandy. The report concluded that the state's 950-square-mile back-bay region will soon be incurring $1.57 billion in annual damages if drastic flood-mitigation measures are not implemented. Squeezed between pages on proposals for colossal infrastructure, like storm-surge barriers and floodgates, was a section exploring something less traditional and distinctly Dutch: nature-based features, like marshland restoration.
While the study's proposed $21 billion worth of storm-surge barriers spanning inlets up and down the coast remain far-off, elements of the study's more natural solutions are already in motion — and the results are encouraging, especially for wildlife.
Rethinking Flood Infrastructure
In the spring of 2019, about the same time it released the Back Bays study, the Corps teamed up with the state and the Wetlands Institute, a nonprofit conservation, research and educational center located in Stone Harbor, to launch the Seven Mile Island Innovation Lab.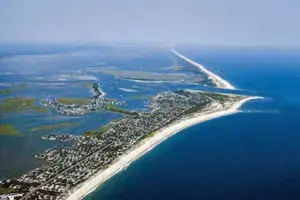 It is fair to say they would have once been considered unlikely partners, but the Corps and the Wetlands Institute were able to find common ground following the establishment of the Hurricane Sandy Rebuilding Task Force in December of 2012. One of the task force's mandates was to explore alternatives to traditional forms of flood infrastructure through Engineering With Nature, the Dutch-influenced concept of intentionally melding natural and engineering processes to combat sea level rise in a way that benefits communities and the environment.
Through the innovation lab program and the Engineering With Nature concept, the state, Corps and Wetlands Institute set out to address two problems present throughout New Jersey's back-bays region: the buildup of mud, silt and sand in the Intracoastal Waterway; and the degradation of wetlands due to sea level rise. While wetlands are able to keep up with natural sea level rise through accretion, they cannot with the accelerated rate of rise of recent decades. If these issues can be improved, the hope is, both humans and wildlife will benefit concurrently.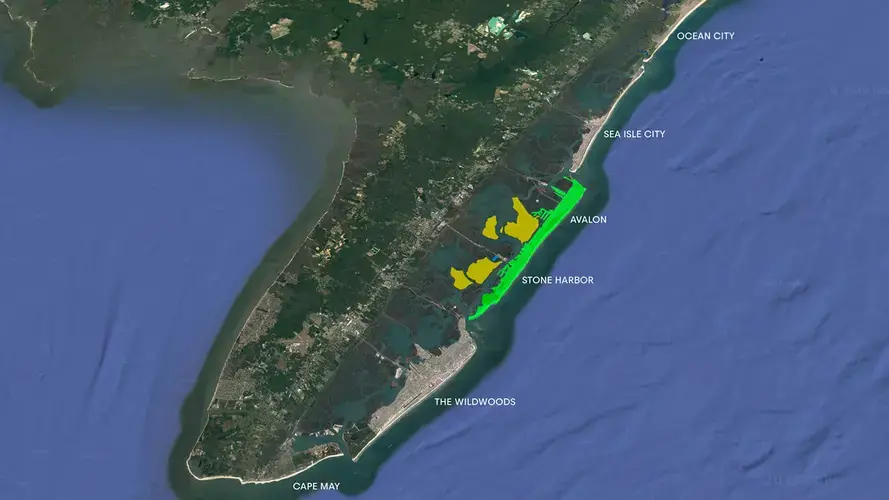 "Historically, dredge material was placed on the marshes," said Lenore Tedesco, the Wetlands Institute's executive director. A half-century ago, dredging within New Jersey's Intracoastal Waterway was largely unregulated. Therefore, dredge materials, then called "spoils," because they were an unwanted byproduct of channel deepening, were haphazardly dumped across marshland.
"They didn't do it for beneficial use," Tedesco said. "They did it because there were really no laws dictating what we do with marshes."
When the Clean Water Act was passed in the '70s, dredge materials were required to be hauled to dump sites inland or to specific disposal facilities on designated sections of marshland. That's the reason why, not far from the bayfronts of every Jersey Shore barrier island, there are peculiar mounds rising from the otherwise flat marsh — like the ever-rising hillocks of a landfill — the sites of decades' worth of dredge material.
"We've now run into the problem where all these sites are filled," Tedesco said. "With rising seas and the stresses on our marshes trying to keep up, it's much more beneficial overall for these marshes and our coastal ecosystems to keep the material in the system."
A Model for Success Just up the Coast
One of the state's first-ever beneficial-use projects — and a precursor to the Seven Mile Island Innovation Lab — was a drowning, 50-acre marsh island in nearby Avalon. The site was renourished with 50,000 cubic yards of "muddy sediment" using a technique called thin-layer placement, which utilizes an irrigator to gradually distribute fine coats of dredge material to raise land but avoid, as much as possible, the suffocation of existing vegetation. In the years since that project began in 2015, the island has begun returning to a dynamic habitat featuring elevated, healthy meadows.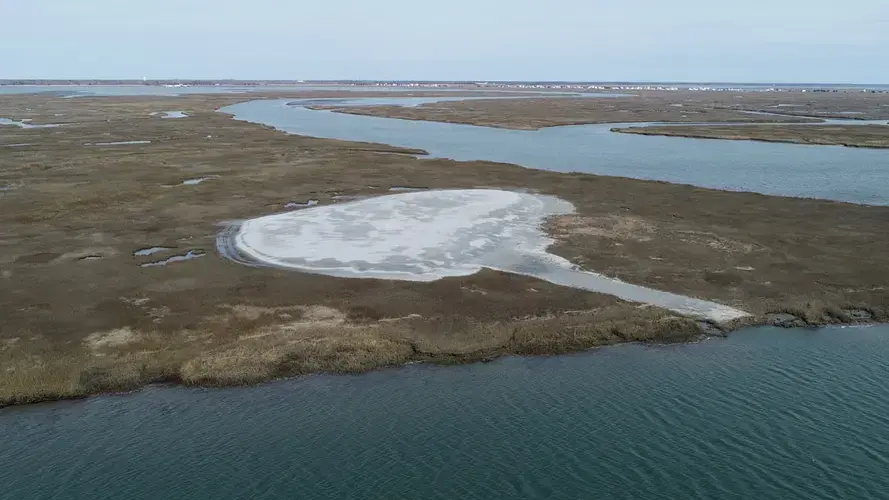 Today, Seven Mile Island Innovation Lab encompasses about 24 square miles of tidal marshes, lagoons, and channels in the back-bay region behind the barrier islands of Stone Harbor and Avalon. In addition to the pilot project in Avalon, four others have been renourished with dredge material from the Intracoastal Waterway. On two of the sites, Ring Island and Great Flats, added sand has created habitat for diamondback terrapins and beach-nesting bird species, including black skimmer and least terns, which are endangered due to habitat loss from development and sea level rise.
For those projects, Tedesco said, the Corps utilized a stacking technique with the dredge material, rather than thin-layer placement. It's important, she said, to explore different ways of restoring the marshland, because it is such a complex landscape.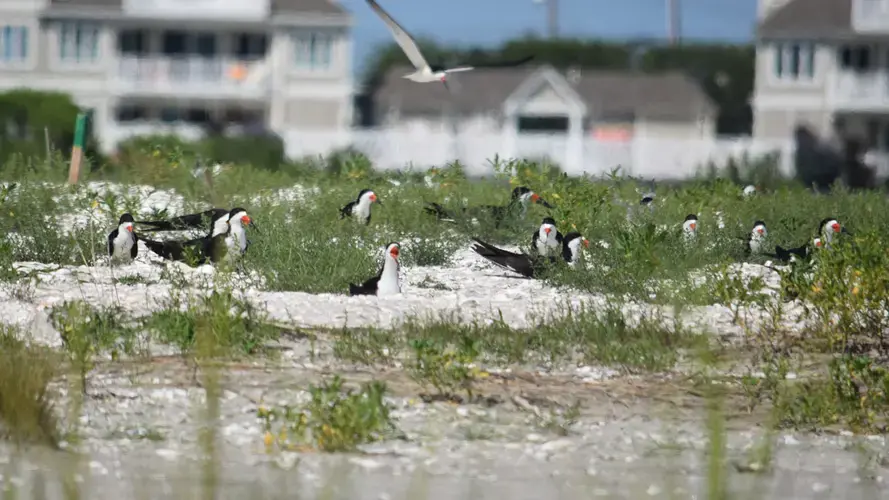 "Each project is not done for the same reasons," she told me. "Instead, we're looking at this entire system holistically and saying, As sea levels rise, what types of habitats are we losing? What are the most important uses here? We can't do it all, but where's the most effective way for us to try to impart some change?"
Common Solutions to Competing Interests?
Currently, there is little connection between the flood-mitigation projects that are being undertaken by the barrier-island towns; raising roads and building pump stations, for example, are not reflective of the work the innovation lab is doing on the adjacent marshland.
"There's going to be a whole host of things that have to happen — we're going to have to raise roads, we're already elevating houses and bulkheads," Tedesco said. "So, then the question I ask is, 'How do I make that something that interfaces better with the ecosystem?'"
Tedesco highlighted two of the innovation lab's latest efforts, projects that are enhancing marsh stability by repairing eroded shoreline edges and increasing elevations.
"Can we use some of this dredge material to kind of build a sloping edge, to get the waves to break away from the marsh?" she said.
Before they were developed to the hilt, the barrier islands' back-bay shorelines had natural, canted features, which, in addition to serving as a buffer zone to absorb wave energy, provided habitat and sustenance to avian and marine wildlife.
Steve Rochette, a spokesperson for the Army Corps' Philadelphia District, which oversees much of the New Jersey coast, likened the back-bay marsh islands to speed bumps against sea-level rise.
"It's possible that some combination of measures, including building and/or restoring natural and nature-based features like marshes will be necessary in the future," he said.
Up the coast, just off the bay side of Beach Haven on Long Beach Island is Mordecai Island, which serves as just the kind of speed bump Rochette referred to. A protective barrier from the often rough, open waters of Barnegat Bay, Mordecai had begun to recede at a rate of 3 to 6 feet a year, substantially reducing bird and marine habitats. A cut-through emerged, severing Mordecai in two.
In 2012, the Corps joined an ongoing effort to save the island by utilizing dredge material from areas of the Intracoastal Waterway — that had become dangerously shallow following Sandy's mass movement of sediment — to reconnect Mordecai and build up its shoreline.
Hoping to Impede Storm Surge
"The project is working really well," Beach Haven Mayor Nancy Taggart Davis said. "The island affects everyone who lives behind it."
Tedesco hopes that Seven Mile Island Innovation Lab can expand on the lessons learned with Mordecai so that ecological function can continue to be better married with community protection.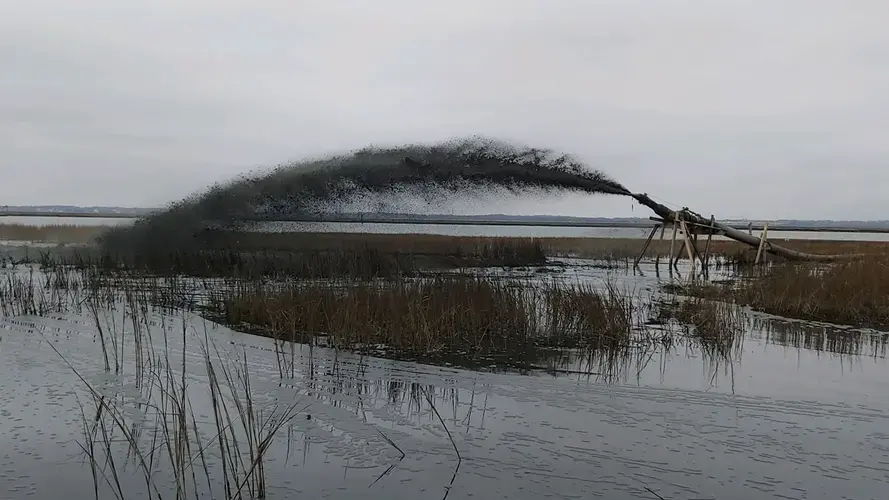 "Can you create a necklace of islands that can interfere with incoming storm surge?" she said. "You've got to build infrastructure that's more welcoming to wildlife, that doesn't cause the fish to disappear, but somewhere in all that you've got to build in recreation for people."
She admits that the lab's 50 acres of restored marshland is, at this point, just a "dime on the table." But, she continued, "the flip to that is that might be the only 50 acres of marsh out here in 50 years."
RELATED ISSUES

Issue
Bringing Stories Home
Bringing Stories Home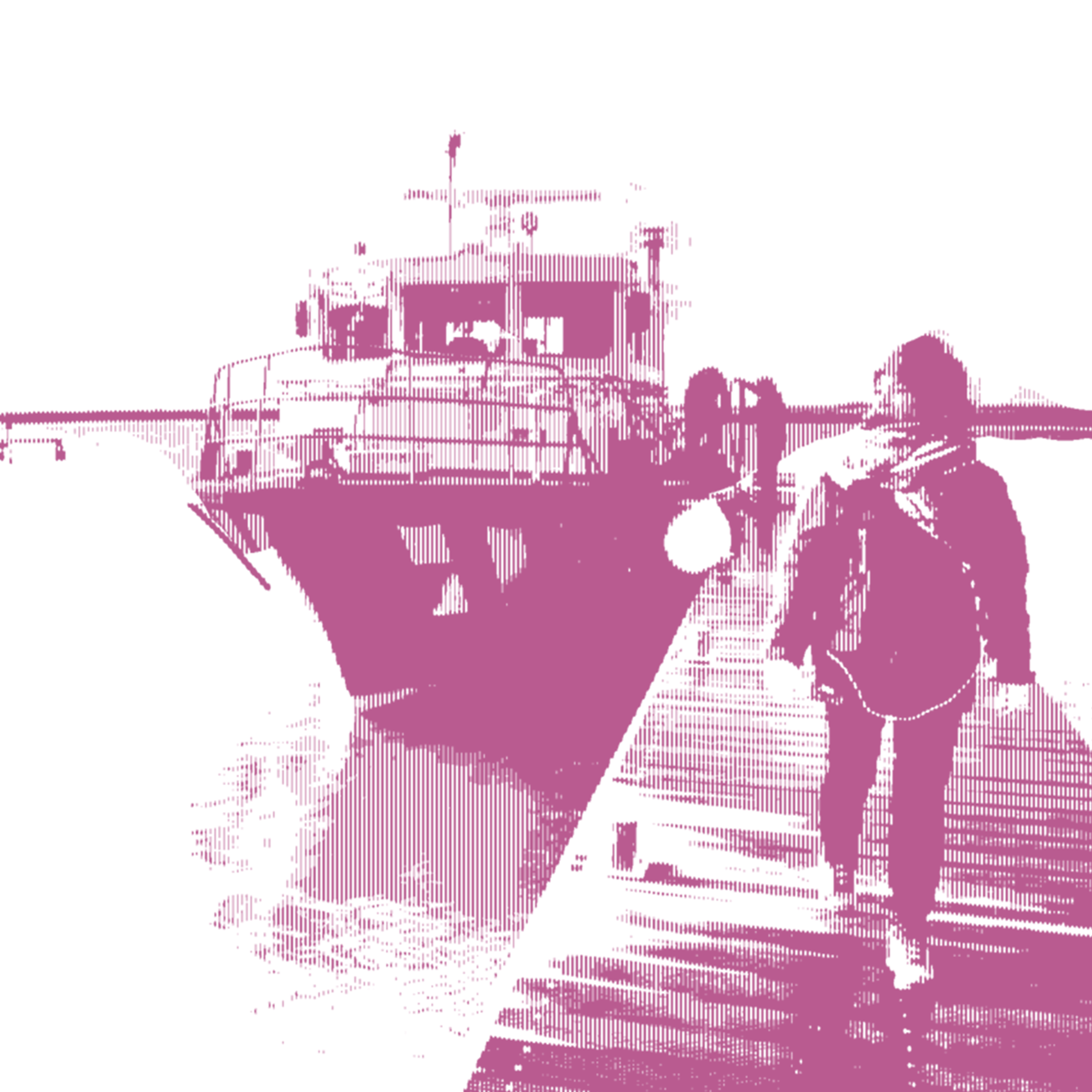 Issue
Connected Coastlines
Connected Coastlines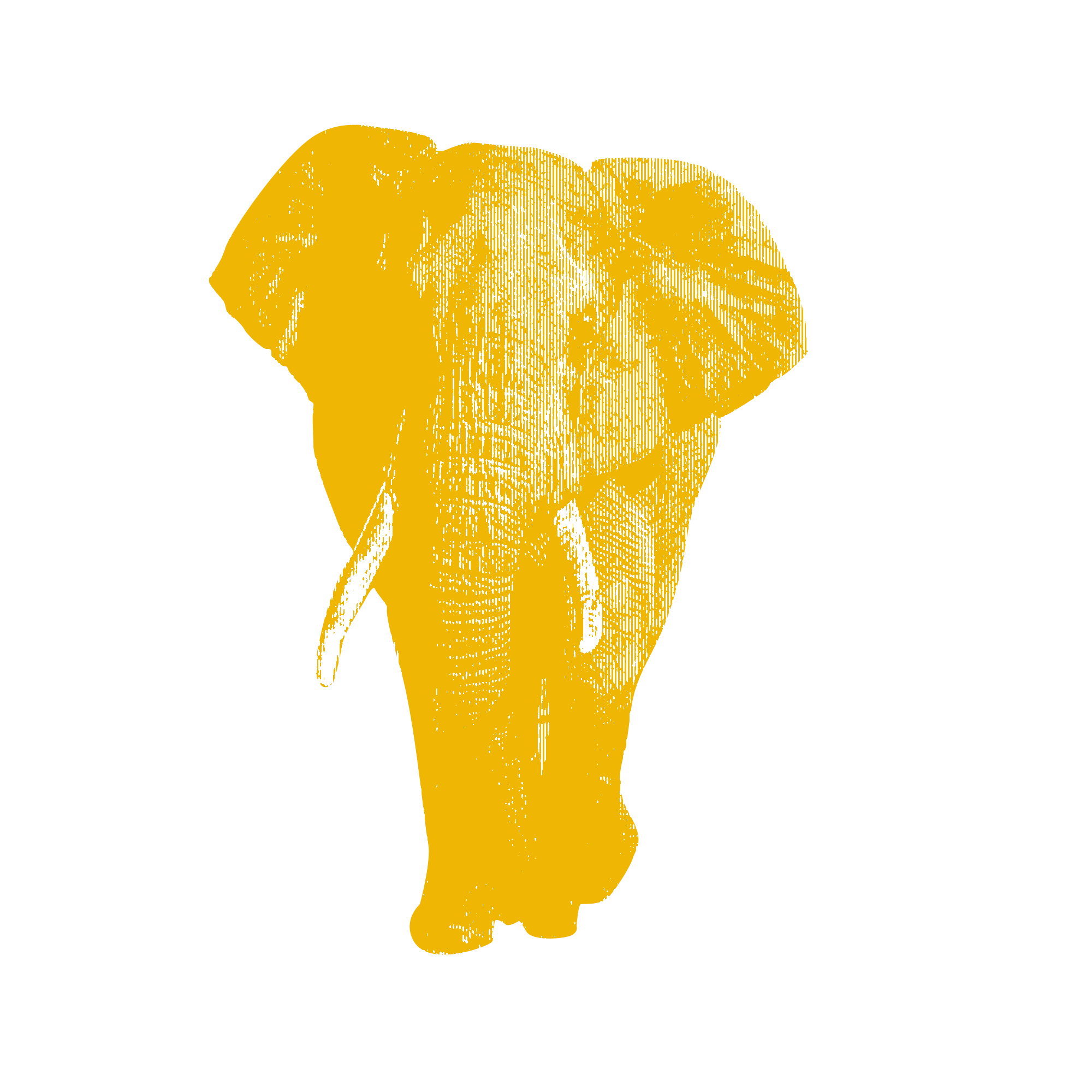 Issue
Environment and Climate Change
Environment and Climate Change
RELATED INITIATIVES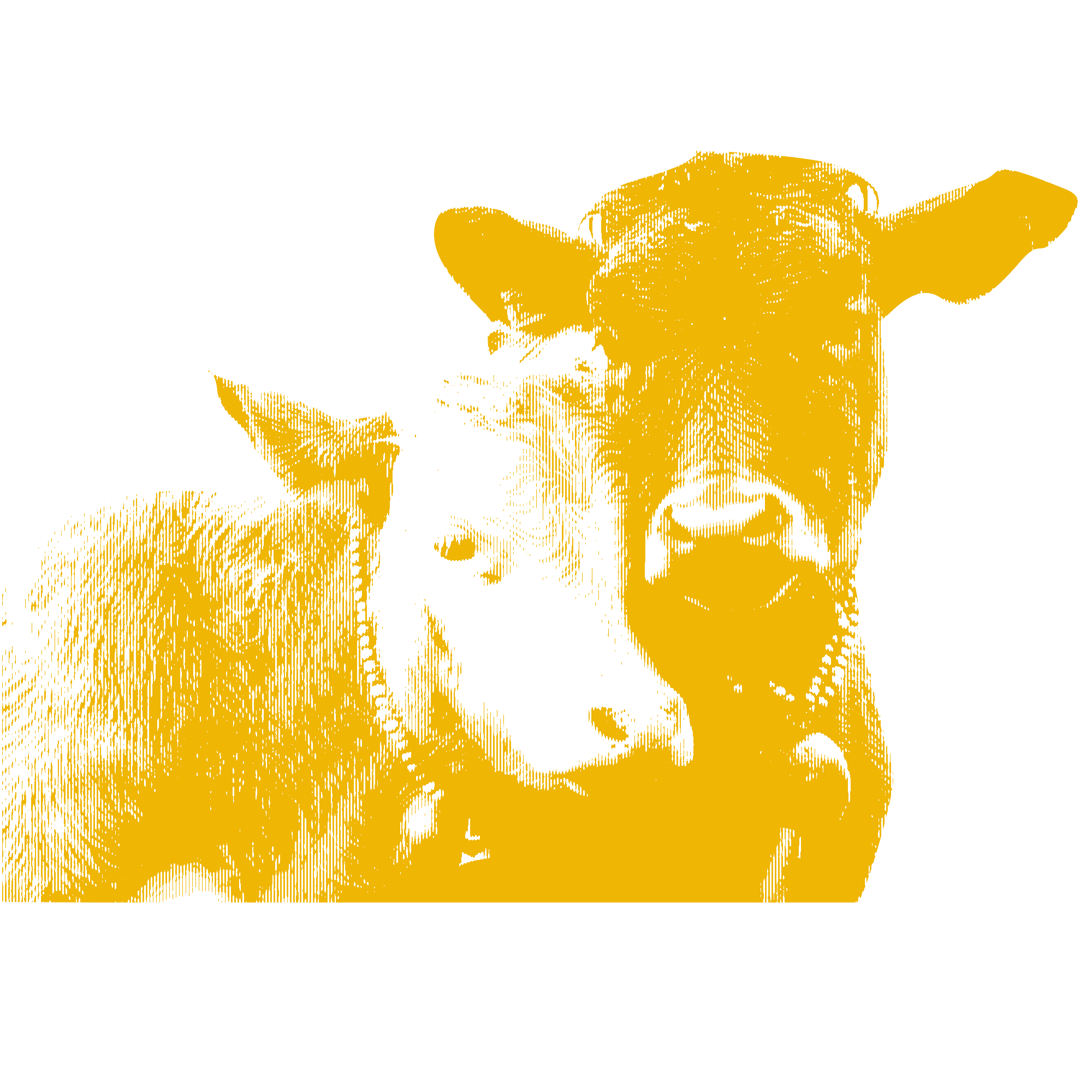 Initiative
Bringing Stories Home
Bringing Stories Home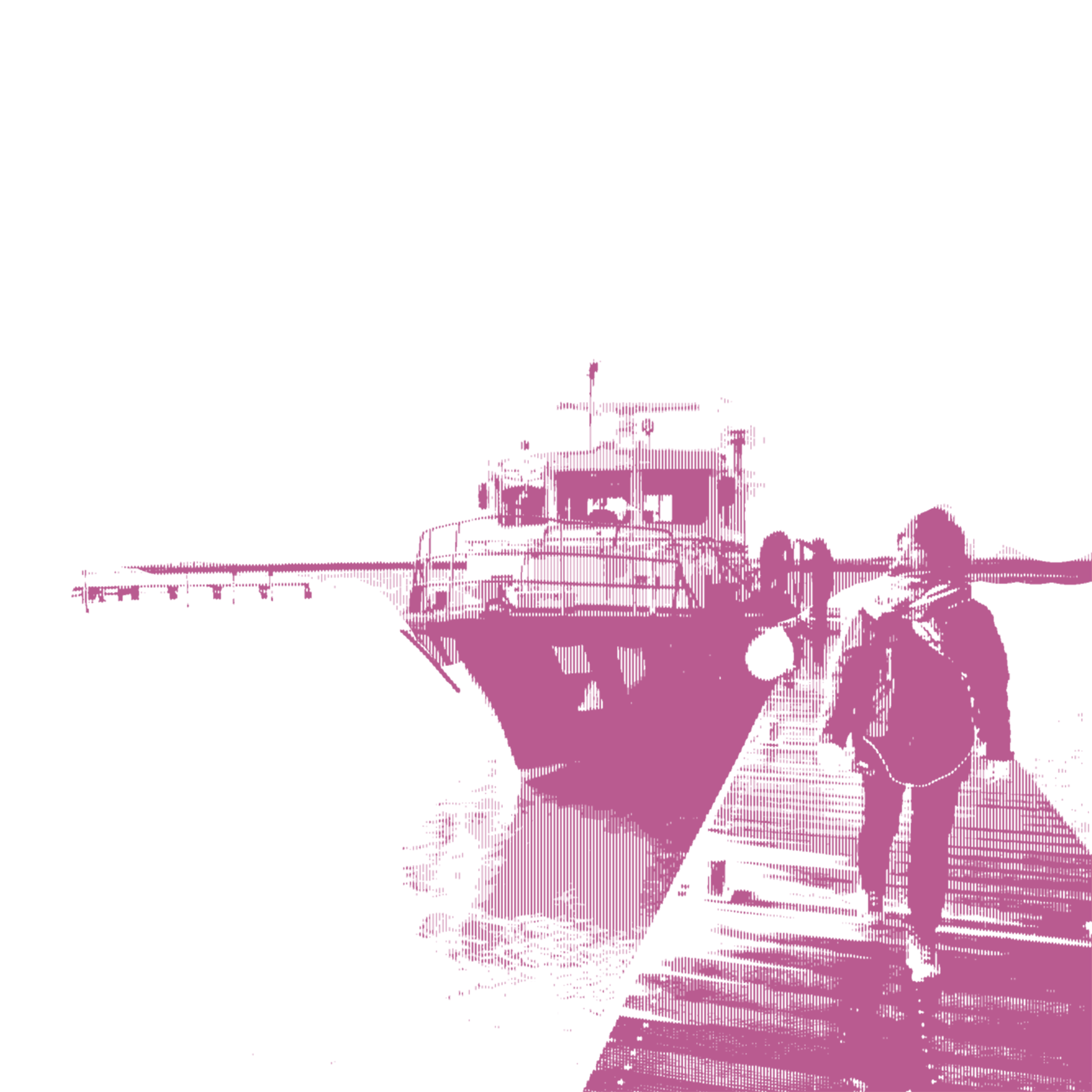 Initiative
Connected Coastlines
Connected Coastlines