This story was originally written in Romanian, and was posted on the website for Libertatea. To read it, click here.
Ana Țofei, 23, graduated from the Faculty of Agronomic Science in Timișoara at the top of her class. She first came to work in the U.K. last year, as part of an Erasmus programme which brought her to the Old Parsonage farm in Cobham, Kent.
Now she is doing her M.A. on an Erasmus scholarship in Spain, but has come back to work in the U.K. during picking season – classes have moved online because of the pandemic, so she can study anywhere. She works 11 hours a day, and her net monthly income is close to 2.000 pounds ($2680.60).
Ana is a quality controller and uses the money she makes on the farm in Cobham to support herself through university. From England she will fly to Valencia, Spain, for her Erasmus scholarship, then she will return to Romania to present her M.A. thesis next summer. Ana lives two kinds of migration – academic, in Spain, and seasonal, in the U.K.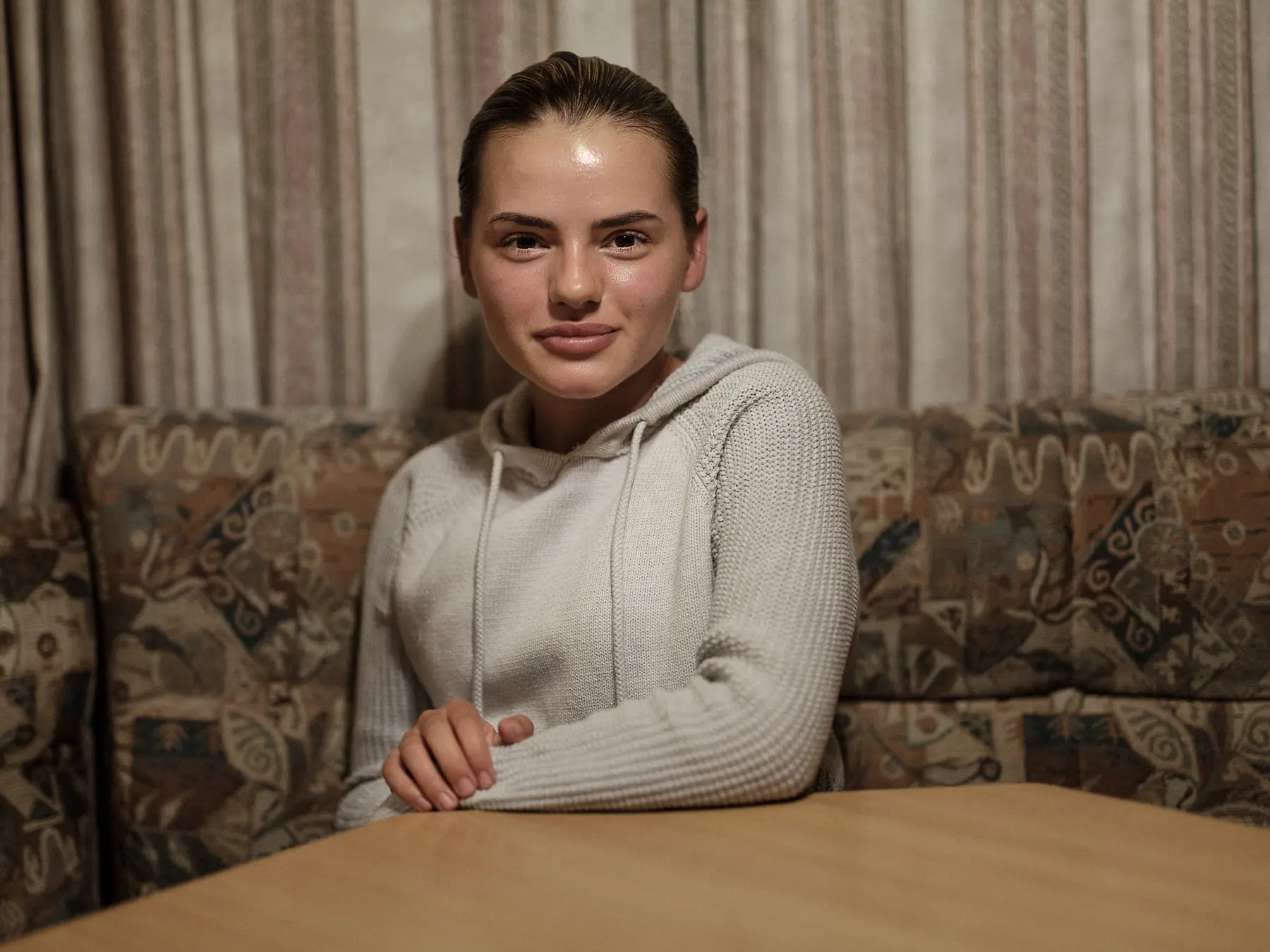 Once apple picking is over, the young woman will spend a few more weeks in London, living with a friend. Last year she was thrilled with the atmosphere in the city, because she found people to be "so relaxed, free and happy." She will leave her work clothes and rubber boots in a crate in her caravan in Cobham and wear the evening dresses and handbags she brought over from Spain for the occasion. 
During the Erasmus programme, Ana spent eight months at the Universitat Politècnica in Valencia, where she spent three to four hours each day doing laboratory work and running experiments and tests. "In Romania, I never got to hold a test tube. Our practical courses in faculty involved hand-writing worksheets in our notebooks."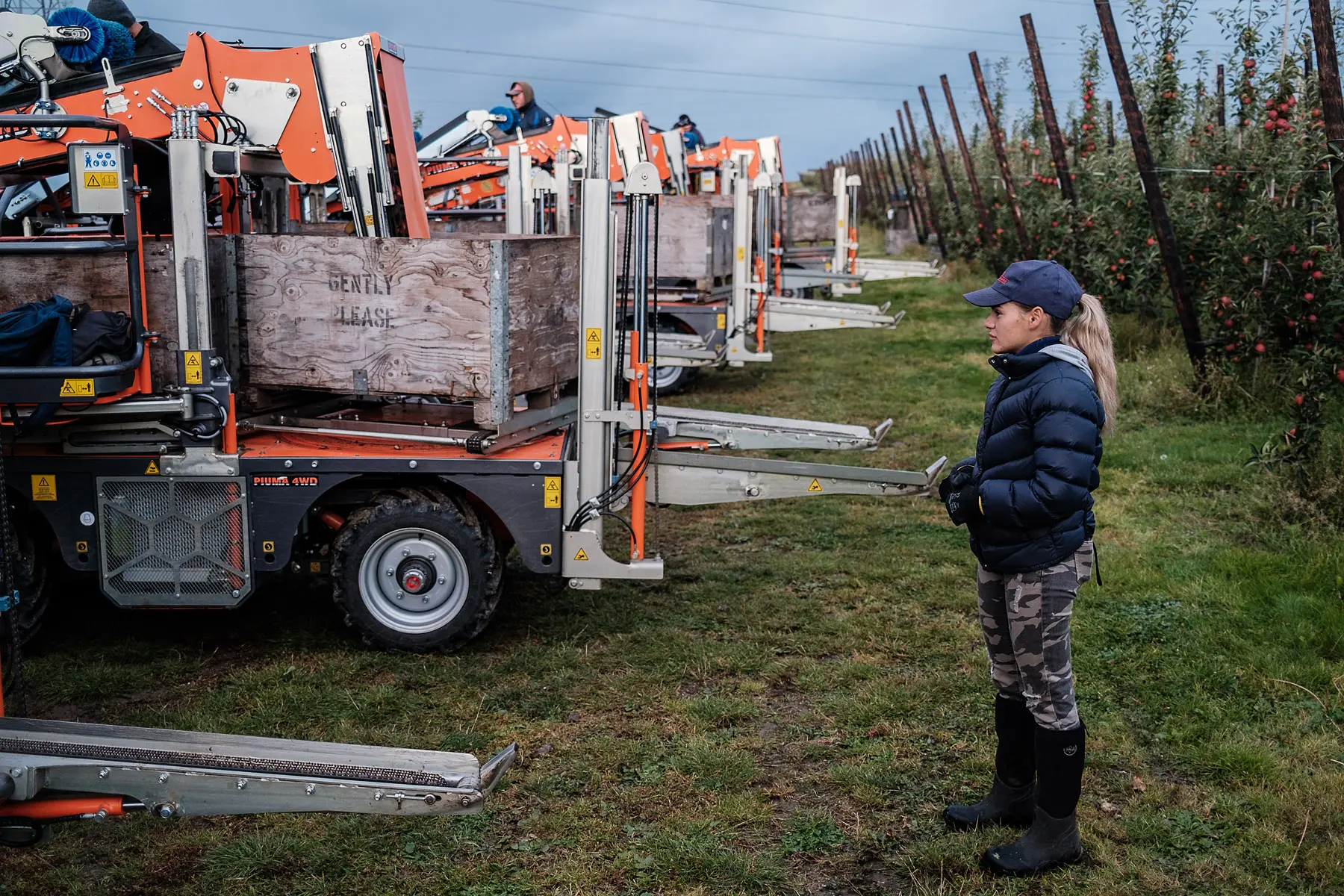 Ana grew up in a family of modest means in Timișoara: her father worked in construction, her mother was employed in a textiles factory. When she was 16, her mother died of cancer, after several years of treatment and surgeries, which meant a lot of suffering and financial pressure for the family.
"Our experience with the Romanian medical system was very bad," Ana remembers. "Four years before Mum died, I went with her to the hospital for her chemo and the lady doctor there told her, in front of me, 'It's no use coming here, you're going to die anyway.' Those four years mattered so much for my brothers and I. I think if my mother got treatment in another country, she might still be alive to this day. The medical system is one of the reasons why I want to leave Romania."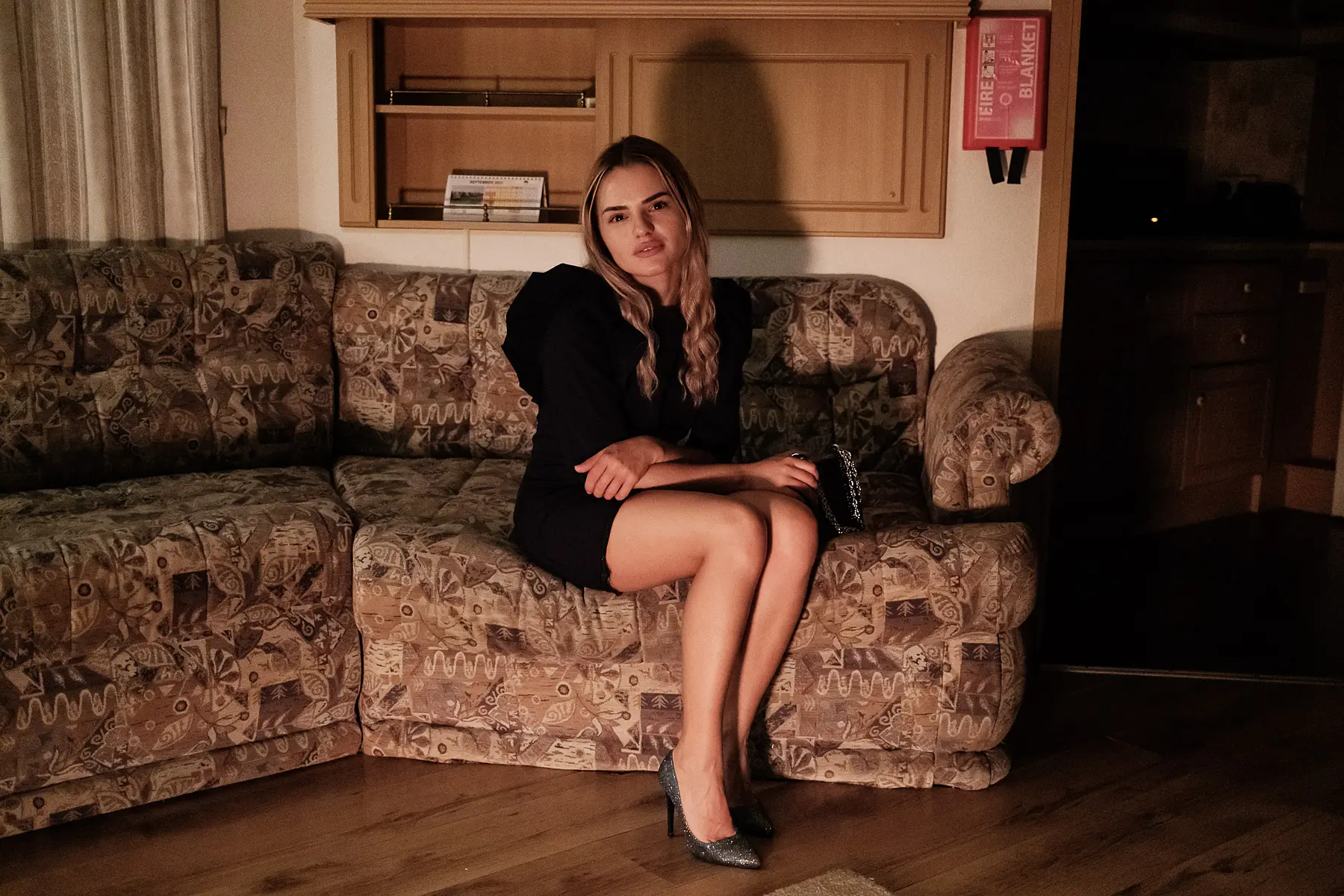 Ana is the only one in her family with a university degree – her younger sister started working as soon as she finished high school, and her older brother works in a factory in Germany. Next year she will get her M.A. degree, after which she wants to go on to doctoral studies at the university in Valencia, where she hopes to get a scholarship, then find a job in a laboratory in Spain.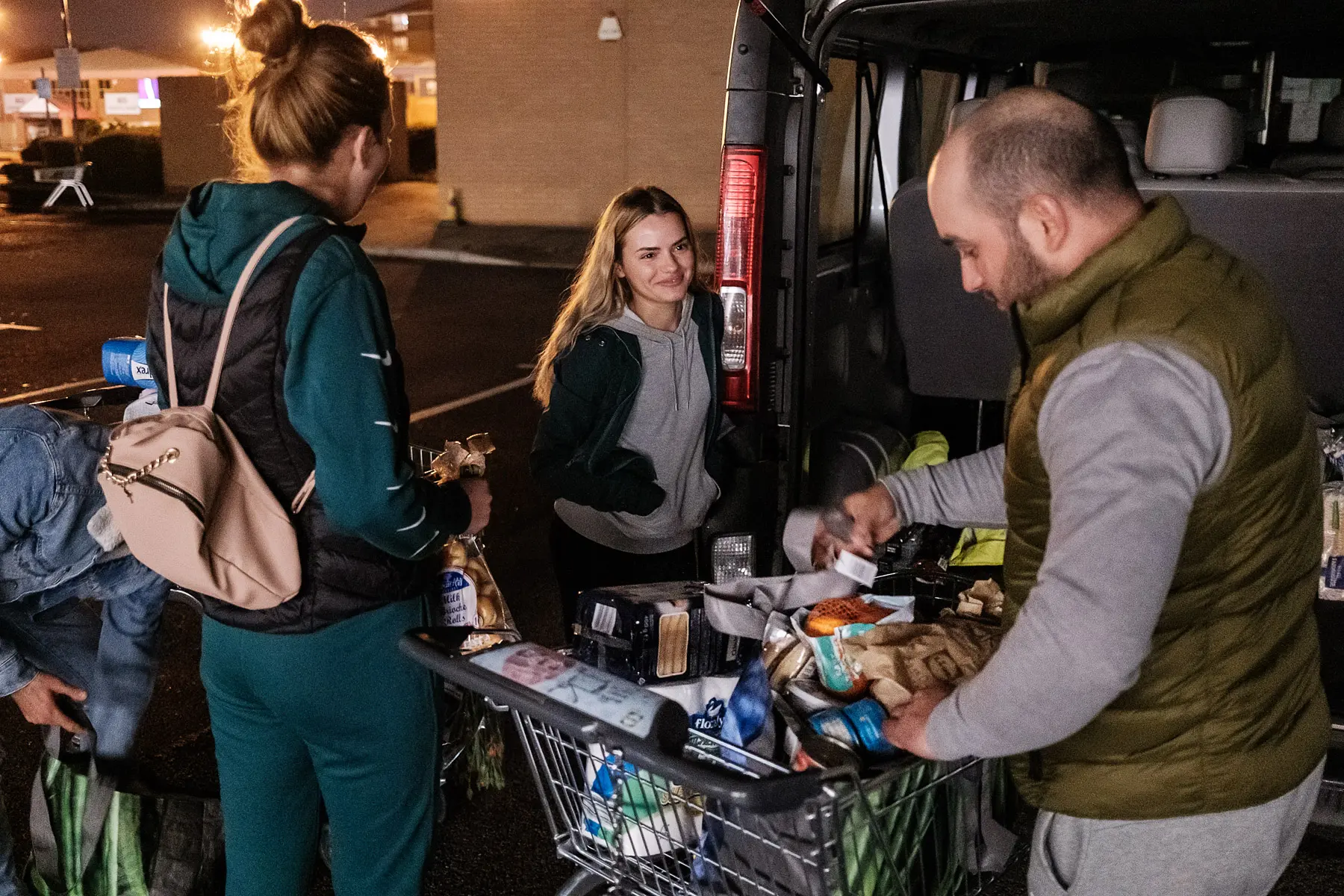 "Once I started travelling, Romania stopped being an option for me. In Spain I saw people didn't care that much about money and enjoyed life. I don't want to spend my whole youth working hard, only to end up old and have nothing to spend my money on."
Since she started college, Ana has saved up 20.000 euros from scholarships and the money she has earned in England. "I tried to enjoy my life – in Spain I ate out almost every day – and saved up some too, since no one's going to do that for me."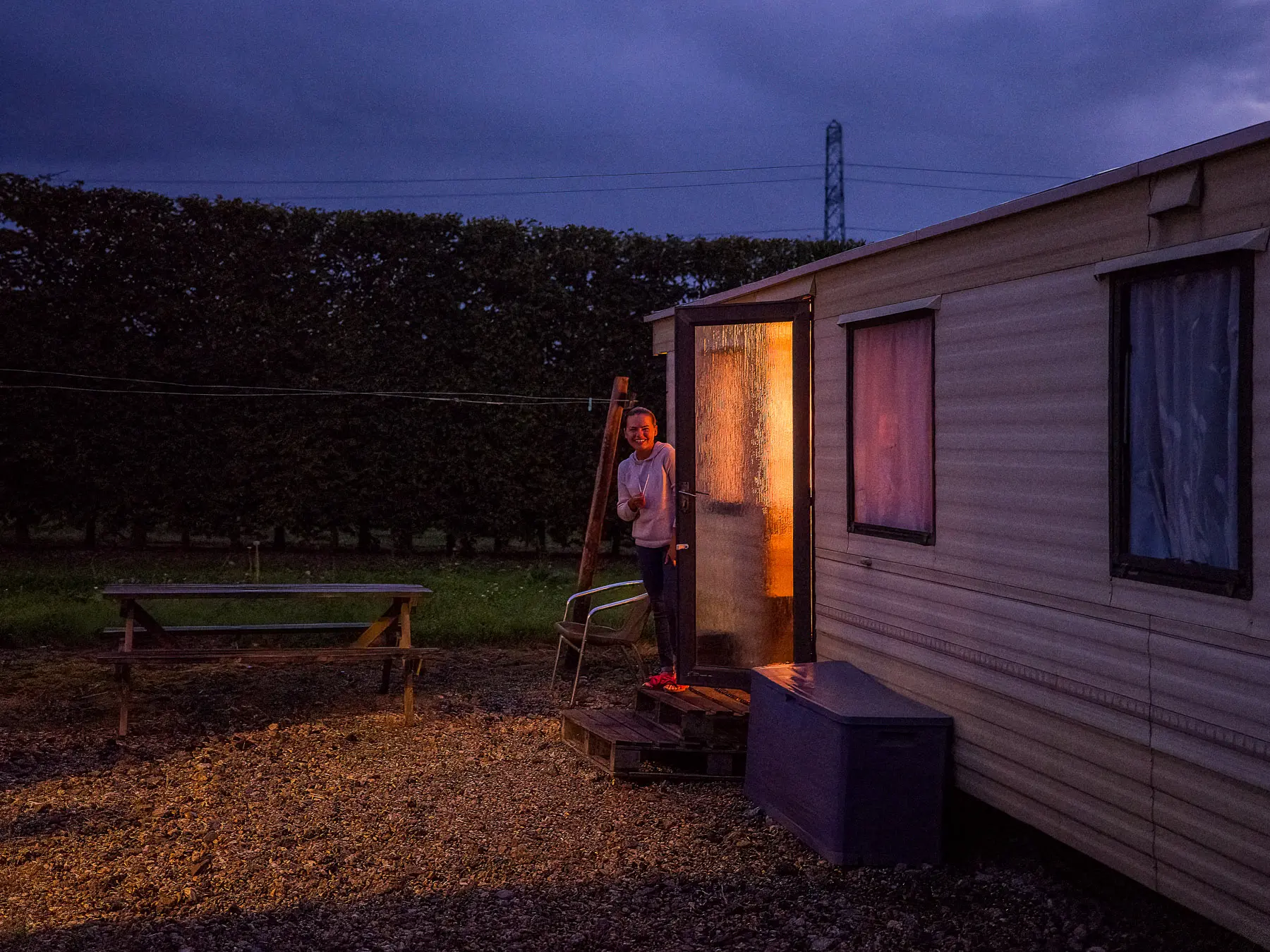 After college, she went to pick apples in the U.K.
The head of the seasonal workers team, Alexandra Scarlat, came to pick apples in England in 2011 after graduating from the Faculty of Food Services Engineering and Management in the University of Agronomic Science in Bucharest.
She tried to find work in Câmpulung Muscel, the town near Nămăești village in Argeș County where she lived with her parents. At the time, as an agronomist, she could get 1.100 lei a month (just over 220€, $250, or 185£), which was also supposed to cover her commute to town and wasn't enough for subsistence.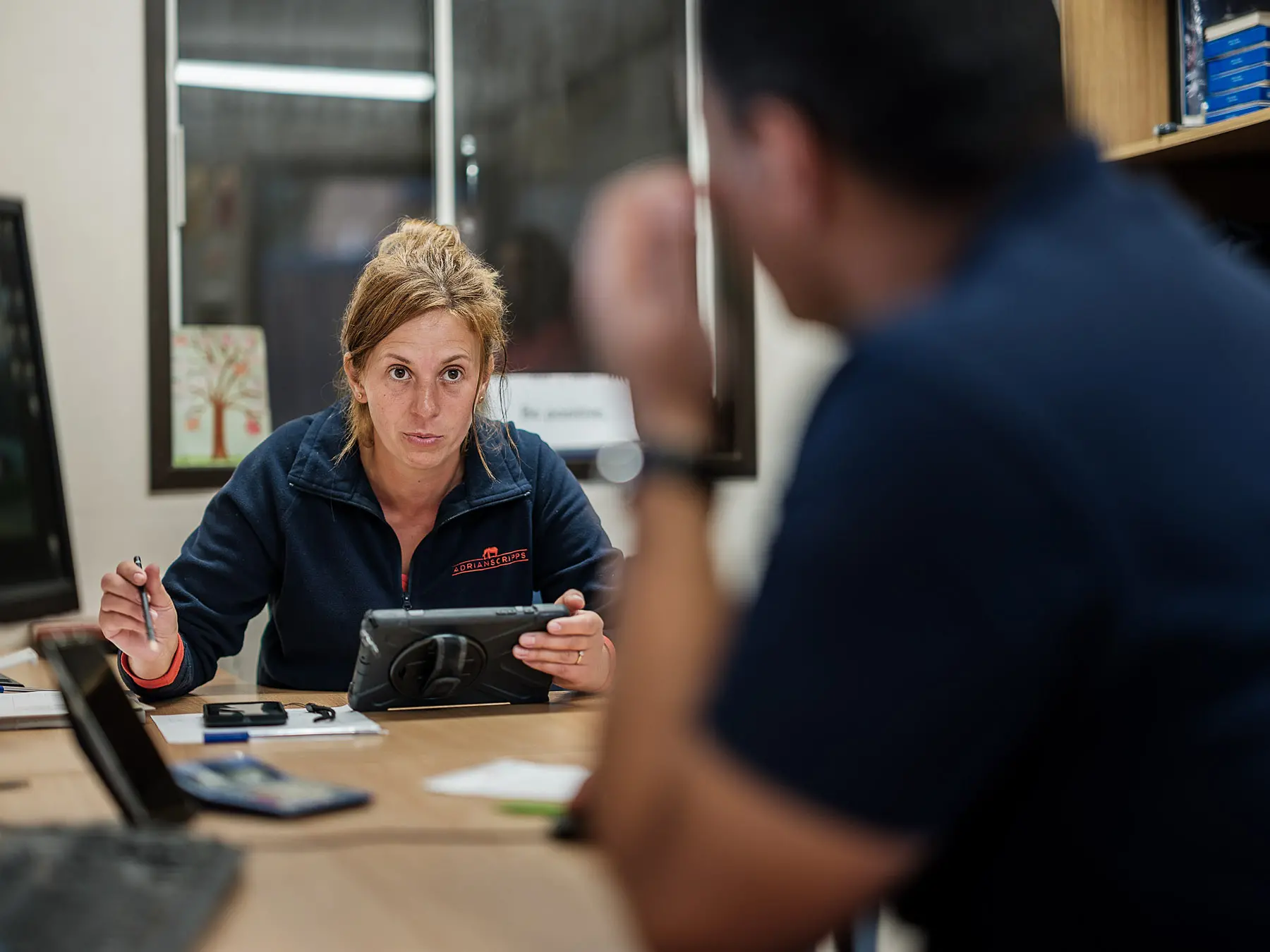 The first year she came to the U.K., she spent five months working at the Old Parsonage farm, then went back to Romania and found a job at a cable and wire factory in Câmpulung. The next year she returned to Cobham and, after apple picking season, she moved on to packaging apples in the factory in winter.
Each year, Alexandra spent more months in the U.K., until 2017, when she became a farm supervisor for her seasonal worker team and settled here for good.
For the last decade, Alexandra, now 34, has been living in a caravan – a mobile home with a kitchen, a WC, and two bedrooms – at the Old Parsonage farm in Cobham. In winter, she and her boyfriend, Dani, are the only ones left in the campus after all the workers return to their countries.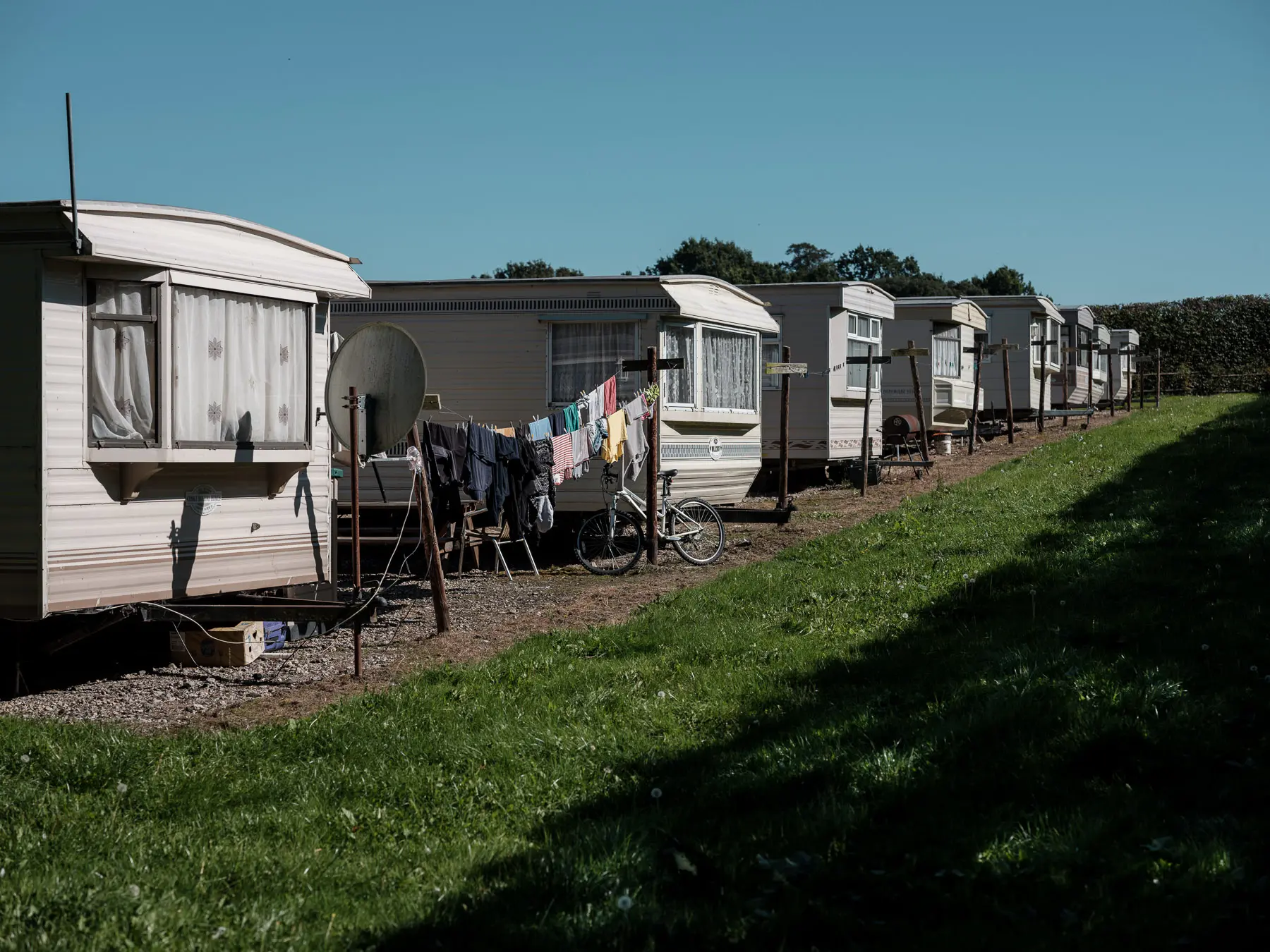 Daniel Tucă, 27, Alexandra's partner, has been working at Old Parsonage since 2014, when he first came to England to pick apples. He couldn't afford the bus ticket, so he took out a loan before leaving Romania. Daniel grew up in a family of modest means and started working when he was in high school, using a chainsaw to chop firewood for neighbours in Mărăcineni, his village in Buzău County.
Before he came to the U.K., Dani was a lorry driver for a company in Buzău. He made 1.200 lei ($274) a month and was satisfied with it, because his mother's job at the textiles factory in town earned 800 lei a month. His friends, however, had started going to work abroad, and one of them asked if he wanted to join him picking apples in England.
He dreams of returning to Romania and starting a business growing Buzău onions
Dani wanted to try for the School of Economics in Bucharest, but his mother's salary and his father's disability pension (540 lei a month) wouldn't have been enough to support him through university.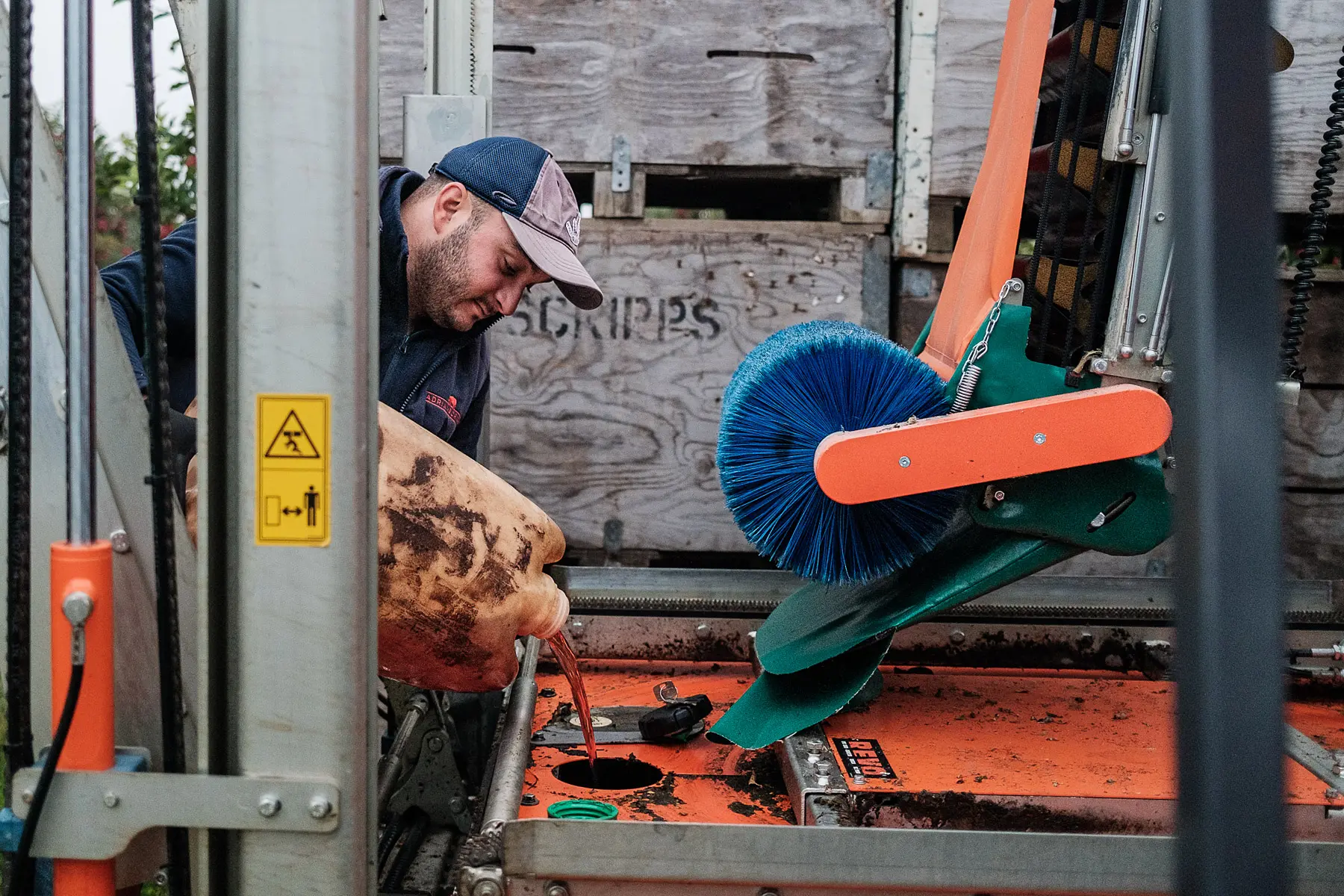 In 12th grade, Dani was working off the books as a driver and, as he didn't have time to prepare, failed his end-of-school exam because of the Romanian Language and Grammar test. He quit his job to study and passed the exam in the autumn re-sit, with an score of 8,20 out of 10.
In 2014, after three months of work at the Old Parsonage farm, Dani paid off all his debts in Romania, bought himself a laptop and new clothes and returned to Romania with 2.000£ in his pocket. "The year after that, I came to work in England in summer," he remembers. "I was up for anything: trimming dead branches, sweeping the floors, whitewashing, repair work on the caravans." In 2015 he started to work there as a tractor driver.
Alexandra and Dani met at the farm and have been together since 2016. He has built himself a two-storey house in his parents' courtyard, in which he invested 30.000£, and dreams of one day returning to Romania and starting a business growing Buzău onions.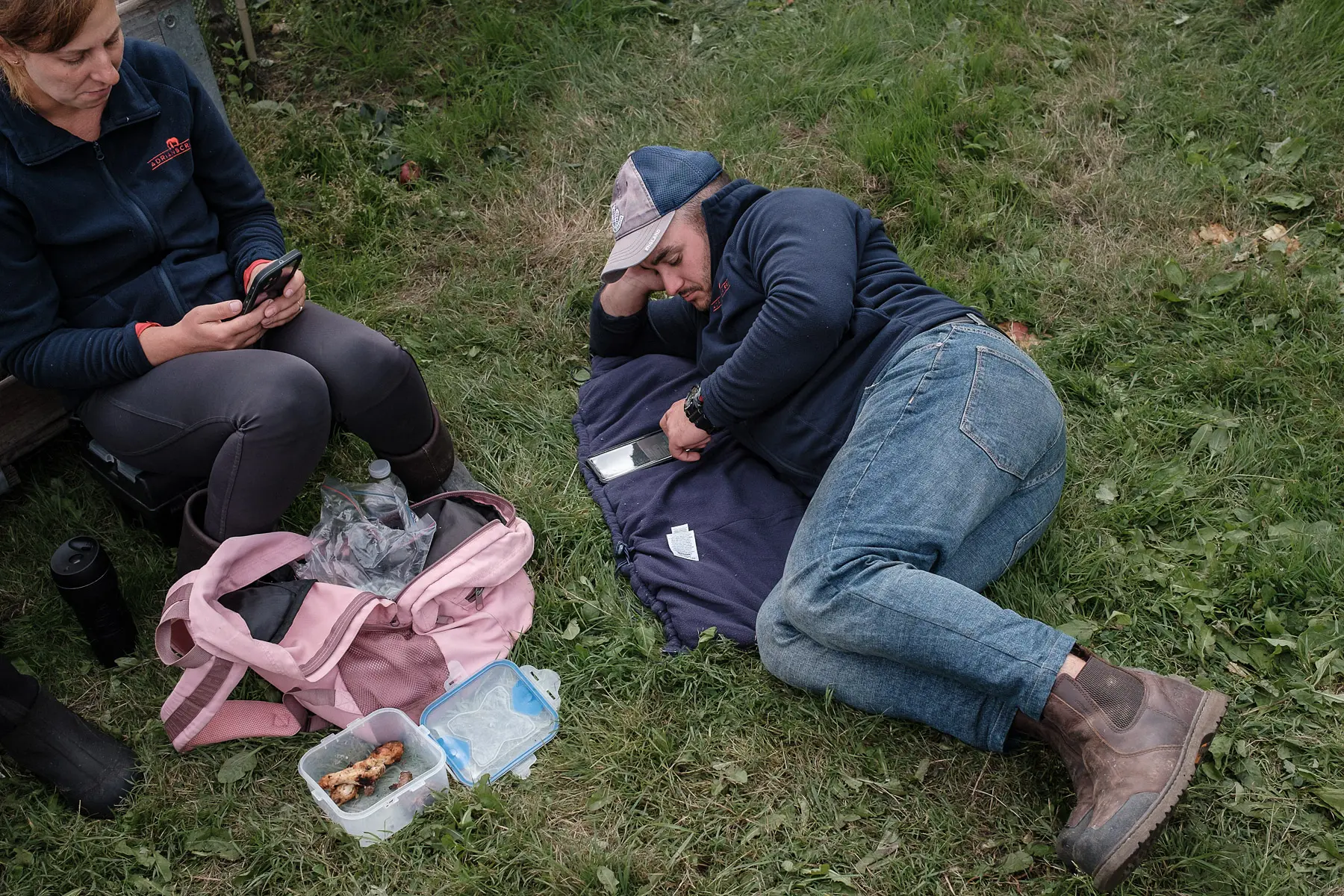 Alexandra built herself an apartment as an extra storey on top of her parents' home in Nămăești village, Argeș County, and would like to go back to live in Romania if she could find a job that paid 3-4.000 lei.
They haven't yet decided whether to settle closer to Buzău or to Câmpulung, but they are determined to go back. That is why they still live in the caravans, the provisional homes for seasonal workers: It costs close to nothing to rent them, so they can save up more.
"We miss our families and feel like we're doing too many jobs here"
During picking season, Alexandra and Dani each make over 2.000£ in net monthly wages, which go down to around 1.100£ in winter, when there is less work to do. They would be willing to return to Romania for a third of the money, because they've built houses for themselves and would have a place to live.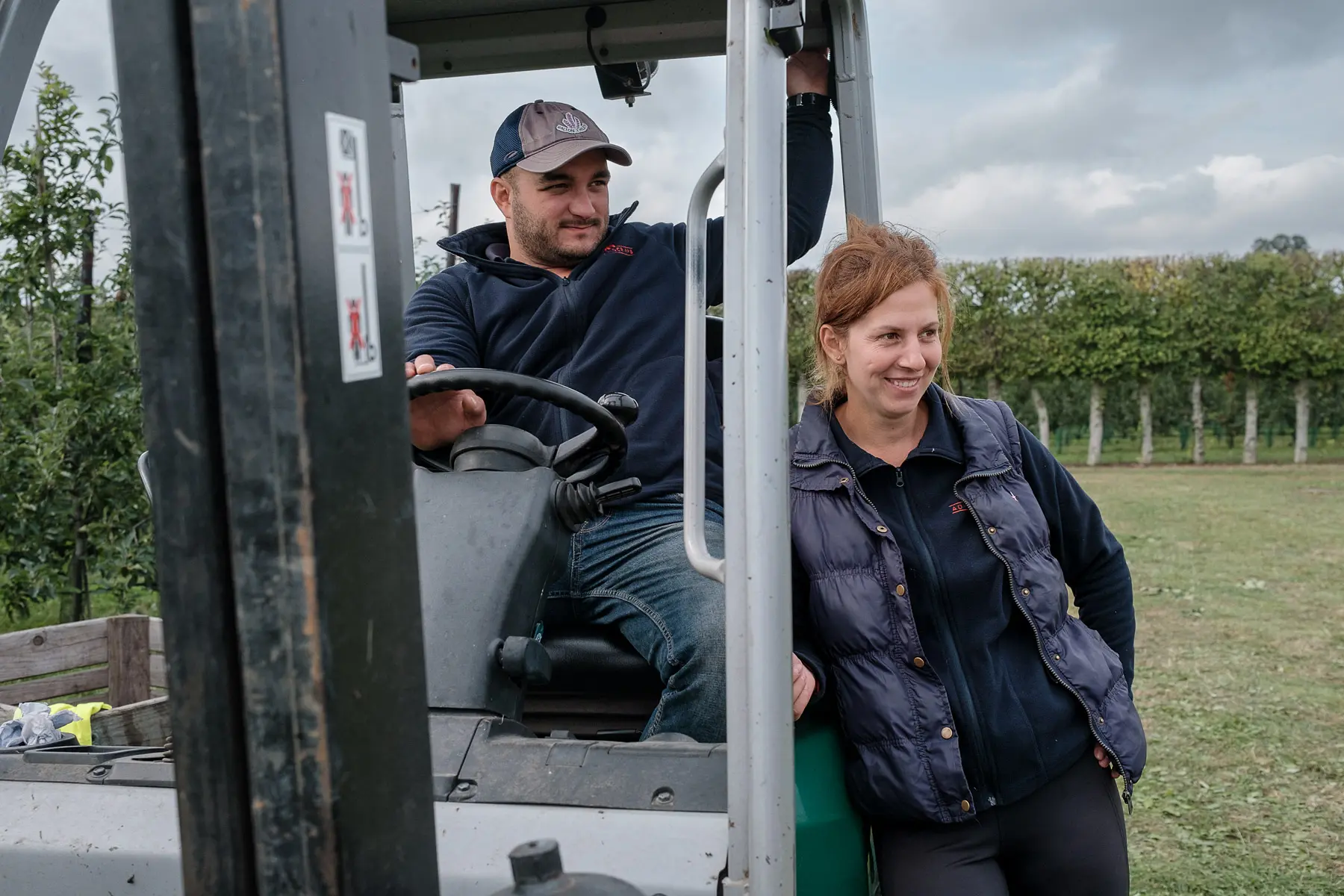 In the seven years since he started working in Cobham, Dani has never visited London, though it's 26 miles from the farm. They spend their holidays in Romania: Before the pandemic, they visited their home country twice a year, in May and for Christmas.
"We miss our families and feel like we're doing too many jobs here," Dani says. "I'll do anything, from whitewashing to tractor repairs. We are happy together, but not happy overall," he adds, using the actual English word for "overall".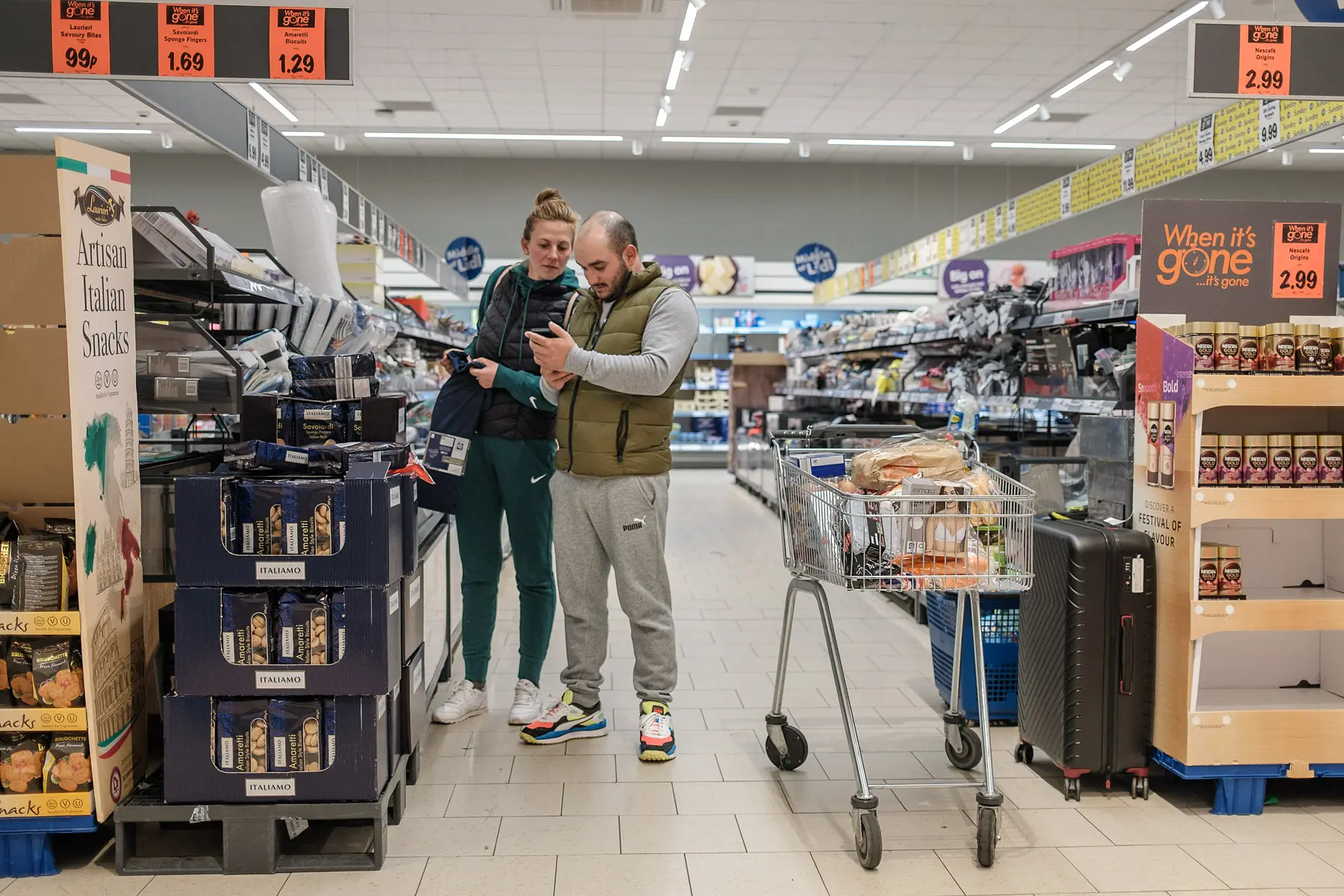 Almost five million Romanians are living abroad – the world's fifth-largest diaspora compared to the total population. Romania is the EU state with most emigrants, according to Eurostat. 1.082.260 Romanian citizens applied for residence in the U.K. – the second most numerous nationality to do so, after the Polish.
They "snuck away" from home to avoid their child's tears
Bianca, 20, and Petrișor Nuță, 28, are from Bratovoești, a village in Dolj County, and came to pick apples at the Old Parsonage farm in September. They "snuck away" from home to avoid their three-year-old's tears.
Their son, David, now in the care of his grandmother, has since refused to talk to them on the phone – his way of punishing them, Bianca believes.
Bianca had him when she was still underage, like many young Romanian women we met at farms in Spain and Germany – almost a quarter of the EU's mothers under 18 are Romanian.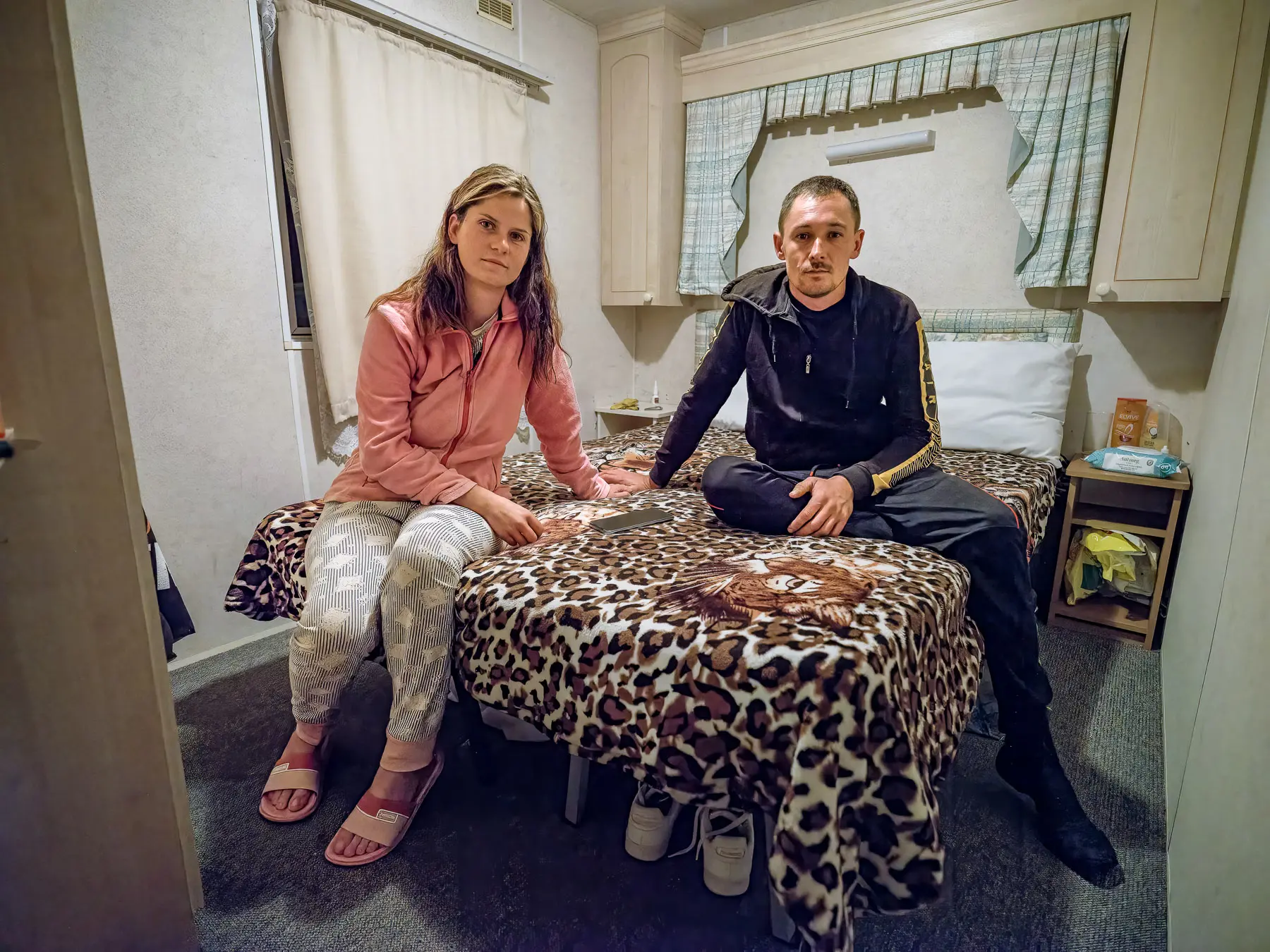 Officially, 77.978 children were left in the care of relatives other than their parents last year, according to the National Authority for the Rights of People with Disabilities, Children, and Adoptions (ANDPDCA). Save the Children estimates that the number actually exceeds 100.000.
Bianca went to a vocational school, and Petrișor quit school in 10th grade. They couldn't find work in Romania, so they went abroad: from June to August they pick strawberries in Germany, and from September to November they pick apples in the U.K. They want to keep migrating from country to country, wherever they find well-paid jobs.
The two are building a family home in Bratovoești, in the courtyard of Petrișor's parents, but they've only just started. "We still have a lot to do there; I guess we'll keep working like this for another 20 years or so," Bianca says.















RELATED ISSUES

Issue
Conflict and Peace Building
Conflict and Peace Building

Issue
Migration and Refugees
Migration and Refugees