To read the original story in Romanian and watch the accompanying video, click here.
Radu Țăndărescu, 37, manager of the Old Parsonage farm in Cobham, Kent, first came to the UK to pick apples in 2006, as a second-year student at the Land Improvement and Environmental Engineering Faculty in the Agronomic Science University in Bucharest. He and Ramona, now his wife, were then both 20 and living in the student residence halls of their faculty – Radu is from Buzău, Ramona is from Roman.
As soon as he finished high school, Radu went to Greece to work in construction for one year. He got to Athens on a tourist visa with his cousin and worked off the books – lifting 50-kilo sacks of concrete, when he himself didn't weigh more than 60. He felt he deserved more, so he returned to Romania and got admitted in faculty on a state scholarship.
He and Ramona first came to the UK on exchanges for Agronomic Science students. The first year, Radu chose to work in flower farming, because he thought it would be romantic walking a basket between rows of daffodils.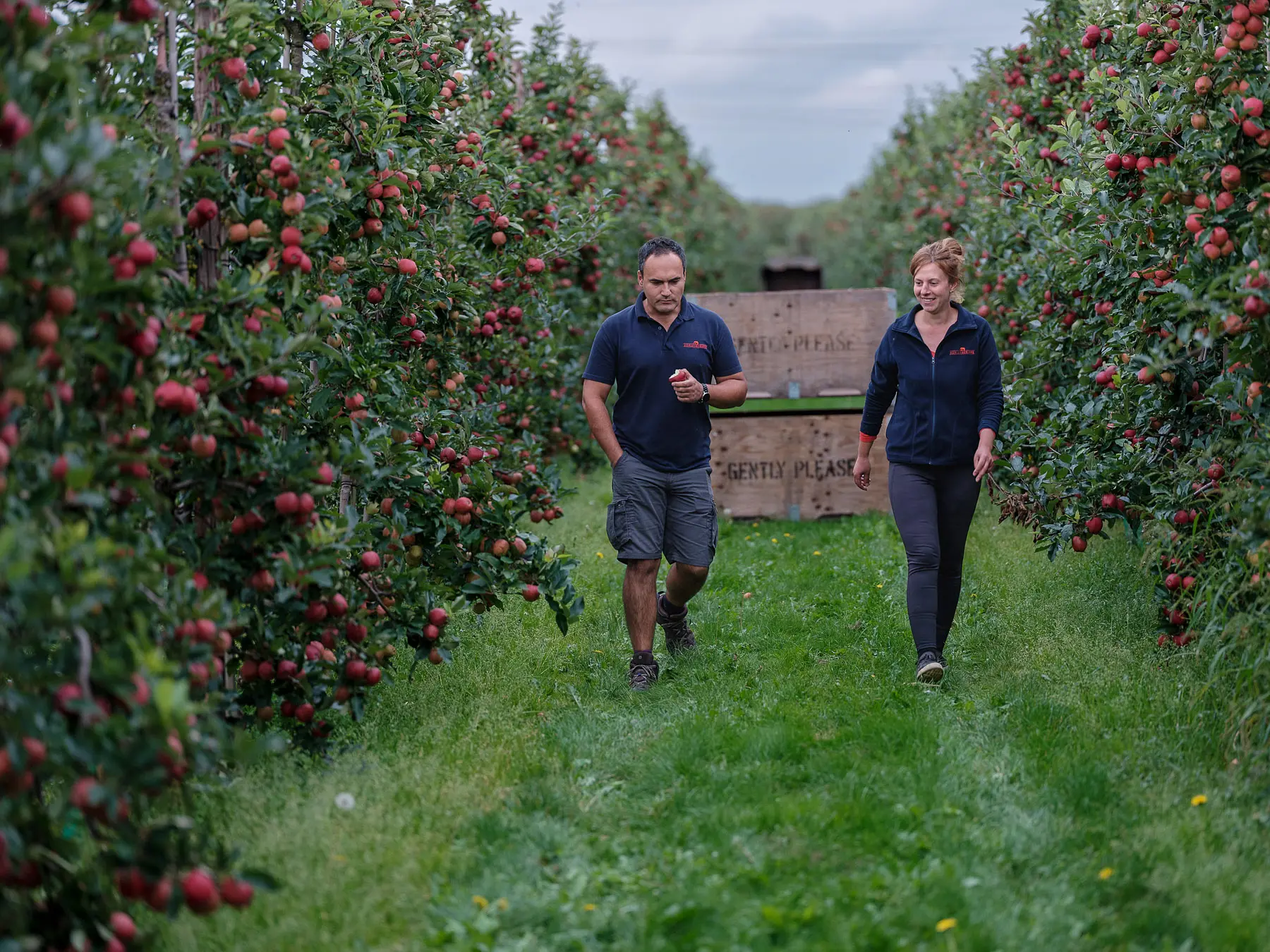 "January, 0 degrees Celsius, not a house in sight for 10 kilometres," Radu remembers. "They shipped us there in a miserable lorry with no doors, 40 to 50 of us crowded on benches inside. I'd straddle a row of daffodils and pick them with my back bent all the time; I had rubber bands in my pocket that I used to bind thousands of bunches. After the first day, I woke up with a pain in my back like you wouldn't believe."
The next year, Ramona and Radu came to pick apples at the Old Parsonage farm, owned by Adrian Scripps Ltd., where they continued working for several months each year until they got their diplomas. In 2008, they were hired there as permanent workers. Before long, Radu became a tractor driver, then a farm supervisor. They spent the first four years living in the caravans, then rented a house in Tonbridge, a 30-minute drive from the farm.
In 2013, when he became farm manager, Radu was the youngest and the only immigrant in the management team. He was 29 and didn't find it easy to enforce his authority and handle the farm, which was doing poorly because the apple trees were infected. He was asked to solve all its problems in a matter of months. Meanwhile, Ramona was pregnant with their first child and was feeling ill, and the young family had just moved onto the farm, in a company home, which needed renovations. 






"We have Romanians and Bulgarians for whom we need to fill in the full name and address, because they can't read and write"
Brexit and the pandemic have brought trouble at the Old Parsonage farm, the most serious of which is the lack of workforce. Until 2019, hundreds of seasonal workers wanted to pick apples, but this year Radu barely managed to find 41, after calling on an agency. He was still missing one team member in October, when we left the farm. "Brexit was a slap, COVID was a punch," he says.
Currently, the seasonal team picking apples at Old Parsonage is made up of 19 Romanians, 14 Bulgarians, seven Ukrainians and one Polish. There are also three tractor drivers (one Romanian and two Polish), one Romanian woman in quality control, and the farm supervisor, also a Romanian woman.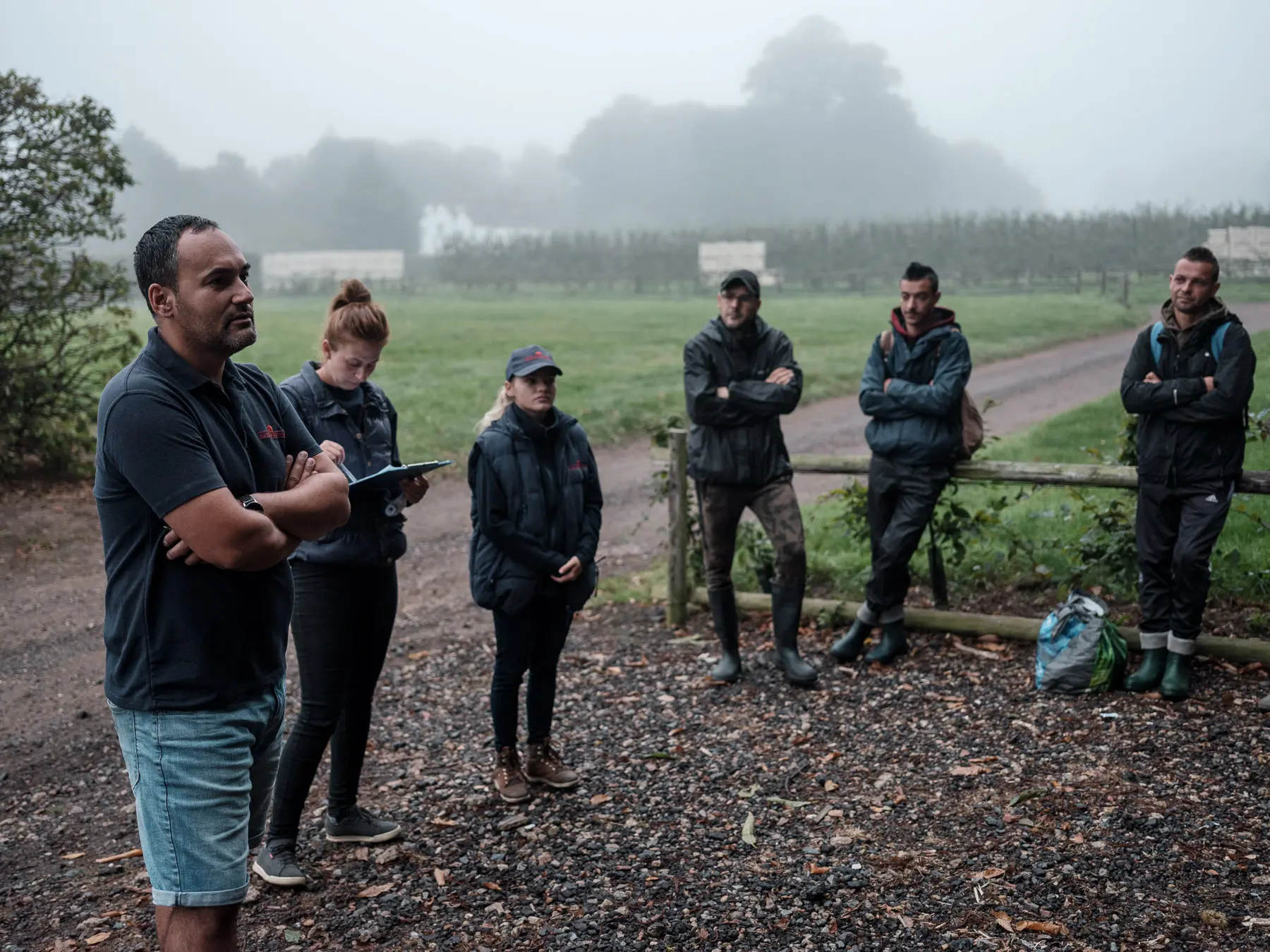 Brexit generated bad PR for the UK labour market. Last year, though nothing had changed yet, Romanian workers called Radu to ask if they needed a visa or a passport, or if they would be sent back at the border. Many seasonal workers come from Eastern European communities at risk and are not people with much education, so the information they get is truncated or incorrect.
To avoid being left without labourers, last year farm supervisor Alexandra Scarlat, herself Romanian, helped the workers fill in their applications for settled status in the UK, as part of the EU Settlement Scheme.
Many don't have e-mail addresses and don't know how to use the Internet, so they wouldn't have managed on their own. "Each year, we have Romanians and Bulgarians for whom we need to fill in the full name and address, because they can't read and write," says Radu.
Last year, Radu imported apple picking platforms from Italy, because he was afraid his crop would be left on the trees. The machines increase productivity and cut the necessary number of workers in half – instead of 85 pickers, now he needs 42.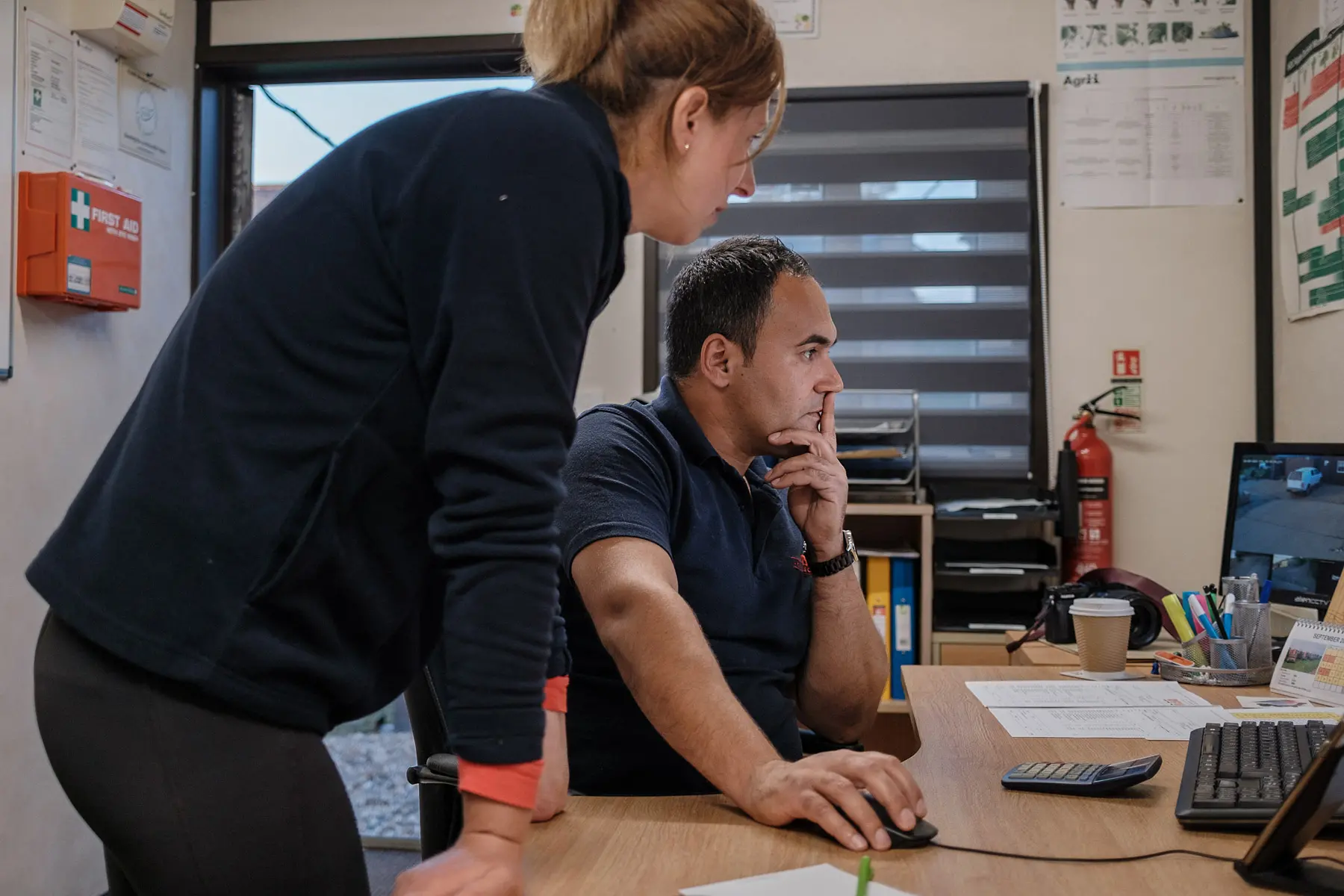 Adrian Scripps Ltd. has become the official UK dealer for these machines, and each week Radu is visited by farmers who want to see them at work. They all complain that they don't have enough workers.
Radu has tried to hire British labourers and provided flexible working hours for mothers, so they could work while their children were at school. Only two British citizens showed up for work after he had talked to them on the phone, and one left the farm one hour later. "Sorry, mate, it's not for me," he told Radu.
He doesn't know if he will be able to find workers next year, since Brexit has caused a lot of confusion among employers. "We can't even draw up a six-month plan," he says. "If we hadn't imported the machines, we wouldn't have had enough workers. Many farmers are in the same situation – they left their fruit in the field to rot."
500.000 vacancies in the UK food sector
This year, fruit and vegetable pickers in the UK have faced an unprecedented shortage of labour. Hundreds of tons of fruit and vegetables were left rotting in the fields, because farmers couldn't find pickers.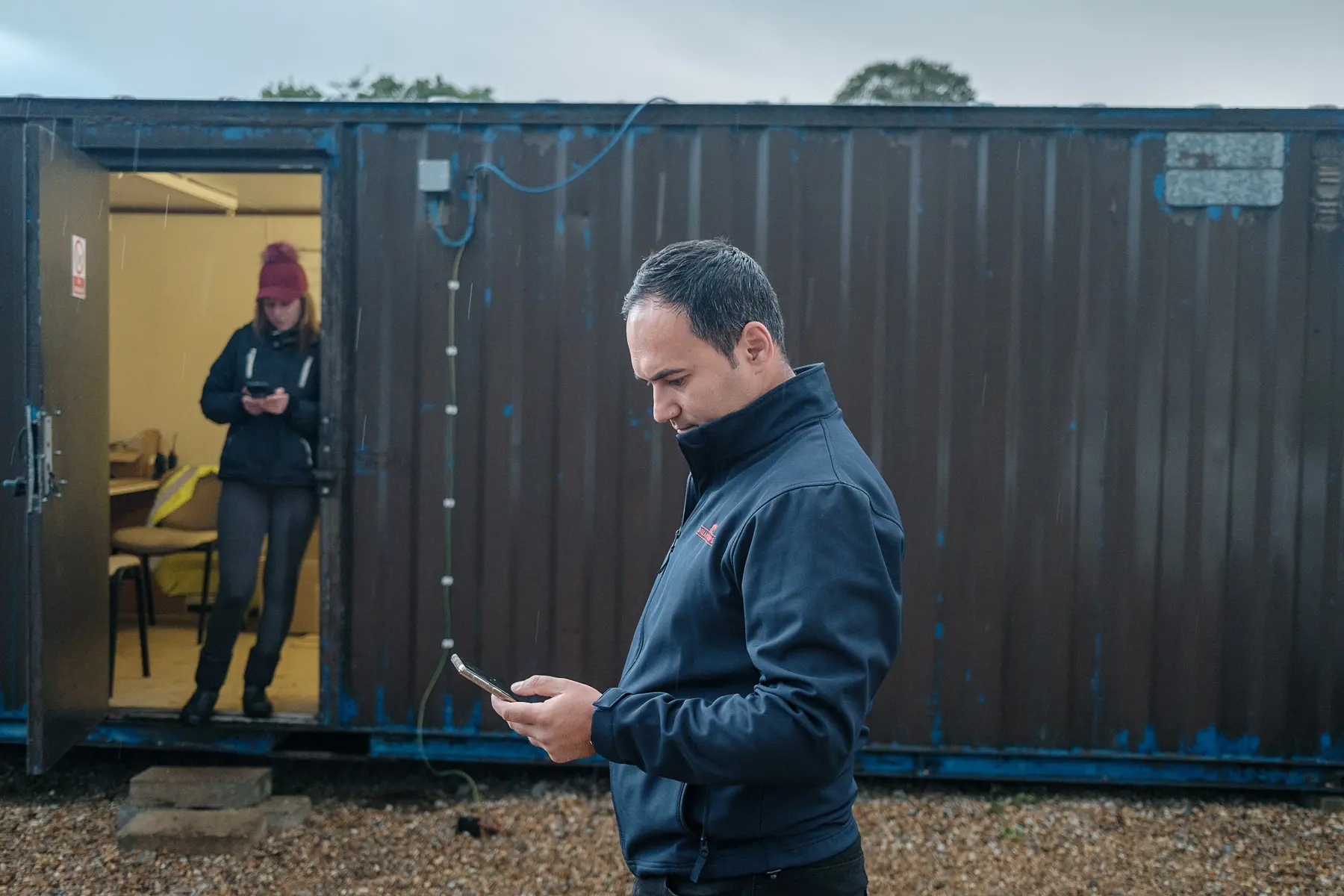 Modern UK farmers have always relied on seasonal workers from Eastern Europe. In 2019, 98% of agricultural workers in the UK were EU migrants, most of them Romanian and Bulgarian.  
Still, Romanians and Bulgarians must pay 55£ more for a temporary work visa than other EU citizens. A temporary work visa is 244£ – a staggering amount for people who borrow money for the bus ticket to the UK.
Some of the workers stopped coming to the UK because of Brexit and the pandemic, while others found jobs in different industries, as the UK is facing a major workforce crisis.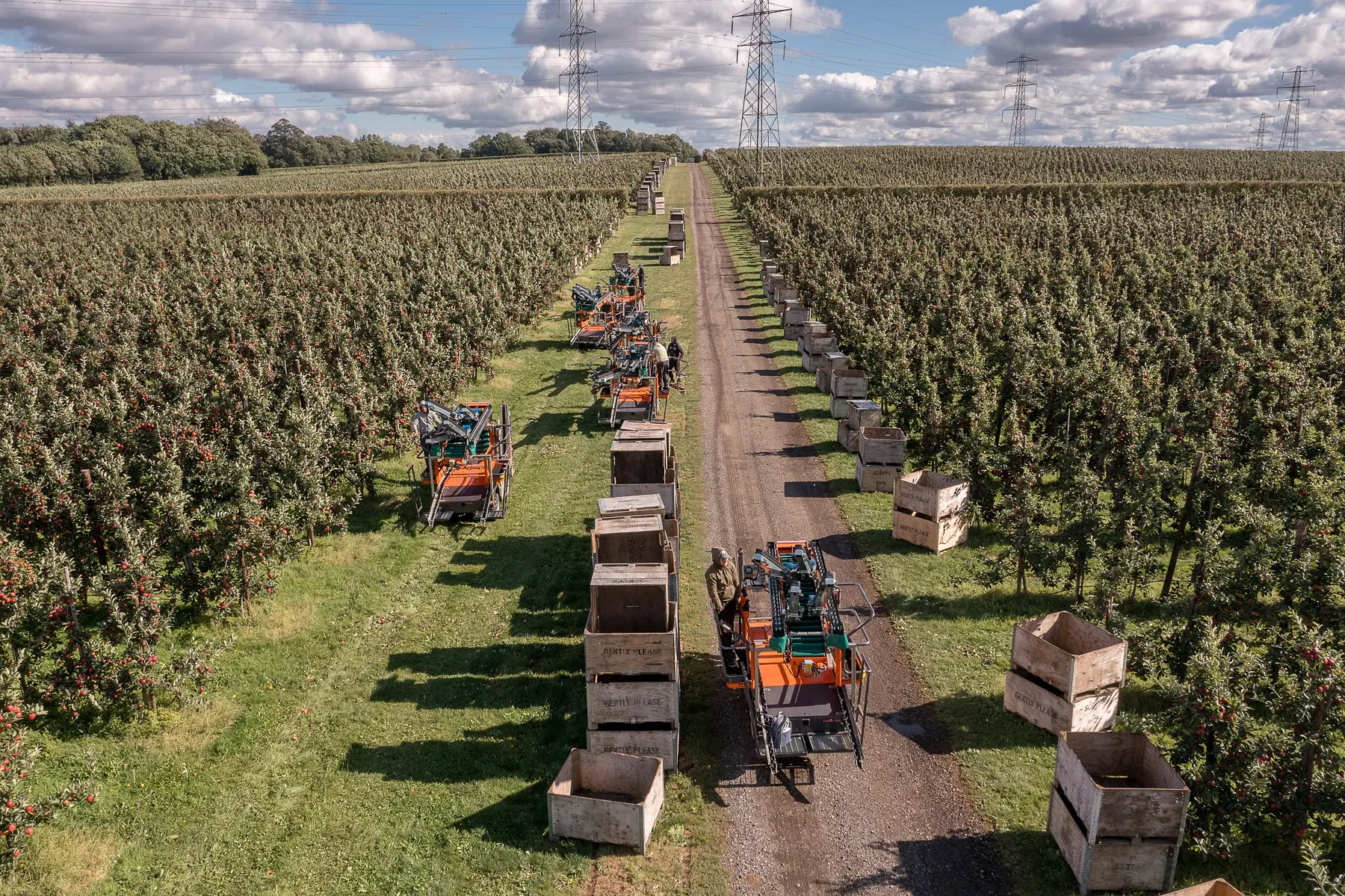 This year, the British Government has raised the number of work permits in agriculture from 10.000 to 30.000, but they haven't been enough. The National Farmers' Union estimates there are currently 500.000 job vacancies in the food and drinks sector.
Union representatives have requested British Prime Minister Boris Johnson to implement as a matter of urgency a post-COVID recovery visa meant to "alleviate crippling labour shortages" and to analyse the impact of the end of free movement on the farmers.
"I think we'd have had a harder time in Romania than we did in the UK"
Ramona, Radu's wife, now works in accounting for Adrian Scripps Ltd. – the first immigrant in her office. Their two children, Rebeca, 7, and Eduard, 3, became British citizens at birth. The children don't speak Romanian, though they can understand some words.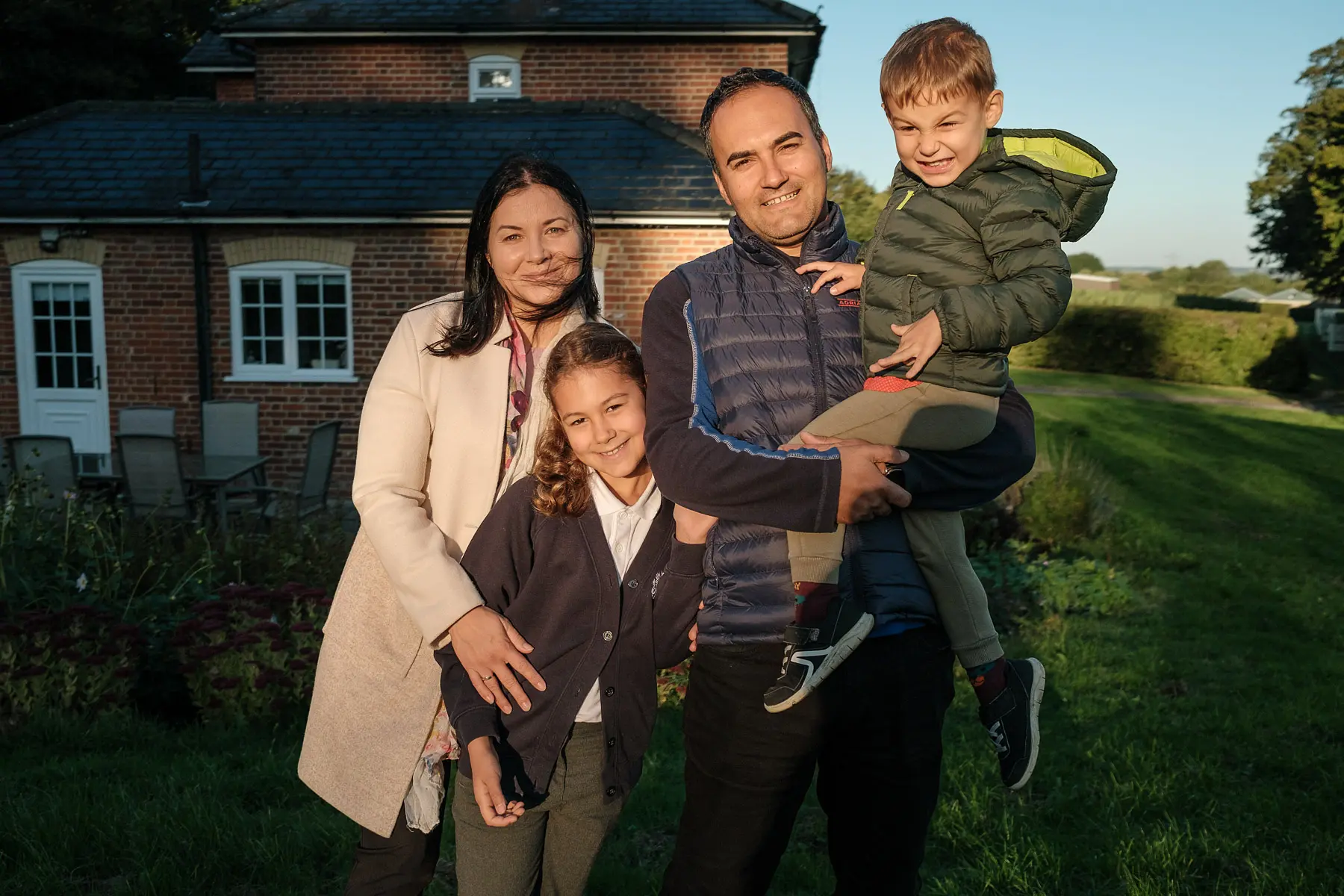 "Before I got pregnant with Eduard, we considered whether to go back to Romania or stay in the UK," Ramona says.
"We can see how the Brits treat foreigners. So we asked ourselves: 'Do we want to be treated as foreigners until the end of our days, or do we want to integrate in this life here? Do we want to stay in the UK? Then we have to act like Brits'," Radu explains.
Ramona and Radu speak English with their children and chose to send them to kindergarten at seven months old, paying 1.200£ a month for each of the two, rather than bringing their grandparents from Romania to babysit. They don't want their daughter and son to speak English with an accent and be considered foreigners.
Radu believes "Eastern Europeans" (he uses the English phrase with us) have the worst reputation in the UK: "We're Europe's lowest class." When his coworkers look for solutions for a hard job, they say, "Bring in some Eastern Europeans to do it".
"You accept these things, because when it comes down to it, you're in their country, not yours," says Radu, who became a British citizen in 2019. He and his wife Ramona were in no hurry to apply for citizenship, as the process is protracted and complicated, but they were afraid Brexit would bring changes in society.
They now live in their large, comfortable house on the farm – one of the perks of Radu's job in management – but they're also paying off a 265.000£ mortgage on a house in nearby Gravesend. Recently, they have also bought a piece of land in Buzău County – an investment meant, Radu explains, as a "worst case scenario" (again, in English).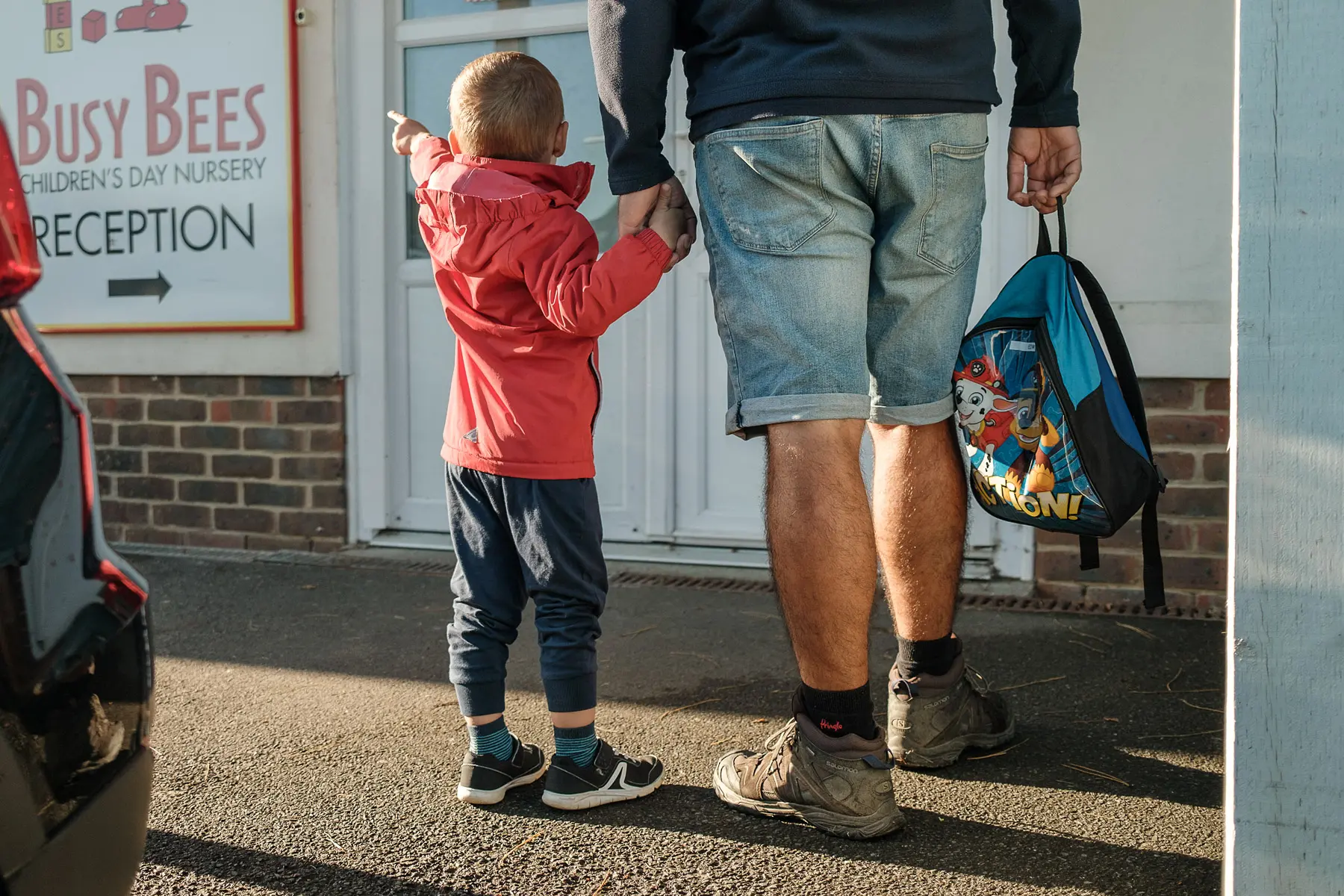 "I think we'd have had a harder time in Romania than we did in the UK, because here we've been appreciated for our work," Radu says. "We worked hard, they noticed that and promoted us."
"I'm here because I chose to be"
Radu Țăndărescu says he never liked being considered part of the "diaspora", because the term has negative connotations. "Many people we know believe that those who left Romania abandoned their country, even though some of them were forced to leave it by the system, while others just made the choice. [I don't like it] when I hear that this or that party came to power because it was voted by the diaspora and that us expats shouldn't have the right to vote."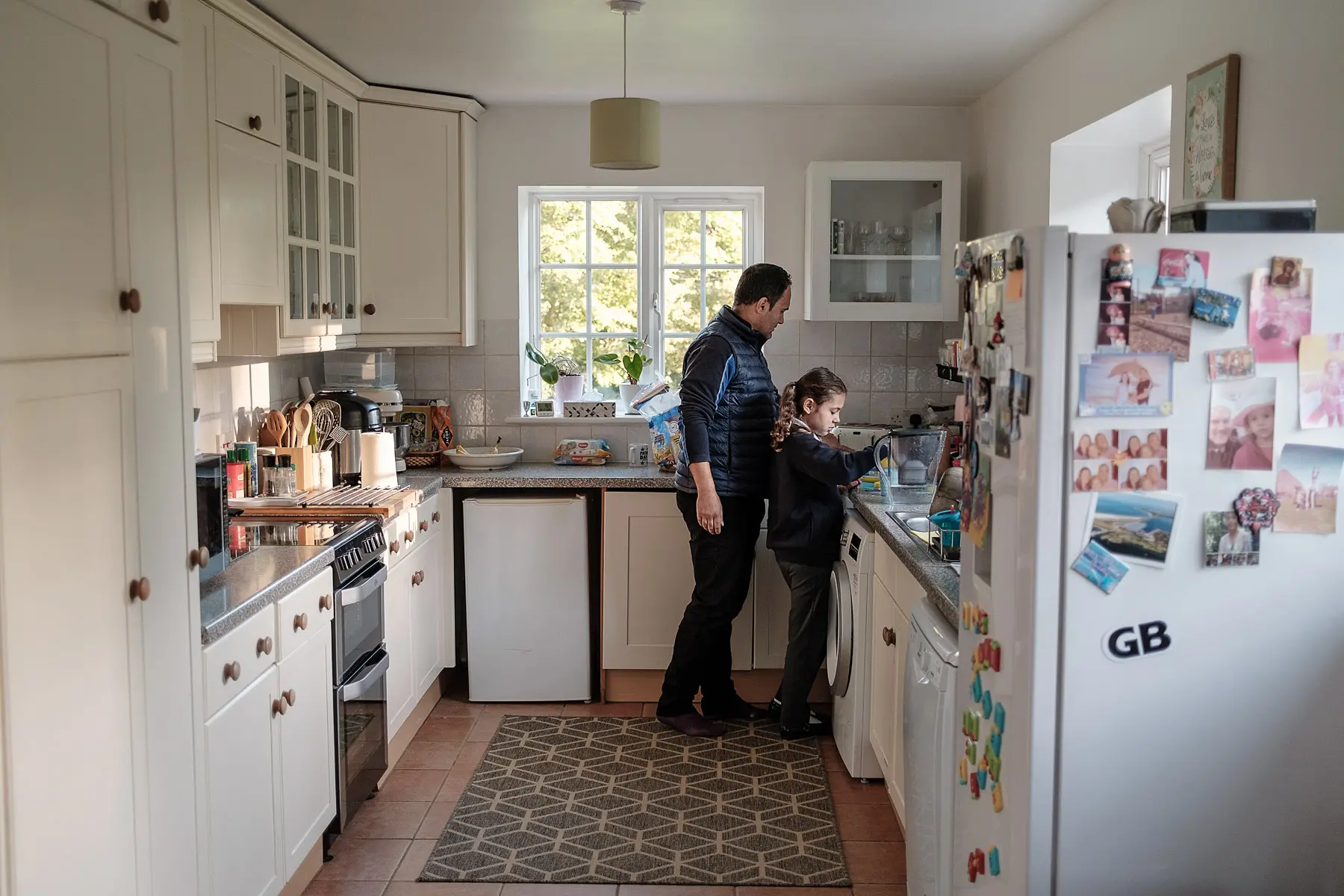 Another aspect that bothers him is that the Romanian press or various commentators criticise the most vulnerable of the people who left the country – seasonal workers in agriculture. "You saw the women who work here – they come because they have no way of making a living in their village and no support from the authorities. You are the same woman who had zero chances in her own country, but here, suddenly, you are offered a job, you can save up, your life is that little bit better."
Most of the criticism about the diaspora he read on social media and heard on TV. "We're all căpșunari. That's not true! Some were forced to leave to make a living, others chose to move to this world of opportunities, others went to study abroad, liked it and fit in. There are so many reasons."
"We left because we wanted to, not because the state or the system forced us to," Radu says. "We came [to the UK] on an exchange, liked it and stayed. I can't blame the Romanian state or whatever party was in power at the time. I'm here because I chose to be."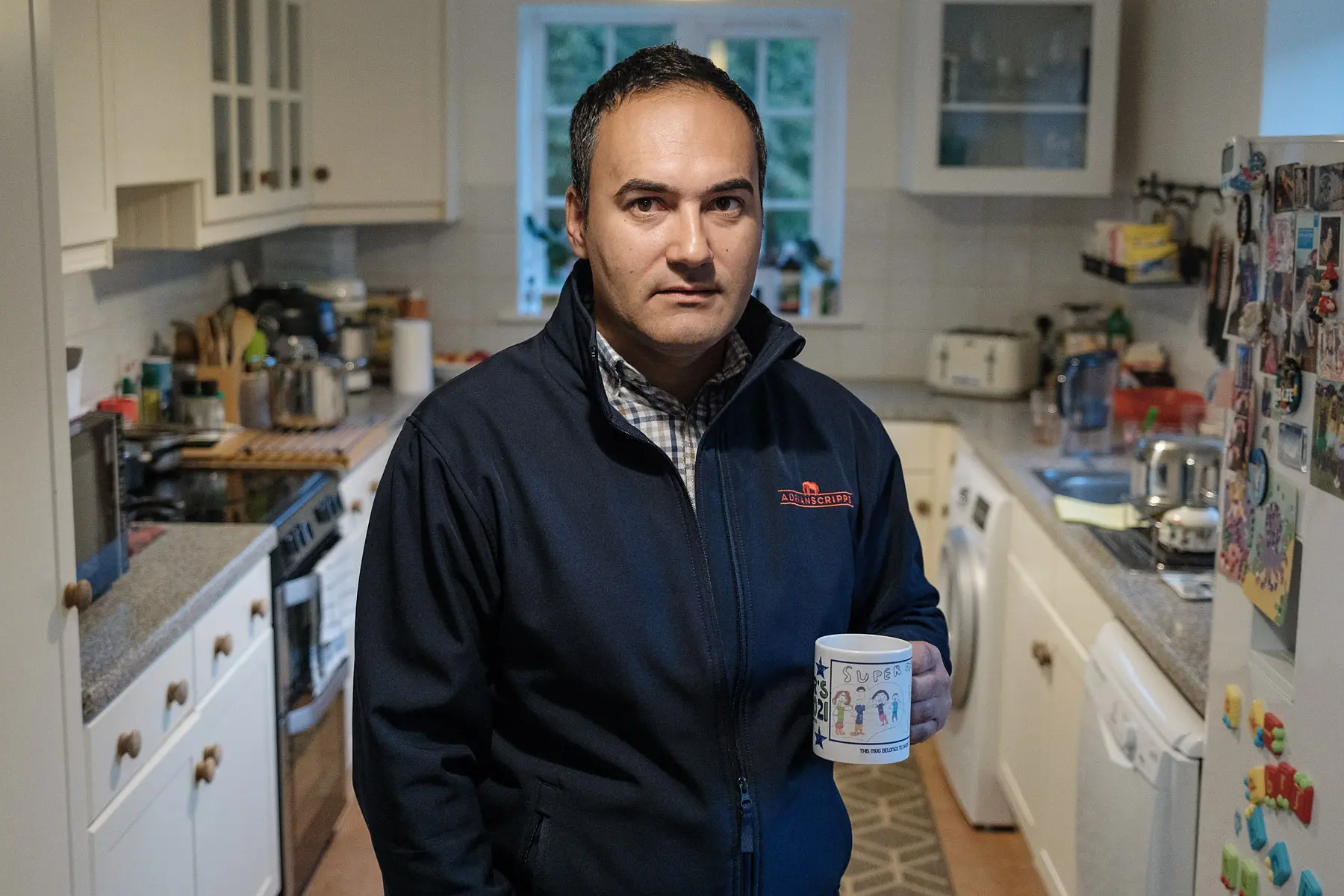 This series was also published on Teleleu.eu.
RELATED ISSUES

Governance

Issue
Migration and Refugees
Migration and Refugees