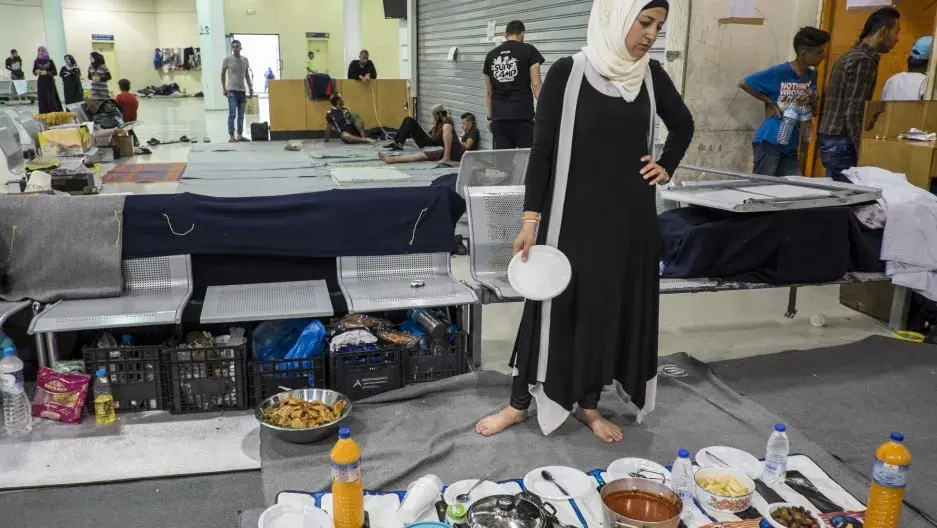 Renna Ramadan prepared an Iftar meal for her family, Syrians from Idlib who hoped to reach Northern Europe but instead are living in the passenger waiting area at Piraeus Port Terminal 1 in Athens, Greece. Several hundred refugees and migrants remain at Piraeus, long after Greek authorities vowed to move the people to other camps. Image by Jodi Hilton. Greece, 2016.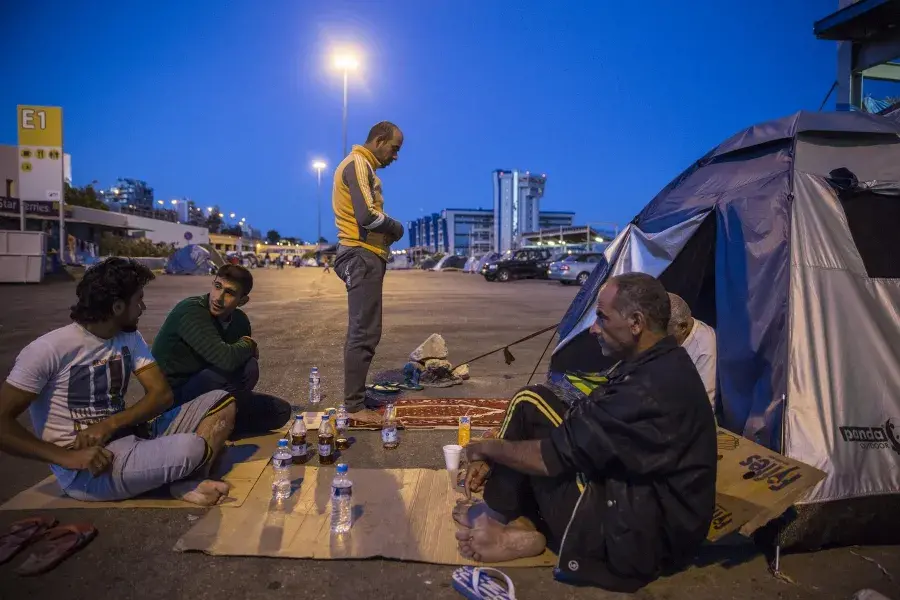 Alhasan Abdulghan from Aleppo, Syria, prays after Iftar next to the collection of tents where he and hundreds of other refugees and migrants are living at Piraeus Port Terminal 1 in Athens, Greece. His friends, clockwise from left, Mazan, from Homs, Fahrid from Aleppo, Hosam from Damascus and Riyad from Raqqa. Three of them are fathers whose wives and children have already reached Northern Europe. Image by Jodi Hilton. Greece, 2016.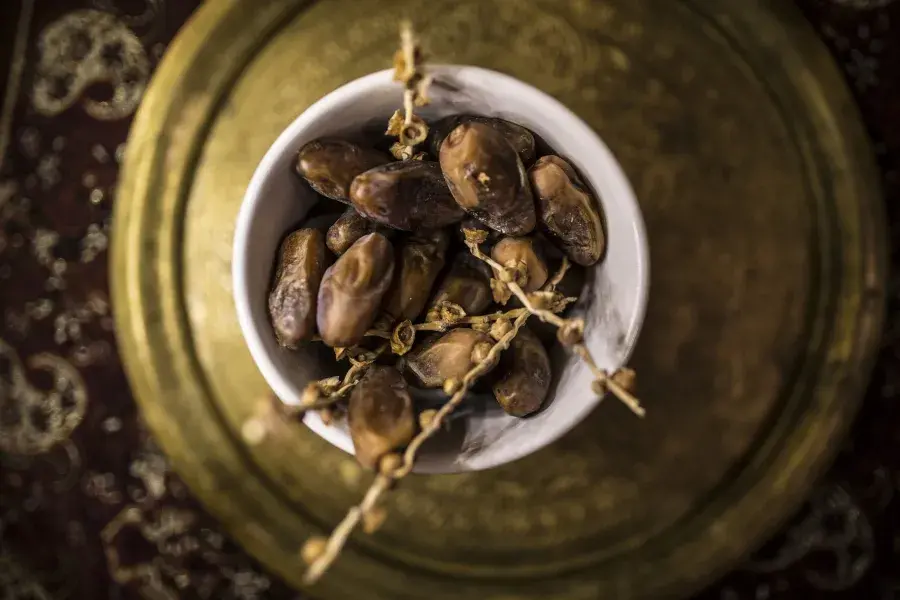 Dates are traditionally used to break fast during Ramadan. At the Elghandour-Stamou family in Athens, Naim Elghandour, an Egyptian businessman and his wife, Anna Stamou, run the Muslim Association of Greece. They broke the fast together with their son Ismael, 9, Gehad Magdi, a family friend from Egypt and Anna's mother Anastasia. Image by Jodi Hilton. Greece, 2016.



As the sun sets behind the massive ferries that take travelers to the Greek islands, hundreds of hot, tired refugees line up in front of a trailer in a vast parking lot. They haven't eaten or had a drink of water since about 4 a.m.

It's clear the Greek government is trying to support the refugees during Ramadan. But even so, conditions at Piraeus are abysmal.

Hedda Grew, a volunteer with the NGO Team Sweden, says the Ramadan fasting is only increasing tensions among people who are already desperate about their circumstances. "They can't drink, they can't eat, they're just sitting in their hot tents all day, and it's a combination between the Ramadan and the waiting," she says.

And there's an awful lot of waiting.

I walk to a quieter area of the camp where I meet Amal Herh, a beautiful young mother of four from Aleppo.

Her name means "Hope" in English. "I have a lot of hope," she says. "But now I must be strong, more strong, for my family."

Amal is putting on a positive face, but I can see the distress in her eyes. She tells me that Ramadan makes her long for home.

"I want to go to Aleppo for Ramadan, with cooking and some cold water and a good place, not this," she says. "Some good fruit, not orange every day. You don't love the same food every day, yes?"

I tell her I understand. That people tell me that Ramadan is a very happy time of year, with family, and special food.

"Yes," she says. "But I don't say what I can say to you, because I am very sad now, because I remember my house."

The next night I accept an invitation to a very different Iftar meal with Anna Stamou, a Greek woman who converted to Islam, and her husband, Naim el Ghandour, president of the Muslim Association of Greece. Naim was born in Egypt.

The Ramadan app on his phone signals sundown with a recording of a call to prayer. At the table, there's playful banter about whether the salad is Egyptian or Greek.

Over Iftar dinner Anna translates for Naim as he speaks Greek. He's sad for the thousands of Muslim refugee having to celebrate Ramadan in the camps. But he tells me he's glad to see Yannis Mouzalas, the Greek minister of migration, is making an effort to show support during Ramadan. "It's very encouraging for us," he says.

The refugees are in a terrible situation in Greece. But Naim, who fled his native Egypt in 1967, is grateful that they are at least away from the violence.

"They are way better than if they were there and maybe a bomb would be in their heads right now and they would celebrate no Ramadan, no nothing," he says.

But the best Ramadan blessing would be to end the fighting. "I wish there would be a solution with Europe to stop the war," he says. "Because this is the issue — to stop the war. All of them want to go back. We certainly wish that next Ramadan will find us without war."

Later I keep thinking about Amal in her tent back in Piraeus. It's not easy to feel your dignity slipping away, especially during the holidays. I wish I could bring her cool water and freshly peeled oranges from Aleppo for Ramadan.
RELATED ISSUES

Issue
Migration and Refugees
Migration and Refugees

Women