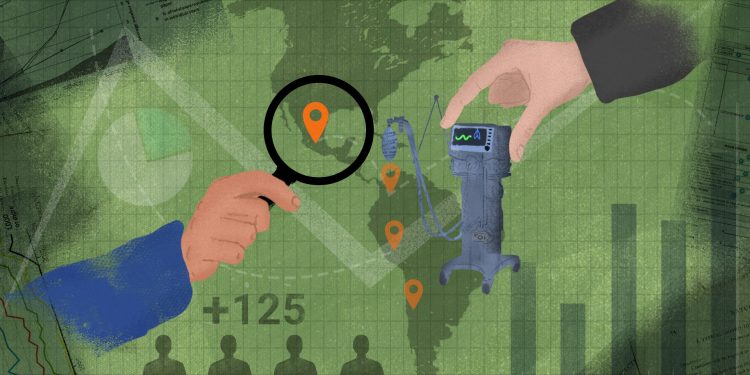 Nine Latin American countries have bought more than 23,000 artificial respirators since the beginning of March to equip their hospitals' intensive care units and care for the hundreds of seriously ill patients with COVID-19 who require them—or may require them—as the contagion reaches its highest peaks.
Since the first cases were detected in Latin America between the end of February and March, the countries began a frantic race to obtain this equipment, which acts as a pressure pump to inhale oxygen and which, depending on its category, can supplant the functions of a lung.
The Centinela COVID-19 cross-border journalistic alliance, which is tracking how governments respond to the pandemic, examined 129 contracts for public purchases of medical and transport respirators in nine countries. Forced by the need to prepare fast, ahead of a potential massive demand for properly equipped ICUs, all governments made their purchases under the direct contracting model, which according to the Open Contracting Partnership (OCP) organization increases the risk of irregularities.
Most countries were ill-equipped when the pandemic hit, with insufficient or poor hospital infrastructure for intensive care, the research found. Among the main findings, Centinela found that some countries were more cautious and made purchases earlier, before device prices skyrocketed due to sudden simultaneous global demand. Such was the case of Costa Rica and Uruguay. It also found that two countries, Argentina and Brazil, made the bulk of their purchases from national industries, allowing them to obtain greater volumes at lower prices.
Countries, like Colombia and Peru, made multiple purchases at different prices over time, and others, like Mexico, paid a higher overall amount for a smaller number of respirators.
Guatemala, the poorest of the nine countries in the analysis, bought respirators at a very high price, including three for children and new-born babies that cost the government more than $100,000 each, even though those two age groups are not considered high risk for coronavirus.
To read the full story in Spanish, please visit CLIP's website.
---
COVID-19 Update: The connection between local and global issues–the Pulitzer Center's long standing mantra–has, sadly, never been more evident. We are uniquely positioned to serve the journalists, news media organizations, schools, and universities we partner with by continuing to advance our core mission: enabling great journalism and education about underreported and systemic issues that resonate now–and continue to have relevance in times ahead. We believe that this is a moment for decisive action. Learn more about the steps we are taking.