Eliécer Aguiar came to the world on September 9, 2006, with a bladder too small for his size and a pair of kidneys that only lasted 11 days.
Still a newborn, his mother, Emily Aguiar, rushed him to the hospital when she saw dozens of weeping sores filled with pus all over his tiny body.  
Eliécer's very first blood test came back with abnormal results. He had high levels of creatinine and urea in his blood, low sodium and potassium up to the roof. By the end of the day, doctors had a diagnosis: severe kidney failure. Eleven days after being born, Eliécer's kidneys had stopped working.    
Twelve years have gone by and Emily has seen her child endure everything: several surgeries, repeated hospitalizations that seem to last forever and five years of treatment at the dialysis unit of the Hospital J.M de los Ríos, Venezuela's biggest and most important children's hospital. 
Eliécer has learned to be a good patient. He knows how to wait, sitting still, gripping between his tiny hands the Nintendo DS his mom and uncle got him almost six years ago, to help him forget the boredom and sadness of having to celebrate his seventh birthday at the hospital.
The device is his favorite distraction. He plays, his black shiny eyes fixed on the tiny screen, and waits for everything to fade away.
He never complains.  
In the same way, he awaits for the only thing that can save his life: a kidney transplant.
Organ procurement from deceased donors has been suspended in Venezuela since June 2017, when the government-run Venezuelan Foundation for Organ, Tissues and Cell Donations and Transplant (Fundavene), the entity in charge of managing the organ procurement and transplant system, announced the temporary suspension of all transplant-related activities, citing deteriorating hospital infrastructure and scarcity of post-transplant medication as the main reasons motivating the decision.
Eighty-five percent of transplant patients report always having difficulties to find their prescribed immunosuppressants, a post-transplant medication they must take for life to prevent their bodies from rejecting the new organ, according to the National Immunosuppressants Survey, a study by the Organizations of Transplants of Venezuela (ONTV) and the Venezuelan Nephrology Society, which collected data about the current situation of transplant patients in the country.
For transplant patients, access to immunosuppressants is critical to guarantee a transplant's long-term success. Patients who do not take this medication regularly and as directed often present medical complications and risk losing their transplanted organ. In the most extreme cases, they may even risk death.
According to data from the Immunosuppressants Survey, 98 percent of transplant patients regularly present medical complications whenever their post-transplant treatment becomes unavailable in the country.
By April 2018, the survey registered 54 transplant patients who went back to dialysis, due to medical complications caused by not taking their medication. Other 47 patients lost their transplanted organ. Twenty-six patients died.
Inside the Hospital J.M de los Ríos, patients awaiting a transplant face a critical situation. At a press conference held on April 9, 2019, Prepara Familia and Cecodap, two NGO's that work for the defense of children's rights in Venezuela, warned that a group of 20 children who suffer from different blood diseases and are being treated at the hospital urgently require a bone marrow transplant to survive.
Fundavene used to have an international cooperation agreement with the Association of Bone Marrow Transplant of Italy, to send Venezuelan children from low-income families to receive treatment in Europe, funded by the Venezuelan government through PDVSA, the country's state-owned oil production company.
The program worked since its creation in 2006 until 2018, when it was halted because the Venezuelan government failed to make payments to the Association of Bone Marrow Transplant of Italy to cover for the program's annual operations. As of January 2019, the Venezuelan government's accumulated debt to the program was at 10.7 million Euros ($11.2 million).
According to Venezuela's Minister of Foreign Affairs, Jorge Arreaza, the program had been forced to stop due to the economic sanctions imposed in May 2018 by the U.S. Treasury Department on the Venezuelan government.
"The health program with Italy was executed through CITGO, which was confiscated by the United States. Venezuela sent the required funds through PDVSA and they were withheld by the Portuguese bank Novo Banco, thanks to the sanctions and the criminal blockade," the minister said.
Four children died at the Hospital J.M de los Ríos in May 2019 waiting for a bone marrow transplant. They were six-year-old Giovanni Figuera, seven-year-old Robert Redondo, eight-year-old Yeiderberth Requena and eleven-year-old Erick Altuve, all part of the same group of 20 children that had called for urgent action just a month before.   
On March 18, 2019, Carlos Rotondaro, ex-president of the Venezuelan Institute of Social Security, the government entity that distributes high-cost medication such as chemotherapy, immunossuppressants and dialysis material among hospitals and pharmacies nation-wide, said that the number of patients in dialysis in Venezuela fell from 14,824 in 2017 to 11,000 by the end of 2018.
According to Rotondaro, over 3,000 patients with kidney disease died during that period, because of the malfunction of dialysis units across the country and the many faults of the public health system.
Medical literature suggests that in any given country, roughly 40 percent of patients in dialysis could be suitable candidates for a kidney transplant. In Venezuela, an average of 1,600 patients were enrolled on the national waiting list for a kidney in the years prior to 2017, when organ procurement stopped.
As of June 2019, the ONTV estimates that over 500 patients who could have gotten a transplant in the two years since the paralization of organ procurement did not have access to this option. At least 10 percent of them are children, who face an increasing risk of dying as their medical conditions keep deteriorating.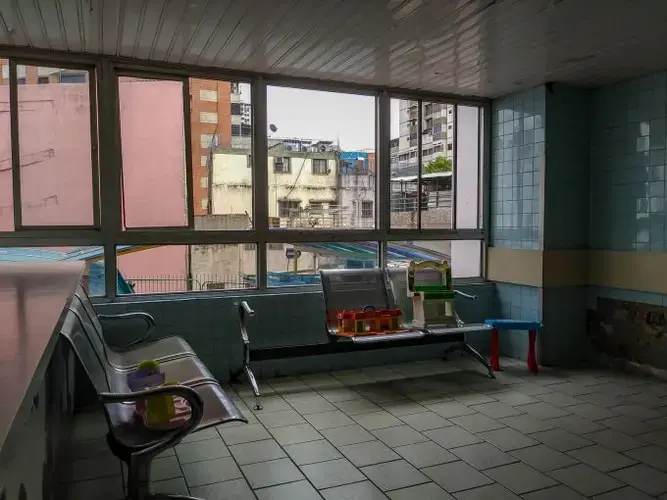 It all started with the bladder.
That first emergency that started just days after Eliécer's birth lasted for over a month, until doctors at the pediatric hospital finally found the root of the problem. 
Eliécer's bladder was small. So small that it filled up with urine too quickly. When it reached its maximum capacity, part of the liquid drained back to the kidneys, drenching them into toxins that needed to be eliminated from the body. His kidneys resisted eleven days. Then, they collapsed.
Eliécer's first medical crisis left him hospitalized for five months. He knew the pain of an injection needle before he could learn to walk. Before saying his first word, he was sleeping in a wooden cradle, with a catheter creeping out from under the skin near his belly button, twirling and twisting, until it reached the peritoneal-dialysis machine that did the work his kidneys could not.  
Emily connected her baby to the machine every night, right before bedtime. She infused 1.6 ounces of a special solution and left the machine do the rest. It ran for four hours, absorbing toxins and waste, water excess and body salts. After the first cycle, a second one of four more hours followed.
And so, the night would go by. Until Eliécer's room filled with the yellow, morning light. Then, Emily checked the time and disconnected him. Never before hitting the mark of 13 hours of dialysis, just like doctors had told her.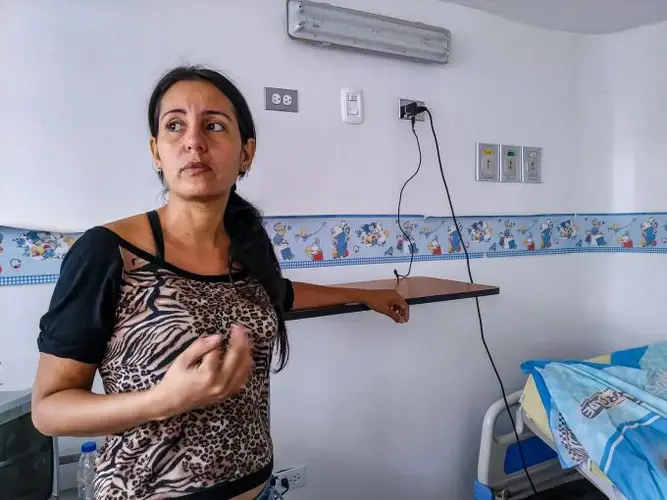 The origins of the Venezuelan organ procurement system date back to 1997, when a group of doctors specialized in transplants joined to create the National Organization of Transplants of Venezuela (ONTV, by its acronym in Spanish). The NGO was born with the mission of professionalizing transplant activity in the country and facilitating access to transplants for the Venezuelan population.
The ONTV designed a platform for the organ procurement system to function, borrowing elements from the systems used at the time in the United States and Spain, and adapting them to the Venezuelan healthcare context. In 2001, the national government designated the ONTV as the entity in charge of running the country's organ procurement system, which comprised the logistics to retrieve organs from deceased donors to be used on transplants and the management of the national waiting list.
Transplant activity grew steadily in the following years. According to the ONTV's records, the number of kidney transplants made in the country went from 139 in 2000, to 345 in 2007, an all-time high for transplant activity in Venezuela.
Dr. Pedro Rivas, transplant surgeon, ex-president of the ONTV and director of Fundahígado, Venezuela's only active liver transplant program, says that the country's organ donation rate increased from 0.7 donors per million inhabitants in 2001, to an average of four donors per million inhabitants in 2012. Some regions in the country were even over the average, with a rate of seven donors per million inhabitants.
By the end of 2013, under the ONTV's management, the system counted over 3,400 kidney transplant patients across Venezuela. More than 2,000 of them had received an organ from a deceased donor.
But in 2014, the Venezuelan government under Nicolas Maduro's administration, created the Venezuelan Foundation for Organ, Tissues and Cell Donations and Transplant (Fundavene) and transferred the management of the organ procurement system to them.
Under this new institution, transplant activity and organ procurement in Venezuela began deteriorating, until in 2017 the country's organ procurement system stopped working entirely.
****
Eliécer's 13-hour-long dialysis nights went on for seven years. In 2014, he had a bladder reconstruction surgery, which aimed to increase the size of his bladder using tissue extracted from his small intestine. After the surgery, Eliécer could not continue receiving peritoneal dialysis at home. Instead, he got a spot to receive four-hour-long dialysis sessions twice-a-week at the Hospital J.M de los Ríos, the only dialysis unit in Venezuela that provides treatment for children weighing under 22 pounds. 
The surgery also left him unable to urinate normally. Since then, whenever he feels a slightly painful pressure in his lower abdomen, he knows his bladder is full and calls up to his mom. From a plastic bag, she takes out a slim catheter that she has washed a couple of times with hot water and soap and helps her son drain the urine artificially.
Time slows down for Emily every Tuesday and Thursday, as she awaits for Eliécer's four-hour dialysis session to end. It is during those times when she has time to wander into her wishes. 
"I wish he could get a transplant. I wish everything just turned out okay and that we could have a normal life," she says. "I would work. He would go to school. I wish I could see him run, see him well. That is my biggest desire. I wish he had already gotten a transplant."
Emily has known all along that a kidney transplant is the only definitive cure for Eliécer. The one-way ticket out of the dialysis unit and into the normal life she dreams of. Without a compatible donor in the family, her hopes are placed on a kidney from a deceased donor. The day her wish comes true is the the day her son's name appears at the top of the waiting list.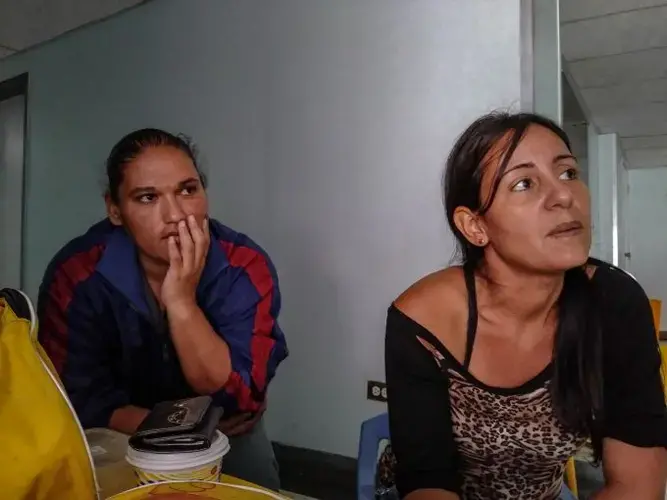 Fundavene announced its decision to suspend organ procurement on May 29, 2017, with an official communication sent to all transplant centers in the country, informing of the "temporary suspension of all activities associated with kidneys procurement and transplant from deceased donors at a national level," effective June 1st.
The letter also asked doctors and medical professionals to inform patients on the national waiting list for an organ that the monthly updating of the list would be suspended until further notice.
"The waiting list, with all patients across the country awaiting for a kidney, was kept and managed by the organ procurement system ran by the ONTV," says Dr. Eddy Hernández, former ONTV Hospital Coordinator for Transplants and a member of the Venezuelan Society of Nephrology. "Every transplant center with patients enrolled and ready for transplant, sent their list to the procurement system on the first five days of every month."
For a patient to be enrolled on the list, he or she had to attend pre-transplant appointments at their transplant center, have a series of up-to-date medical exams, and request to be included in that center's list. They had to have a sample of their blood serum, a compound resulting from blood coagulation, taken and stored at the Institute of Immunology of the Universidad Central de Venezuela. This compound was used to make cross tests with available organs to determine if the patient was compatible and therefore suitable to receive the organ.
With organ procurement now paralyzed and no organs available to transplant, compatibility cross tests for organs from deceased donors are no longer made in Venezuela. The Institute of Immunology also stopped receiving blood serum samples from patients since mid-2017.
"The truth is there is no waiting list, because you cannot have a fixed waiting list in which patients enroll and stay forever," said a doctor at a public hospital in Caracas, who spoke on condition of anonymity for fear of government retaliation. "If the system was reactivated, we would need to start calling patients to see who is still alive. They could have died in dialysis. We don't know in what condition they are now: have they had any blood transfusions? A digestive hemorrhage? Pneumonia? Are their exams up-to-date or have they expired? All of that matters. The waiting list is a mobile, not a static concept."
****
Emily's prayers for a donated kidney were heard once. Eliécer was one of 96 patients who received a kidney transplant from a deceased donor in 2015. He was eight years old.
On July 16, 2015, Emily woke up at three in the morning, as always. It was "dialysis Thursday," as she used to call it, which meant they had to travel two hours from their home in the coastal town of La Guaira to the pediatric hospital in Caracas.
Her mornings where a well-rehearsed routine. She went to the kitchen and placed the budare, tinged with vegetable oil, on top of the stove. She mixed the corn flour with water and a pinch of salt to make the dough for the arepas. She took a quick shower, short enough to run back to the kitchen before a burning smell could spread in the air.
Emily opened the fridge and took out two plastic food containers with the lunch she had prepared the night before. She wrapped the arepas in aluminum foil and put everything inside a worn-out pink-fabric backpack. Then, she walked down the dark corridor to wake Eliécer up.
At 3:45 a.m., they were already out the door, with just enough time to climb the 72 steps that separate their house from the neighborhood's main avenue. Once at the top, they waited for the bus that would take them to Caracas. At six in the morning, they walked through the hospital's doors.
A doctor waited for Emily at the dialysis unit.
"There is a potential donor for Eliécer," she said. "Don't give him any food. At 10:00 a.m. I will know if the organ is for him."
A few hours later, Emily heard the good news. It was for him. A compatible kidney from a deceased donor. The procurement system had assigned the organ to Eliécer, among all eligible patients registered in the national waiting list.
Emily gasped. As the doctor walked away, she stood still, her eyes fixed in the vacuum, trying to assimilate the news. There was a kidney and it was for her son. After all the years, the sleepless nights, the early morning-rising, the needles and IV's, the countless pills, the medical tests and the yearning, her son had a chance.
Eliécer didn't eat his mother's arepas that morning. He waited, quieter than usual, outside the dialysis unit, while doctors prepared the operating equipment and found an anesthesiologist on duty. At 1 pm, everything was ready.
Emily and Eliécer held hands as they walked together to the entrance of the operating room. They said goodbye when a nurse came to escort the child inside.
Emily held her breath for an instant, as Eliécer disappeared behind the iron doors.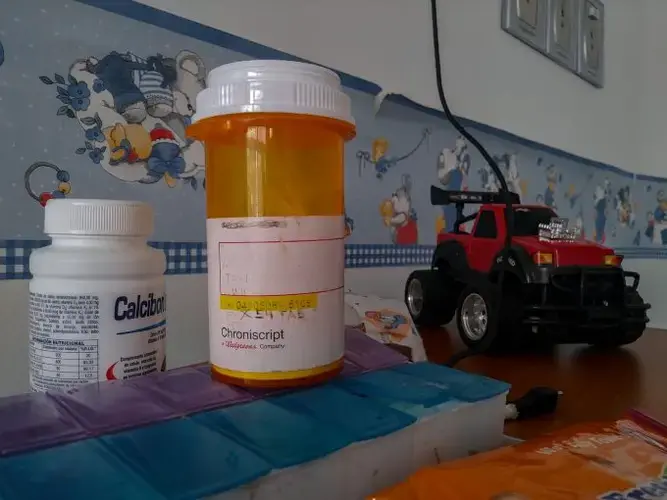 Organ procurement in Venezuela hit its record in 2012 when the system, still under the ONTV's management, retrieved and transplanted 240 kidneys. In 2016, only two years after Fundavene took over the organ procurement system, the number of kidney transplants made with organs from deceased donors fell to only 25, according to data by the ONTV.
That year, only four of the nine public hospital transplant centers across the country made kidney transplants with organs from deceased donors. All of them combined accounted for only 16 transplants out of the total 25 made that year. The rest were transplants made at private hospitals.
Transplant centers within the Venezuelan public hospitals network are funded by the government, which for years allowed patients to access transplants for a relatively low cost.
With the halt on organ procurement and the majority of transplant centers either closed or inoperative, patients only have the option of getting a transplant at a private hospital, where the cost of the procedure is significantly higher and out of reach for many Venezuelans.
"There are two variables that do not exist today: there is no organ procurement and there is no funding," says Dr. Rivas. "What is suspended is the State's support. The State's pocket is no longer there for low-income patients. To have a transplant, you need to have your own financial resources and a living, compatible donor. If you don't, you will not have access."
Only three private hospitals in Caracas still keep their transplant programs open: Clínica Metropolitana, Clínica Santa Sofía and Clínica La Floresta. According to Rivas, the cost of a kidney transplant in any of those centers oscillates from $16,000 to $25,000. A liver transplant is more expensive: $60,000 to $80,000. "That can be a person's life savings," Rivas says, "the system now is horribly discriminatory. If you don't have the money, you just don't have access and you won't be able to do anything."
In the first six months of 2017, the number of transplants made with organs from deceased donors fell to only nine. No official figures related to transplant activity have been published since organ procurement stopped in June 2017.
Fundavene never responded to several requests for an interview.
****
It was dark outside when Emily saw her son again, after a transplant surgery that lasted for six hours. Nurses took Eliécer to a hospital room to keep him under observation for a few days. Everything had gone well and now he had a new kidney, implanted on the left side of his abdomen.
Three days later, Eliécer's blood pressure raised suddenly. "It went to the roof," Emily said. "They almost couldn't control it." As the night went by and Sunday gave way to Monday, Emily knew something was not right. At 5:30 in the morning, nurses on duty rushed into the room when Eliécer had a seizure.
Doctors explained to Emily that her son's condition was likely caused by internal bleeding. They decided to take him to the operating room again.
"They opened him up again. They cleaned," Emily says. "Doctors told me the kidney looked good. It had a good color; good pulse. They closed him up again."
Three more days passed and Eliécer had a second episode of internal bleeding. After another trip to the operating room that lasted over two hours, doctors emerged to tell Emily that Eliécer's body had rejected the kidney. He was stable, but there was nothing they could do to save the new organ. The transplant had failed.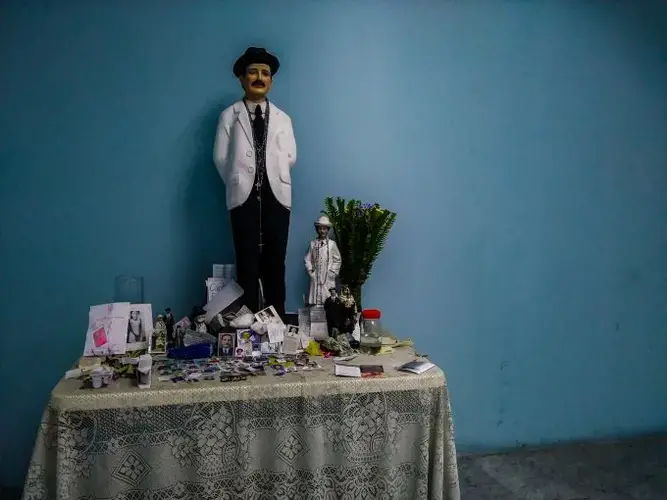 The generalized scarcity of basic medication, which is currently at 90 percent according to estimates by the Venezuelan Pharmaceutical Federation, has had a critical impact on patients with chronic diseases and complex pathologies.
The situation has forced many patients to take extreme measures, such as taking less medicine than they were prescribed, consuming expired medication, or even stopping treatment altogether.
Emily knows by heart the list of medicine Eliécer needs to take. Two antihypertensive drugs, calcium, vitamin B12, folate, sodium bicarbonate. This last one she used to buy in little individual packages at any local pharmacy. "It was nothing," Emily says, "now a small envelope of bicarbonate is so expensive it's impossible to buy. Where do I get the money for it? I don't have it. That saddens me, but what can I do?" 
The lack of antibiotics at public hospitals also possess grave difficulties, especially for transplant patients, whose immune system has to be kept at bay, making them more vulnerable to all kinds of infections.   
Eliécer is hospitalized for an infection located in one of the stitches around the catheter he has on his chest. Doctors at the J.M. de los Ríos recommended placing the kid under an intravenous antibiotic treatment, but the medicine they need to give him is not available at the hospital. Emily has not been able to find it in any drugstore in Caracas.    
Only patients and medical personnel are allowed to go inside the dialysis unit at the Hospital J.M de los Ríos. While the children from the morning shift are inside getting treatment, their mothers wait outside with their legs hunched, sitting on the small bright-colored plastic chairs that pair with a wooden table painted yellow.
The women talk about the bus ride price and about bus drivers that go passed the designated stops to charge more money. They also chat about the antibiotics that are nowhere to be found and the "tons of Bolivars" that a complete blood count can cost at a private laboratory.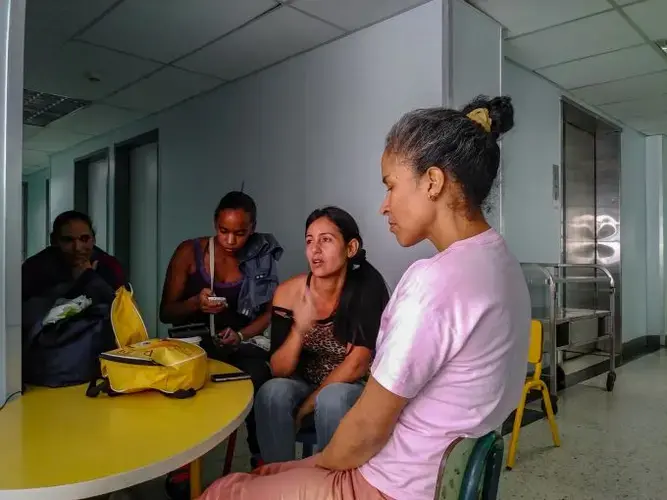 A sudden, piercing scream surprises them. Everything goes silent. The women look at each other. The screams persist.
Emily raises her head. She knows that at the other side of the dialysis unit's glass doors, it is her son who screams.
Eliécer is a quiet, resilient child. But many times, halfway through the dialysis session, he is shaken by a violent wave of cramps all over his arms and legs, a symptom of bones damage that is common for patients with chronic kidney disease.
The pain is intense, sharp. Excruciating. 
Eliécer used to take a medicine called Zemplar, which helped control the pain and deformation of his bones, but it has been a long time since the medicine disappeared from pharmacies' inventories across the country.
Every once in a while, a bottle of this medicine pops up, or a blister pack, among the donations collected by the foundations and NGO's that work helping patients inside the hospital.
"If the foundations bring it, he takes it. If not, he doesn't," Emily says. "A foundations gives me a little box, another gets me a blister. And that's how we keep going. When I don't have it I just don't give him anything. And when I don't, his legs hurt more and keep deforming more."
Meanwhile, Eliecér does his best to keep walking. His legs curve inwards, like two malleable metal rods. This deformity is irreversible and it worsens every day. Years ago, whenever he walked, his knees slightly brushed against each other.
Now, he puts one leg right in front of the other. One step; two, three. Until the pain kicks in again and his mother then lifts him up into her arms like a toddler.    
****
The crisis has also crawled inside public hospitals, where 52 percent of the basic medication required to treat emergencies is not available, according to the National Hospitals Survey, a study published in February 2019 by the NGO Red de Médicos por la Salud, which monitors the state of the healthcare system. The report also found that 1,557 patients died in Venezuela between November 2018 and February 2019, of causes attributable to the lack of medicine and medical supplies within the country's public hospital network.
Transplant centers cannot escape this reality. In the National Immunosuppressants Survey, 72 percent of doctors who specialize in the area of transplants agreed that the lack of medical infrastructure was one of the major reasons why organ procurement stopped. Sixty percent of them also cited problems with supporting services such as x-rays, intensive care and laboratory as another cause.
According to Dr. Carmen Luisa Milanés, a specialist in nephrology who worked as an adviser for the Donation and Transplant Program at the Ministry of the People's Power for Health until 2014, the country has lost around 80 percent of the specialized human resource in all medical areas related to transplants, including nephrologists, trained nurses and surgeons, many of whom have emigrated looking for more stability and better working conditions.
The Nephrology Service at the pediatric Hospital J.M de los Ríos had an original capacity of 20 patients to be hospitalized. Now, that capacity is reduced to just five patients, due to the lack of medical personnel.
"From a total of eight nephrology specialists we should have, we now have only three; and from six residents, we have only two working as of today," said Dr. Belén Arteaga, pediatric nephrologist and Chief of the hospital's Nephrology Service. "We are offering a service that, although it helps, is not optimal."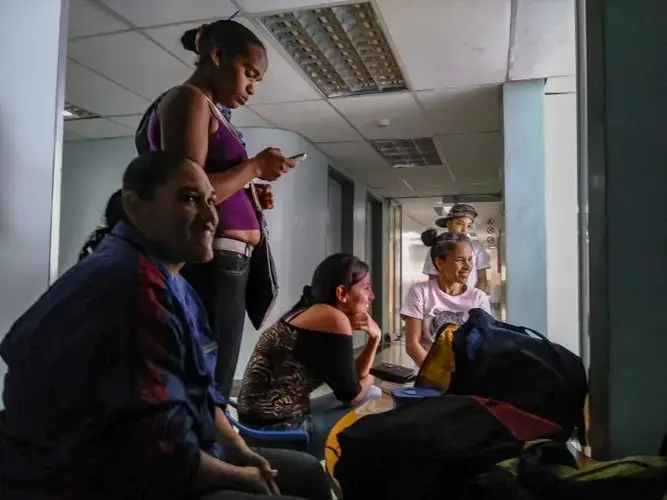 "A transplant program must work within a functional hospital; and that means there have to be pulmonologists, gastroenterologists, endocrinologists, because transplant patients often present many different pathologies," said the doctor from a public hospital in Caracas who requested anonymity to preserve their safety. "No transplant can be done in the current conditions."
Dr. Milanés explains that the faults in the public hospitals network and the Venezuelan health care system ended up making transplant activity unsustainable.
"It is absolutely irresponsible to keep the organ procurement system active, producing donors, when transplant centers cannot function because they do not have induction therapy, or because the patient's post-transplant treatment is not available. That is not right, is not ethical," said Dr. Milanés.
****
The plastic tube descends from the top of the medical stand and disappears inside Eliécer's white-and-blue-striped shirt. It slowly feeds the catheter he has in his chest, inserted directly into his heart, in the superior vena cava. It is through that same flexible tube that Eliécer is connected to the dialysis machine every Tuesday and Thursday to get his blood cleaned.
It is also the last catheter he can ever have.
Patients in need of dialysis must always have what is called a vascular access, a point of connection between the dialysis machine and the circulatory system, for the blood to get in and out of the body during the dialysis cycle.
Unlike adults, who have a wider range of alternatives to create a vascular access, children who need dialysis can only be connected to the machine through a catheter installed in a vein.
Catheters are often subject to risks of obstruction and infection and when these complications arise, doctors frequently must remove and replace the catheter. Dr. Belén Arteaga explains that in most cases, when the catheter is removed, the tissue in the area where it was placed hardens with the healing process. The vessel becomes inaccessible and it can no longer be used. The only option is to place the new catheter in another entry point.
Not all veins in the body can be used as vascular access points, because the vein needs to be thick enough to accommodate a catheter suitable for dialysis. Over time, as the veins that meet this condition are used, the patient's body runs out of its limited amount of vascular access points. If this process goes on for long, there comes a point in which there are no more vascular accesses to connect the patient to a dialysis machine.
After four years of non-stop hemodialysis, several catheter infections and other complications, Eliécer's small body is already at its limit. Emily keeps count: her son has had 10 catheters. Each one of them has been removed due to different kinds of complications. Each one of them represents a healed vein that can never be used again. 
His tenth catheter, the one Eliécer has now, was a leap of faith by a doctor from the Hospital Miguel Pérez Carreño, in Caracas, who agreed to perform a risky operation to install the tube right into the child's heart, in the very last vein in his body that is thick enough to hold the point of connection to the dialysis machine that Eliécer needs to live.
Just like any of his previous catheters, this one is also vulnerable to infections. The stitches infected on his chest wound were close enough to the catheter to raise concerns among his doctors, who ordered to immediately hospitalize Eliécer and give him antibiotics to prevent the infection from extending and reaching the catheter.  
Eliécer cannot risk anything going wrong. The catheter in his heart has to live on. If it becomes infected or damaged, Eliécer is out of time.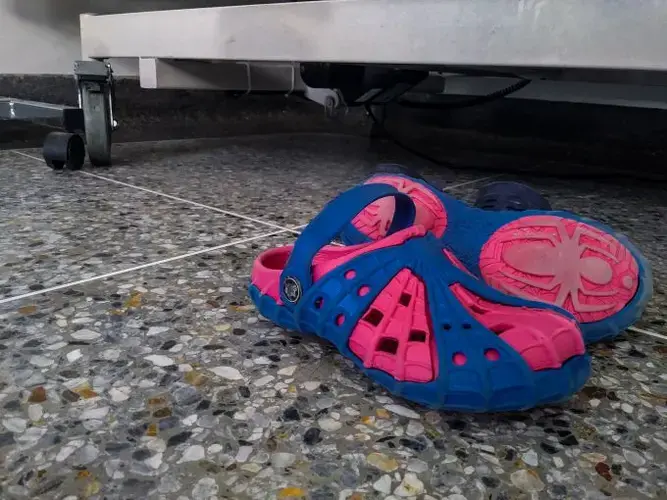 Emily does not want to think about that moment. But in the long waiting hours outside the dialysis unit, or while she watches over Eliécer's sleep at midnight, her anguish corners her.
"I just start thinking he should have already had a transplant," Emily says. She knows the time to wait for another transplant is running out.
"Sometimes I get on with hope. I hope for a transplant so that Eliécer can get out of this. But as long as everything remains paralyzed in Venezuela, we here don't have hope."
RELATED ISSUES