VARANASI, India – Mahindar Vanvasi wasn't thinking about running away when he and his wife first started work at a brick kiln near this sacred city in northern India five months ago. The owner had given them a 10,000-rupee advance, about $150, and promised a weekly allowance of 1,000 rupees. He said he'd pay them the rest at the end of the season. In return, they molded bricks for up to 18 hours a day, six days a week. It was hard work for little money, but nothing they hadn't experienced before.

Then, after four weeks, the owner stopped paying them. Mr. Vanvasi complained to the kiln's supervisor, who threatened to beat him if he mentioned it again. Vanvasi got the message. He quietly returned to work for another three months.

The final straw came when the owner refused to allow him to return to his home village to attend an annual Hindu festival. On the night of April 13, he escaped with a friend on a stolen bicycle. They rode four hours to their home village, where they sought help from a local activist and went into hiding.

"The owner would probably kill us if he found us," Vanvasi says behind a nondescript brick hut early one morning in April. He and his friend, Ram Jatan, haven't slept in the same house for more than one night in a row. "We're scared for our lives."

Despite his lingering fears, Vanvasi knows he's lucky to have escaped the kiln at all. India is home to 18.3 million modern slaves – or 40 percent of the world's total of 45.8 million – according to the 2016 Global Slavery Index from the Walk Free Foundation. Hundreds of thousands of them work in brick kilns here in Uttar Pradesh, India's most populous state, in dangerous and squalid conditions.

Modern slavery – including child marriage and bonded labor – has remained an immense challenge and cause for shame in India amid the country's rapid economic growth of the past two decades. The sheer scale of the problem makes it virtually impossible for the government to take on alone. Nongovernmental organizations regularly help to ensure that what little government support is available, such as food and housing assistance, reaches those who need it most.

Human rights advocates warn that such a paternalistic approach has its limits in a country as vast and diverse as India. Many worry that it's not enough to keep people like Vanvasi from falling back into the hands of human traffickers and exploitative employers.

"A lot of the work has been very top-down," says Jacqueline Bhabha, research director at the FXB Center for Health and Human Rights at Harvard University in Cambridge, Mass. "There hasn't been much success on really building collectively from the bottom-up, particularly in these extremely vulnerable and disempowered communities."

A team of researchers led by Ms. Bhabha published a study earlier this year that points to an alternative approach. The study focuses on a Varanasi-based organization called Manav Sansadhan Evam Mahila Vikas Sansthan (MSEMVS). By organizing former bonded laborers into Community Vigilance Committees (CVC), MSEMVS helps them leverage the power of collective action. The study found that victims of bonded labor can break free of exploitation if they mobilize and demand enforcement of labor protection laws and social welfare entitlements that are on the books but often ignored or overlooked.

The activist who helped Vanvasi and Mr. Jatan is a volunteer for the CVC in their home village. After hearing their story, he visited the kiln undercover to check on their wives and three young children. On June 8, officials from MSEMVS and local authorities raided the kiln to rescue them.
Vanvasi is grateful to be back with his family and out of hiding. With the help of MSEMVS, he plans to take the kiln owner to court over his unpaid wages of about 20,000 rupees.

"I don't want to work at another brick kiln," he says with a new sense of empowerment. "I'd rather do construction work. But I do want the money that I'm owed."

South Asia is the fastest-growing region for human trafficking in the world, according to the United Nations Office for Drugs and Crime. And India's brick making industry is one of the worst offenders.

Many brick kiln workers are from poor rural regions who are lured by wily recruiters with the promise of good jobs. Once they arrive, kiln owners often withhold their pay and hold them in debt bondage as security against a loan they have taken out – often for a wedding or medical expense – or a debt inherited from a relative. This form of bonded labor has been outlawed for decades, but it remains one of the most prevalent forms of modern slavery in India.

It's a bleak, feeble existence for some of India's most marginalized people. Brick makers often work 16 hours or more a day. Their only breaks come in the middle of the day, when temperatures can reach 115 degrees F. Most live in huts made from raw bricks and eat little more than rice and lentils. Malnutrition, illiteracy, and infant mortality are commonplace.

Nazrul Islam Khan, who oversees rehabilitation efforts for the Rural Organization for Social Advancement in Uttar Pradesh, says he has seen children as young as five working in kilns.

"They're born into bonded labor," he says. "They can't escape from it. Families are paid enough money just to survive."

The deeply entrenched caste system is among the biggest hurdles kiln workers face. The majority of them are from a scheduled caste, the lowest rung of the hierarchical system that structures traditional Hindu society. Members of the scheduled castes were deemed "untouchable" until India's independence in 1947. Today, they remain beset by low levels of literacy and extreme poverty.

"That's why they are so vulnerable," Mr. Khan says.

As one of India's poorest states, Uttar Pradesh is a hotbed of abuse. One-third of the population lives below the poverty line and the state has the highest number of children who leave school to work in the country. Many of the tens of thousands of brick kilns that dot the countryside have come the rely on bonded labor. Local authorities often turn a blind eye for a small fee.

Bhabha says the Indian government has long struggled to reduce the prevalence of exploitative labor practices in places like Uttar Pradesh through various jobs programs and enforcement policies. Yet officials in New Delhi have more recently shown a growing sense of urgency. The government published a draft of the first comprehensive anti-human trafficking law on May 30. The proposed legislation would establish special courts to expedite trafficking cases, a network of anti-trafficking committees, and a rehabilitation fund for victims. The bill also treats survivors as victims instead of criminals.

In some ways, the bill reflects the work Bhanuja Sharan Lal, the director of MSEMVS, has been doing for 20 years in Uttar Pradesh. Known as a tough lawyer and activist, Lal has helped transform hundreds of communities into no-go zones for traffickers.

Indeed, the Harvard study found that communities in which MSEMVS has intervened are far less vulnerable to labor exploitation. MSEMVS has helped free about 65 men, women, and children from bonded labor every month. But rescue operations are only the start of the organization's mission. By educating vulnerable communities about anti-trafficking laws and government programs, MSEMVS provides them much-needed supports as they work to improve their own lives.

"Bonded and forced labor are not only matters of crime or law," he says. "For making changes in the life of victims, we must work to meet their basic needs."

The study found that the proportion of households that had a family member in bonded labor fell to 1.2 percent from 16.7 percent after MSEMVS had worked with them between 2011 and 2015. The proportion of households that had access to the government rural job plan increased to 69 percent from 37 percent. Meanwhile, average wages grew 30 percent.

"What MSEMVS has done over the years is to build the confidence of the villagers to actually be available just to accompany them in their harsh lives," Bhabha says, "to give them confidence that somebody is there."

On a sweltering morning in late April, about 50 people crowded into a single-room community center in the dalit, or low-caste, village of Sarikpur. Sitting crossed-legged on a green tarp, they had come to meet with Lal.

In 2013, MSEMVS freed 23 of the villagers from a kiln 40 miles away. The owner had trapped them there with the help of six guards who beat them and threatened them with guns. They were there for five months before someone back in Sarikpur grew suspicious and reported the case to MSEMVS. The organization soon rescued them.

After the 23 missing villagers returned home, MSEMVS helped them set up a CVC. They now hold monthly meetings to discuss issues such as how to avoid debt bondage, deal with recruiters, and enroll in government programs.

"We feel strengthened now that we've organized ourselves," says Mangal Prasad, the CVC president. "It's the power of togetherness."

While some of the villagers still work in nearby kilns, most of the men have switched to becoming day laborers and farmers. The women make and sell candles, incense, and a laundry detergent called the "Powder of Freedom" through a government-sponsored vocational training program.

Lal is proud to see how far they've all come over the last three years, but he wants them to think bigger. He suggests they pool their money to open their own kiln.

"All of you are experts in molding," he tells them. "You can get contract labor for all the other jobs."

The villagers seem intrigued, if not altogether sold on the idea. Their biggest concern is paying back the loan they'd need to lease enough land. Lal tells them about a kiln started by another community of former bonded laborers in a nearby district. They had it up and running in five years.

"You should visit that kiln so you're more motivated to start one of your own," Lal tells them. But despite his insistent nudging, he knows the choice is ultimately up to them.

When Lal stands up to leave, the villagers follows him as he walks along Sarikpur's lone paved road to his van. They have more to ask him. From enrolling in health care to acquiring basic building materials, the list of challenges they face remains daunting. It won't be easy for them to overcome India's byzantine bureaucracy or millennia-old caste system. But now that they're free of bonded labor, they finally have the freedom to try.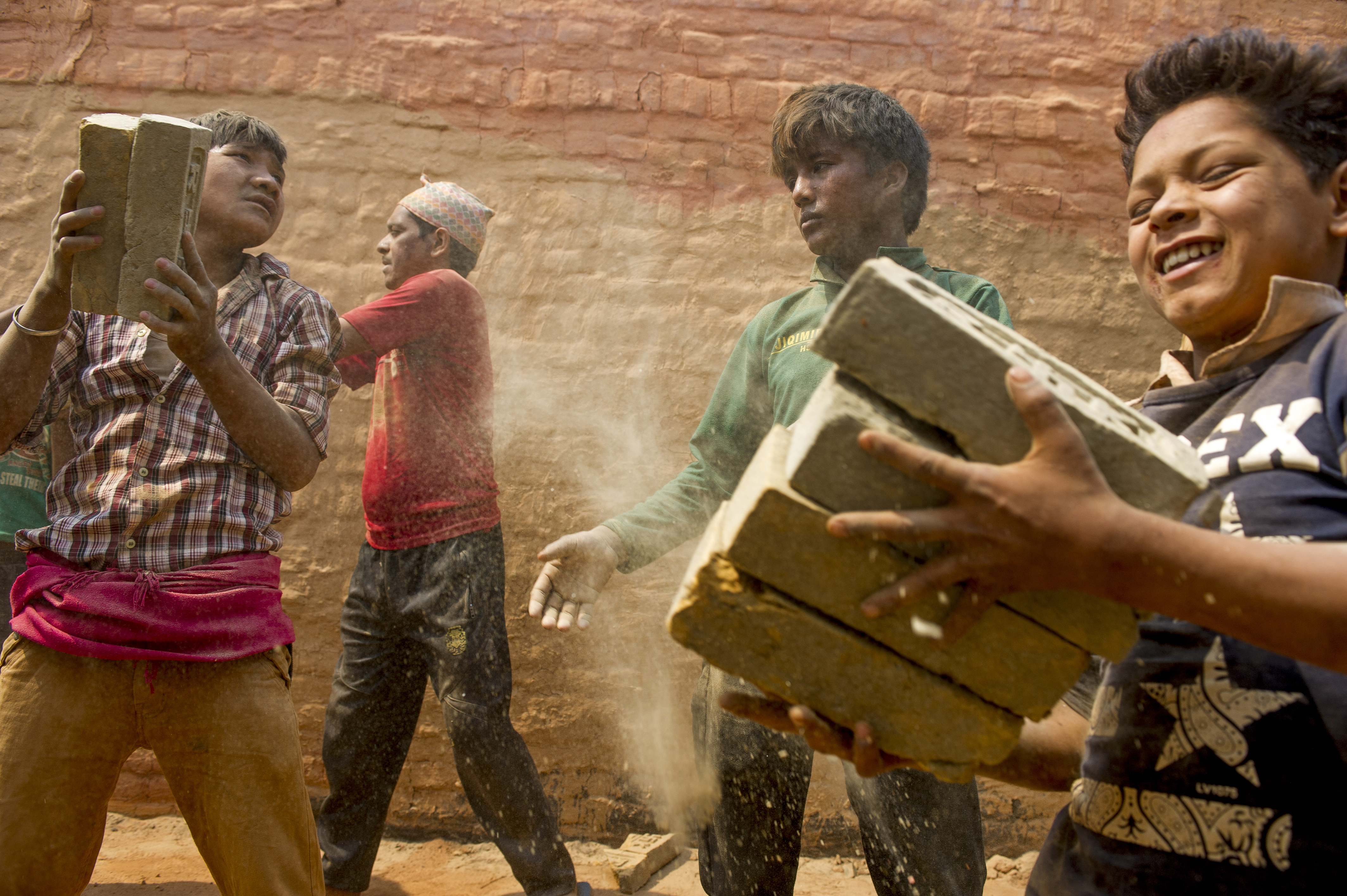 The brick-making industry in South Asia has long relied on child and bonded labor. Over the course...
RELATED ISSUES