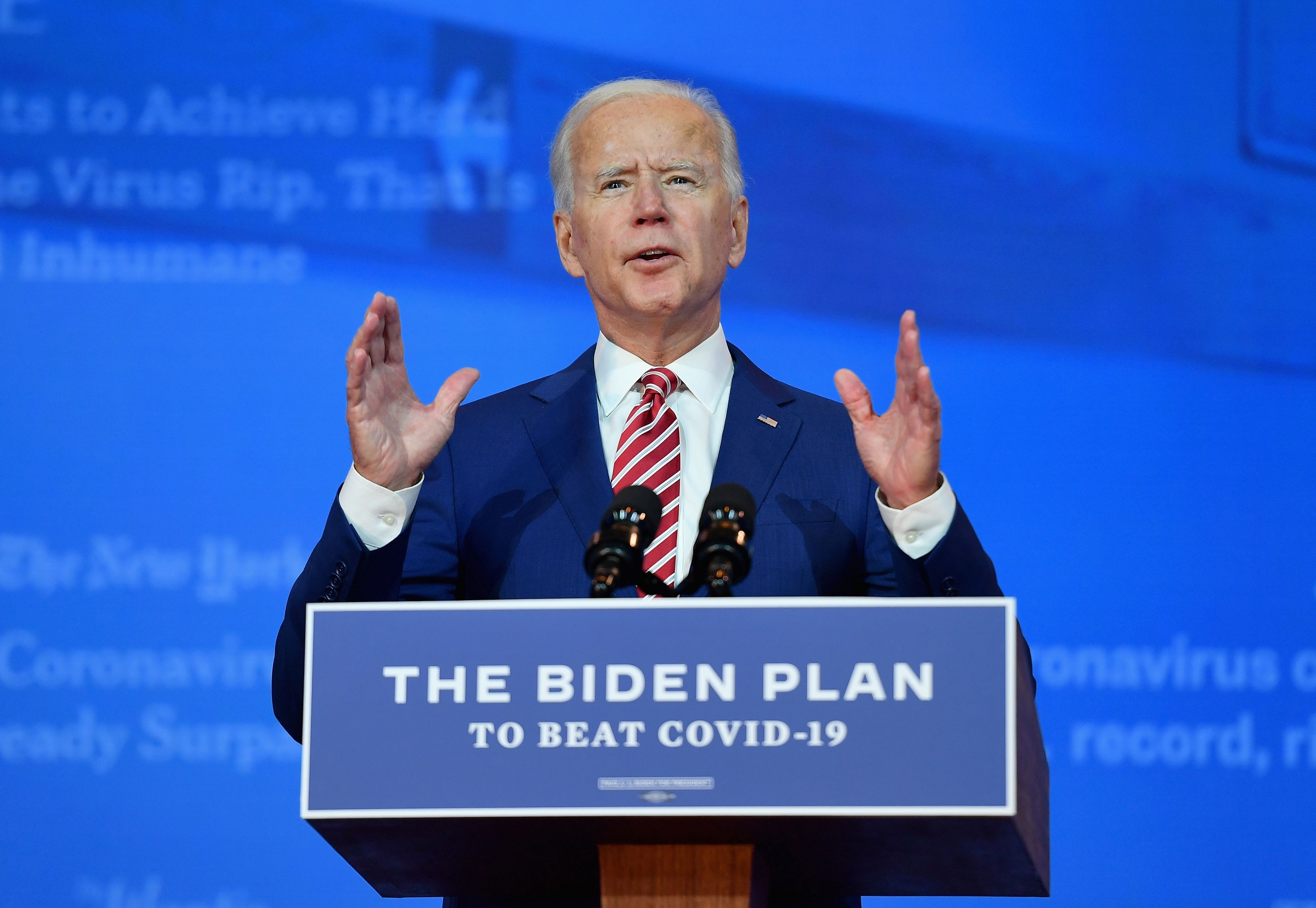 Science's COVID-19 reporting is supported by the Pulitzer Center and the Heising-Simons Foundation.
U.S. President-elect Joe Biden is wasting little time in moving to confront the COVID-19 pandemic, but many observers fear the crisis could get much worse before he is sworn in 10 weeks from now and is able to begin to execute his plans.
Today, Biden named 13 scientists and public health specialists to a COVID-19 advisory board. The board will "help shape my approach to managing the surge in reported infections; ensuring vaccines are safe, effective, and distributed efficiently, equitably, and free; and protecting at-risk populations," the president-elect said in a statement.
His transition team also released an addendum to the Biden campaign's existing pandemic plan. The new document says Biden will push every state governor to implement a mask mandate, and pledges to provide $25 billion in federal funding to manufacture, distribute, and administer a vaccine or vaccines that will be free of charge. That pledge came as Pfizer announced that initial data from a pivotal clinical trial show its vaccine is likely effective.
The moves, coming just 48 hours after news networks called the election for Biden and as the U.S. COVID-19 case count surged by more than 1 million in just 10 days, signaled the paramount importance Biden is placing on controlling a virus that has killed more than 237,000 people in the United States. He has promised a far more muscular federal response than that pursued by President Donald Trump, who has largely left mitigation and control measures to the states.
Among other things, Biden has said he wants to:
stand up a 100,000-person contact tracing corps;

increase testing by "orders of magnitude," in part by doubling the number of drive-through test sites;

use the full power of the Defense Production Act (DPA) to replenish depleted stocks of personal protective equipment;

establish a task force to monitor racial and ethnic disparities in the response;

provide funds to help state and local governments as well as businesses cope with the pandemic; and

call on Congress to provide financial aid to schools.
Once sworn in on 20 January 2021, Biden will be able to quickly realize some of these plans through executive action. Others, however, will require Congress to approve new funding or changes in legislation. And winning such approval could take time, and may prove difficult if Republicans maintain control of the Senate, which will be decided by the results of two runoff elections in Georgia set for early January.
A need to stay on message
In the meantime, observers say Biden can take steps to amplify consistent, science-based messaging about how best to battle the pandemic—messaging that has been chaotic and contradictory under Trump. "The overarching issue is the need to rebuild trust" in evidence-based responses to COVID-19, such as the value of wearing masks, says Tom Frieden, president and CEO of Resolve to Save Lives, who directed the Centers for Disease Control and Prevention (CDC) under former President Barack Obama. "Social cohesion is essential to the control of infectious diseases."
Achieving such cohesion will be challenging given the nation's deep ideological divisions, observers say, and signs of growing public distrust of pending COVID-19 vaccines. Pew Research Center polling, for example, found the number of Americans who say they would be willing to take a vaccine fell from 72% in May to 51% in September.
Turning the pandemic around "is gonna be hard. It's gonna be slow," predicts Eric Toner, an emergency physician and expert on pandemic preparedness at the Johns Hopkins University Center for Health Security.
"Biden's got a bigger challenge than any other country in the world," adds Nahid Bhadelia, an infectious disease physician who is medical director of the special pathogens unit at Boston Medical Center.
Bhadelia says she is particularly frightened by the specter of overwhelmed hospitals and tens of thousands of deaths in the weeks before Biden is inaugurated. She predicts "a huge surge in the need for … everything from personal protective equipment to health care workers to medications." Once in office, Biden has vowed to marshal the needed response, including by using the federal DPA to require companies to make needed supplies. "The trouble is, we need all those things now," Bhadelia says.
Masks an early test
Use of masks could be an early test of how Biden navigates the political and cultural divides—and he emphasized their importance in his remarks today. Biden's staff has already concluded he cannot impose a national mask mandate. The White House can, however, require the use of masks on federal property and during interstate transportation. But some observers fear such mandates could flop if they aren't coupled with clear persuasive messaging and overt support from governors. "People just won't do it, it's been so politicized," says Harvard University economist James Stock, who has spent much of the pandemic studying the economics of different public health interventions.
To win acceptance for measures such as masks, Biden needs to "start to calm the waters and start to get people on the same page," Andy Slavitt, head of the Centers for Medicare and Medicaid Services during the Obama administration, said in a 5 November presentation at the University of California, San Francisco (UCSF). Biden's long history of working with political opponents could help, Toner says. "If he can use those interpersonal skills with the governors, he can make a fair amount of progress," he says. "It won't work with all of them, but we don't want to let the perfect be the enemy of the good."
Biden could also wield a stick along with carrots by requiring states to follow CDC guidance in order to qualify for certain kinds of federal funds. "The way the CDC establishes trust and establishes its primacy is to begin to act more aggressively, as long as it has a credible leader and is acting with the independence that it needs," says Robert Wachter, an internist who chairs the UCSF department of medicine.
Even if the new administration uses such hard-edged tactics, some fear it will fail to tackle the social and economic inequities the pandemic has badly exposed, and that have contributed to its tear through the population. "On the public health side, the disease control stuff, [the Biden plan] is hard to argue with," says Gregg Gonsalves, an epidemiologist at the Yale School of Public Health. But, "It's not bold enough" when it comes to the "social and economic devastation [caused by the pandemic]. It's building a public health platform on shaky foundations and a creaky floor." Gonsalves would like to see the Biden administration embrace policies that reduce prison populations, for example, and pay people who otherwise can't afford to stay at home.
The testing challenge
How to approach testing will be another pivotal decision for a new Biden administration. Michael Mina, a Harvard epidemiologist and expert in medical testing for viruses, hopes Biden will generously invest in simple, do-it-yourself coronavirus tests that could be distributed across the country to tens of millions of households. Such antigen tests—which detect bits of proteins from the virus—have been criticized for not being as accurate and sensitive as tests that look for fragments of viral RNA.
But Mina says that misses the point. Blanket testing across the country could still help alert many people when they are infected, prompting them to quarantine and avoid unknowingly spreading the disease. Such tests, if used widely, "could … change the course of the pandemic in this country," he says.
On a related issue—the reporting of COVID-19 hospitalization data to the federal government—the Biden campaign plan appears to call for the reversal of a controversial Trump administration decision to have hospitals report their COVID-19 data to a small private company instead of to CDC, which has collected hospital infection data for years.
"Senior CDC leaders support the restoration of CDC's hospital COVID-19 data collection and analysis because of the agency's decadeslong experience with infection surveillance and prevention in health care facilities," says a high level CDC official, who requested anonymity because they lack authorization to speak to the media. But there has been vigorous debate within the agency on the matter, the official adds, and no unified CDC position has emerged.
Advisory board in place
The new advisory board appointed today could take up that and other issues. It is led by Marcella Nunez-Smith, an internist and health equity researcher at Yale's School of Medicine; former Obama administration Surgeon General Vivek Murthy; and David Kessler, who ran the Food and Drug Administration during the George H. W. Bush and Bill Clinton administrations.
It also includes Rick Bright, an immunologist ousted this spring from his job as director of the Department of Health and Human Services's Biomedical Advanced Research and Development Authority after, he says, he pressed for rigorous vetting of hydroxychloroquine, an ineffective drug Trump had touted for COVID-19.
With reporting by Charles Piller.
---
COVID-19 Update: The connection between local and global issues–the Pulitzer Center's long standing mantra–has, sadly, never been more evident. We are uniquely positioned to serve the journalists, news media organizations, schools, and universities we partner with by continuing to advance our core mission: enabling great journalism and education about underreported and systemic issues that resonate now–and continue to have relevance in times ahead. We believe that this is a moment for decisive action. Learn more about the steps we are taking.