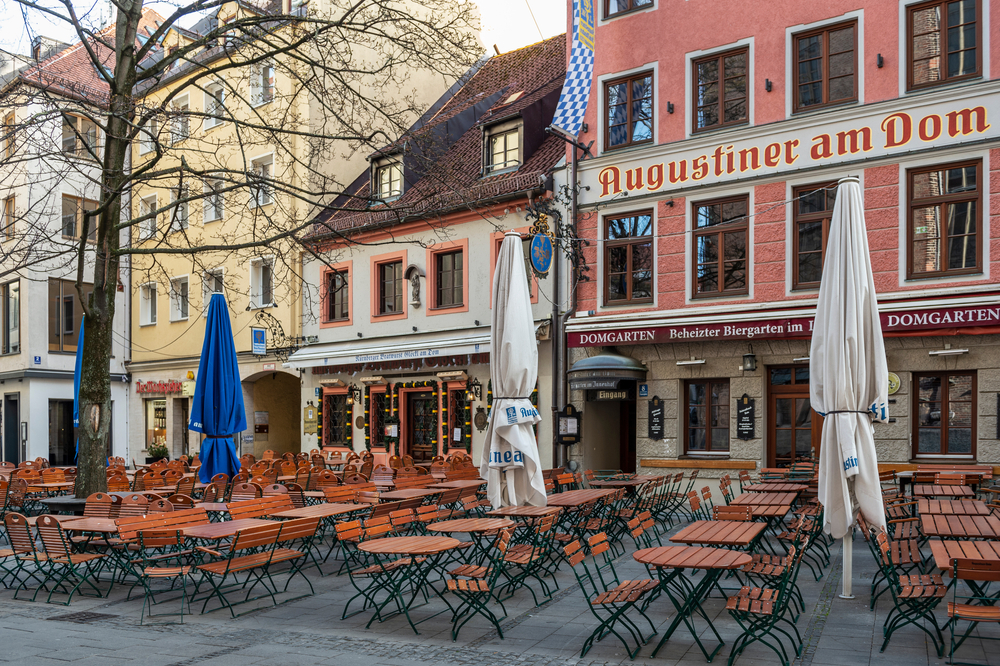 Science's COVID-19 reporting is supported by the Pulitzer Center and the Heising-Simons Foundation.
BERLIN—Shortly before 11 p.m. yesterday, a waitress passed out paper cups to the customers crowded around the tables outside Luzia, a bar in the lively Kreuzberg district here. "I'm sorry, but you all have to leave," she said. "God, in 2 minutes it's going to be lockdown," a woman at one table said, as guests poured the remainder of their cocktails into the cups. The fun was over: For the second time this year, Luzia had to close on the German government's orders.
All restaurants, bars, gyms, and theaters in Europe's largest economy will remain shut until at least the end of the month in a new bid to halt the spread of COVID-19. Hotels are no longer allowed to host tourists. Residents have been asked to meet people from only one other household. Florent, the manager at Luzia, took some hope from the fact that Germany was locking down while cases were still lower than in neighboring countries. "Hopefully we'll reopen in a month," he said.
With COVID-19 cases mounting and threatening to overwhelm health care capacity, much of Europe has taken similar measures to curb human contacts. Two months ago, as numbers began to creep up after a blissful summer lull, countries still held out hope that more limited, targeted measures could prevent a second wave. Now, that wave is here, with the force of a tsunami. Europe has surpassed the United States in cases per capita; last week, it accounted for half of the more than 3 million cases reported to the World Health Organization (WHO). "Europe is at the epicenter of this pandemic once again," WHO's regional director for Europe, Hans Kluge, said on 29 October.
Most countries are reacting without a long-term plan, simply trying to avoid the worst. Officials differ about the best way to bring the numbers down again, and how low a level they should strive for. And no one knows what comes next. Short of vaccines to save the day, countries may face an exhausting series of lockdowns—a sawtooth pattern, "up and down and up and down," that could wreck the economy, says Albert Osterhaus, a virologist at the University of Veterinary Medicine, Hanover. "There is no strategy in Europe," he concludes.
The lockdown seemed an almost shockingly blunt tool when China first applied it in Hubei province on 23 January. But it also proved remarkably effective, and countries around the world took the same approach in the spring, although with varying degrees of intensity.
Europe has had a more science-driven pandemic response than the United States, but unlike many Asian countries, it was unable to avert a resurgence. Instead of using the summer to drive cases down to practically zero, Europe celebrated the holiday season. People seemed to lose their fear of the virus, says Michael Meyer-Hermann, a modeler at the Helmholtz Centre for Infection Research who was involved in drawing up Germany's lockdown plans. They increasingly flouted rules on physical distancing, mask wearing, and avoiding large gatherings.
"The infectious seeds in the community have always remained above a certain threshold, where if you relax the physical distancing, it's all going to come back," says University of Hong Kong epidemiologist Gabriel Leung. Numbers crept up and overwhelmed the other pillar of virus control, which some countries never managed well to begin with: testing, isolating cases, and tracing and quarantining their contacts.
The fact that life has largely moved indoors in recent weeks likely aided the resurgence, and cooler air may also favor the virus. "I think winter does make things much harder," says Adam Kucharski, a modeler at the London School of Hygiene & Tropical Medicine. "Countries have probably been doing control on 'easy' setting over the summer."
Not everyone is convinced lockdowns are the answer. On 28 October, the day Chancellor Angela Merkel announced the new measures, Germany's National Association of Statutory Health Insurance Physicians presented a strategy paper arguing against a lockdown. "We cannot put the entire country, or even a continent, into an induced coma for weeks or months," said Andreas Gassen, head of the association. Another co-author, virologist Jonas Schmidt-Chanasit of the Bernhard Nocht Institute for Tropical Medicine, is convinced Germany's prelockdown restrictions would be enough to keep the virus from resurging—if they were strictly followed. Instead of closing millions of public places and spending billions to keep them afloat, Germany should spend money on communicating the need to better follow the rules, enforcing them strictly, and even creating some opportunities for people to safely enjoy riskier things such as parties, he says.
But most scientists say lockdowns are inevitable if Europe wants to avoid health care systems collapsing, although they need not be as draconian as in the spring, Kucharski says. Back then, "countries were just doing absolutely everything at the same time," he says. Now, they can skip measures that severely restrict people's lives but don't contribute much to virus control. "There's no reason we need to lock people in their home," for instance, as long as they keep their distance outside, says Devi Sridhar, chair of global public health at the University of Edinburgh.
The biggest difference from the spring may be that schools remain open in most countries. Karl Lauterbach, a health policy expert and member of the Bundestag for the Social-Democratic Party who helped design Germany's "lockdown light," says there is no question that schools contribute to spread of the virus. "Merkel asked: 'Am I sure we can do this without closing schools?' I said no, but probably yes," Lauterbach says. Ultimately, the harm of school shutdowns outweighed the risks, he says.
Calculations suggest Germany needs to reduce contacts between people by roughly 75% from the current level, Lauterbach says. "That is incredibly hard if you want to keep schools and most businesses open." But bars and restaurants account for many contacts while providing only about 1% of Germany's gross domestic product, making them "kind of the perfect target for pandemic measures."
The first wave of lockdowns provided other lessons. For one, framing the debate as a choice between public health and the economy is wrong, Sridhar says. "In the longer term, having uncontrolled spread is much worse for the economy," she says. "That's what we've seen across the world." Also, locking down later means locking down longer. "If you wait until your infection level is quite high, probably your 2-week lockdown is going to become a 3-month lockdown," Sridhar says.
Europe's bigger question, however, is what comes next. Osterhaus says the strategy should be to get cases to zero using a hard and long lockdown, combined with strict border controls and quarantines to keep the virus out. That strategy, applied successfully by China, Australia, and New Zealand, may be politically unpalatable, however, and would require intense coordination between countries, which is lacking. "I can understand why that didn't happen," Leung says. "But the virus couldn't care less whether there are good or not so good reasons." Others are urging governments to follow South Korea's example: Drive cases to low numbers while improving the system of testing, tracing, and case isolation enough to keep the virus from resurging.
For now, Europe appears to be stuck in a third scenario: locking down to prevent the health system from buckling. "These circuit breakers are almost kicking the problem down the road," Kucharski says. "The hope is that vaccines and treatments and better options will be available in the new year." Lauterbach says he favored a longer lockdown in summer to go for elimination. But that would be too difficult in winter, he says. "All we can do now is break the wave," he says. "But the water level will remain high."
---
COVID-19 Update: The connection between local and global issues–the Pulitzer Center's long standing mantra–has, sadly, never been more evident. We are uniquely positioned to serve the journalists, news media organizations, schools, and universities we partner with by continuing to advance our core mission: enabling great journalism and education about underreported and systemic issues that resonate now–and continue to have relevance in times ahead. We believe that this is a moment for decisive action. Learn more about the steps we are taking.