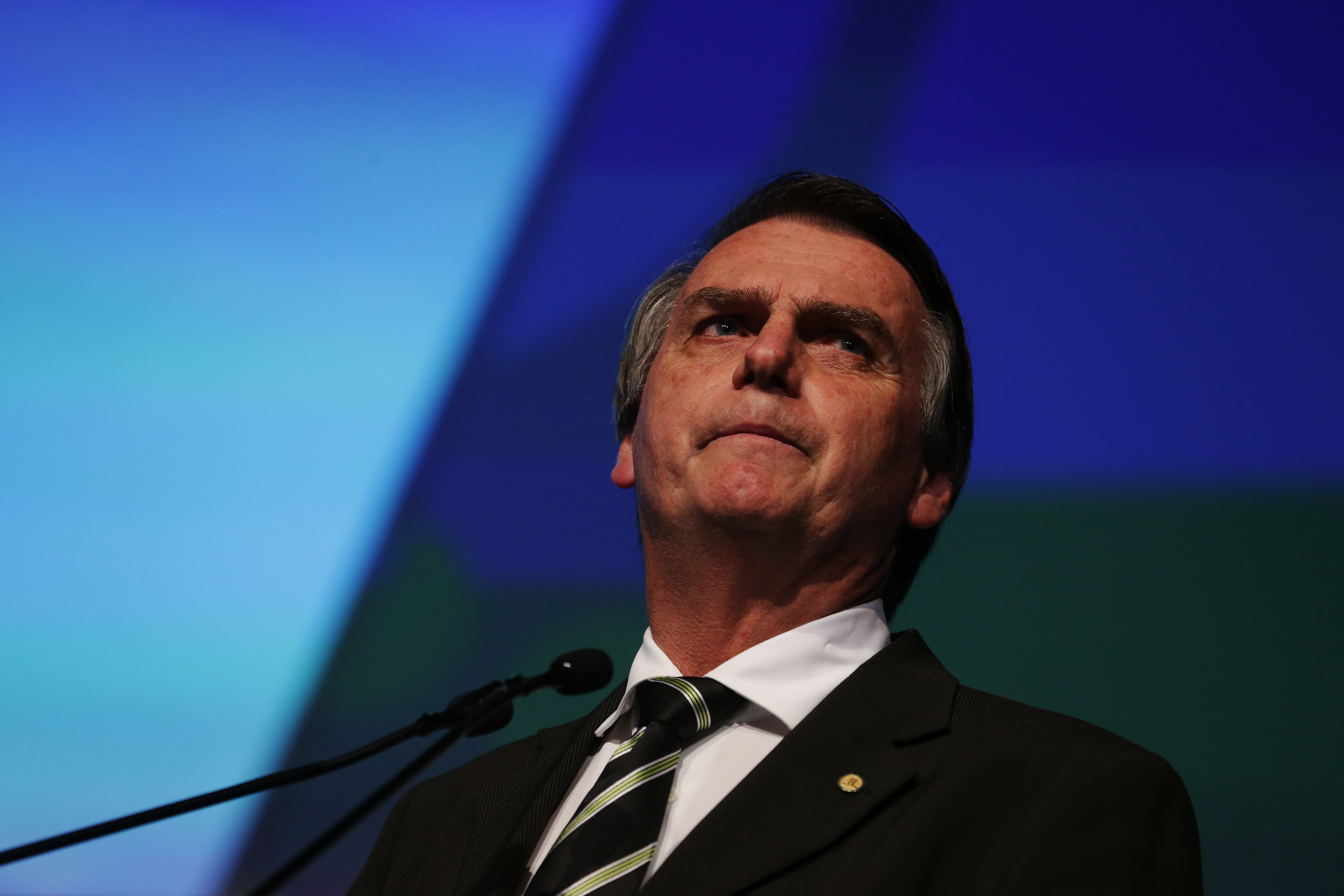 Science's COVID-19 reporting is supported by the Pulitzer Center and the Heising-Simons Foundation.
On 19 October, the Brazilian government organized a high-profile ceremony to announce what it billed as a new breakthrough in the fight against the COVID-19 pandemic: the antiparasitic drug nitazoxanide. President Jair Bolsonaro was present, as were several other Cabinet members. "We are announcing something that will begin to change the history of the pandemic," science minister Marcos Pontes said.
Only one thing was missing from the presentation: the evidence. And when it emerged 4 days later, scientists were decidedly underwhelmed.
Bolsonaro has been a tireless advocate of hydroxychloroquine to treat COVID-19, even after large clinical trials showed it didn't work. Now, his government is promoting nitazoxanide, which has been tested in a clinical trial led by Patricia Rocco, a respiratory physiology researcher at the Federal University of Rio de Janeiro, Rio de Janeiro, and sponsored by the Ministry of Science, Technology, and Innovation. Given early, nitazoxanide significantly reduces virus levels in patients with mild COVID-19 infection, Rocco said at the meeting, lowering the risk they pass the virus on to others or develop more serious disease.
In vitro studies have shown that the drug—used primarily to treat helminth and protozoan infections—slows replication of SARS-CoV-2. And as Pontes pointed out at the ceremony, nitazoxanide is cheap, easy to produce, and has few side effects. It has been available in Brazil since 1996 and can be purchased at any pharmacy.
Rocco didn't present any numbers, tables, or charts to support her claims that nitazoxanide works in humans, however. The data could not be shown, she said, because they are under review at a journal. But announcing the findings was the right thing to do because hundreds are still dying of COVID-19 in Brazil every day. "Would it be correct to omit this information and wait for 14,000 people to be dead within a month?" she asked. The only "data" available, shown in a slick video, was a generic animated bar chart, plucked from Shutterstock, with an arrow pointing downward and the text "NITAZOXANIDE IS EFFECTIVE!"
Four days after the ceremony Rocco and her colleagues, under pressure from the scientific community, decided to post the study as a preprint on medRxiv ahead of its publication. After inspecting the data, many researchers concluded it didn't mean much—and certainly would not change the history of the pandemic.
The paper presents data for 392 patients with mild disease, half of whom were given nitazoxanide, on average 5 days after symptom onset; the other half received a placebo. The study's "primary outcome" was relief of cough, fever, and fatigue after 5 days of treatment. Nitazoxanide did not make a difference there; neither did it prevent hospitalization or cause any change in blood biomarkers of the disease. But the viral load—the amount of virus RNA detected in nasopharyngeal samples using a polymerase chain reaction (PCR) test—was "significantly" lower in the treated group; 30% tested negative for SARS-CoV-2 at the end of the 5-day treatment, versus 18% in the placebo group. "This effect may have an epidemiological impact, potentially decreasing community spread of SARS-CoV-2, morbidity, and mortality," the authors write.
Treatment ended on day 5, but the 95 patients who still had symptoms were contacted by telephone 1 week later. At that time, 78% of patients in the treatment group reported being symptom-free, versus 57% in the control group.
None of that impressed critics. A lower viral load has little meaning if it doesn't make the patient feel better, scientists say, and it's unlikely to reduce transmission of the disease 10 days after the onset of symptoms. "Everyone who examined the data said this reduction in viral load doesn't have any clinical or epidemiological implications," adds Renato Sabbatini, a retired medical sciences professor at the University of Campinas. Other researchers note that, at that stage in a mild COVID-19 case, the patient has already mounted an immune response and what the PCR test is measuring are mostly fragments of viral genetic material that don't come from active virus.
The modest benefit in symptoms 1 week after treatment ended—and up to 17 days after onset of symptoms—is hardly cause for celebration either, says Glória Teixeira, an epidemiologist at the Federal University of Bahia, Ondina. "The results of this study do not justify prescription of this drug for treatment of COVID-19," she says.
The government is using the study as "another piece of populist propaganda, meant to create a false impression that the situation is under control, the pandemic is not that serious, and everything is going to be OK," says Natalia Pasternak Taschner, president of the Science Question Institute, a private organization that promotes scientific integrity.
Rocco, in an email to Science, wrote that criticism is a normal and healthy aspect of scientific debate, but she lamented that "some colleagues, apparently eager to contribute," had come to "premature conclusions" about the study. She added that both the primary and secondary outcomes are important in a clinical trial, and cited other studies to defend her assessment that a lower viral load does have clinical and epidemiological relevance. "Scientists cannot omit data during a pandemic; all knowledge must be revealed and is part of a constructive process," Rocco wrote. Asked whether she thought nitazoxanide could help prevent the 14,000 deaths she mentioned on 19 October, she did not answer.
For critics, the episode is yet another example of how politics trumps science in the Bolsonaro administration. In his speech at the event, the president railed against compulsory vaccination for COVID-19 and once again touted hydroxychloroquine as a treatment. Pontes, in a press conference afterward, boasted that the study was relevant to "the entire planet" and broke into tears as he thanked the scientists for their "tireless work for Brazil and to help save lives."
---
COVID-19 Update: The connection between local and global issues–the Pulitzer Center's long standing mantra–has, sadly, never been more evident. We are uniquely positioned to serve the journalists, news media organizations, schools, and universities we partner with by continuing to advance our core mission: enabling great journalism and education about underreported and systemic issues that resonate now–and continue to have relevance in times ahead. We believe that this is a moment for decisive action. Learn more about the steps we are taking.