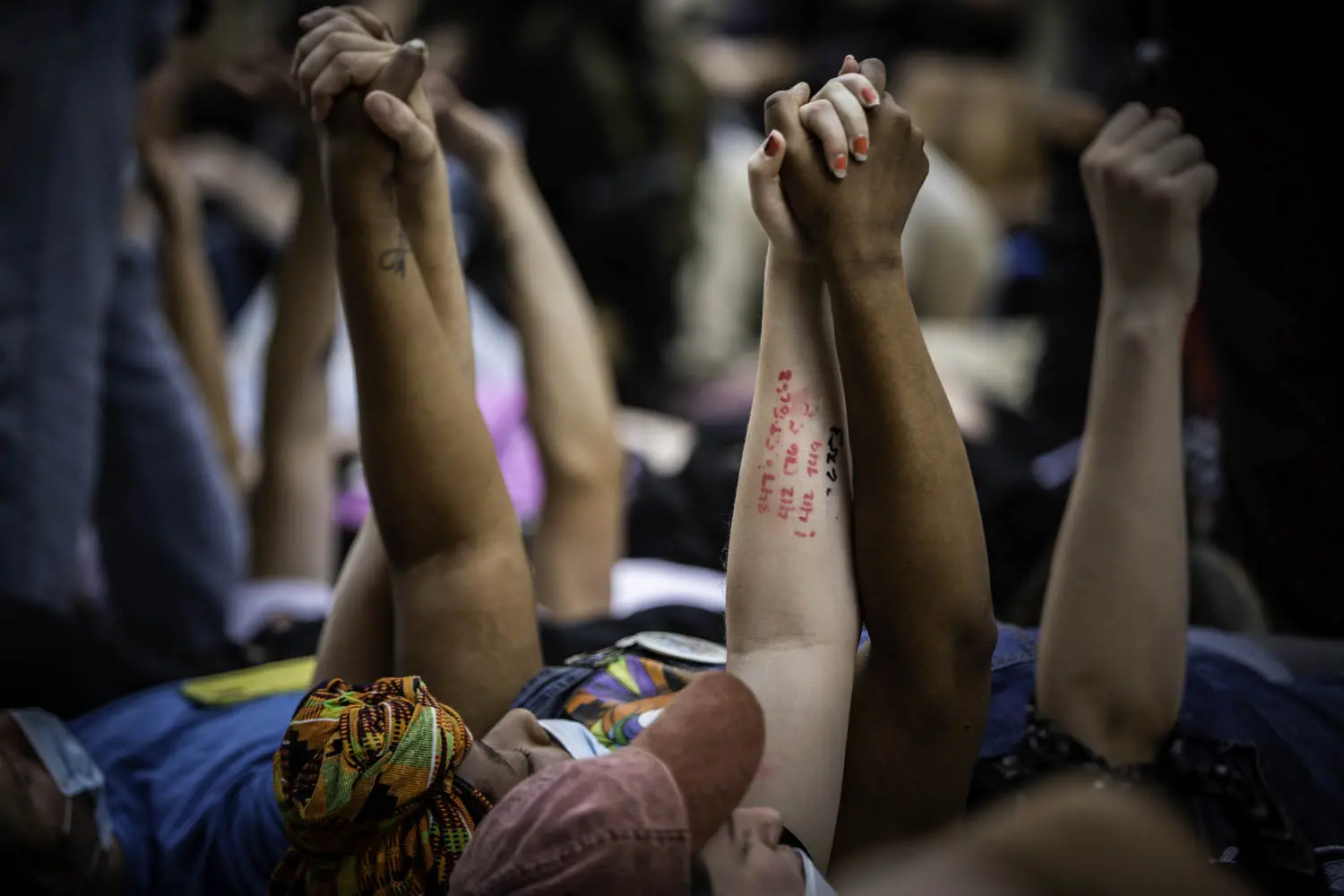 Several thousand protesters marched for nearly 10 miles throughout the city of Pittsburgh, Pennsylvania, on June 4, 2020. On one of several stops throughout the march the group joined hands and lay on the roadway for 8 minutes and 45 seconds—the amount of time Officer Chauvin had his knee on the neck of George Floyd.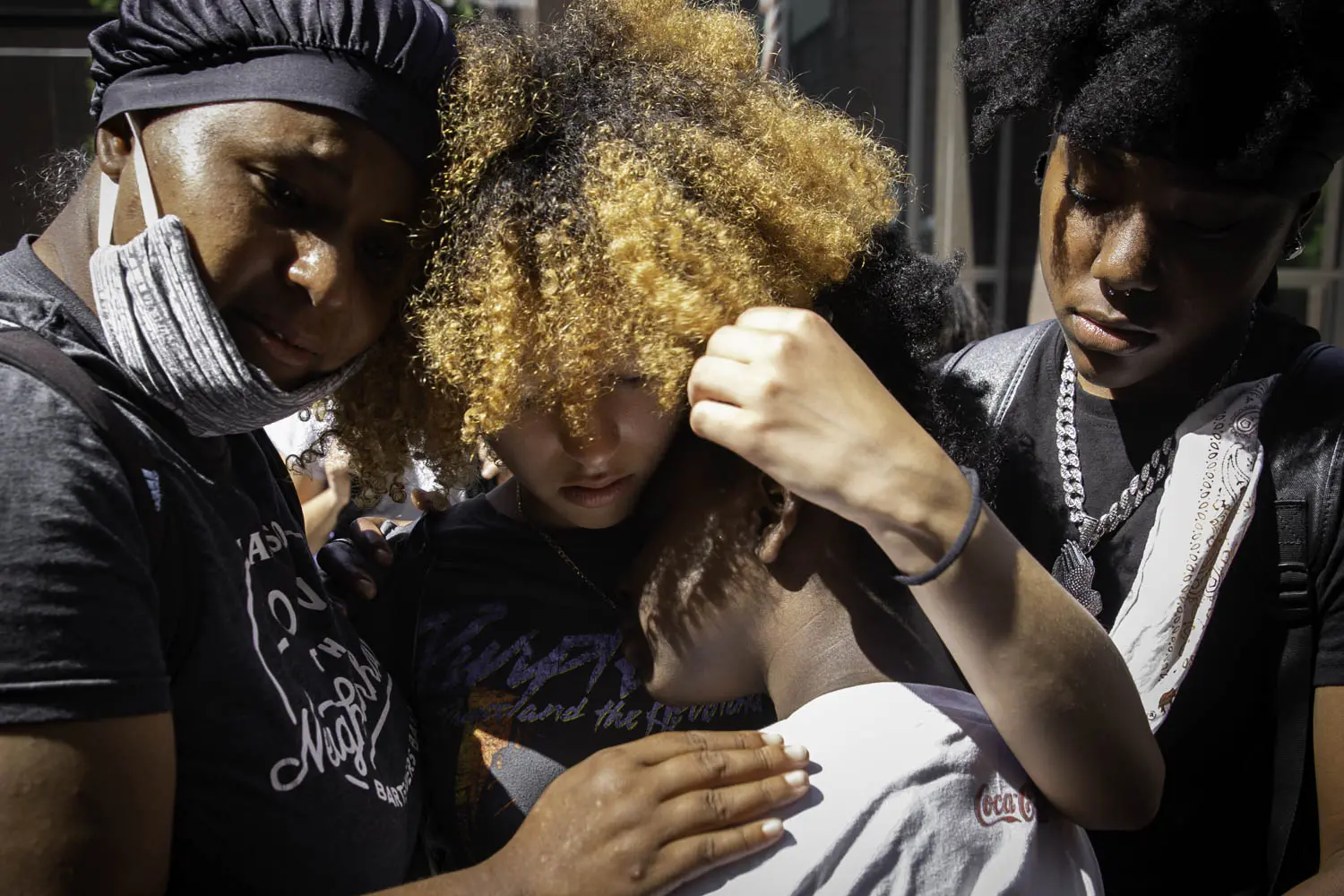 Jacqueline Warren, Jadaya Henderson, and Mani Bell console Jamaica Bloodworth, 10, outside the Syracuse Justice Center on June 16, 2020. When learning that Jakelle Davis, a young Black man, had been taken to jail only days after undergoing surgery for a gunshot wound to the face, the group demonstrated for two days outside the building.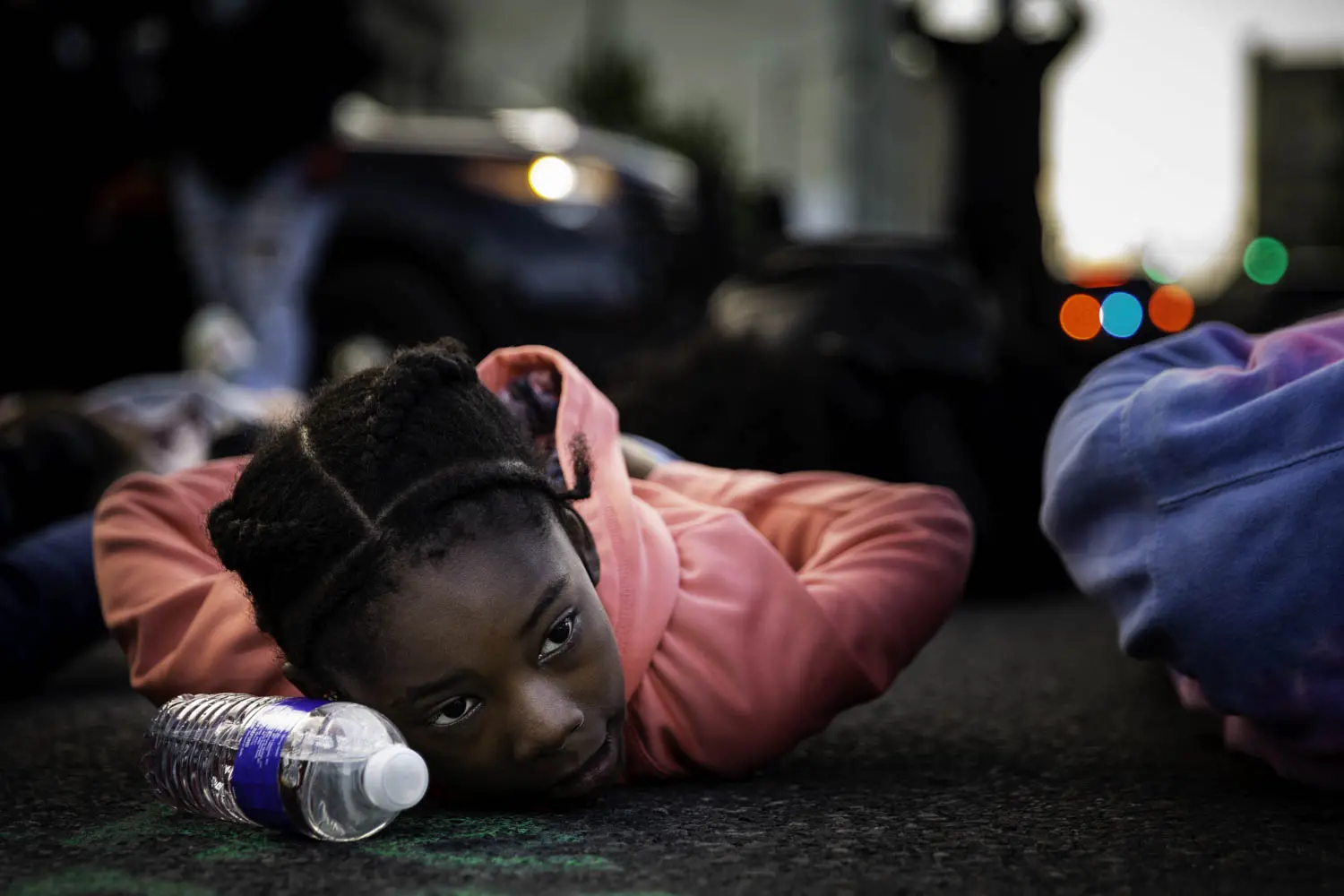 Men, women, children, and families participated in demonstrations in Syracuse, New York, following the murder of George Floyd.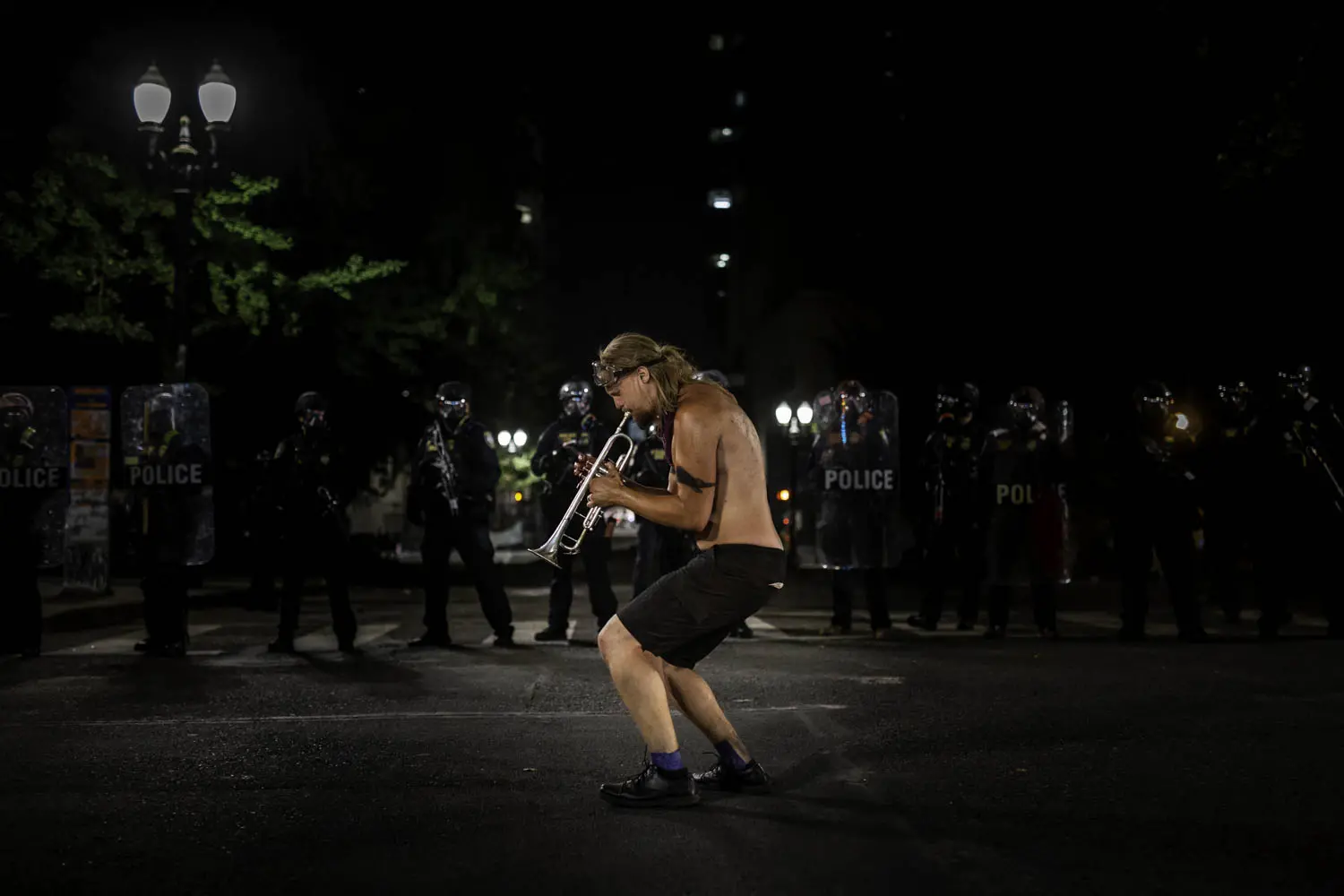 Known simply as Trumpet Man, Camillo Massagli is on the streets every night in Portland to protest and play his trumpet—a gift from his grandfather when he was 12 years old. 
The sounds of his trumpet are familiar to most who are protesting. They act as a rallying cry and morale booster, and they often accompany "No Shoes" when he raps in support of Black lives and against police brutality. 
On Sunday July 26, 2020, Camillo was shot in the face by Federal officers.
"I was about 20 feet away from the soldier when he fired and was holding my arms straight out to the sides, trumpet in one, leaf blower in another," Camillo said.
"I was retreating from the federal building fence. No announcement was made by dispersal, which is common now. We simply saw storm troopers advancing, so we moved back. I was followed all the way across the park to 4th Avenue when I turned to look at a federal officer. I saw him raise his gun and fire. It was not crossfire or a random shot into the ground. As far as I'm concerned, it was attempted murder."
"I am very fortunate not to have lost an eye, a lip or even in the case of a temple shot, my life or cognition."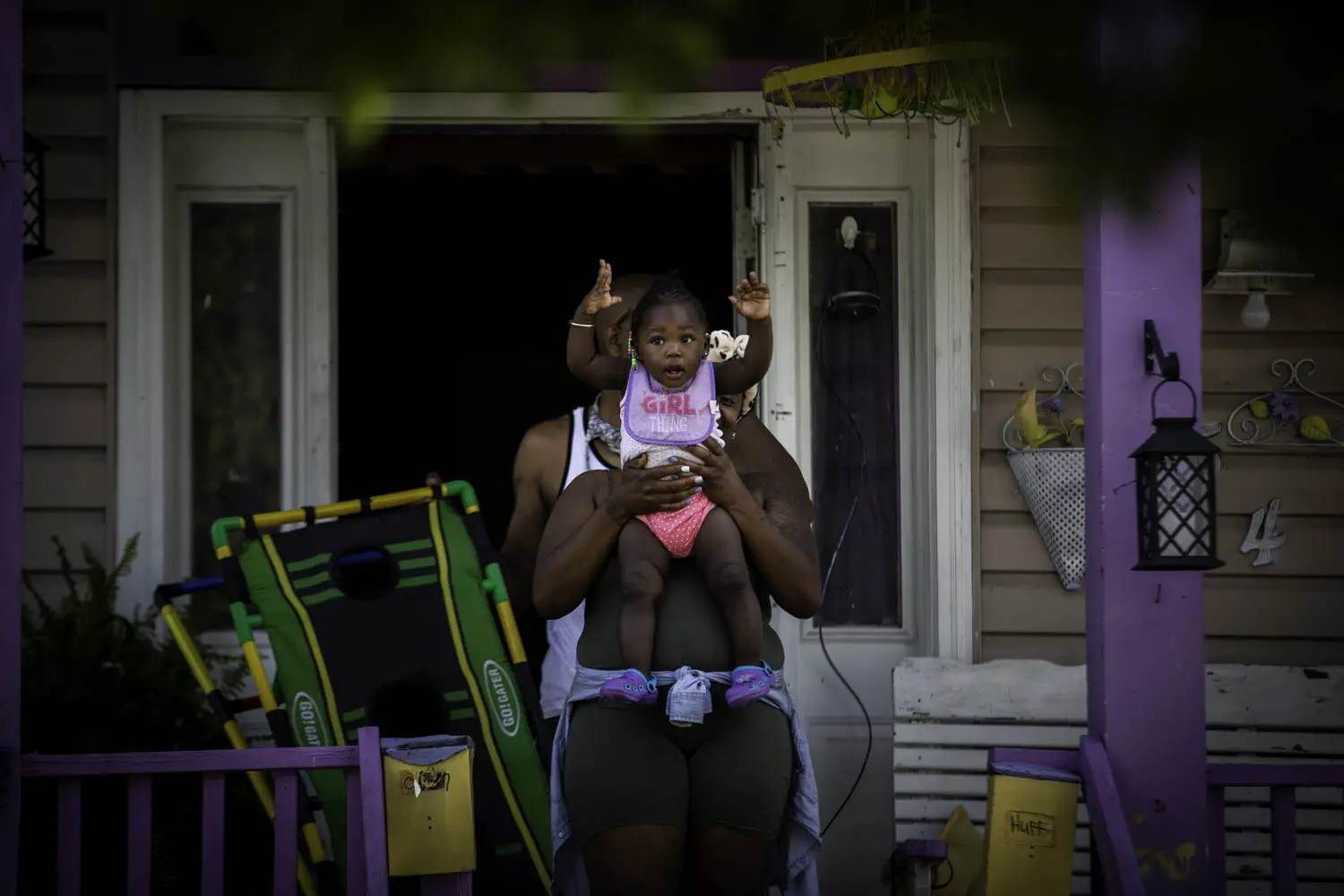 Even the youngest observer could not contain their excitement when protesters with the group "Last Chance for Change" marched throughout Syracuse, New York. The group committed to 40 days of protest against police brutality and racial injustice. With a consistent, insistent approach and a tendency to clean up neighborhoods and littered parking lots as they pass through, the group defied the common idea of what a protest looks like.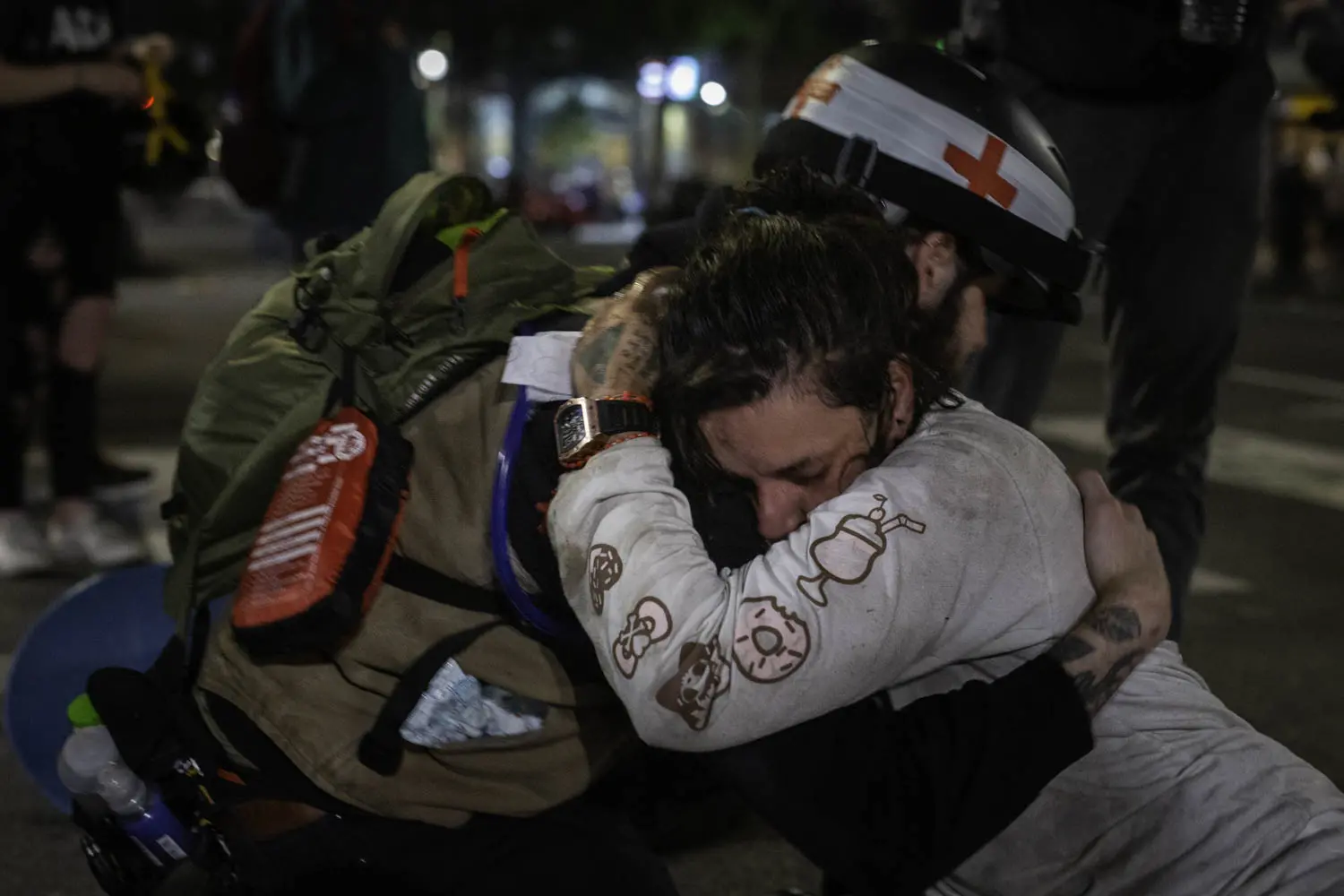 When teargas begins to flood the streets of Portland, Oregon, and when pepperballs, rubber bullets and other "less-lethal" munitions start to fly, small teams of volunteer medics are ready. Some are from Portland, others have come from cities across the country—all are present to treat the wounds and medical needs of protesters who are demonstrating nightly against police brutality and racial injustice in downtown Portland, Oregon. 
This woman collapsed in the middle of a downtown street as she ran from the federal courthouse—the epicenter of the protests from where teargas canisters are launched nightly by federal officers. Within a minute her inhaler was administered and emergency eyewash and saline were used to flush her eyes. Brian Lovell, who goes by "Dad" on the street, sat with her in the street until she regained her faculties.
As a crowd of several hundred demonstrators yelled the refrain, "Hands up, don't shoot," one of the youngest attendees raised his hands in participation.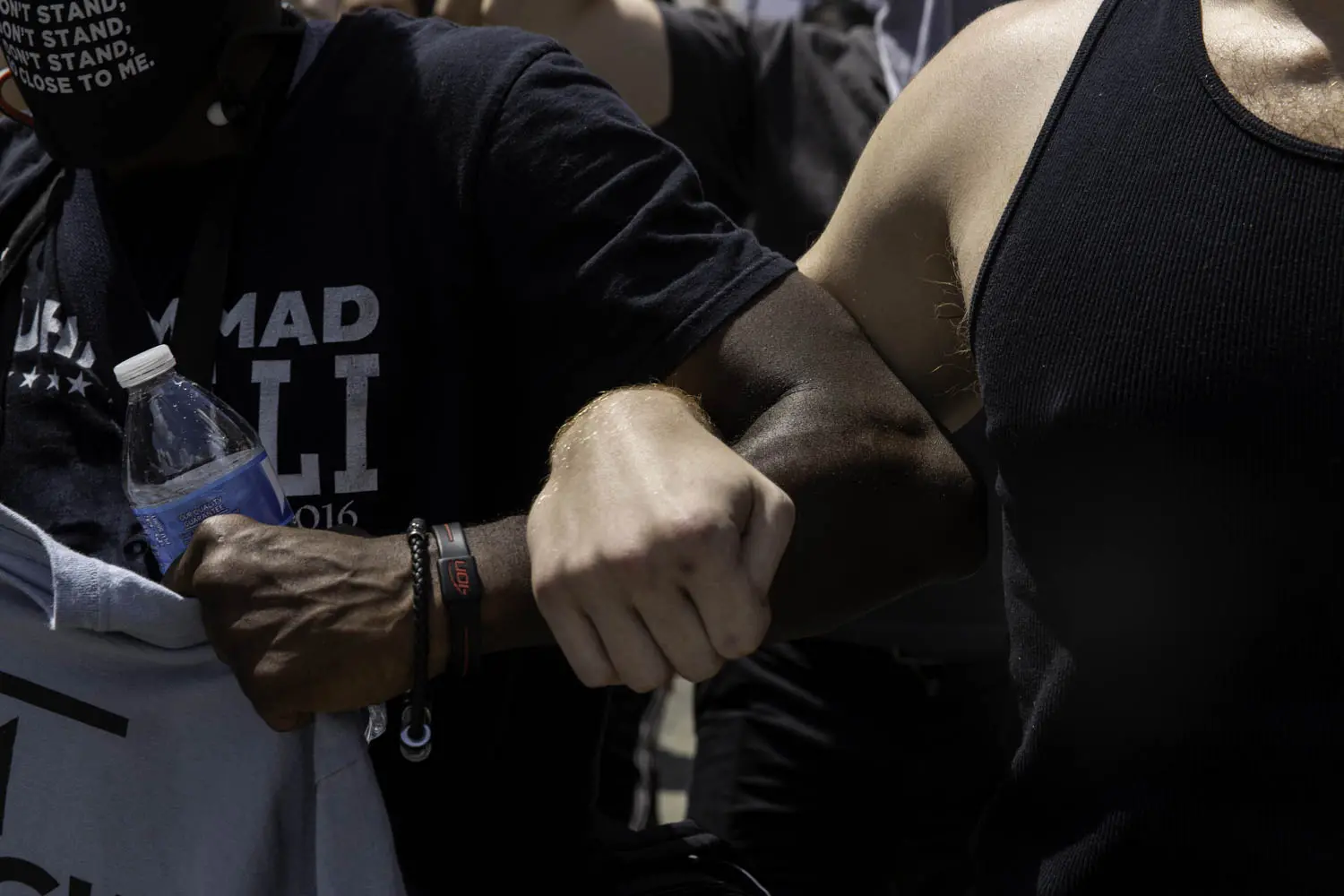 Several thousand protesters locked arms and marched in solidarity throughout Pittsburgh, Pennsylvania, in a demonstration against police violence and racial injustice following the murder of George Floyd.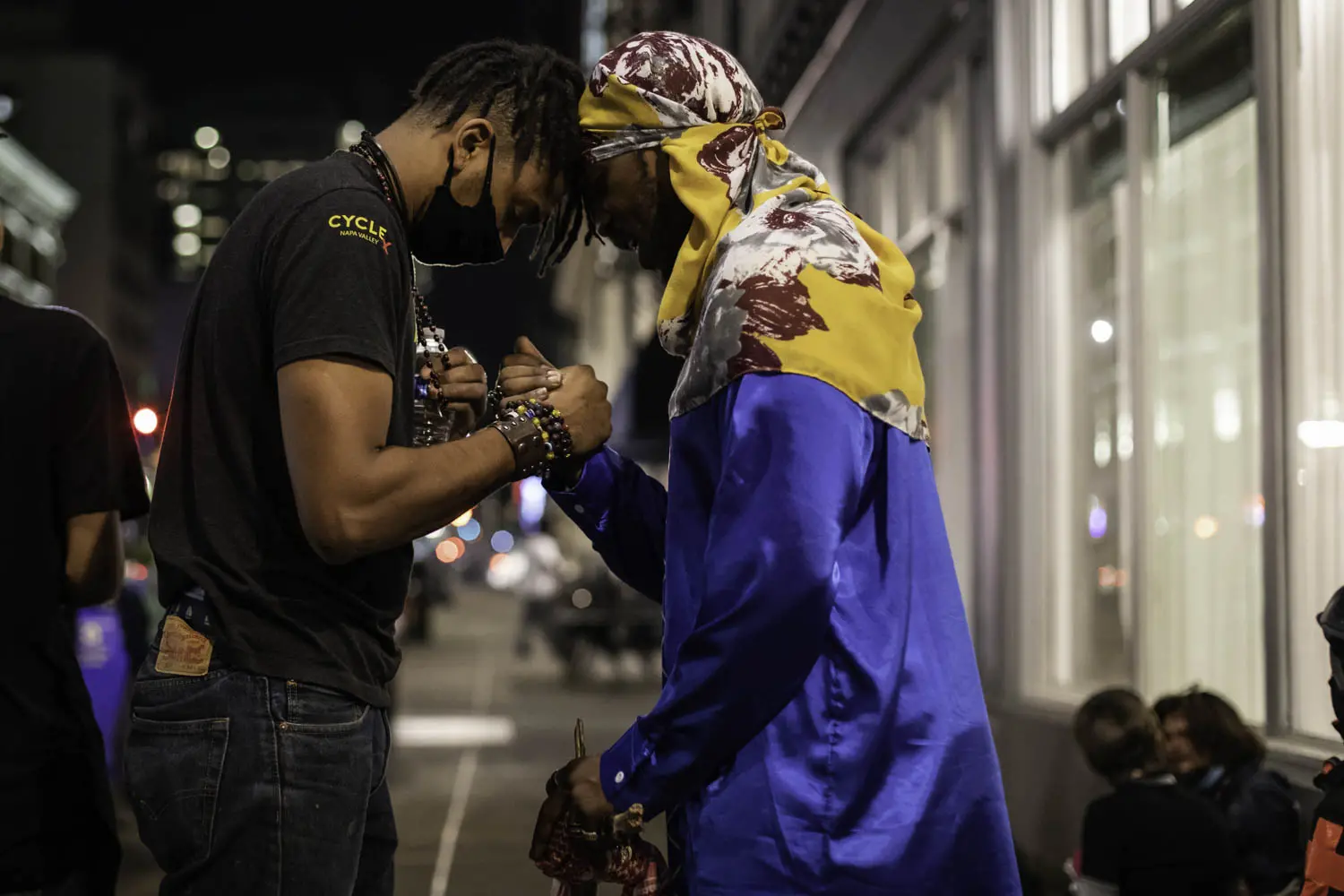 Two men pray together during a candlelight memorial vigil in Portland, Oregon. The vigil was held in memory of Patrick Kimmons, a Black man shot nine times and killed by Portland police in 2018.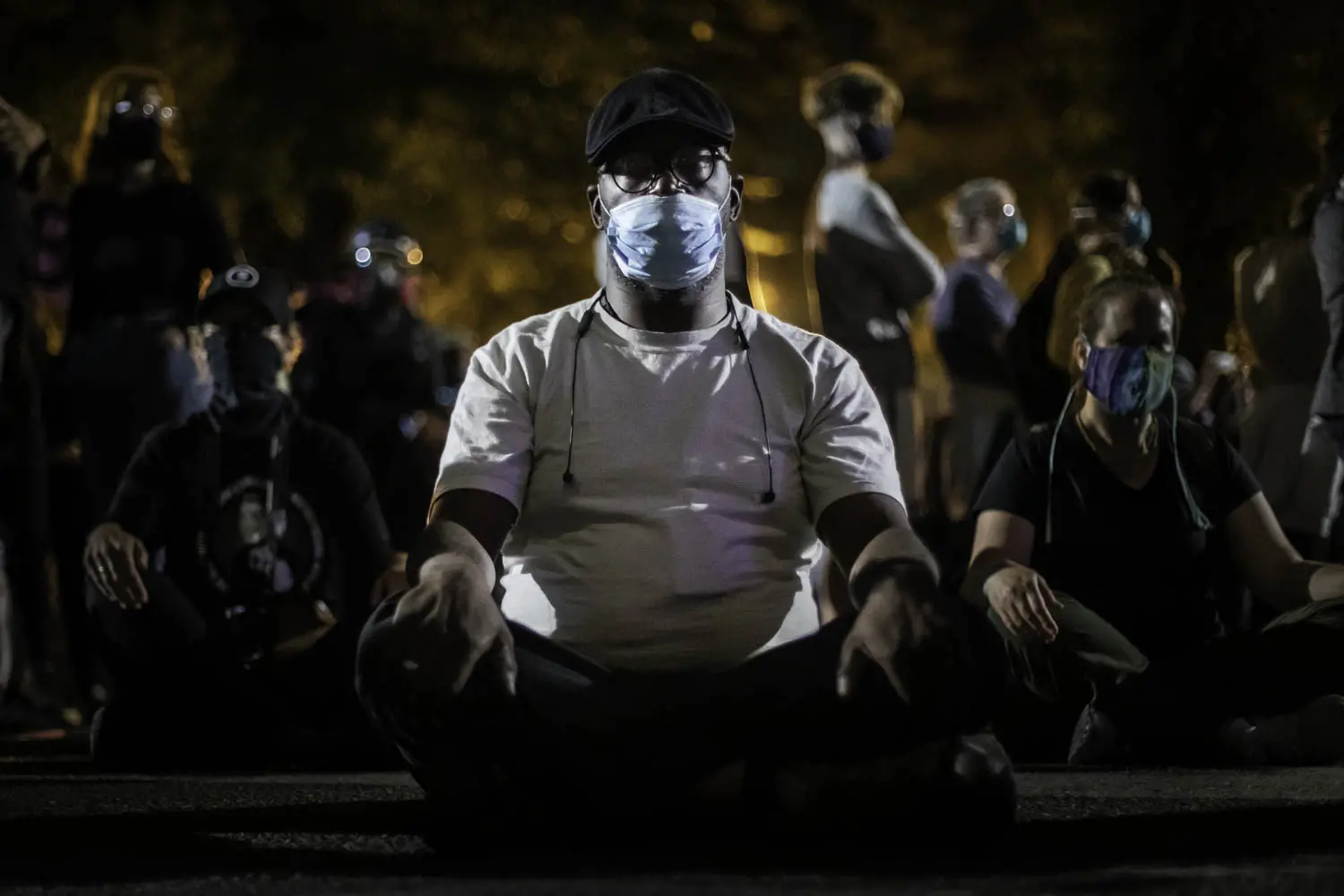 Rarely do we see quiet images of protests, but they're part of the story and part of a fuller, more accurate visual representation of what is happening on the ground. On July 26, 2020, a small group of demonstrators sat in silent prayer and meditation throughout the night of protest in downtown Portland, Oregon.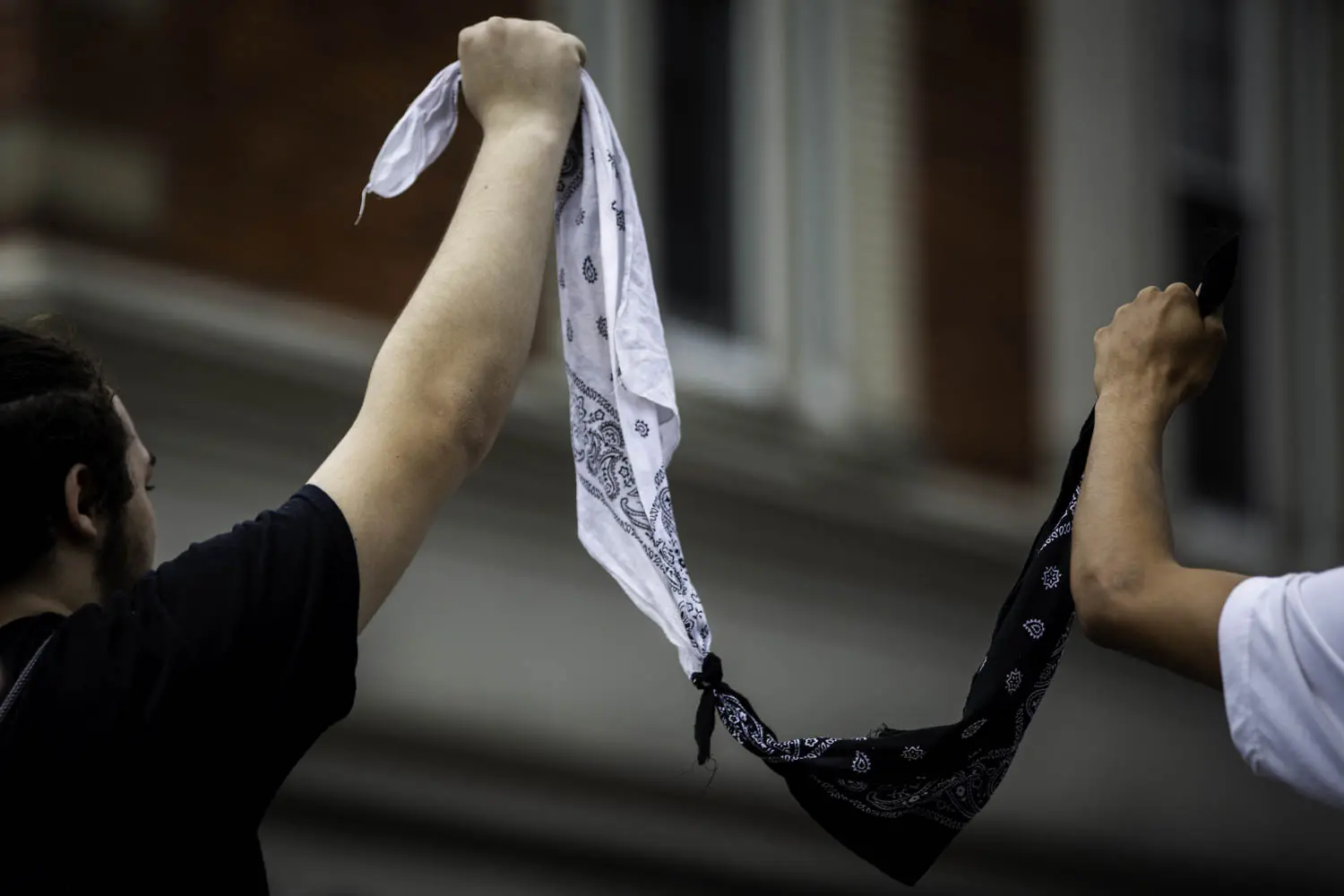 In a show of unity and solidarity protesters tied black and white bandanas together, an act meant to signify racial solidarity among the group as they marched to demand an end to police violence and racial injustice.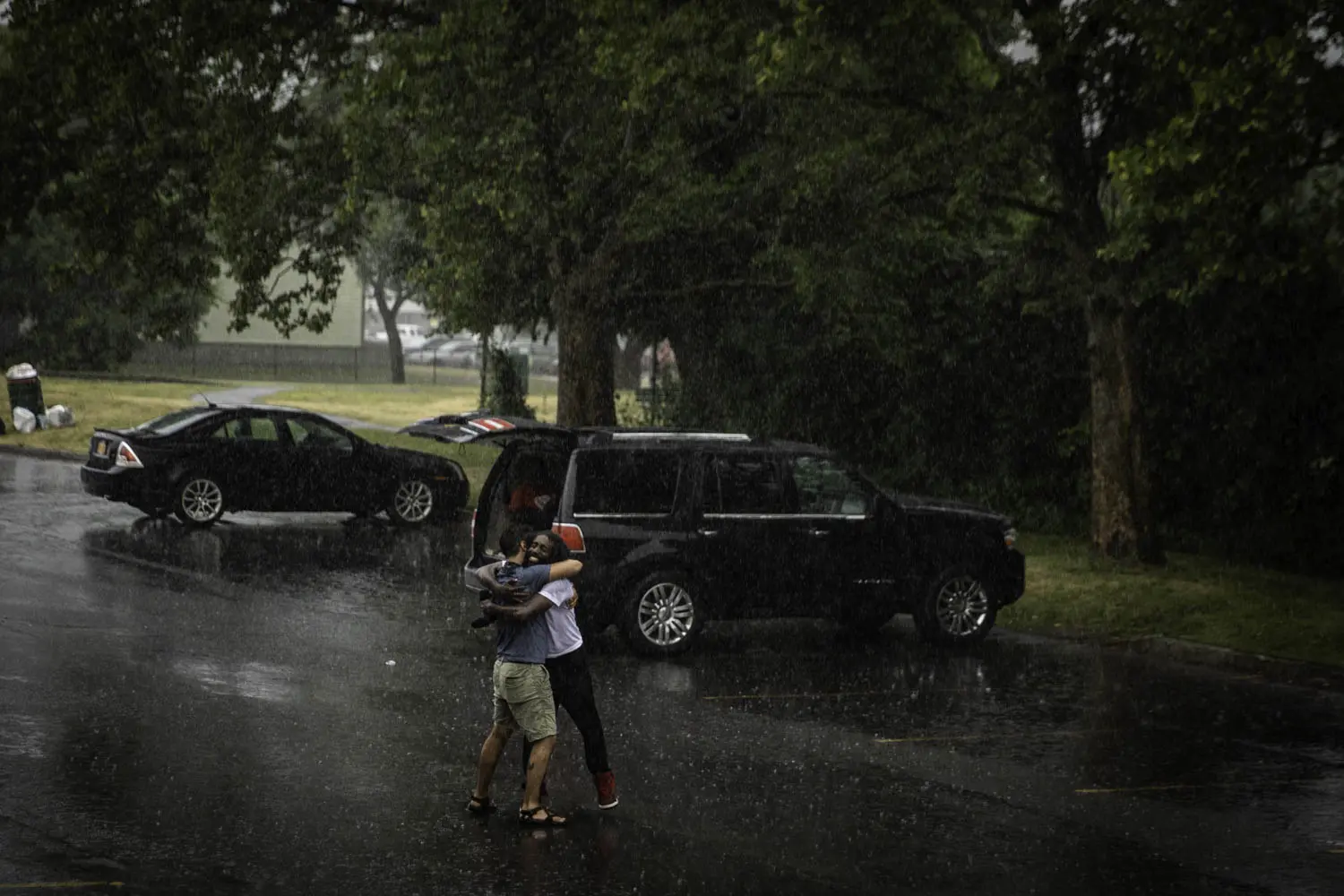 Two protesters, Gabe and "Drama," embrace in the rain following a march that was cut short by the storm.
RELATED ISSUES

Criminal Justice

Racial Justice