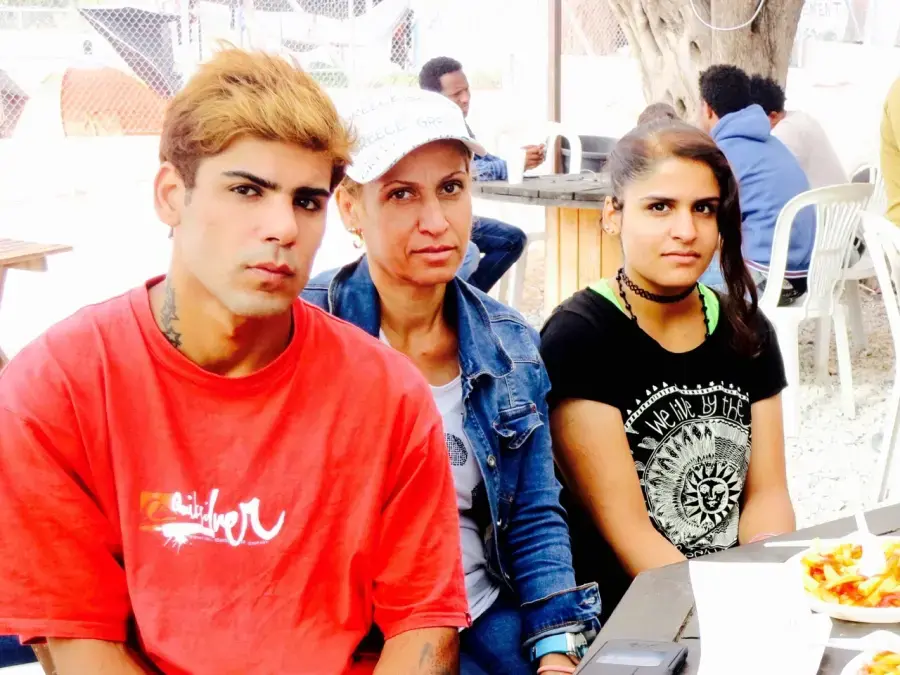 Yasser, 21, his mother Reja, 47, and his sister Shahad, 17, are from Baghdad, Iraq. They're pictured on Sept. 20, 2016, the morning after their tent and all their belongings were burned in a fire at Moria refugee camp in Lesbos, Greece. Image by Jeanne Carstensen. Greece, 2016.


The Moria camp on the Greek island of Lesbos is one of the country's biggest centers for refugees, and was one of the most troubled even before the flames.

"No one wants to burn his own home," said a refugee who was among the 4,000 who had evacuated the site and were huddled along the road with their belongings.

Yet, under the pressure of overcrowding, terrible living conditions, and a grueling wait for information about their asylum cases, that's what happened.

A protest at the European Asylum Support Office inside the camp to demand answers about asylum claims grew chaotic and devolved into fighting between migrants of different nationalities — particularly Afghans and Africans. As the unrest spread, some refugees started fires in the olive groves surrounding the camp and inside garbage bins. Riot police intervened to break up the fighting, but their efforts failed.

By 8 p.m., dozens of large and small tents and trailers were burned to the ground — leaving around 900 already homeless refugees without any shelter at all.

"Everything burned, my documents, everything I brought from Afghanistan," a 21-year-old cameraman from Kabul said. "We all escaped from war to come here and be safe but Moria is worse than anything in my country."

Thinking of Moria as "home" would be a stretch for anyone. A former military base on a steep hill, surrounded by high barbed wire fences, it contains a dense cluster of air conditioned containers occupied by NGOs and Greek military, surrounded by a hodgepodge of residential trailers, military tents and camping tents. Tents are not weatherized. The steep hillsides steam in the sun and course with water when it rains.

Since a deal between the EU and Turkey came into effect in March, refugees arriving to the Greek islands are immediately detained. They enter a lengthy process to have their asylum claims evaluated; most will not qualify, and face eventual deportation back to Turkey. The deal has turned Lesbos into an open-air prison, with 5,300 refugees stranded on the island living in facilities suited for 3,500. Those who can pay smugglers to leave the island for Athens by plane or ferry.

After fleeing the fire on Monday night, a United Nations of refugees walked in the dark toward Mytilene, the capital of Lesbos. They came from Syria, Iraq, Afghanistan, Iran, Palestine, Eritrea, Somalia, Egypt, Bangladesh, Pakistan, Sri Lanka, Nepal, Morocco, Congo, Niger and other countries.

But they didn't make it far. Police and locals from the town of Moria blocked the two main routes out. Most of the refugees were forced to turn around and head back to the destroyed camp.

The Greek government plans to contract with two passenger ferries to house refugees from Moria who were displaced by the fire. The ferries will dock in Mytilene harbor.

Tensions over the refugee situation on Lesbos have been rising. Also on Monday, several hundred Moria residents marched to the mayor's office to demand support to cope with the burden of a large refugee presence in their community. A small but bold contingent from the fascist Golden Dawn party infiltrated the event, where they chanted racist slogans and attacked several female volunteers who work with refugees.

At 11 p.m., police reopened the camp gates to refugees displaced by the fire. Weary residents trudged back up the hill, and the lucky ones crawled back into their tents. Many others arrived to scorched earth, where their tents and everything in them had been reduced to cinder.

Journalists are not allowed inside Moria, but from what I could see from the perimeter on Tuesday morning, the situation was quiet. Perhaps it was a quiet born from exhaustion.

At one of the cantinas ringing the camp, an Iraqi family of three picked at a plate of soggy french fries swirled with ketchup and mayonnaise. They lost everything in the fire and had slept on the road. Their most pressing concern, besides figuring out where they would sleep the next night, was how to get the diabetic mother, 47, more insulin.

A Syrian man said he had spent the night by the sea with his wife and daughter. Three burly young Sri Lankan men emerged from behind an olive tree and said they had slept under the stars; the clothes on their backs were all they had.

Rami, a 32-year-old from Egypt, pointed through the fence at his small camping tent pitched directly on the hard ground — it hadn't burned. But in a way it didn't make a difference. "We need to leave this place," he said. "It's not for humans."
RELATED ISSUES

Issue
Migration and Refugees
Migration and Refugees

Women