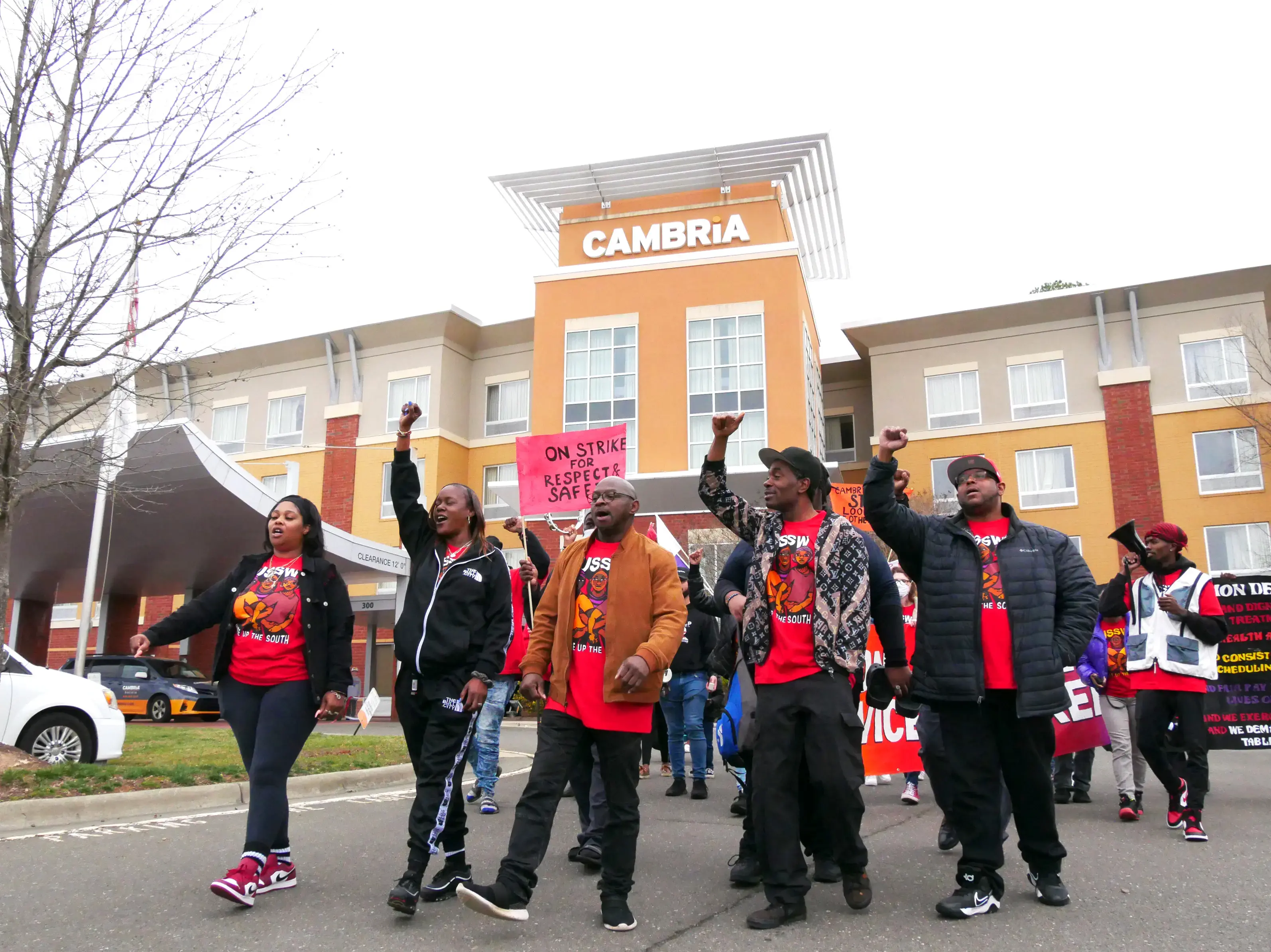 The hospitality industry quickly became hostile in Duane Hoskins' estimation.
Over eight months as a shuttle driver at Cambria Suites and Hotel in Morrisville, Hoskins said he witnessed first-hand mistreatment by management, including unwarranted firings, low pay, racist language, and unsafe conditions including flooding due to a broken water pipe that closed the hotel for three days because of health hazards.
It was time to respond.
"It's the majority of the staff, and we're all in agreement of the unfair treatment, unfair wages going on at Cambria Suites," he said. "Also, it's not a healthy work environment."  
---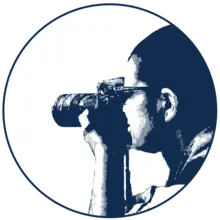 As a nonprofit journalism organization, we depend on your support to fund more than 170 reporting projects every year on critical global and local issues. Donate any amount today to become a Pulitzer Center Champion and receive exclusive benefits!
---
Cambria Suites' workers — members of the Union of Southern Service Workers — walked off the job on Feb. 20. A contingent of hotel workers and their union colleagues rallied at the Cambria property near Raleigh-Durham International Airport, chanting "Cambria, you're no good! Treat your workers like you should!"  
Strikes like the one at Cambria are taking place more regularly in the South as a combination of post-COVID economics and worker activism are bringing more people to unions. Black workers are taking a more pronounced role in organizing and leadership as they confront generations of inequity that left them lagging many of the white peers.
At last year's launch of the region-specific USSW, founding members outlined demands they'll make of service employers across the South, which include:  
Participation in making decisions about working conditions, corporate accountability for worker treatment and respect their right to organize without retaliation
Fair pay and an end to wage theft
Equal treatment, including pay equity for all workers, protection from discrimination and harassment
Healthcare benefits, sick leave and safe workplace protections and equipment
Fair and consistent scheduling, including the ability to work full time hours with safe staffing levels, and regular weekly schedules
'I needed to speak up'
USSW's demands are in line with the Cambria workers' priorities.  
"We're paid minimum wage, and our checks come up short," Hoskins said. "I had a couple of people telling me that they are getting less money this week than they did on the previous check and their checks keep going down. One guy [went] from getting like $1,200 to $1,000 a week because he's full time and working overtime to now […] getting about $800, and they didn't want to pay his (personal time off) when he came back. He only got a $200 check and honestly, that's absurd.  
"When I looked at my pay history, the amounts had been declining, not my hours. I thought that to be a situation that I needed to speak up."  Worker awareness and willingness to push for change is good, said MaryBe McMillan, president of the North Carolina AFL-CIO, which represents 100,000 members in industries ranging from delivery truck drivers to professional athletes.
"Among workers generally right now, we see a lot more interest in organizing," she said. "After the pandemic, working people are tired of being taken for granted after they risked their own health and safety to make sure that everybody had the food, the medication, the products that we needed during the pandemic. Certainly, a lot of the organizing that we see in the South is being led by workers of color, particularly women of color and younger workers, especially in the service sector."
Fight for $15 and Respect
Service workers nationally have engaged through the Fight for $15 and a Union movement over the last decade, which has resulted in higher pay and improved workplace conditions. But gains have been slower in the South, where major corporations continue to pay low wages and retaliate against workers who make demands, while piling up record profits.
More than 40% of the country is on a path to a $15 an hour minimum wage, but most southern states maintain the federal $7.25 minimum. Preemptive laws make it almost impossible for Southern municipalities to raise pay for workers, continuing a racist legacy that has defined the workplace for generations.  
For example, when Birmingham, Ala., city council passed a $10.10 hourly minimum wage in 2016, white Alabama lawmakers blocked the increase, leaving workers in the majority-Black city stuck at $7.25.
The Cambria workers also walked out to protest the firing of colleagues without explanation. On Valentine's Day, two employees were called into the office and fired at the same time, with no reason given. Their colleagues allege a workplace where verbal abuse by management is commonplace, including calling Black men "boy."  
"When they fired us, they fired the only two black women with power in the hotel. I'm speaking out because of the unfair treatment of Cambria," said Bobbie Fuller, a former housekeeping manager at Cambria and one of the fired workers. "I took my job very seriously, and I care about my coworkers. We took care of each other, we ate together. The housekeepers cried when we walked out the door."
Cambria's workforce situation is a sample of an issue U.S. hotels face. According to a survey by the American Hotel & Lodging Association, 79% of hotels face staffing shortages, which is forcing them to lure potential hires with incentives to fill job vacancies.
Seventy-one percent of respondents said they are increasing wages, 64% are offering flexible hours, and 33% are expanding benefits. The most critical staffing need is housekeeping, with 43% ranking it as their top hiring need.
"Recruiting enough workers continues to be the top challenge for many hoteliers, and this is leading to historic career opportunities for hotel employees," AHLA President and CEO Chip Rogers said in a statement. "AHLA and the AHLA Foundation are working tirelessly to grow the industry's talent pipeline and retain workers through innovative events like National Hotel Employee Day and compelling ad campaigns like 'A Place to Stay,' but there is still more to be done."
According to the U.S. Bureau of Labor Statistics, hotel employment is down by more than 250,000 jobs compared to February 2020 when the hospitality industry started to shut down due to the pandemic. Nearly 100,000 industry jobs are open nationally, AHLA reports and as of December, the national average for hotel wages topped $23 an hour – the highest ever.
The pandemic gave American workers a sense of their importance to the economy, and by extension breathed new life into the southern labor movement, McMillan said. With national unemployment at a record-low 3.4%, the post-pandemic dynamic between workers and management is likely to continue.
"I think the tight labor market works to workers' advantage in terms of the leverage that they have to demand better pay and better benefits," she said. "The wages have not kept pace with inflation and certainly the minimum wage has not been raised in over a decade, so a lot of these wage increases are long overdue. And given the rising costs and inflation, even with rising wages, working people are still struggling to make ends meet."  
Breaking Stereotypes
American history and culture, with few exceptions, paint a picture of labor organizers as white men willing to go toe-to-toe with corporate power through strikes that at times turn violent. Although unions are responsible for many of the advances that benefit U.S. workers in law and practice, there's a perception of that unions are obsolete or rabble-rousers that drag down the economy.  
In an America still dealing with the upheavals of a pandemic and racial reckoning, a new generation of labor advocates are advancing. Naomi Harris of Columbia, S.C., a USSW co-founder, is 21 and knew little about the history of Black organizers. It didn't stop her from calling the service industry to account.
"I didn't really know too much about it because I thought unions [were] something that you just heard about. You'd never really see them. Nobody talks about them, so I just thought it was like little old folk selling something from back in the day that stayed back in the day. The one thing I really love about this union is that we don't see color. We're an anti-racial union."
That multidimensional membership and leadership model, McMillan asserts, is where future labor movements will draw strength.  
"I think that the younger generation is less willing to settle for the wages and lack of respect and poor benefits," she said. "But when I think about the Fight for $15 movement, you really see multi-generations in that movement from older women who have been working in fast food for their whole careers standing alongside younger workers who don't like the fact that employers are discriminating against the LGBT community [or] are trying to tell folks they can't wear certain things in the workplace.
"I think there's all kinds of different reasons that workers come to the movement and to this place where they've had enough."
Like Hoskins, the Cambria shuttle driver, who says his colleagues will continue with their demands until a deal is struck.
"I'm thankful for the union and the support that they have given us thus far," he said. "They've been really strong. They've encouraged us to a point where we're not really worried. We feel as though the union has our back 100% so that it doesn't appear that it's just in house issue. It's an issue with all service workers."
RELATED ISSUES

Governance

Racial Justice