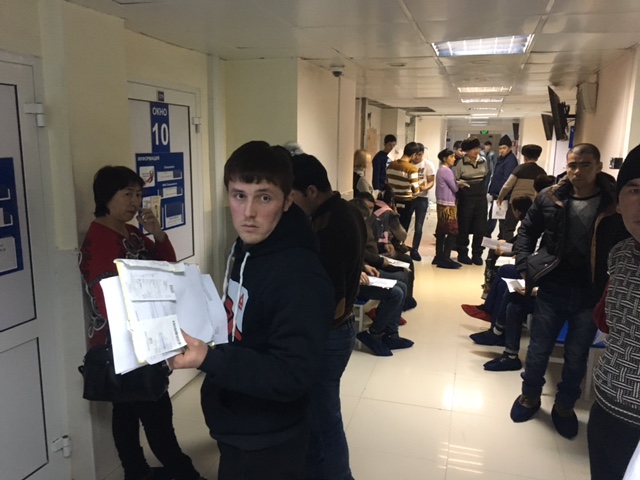 IRKUTSK, Russia—It was a bitter, freezing day here in the hard-working city at the heart of Siberia, more than 3,000 miles east of Moscow. A 39-year-old woman and her 42-year-old husband were waiting for an appointment by the door of a psychologist's office at the Irkutsk AIDS Center. They both had their woolen hats on, as if they popped in to see their doctor for just a few minutes. Their faces were sad; the flesh on their cheeks sagging. The husband sobbed. His eyes were moist with tears.
The center's doctors recommended the couple begin HIV therapy as soon as possible. But the idea of taking pills for the rest of their lives, twice a day, without missing the scheduled time, frightened them. Both still cherished a tiny hope that AIDS did not exist, that their virus was just a fake story, made up by some American pharmaceutical magnates—an opinion easily found and distributed in Russian internet blogs and in local media for years.
"This process of acceptance takes time," the center's psychologist, Oksana Razumovskaya, told The Daily Beast. "Many patients are concerned about taking the medicine, more than about the risk of passing the virus to other people."
The process of acceptance took Russia a long time. While authorities looked away, the epidemic of HIV and AIDS spread like fire in a dry forest: 28 regions have more than 1 percent of population infected with the virus, and Irkutsk is among the three worst hit. More than 200,000 Russians have died from AIDS since the first cases were registered in 1988.
Until recently the government was not doing enough to inform the society about the virus—thousands fell victims to the stigma, to misinformation, and to outright disinformation, problems compounded by the lack of financial support and treatment.
"Before we built our center four years ago, people were fighting over medicine in crowded hallways; they were humiliated, treated as criminals," Yulia Plotnikova, the head doctor at the Irkutsk AIDS Center, told The Daily Beast. The center is recognized as the best among all the clinics in Russia providing HIV therapy.
But there are still many problems for Plotnikova and her team of doctors and volunteers to solve. Only 28,000 of about 36,000 people living with HIV in the Irkutsk region, a territory in Siberia three times larger than Great Britain, have registered at the AIDS Center. And only 12,000 of them receive treatment. The state provides therapy for Irkutsk patients with CD4 counts below 350. (The number represents the quantity of white cells known as T-cells, crucial to fighting infection, in a cubic millimeter of blood.) Everybody who has a higher count lives without any treatment.
This year the state recommended to begin treating all HIV-positive patients; but acknowledged that some regions do not have enough medicine, and therefore should prioritize patients with high immunodeficiency, as well as all infected pregnant women, and all infected children.
Nobody can say the exact number of people in the region who have never showed up at the AIDS Center, but Plotnikova is convinced that ignorance is Russia's main enemy when it comes to the HIV epidemic. And some of it is willful.
"The Irkutsk region suffers from a large number of HIV 'dissidents,' or people who refuse to receive the therapy, because they believe the myths distributed by a few local doctors—they say that HIV does not exist," Plotnikova, a petite woman with a powerful spirit, told The Daily Beast.
The leader of the AIDS-dissident campaign is Vladimir Avdeyev, an Irkutsk pathologist who frequently gives interviews to the local press and television journalists denying that one can actually be infected with HIV. In the meantime, thousands of people have been dying of AIDS in the Irkutsk region.
Earlier this year in Moscow, a community of doctors and activists struggling against HIV dissidents appealed to the prosecutor general asking to investigate Olga Kovekh, also known as "Doctor Death." On Monday, Life.ru reported that she had been fired. Kovekh, who called herself "a doctor who does not believe in HIV" officially stopped working as a doctor at "RZHD Medicine" in Volgograd. "The reason was my denial of the system," Kovekh told Life.ru news website.
This year, Irkutsk's HIV and AIDS epidemic has turned 25 years old. The plague started arriving in local nightclubs, then apartment buildings and schools in the 1990s, with the first powerful waves of heroin traffic from Afghanistan, which splashed over into Siberia from across Central Asia.
First, drug dealers distributed heroin in the part of town called Tretiy Poselok, then the market exploded—heroin became available all over the city. Today's youth pay for their drugs online, using the Telegram messenger app. Some buy heroin coming from Afghanistan, others prefer "salts," "crocodile"—vicious synthetic drugs coming from China—or locally produced, self-designed drugs. The payment is made online or to a cellphone, and the delivery arrives to a secret place—the Russian slang word for such secret transactions is "zakladka."
Last weekend, Irkutsk volunteers and doctors from the AIDS Center offered shoppers at the Komsomall department store free HIV tests.
One of the volunteers was 31-year-old Irina, who said she was 13 years old when she started shooting heroin. Later, Irina switched to "crocodile," so-called for eating the flesh around the site of an injection. It quickly turned her knee into a big, open wound. Doctors said that her leg was rotting. Irina managed to quit drugs after she was diagnosed with HIV and hepatitis C.
"There are thousands of drug addicts in Irkutsk, among high school and college students or just unemployed people who buy drugs and have wild sex without any protection," Irina told The Daily Beast. "I am convinced that very few of them fear they would get HIV or tuberculosis, all they really fear is that there would be no drugs."
By 2 p.m., out of 19 people tested at the mall, one man turned out to be HIV-positive. He was 55. "The issue is my psoriasis, that is why my blood shows the virus," the man tried to convince the specialists. His denial was easy to understand. HIV is still viewed as a death sentence. Even some doctors at AIDS centers in several Russian cities treat their HIV-positive patients as if they were criminals on death row. So as soon as people learn about their diagnosis they tend to retreat and to hide, even from their closest friends and family members.
Out of more than 2,500 new HIV cases registered in Irkutsk this year, 54 percent were people aged 30 to 49. Today Russia's young people know more about HIV than their parents, but the parents are still sexually active.
"Most of this year's new HIV positive cases in Russia were with people in their thirties or forties; 20 years ago, many of them were using opioid drugs and now they pass the virus to their partners," Vinay Saldanha, UNAIDS regional director, told The Daily Beast.
Dr. Plotnikova says she knows how to beat the epidemic. "Let's be honest, our adult people are not going to stop having sex; they will not start using protection, either," Plotnikova told The Daily Beast. "We need to focus on the source of the epidemic, find all the registered cases and convince people to have treatment."
This year the Irkutsk AIDS Center received state budget funds that covered medicine for only 40 percent of all registered HIV patients. Next year the center is going to receive the state budget for 50 percent of its patients. Saldanha said that, ideally, Russia should provide 90 percent for all its HIV-positive citizens.
But at least there are signs the elites in Moscow have begun paying attention. "It is great that the government and nonprofit organizations focus on HIV/AIDS epidemics," Saldanha said. "It is remarkable that the Foundation for Social and Cultural Initiatives managed by Svetlana Medvedeva, the prime minister's wife, made AIDS their priority agenda," Saldanha added.
That's not enough. Independent activists from Novigator, an NGO, provide Irkutsk drug users with information, legal support, as well as with free syringes, condoms, and hygienic products. They also provide professional social support for sex workers. And the group sees one major problem addressing the spread of the disease.
"We are not going to beat this epidemic as authorities ban the local AIDS Center from providing treatment for people living in Irkutsk without official registration," Aleksei Trutnev, the head of Novigator, told The Daily Beast.
Last week, a conference called Technology of Life brought to Moscow volunteers and professionals from dozens of Russian regions. The event was organized the by Russian Federal Agency on Youth together with International Labor Organization, ILO. The audience was mostly composed of young, active, outspoken people, who want to make a difference. Two healthy looking women, Polina Sytykh, 38, and Svetlana Izambayeva, 36, spoke before the participants. Each of them had lived with HIV for 15 years.
"I refused to have treatment for five years after my diagnosis, I was already in poor shape when I finally decided to fight for one life, my own life," Sytykh admitted.
Both Polina and Svetlana have given birth to healthy children. They and their families are living examples, showing it is time to put an end to the HIV dissident movement, and to fight the ignorance.