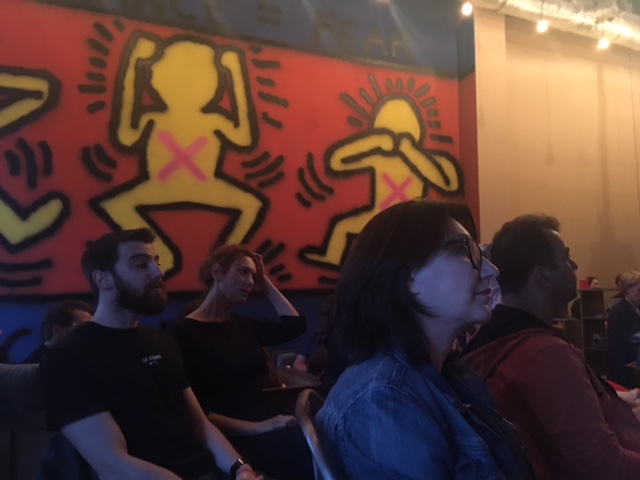 At an AIDS clinic in a trendy part of Moscow, bucking taboos about HIV and AIDS is an everyday part of the job.  
Dozens of young men and women with HIV gathered recently to celebrate the anniversary of the clinic that tries to set itself apart from all the others: It gives people a place to speak openly about their health conditions and receive psychological help and medical consultations. Dr. Yelena Orlova-Morozova, one of Moscow's leading HIV doctors for the region's state clinic, helped found this new non-governmental organization, called AIDS.Center. The period in the name is intentional — meant to signify a difference from other clinics around Russia that are often simply called AIDS Centers.
AIDS.Center has only been open a year, which speaks to Russia's slow response to its worsening HIV crisis. AIDS has plagued Russians for decades, but stigma around the disease has been heightened by a government that prefers to pretend it doesn't exist, activists say. Orlova-Morozova opened AIDS.Center as a way to fight the disease.
"Ignorance and poor state policy cause the epidemic's growth," she says, her eyes serious behind black frames. "I don't think we'd be able to control the developing epidemic anytime soon, as people do not want to be educated about AIDS."
The words on the wall above the doctor's head convey the key issue in Russia's failing struggle against AIDS: "Ignorance = Fear." Russia's AIDS experts have been left frustrated by the central government's inaction. 
By some estimates, only about 1 percent of people in Russia have HIV, which is far less than, say, South Africa, which has the highest rate in the world at almost 18 percent of the adult population. The growth in infections in Russia concerns many, however. More than 14,500 Russians have died from HIV in the first six months of 2017, up 13.6 percent from last year, according to Vadim Pokrovskiy, head of the Russian Federal AIDS Center.
"To get infected, one needs to use drugs and change partners; the older the person is, the higher the risk is," Pokrovskiy says. Additional funding for HIV therapy would change the situation, the top specialist says, but the government is unwilling to admit there's a problem. 
For example, although Russia's HIV infections increased by at least 100,000 new cases in the past year, the amount of medicine provided by the state remained the same.
Also, the Kremlin proposed doubling the budget for all state AIDS clinics in 2015, but that hasn't happened yet.
"Nobody has seen that promise come true," says Alexander Pronin, head of the Moscow regional AIDS Center.
Pronin's clinic treated more than 40,000 patients last year, including at least 500 children.
Back at the AIDS.Center, the community gathers several times a week for consultations and lectures. On one recent night, the lecture centers on international practices in dealing with HIV. Later, the guests help move chairs and put out snacks and wine. "This place makes me happy," Orlova-Morozova says, observing the people in the room.
More wine is poured into plastic cups. Two men sitting on large futons speak fondly of a friend who they recently lost to AIDS.
Orlova-Morozova sees dozens of patients every day. When she started at the state clinic in 2008, there were far fewer HIV cases in Moscow, she said. 
These days, HIV-positive patients, mostly in their 30s and 40s, wait outside her door.
Many are women. 
"Russia has a different situation with AIDS from the European Union and United States, where the majority of people living with HIV are [men who have sex with men]," Orlova-Morozova says. In Russia, the majority of people are infected through IV injections — or 50-60 percent — with heterosexual sex accounting for most of the balance — about 40 percent. 
"Some women struggle to accept the diagnosis and refuse to have therapy — we call them HIV dissidents; we also have three to five cases every year of pregnant women who believe that the medicine we prescribe them will harm the baby," she says.
And there are other problems. Many HIV doctors in Russia fail to surround their patients with warmth and attention. 
Natalia, a 46-year-old teacher who didn't want her last name used for privacy reasons, was diagnosed with HIV in 2014 at the Center of AIDS Prophylactics in Nizhny Novgorod, a city of 1.2 million people. 
On the day Natalia took the test, she experienced the most "cruel" treatment from her doctor. "A middle-aged doctor told me my verdict: 'You are ill with a deadly disease, which will eventually kill you,' she told me in icy cold voice," Natalia recalls. 
"Then she asked me to sign a paper that would allow that center to tell my family about the cause of my death. 'Most probably, you are going to die from tuberculosis,'" she recalls. "I could not even breathe. When I walked out of that room, I was in shock."
That day, Natalia made a firm decision not to return to that particular clinic.
In January, Natalia was diagnosed with cancer. She underwent several rounds of chemotherapy and had surgery but still didn't receive any HIV treatment. In a recent interview, Natalia insisted that HIV did not threaten her life.  
"I either have a very light form that does not require a treatment or I was misdiagnosed with HIV," Natalia says. "Otherwise, my oncologist would have insisted on the therapy."
This is a classic example of an HIV dissident, according to Orlova-Morozova.
"Natalia's doctor should have told her that UNAIDS came to a conclusion that all HIV-positive patients should receive therapy," she adds. "No matter what stage of the disease they have."
Local reporters have given Nizhny Novgorod a nickname: Russia's drug addiction capital. The local HIV-positive population increased from 81 last year to 184 this year. "The biggest problem is that most addicts [who] live with HIV — they would never go for a test at the AIDS Center," says Anton Krasovsky. Krasovsky, a Moscow journalist and director of the AIDS Center foundation, was diagnosed with HIV in 2011.
Krasovksy blames Russian authorities for not waging a bigger war on AIDS: "Nobody has paid enough attention to drug users, nobody tried to put the end to police controlling drug business."
"Back during Boris Yeltsin's time, when the economy was in crisis, they decided that it was easier to imprison drug addicts ... or better just ignore them," Krasovsky adds. "Some top doctors, who were affiliated with police, decided they did not need any drug-replacement therapy."
Orlova-Morozova, Krasovsky and other experts struggling to deal with Russia's HIV problem are convinced the real number of people living with HIV in Russia is much higher than the official 1 percent statistic. In April, President Vladimir Putin announced that, officially, there were 600,000 drug addicts in the country, but that unofficial data suggested there were actually 7.5 million drug addicts in Russia.  
Despite that candor, SPID, the Russian abbreviation for AIDS, was never mentioned. "Russian authorities are divided more or less 50-50 in those who believe that it is necessary to be open and speak about the issue of AIDS epidemics and those who insist that this issue should be ignored, at least in public speeches," says Sergei Markov, a Kremlin adviser. "That is why so far the federal approach to the epidemic is pale and ... failing."