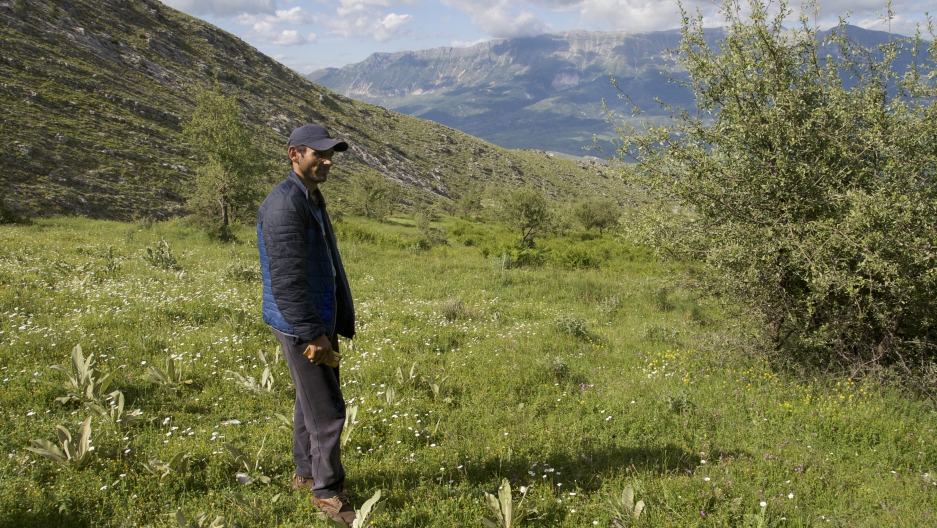 On a clear morning, in the hills overlooking the village of Lazarat, Albania, Jetmir Gjini maneuvers his black Mitsubishi truck across a rocky plain, headed toward the mountains where the family's herd of sheep grazes. "I've been up since four," Gjini yells.
It's hard to see much of anything, between the giant crack in the windshield and the cloud of dust and debris. But Gjini, 36, points out a rusted-out water truck abandoned off to the right.
The truck is left from the pot-growing days, a roughly 10-year stretch when nearly everyone in the village — including Gjini's family — made a living by growing marijuana out in the open, illegally. Most of that pot made its way to Western Europe, where it had an annual street value of as much as 4.5 billion euros ($5.24 billion), according to police. (Most of the villagers dispute the scale of the operation, but concede that they grew a lot of pot).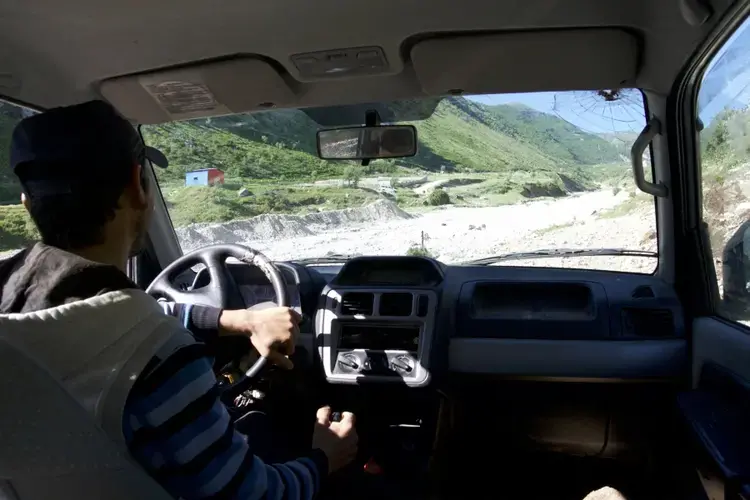 In 2014, the Albanian government, under pressure from the European Union, took Lazarat out of the marijuana business by sending in an army of police officers. The ensuing shootout lasted for days, and in the end, about 50 villagers were arrested.
The village, situated around 15 miles from northwestern Greece, has remained free of visible marijuana cultivation ever since. Residents bitterly joke that it's one of the few places in Albania where pot isn't being grown, alluding to the government's struggle to contain cultivation elsewhere.
Lazarat has languished without its pot industry. Many have simply moved away to Albania's larger cities, Western Europe and North America. The Gjinis are among the few families still able to eke out a living in the village.
Gjini abruptly makes a right and starts driving up a mountainside. Just as it sounds like the pickup will break apart, he stops at a clearing to do the rest of the journey on foot. Gjini's father, Mato Gjini, 66, is waiting. He's wearing a gray, three-piece suit and a pocket watch and clutches a set of amber prayer beads. Mato Gjini is a Bektashi, a sect of Sufi Islam mostly found in the Balkans and Turkey. Most of the villagers are followers.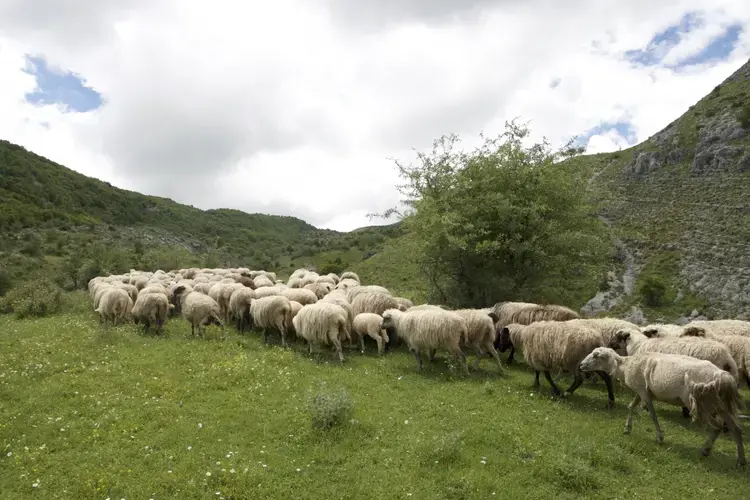 Mato Gjini still hasn't broken a sweat by the time he reaches a red-roofed shack. It has two rooms and some cots — shared by several herders from the village. He sleeps here most nights — away from his wife — to be near the 150 head of sheep.
A friend of Mato Gjini's, a fellow shepherd from the village, is already there, preparing corn mush for the sheepdogs. Mato Gjini, meanwhile, boils some fresh milk from his sheep. He pours it into a metal bowl and adds stale bread to make porridge called pershesh.
The milk keeps the Gjini family of 10 afloat. They sell it to a larger dairy producer a short drive toward the Greek border, and it brings them around $400-$500 per month. It's not much, but it's better than most people are doing in the village.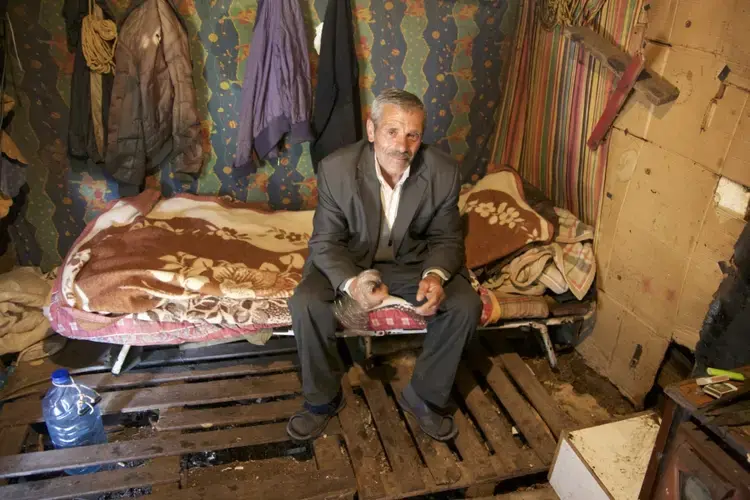 Mato Gjini takes a seat on the cot next to his friend, who doesn't give his name. Most people in the village are reluctant to talk to journalists. Growing pot was, and remains, illegal in Albania, so they fear that discussing it openly might draw renewed attention from police.
Mato Gjini, for his part, says he has nothing to be ashamed of because growing pot was a matter of survival.
"We were the poorest population in all of Albania. What was I supposed to do? I had eight kids. How was I supposed to feed my family?" he says.
With time, however, the scale of the business allowed families to prosper, not just survive. The Gjini family, with their marijuana earnings, spent around $250,000 building their house — a small fortune in rural Albania.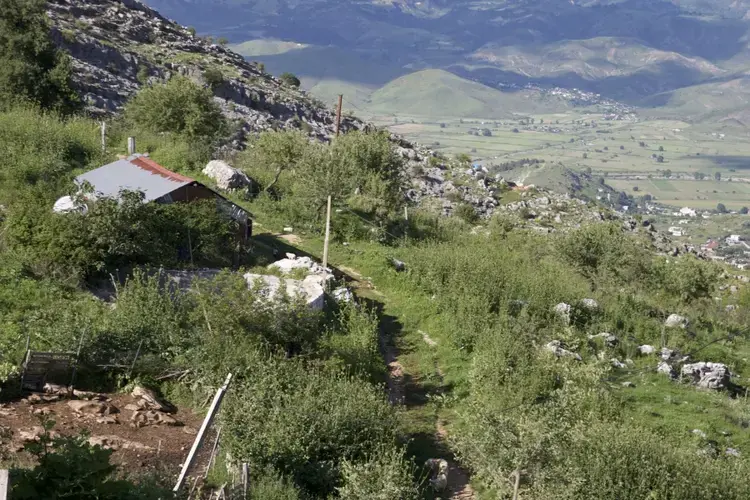 Lazarat acquired a reputation as an outlaw village that protected its pot business with a military-grade arsenal, which on occasion, was directed at police.
But Lazarat's real protector was the Albanian government itself, which largely turned a blind eye on the pot business. The country's former prime minister, Sali Berisha, later said that his government allowed Lazarat to grow marijuana, in part, because a crackdown would have been too hard on the population.
Lazarat wasn't the only place growing pot, but nowhere was it happening so openly and on such a large scale.
The village's fortunes began to shift in 2013 with the election of a new prime minister, Edi Rama, who came into office promising to bring law and order and European Union membership to Albania.
The police operation to end Lazarat's pot business, in 2014, helped make Albania a candidate for EU membership. But villagers, including Mato Gjini, say they feel used and betrayed by the government.
"They could have come and talked to us in the village meetings. They could have said, 'Don't you dare plant cannabis anymore.' We would have listened. They didn't do it that," Mato Gjini says.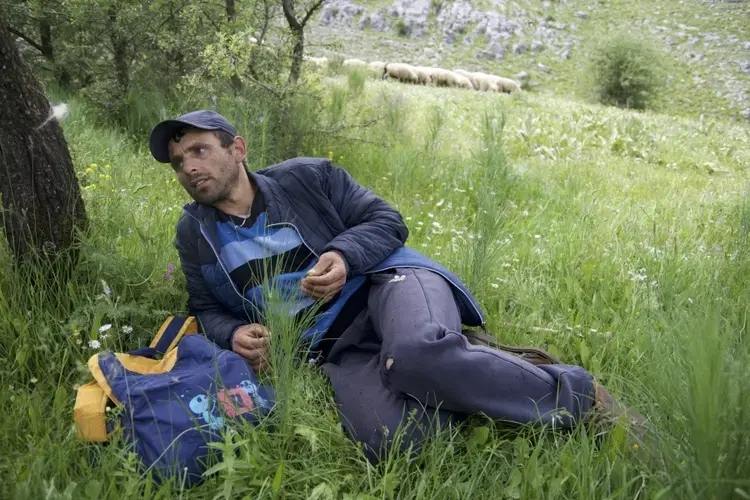 Mato Gjini accepts that he won't be growing any more pot. Instead, he wants the government's help, so it's easier for them make a living with their sheep.
Farther up into the mountains, where the sheep are grazing, Jetmir Gjini leans back and lights a cigarette. He says he used to smoke hashish, but stopped for health reasons. He misses it, though — and the work that growing pot provided.
"Cultivating marijuana, you only have to work for three to four months. You have to tend sheep year-round. With marijuana, you have more freedom to do something else in life. This keeps you away from any friends, everything," Jetmir Gjini says.
It also keeps him from his wife and 3-year-old son. He doesn't want his son to follow in his footsteps.
"My biggest dream is to educate him so that he doesn't sleep with his head on a rock, like I've done. This is the reason I want to provide for my family in the future," Jetmir Gjini says.
Jetmir Gjini isn't sure how he'll do that, but it won't involve growing pot.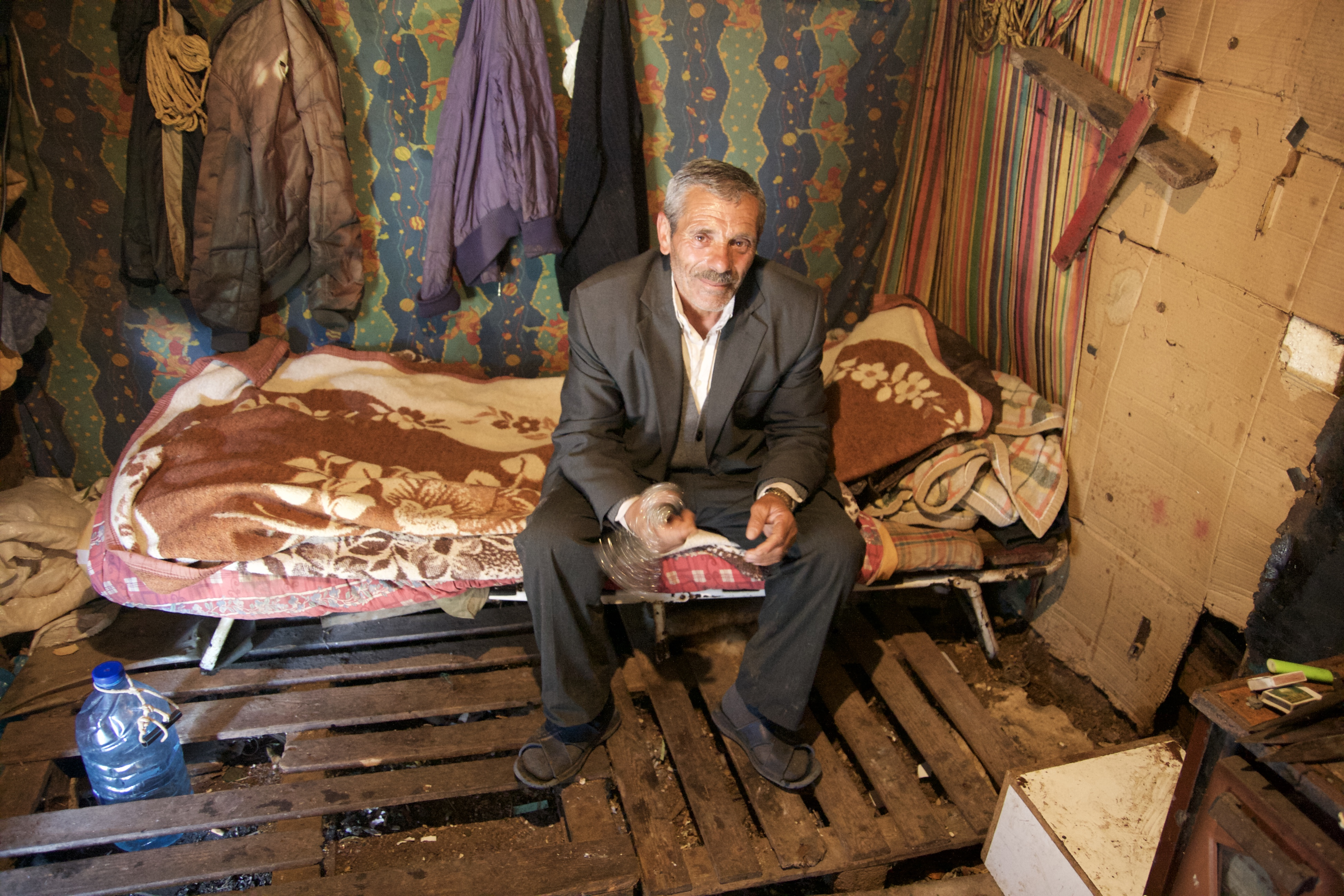 Journalist Nate Tabak discusses his project about Lazarat, the Albanian village that came to be...
RELATED ISSUES