Elton is a cop on a mission to help snuff out Albania's massive illegal marijuana industry. He looks the part, too, with a beefy build and a shaved head.
On a sweltering August morning, this regional anti-drug commander in Albania's state police force leads a small convoy of SUVs from the town of Kruja, to a region with few people and an abundance of mountains.
We're just a few minutes outside of the city, driving along a winding two-lane road, when the first sign of marijuana appears with a cannabis leaf spray-painted on a boulder.
"Teenagers, they smoke too much," says Elton, who asked that his last name be withheld for security reasons. He pauses for a moment and begins telling me about a friend who smoked pot in high school, and later started using heroin. He became an addict, and died of an overdose. "It's too painful for me because he was a really good guy."
Elton, a father in his early 40s, believes in the gateway theory — that marijuana leads people to use and abuse harder, more dangerous drugs. He says that going after marijuana at the source, where it's grown, will ultimately make Albania safer.
This country of 2.8 million people has a relatively small appetite for pot and other drugs compared to the rest of the European Union — the bloc of nations it is a candidate to join. Only one in 10 adults claims to have tried marijuana in their entire lives — about a quarter of the rate EU-wide.
But Albania is Europe's largest supplier of illegal marijuana, most of it grown outdoors, according to Europol. A 2014 police raid shut down what was known as Europe's pot-growing capital, the village of Lazarat, where residents illegally cultivated marijuana on an industrial scale for years, out in the open.
After the Lazarat operation and other police actions targeting major cultivation areas around the country that year, the Albanian government declared it had destroyed 99 percent of cannabis plants.
But it didn't last. Pot grown in Albania is a huge business, and has annual value that has been estimated in the billions of dollars. The cultivation returned, particularly in 2016 and 2017, increasingly spread out in smaller pockets inside this largely rural, mountainous country whose people are among the poorest in Europe. The government of Prime Minister Edi Rama, aware that Albania's EU membership is on the line, has responded by redoubling eradication efforts.
Police officers like Elton and his team of a dozen officers represent the tip of the spear, attempting eliminate the pot before it can make it larger distribution channels. In 2016 alone, Albanian police reported destroying 2.4 million marijuana plants. Nevertheless, large amounts of marijuana continued to be harvested and sent to Western Europe, as evidenced by regular seizures by Albanian and Italian law enforcement, some measured in the tons.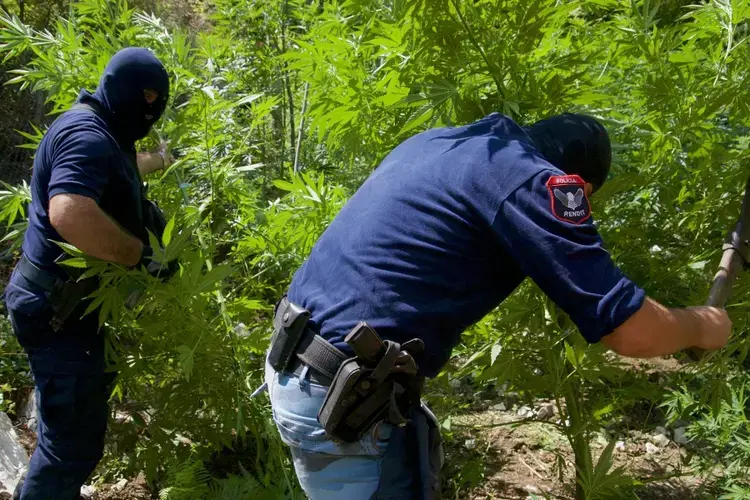 About 10 minutes into the drive, Elton pulls to the side of the road, along with the rest of the convoy. The officers assemble, most carrying an ax or machete, some armed with Kalashnikov assault rifles.
They stream into a small opening in a dense patch of woods. I enter behind Elton, and we follow the barely visible path for few minutes before reaching an improvised wire fence. An officer uses bolt cutters to get through, exposing a tidy garden full of marijuana plants, only feet from the main road, but obscured by a dense patch of trees and brush.
Elton's team — mostly middle-aged men with paunches — quickly gets to work. They take a few clippings to send to a laboratory — to confirm the obvious, that these are marijuana plants. Then they hack the plants and stack them into piles. Elton grabs a soda bottle filled with gasoline, douses one of the piles, and ignites it. Flames quickly engulf the cannabis plants, which are nearly ready for harvest. The accompanying smoke has the unmistakable pungency of marijuana.
Operations like this take place all across Albania during the growing season, March to October. Many of the pot plants are grown in hard-to-find places on public land — often up in the mountains. At times, police get help from Italian law enforcement, who are able to pinpoint small marijuana patches through aerial surveillance and special image analysis. But the only help Elton gets is from a spotter, positioned on a nearby hill with a pair of binoculars.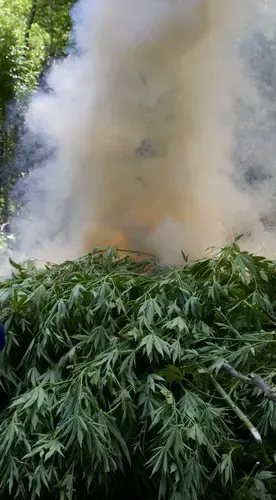 The pot growers themselves are usually long gone by the time police get there. Elton tells me he once came across a man in the middle of the woods carrying two big bags of bread. He suspected the man was a pot grower, and was probably going to deliver it to a colleague. But Elton had no evidence of this, and therefore no grounds to arrest the man. Instead, they seized the bread, in part because they were a long way from their vehicles.
I laugh, a bit nervously, both amused by the relatively tame act of police misconduct, but also troubled by it. "Yes, it's wrong, but we were dying out there without bread," Elton says, explaining that the officers had been hiking for five hours and had finished their own food.
"Whose fault was that?" I ask.
"The farmer's!" he replies.
A crackle from Elton's handheld radio interrupts our conversation. The officer serving as a spotter reports that he's found another suspected pot farm. We're soon back on the road, which twists and turns, and now narrows to a single lane only feet away from a plunge into a valley below.
This crackdown isn't going down well with everyone in Albania. Opposition lawmakers regularly accuse police of selective enforcement — and in some cases, outright helping growers and traffickers with government connections. This includes the architect of Albania's anti-marijuana campaign, Saimir Tahiri, whom prosecutors suspect of being involved in a pot-trafficking ring with his relatives. Tahiri, the interior minister from 2013 to March 2017, denies the allegations.
Elton says he doesn't pay much attention to the controversies surrounding the pot crackdown.
"I don't read the newspapers," Elton says. "I speak with my work. I cut plants every day, every day. And I've cut millions of euros worth."
We eventually stop next to a cluster of houses, and head through a field and into the woods. Within a few minutes, we come across another pot farm with about 100 plants.
As the officers slash and burn the crop, Elton focuses on a clue: a hose leading a few hundred feet from the pot farm. He follows it to a two-room cottage that appears abandoned.
But next door is a well-maintained, ranch-style house, where a family lives. I'm told to wait outside, while Elton and colleague go inside to question the residents.
A few minutes later, Elton emerges and we get back in the car. He looks agitated, his face red. The family denied knowing anything about the pot.
"Do you think I believe them?" he asks, sarcastically. Elton then switches into Albanian, and suggests he would pursue the investigation more aggressively if a journalist wasn't present.
Elton doesn't see what he does in the field as serving as deterrence. The pot farmers, he says, are poor people who know very well that they can go to jail. But he says going after them can ultimately lead to the larger-scale traffickers.
"What we're doing today is just one part of our job. The other part is criminal investigation. We are hunting for the big fish," he says.
Elton and his officers check out one more suspected pot farm before calling it a day. They come within sight of it, hidden on a mountainside, but it proves too difficult to reach. They'll save it for another day.
Inside Elton's SUV, it's quiet. He and two other officers sitting in the back are exhausted and drenched in sweat. But as we pass a tiny village called Noja, young guys sitting outside a cafe bar start howling at the convoy like a dog. Elton slams on the brakes, gets out and marches across the road with the other officers. There's a lot of shouting. Elton threatens to take the young men to the station. "We're just villagers," one guy replies. Another one says the police have destroyed them with their raids. The officers are told to go Tepelena, a city a few hours to the south, where the government has been accused of protecting pot growers.
Just as it looks like a fight will break out, an older man steps in and calms everyone down and the officers return to their cars.
As Elton gets back on the road, I expect him to say something about what just happened. He's silent but looks calm and relaxed.
Finally, I ask Elton about the confrontation. "The people are unhappy when we come here, and they react in different ways," he responds.
Elton then mimics the howling that the young guys were doing, and laughs.
"Why did you decide to stop?" I ask.
Elton explains that he wanted to find the troublemakers doing the howling. In short, he did it as a show of force.
I return to the village of Noja two days later, without the police, hoping to talk to the guys who were there. I sit at the same cafe where those men sat and ask around. Everyone I speak to claims not to know about the incident, which seems highly unlikely given the tiny size of the village.
More likely, the encounter left the residents afraid, and Elton no closer to finding his "big fish."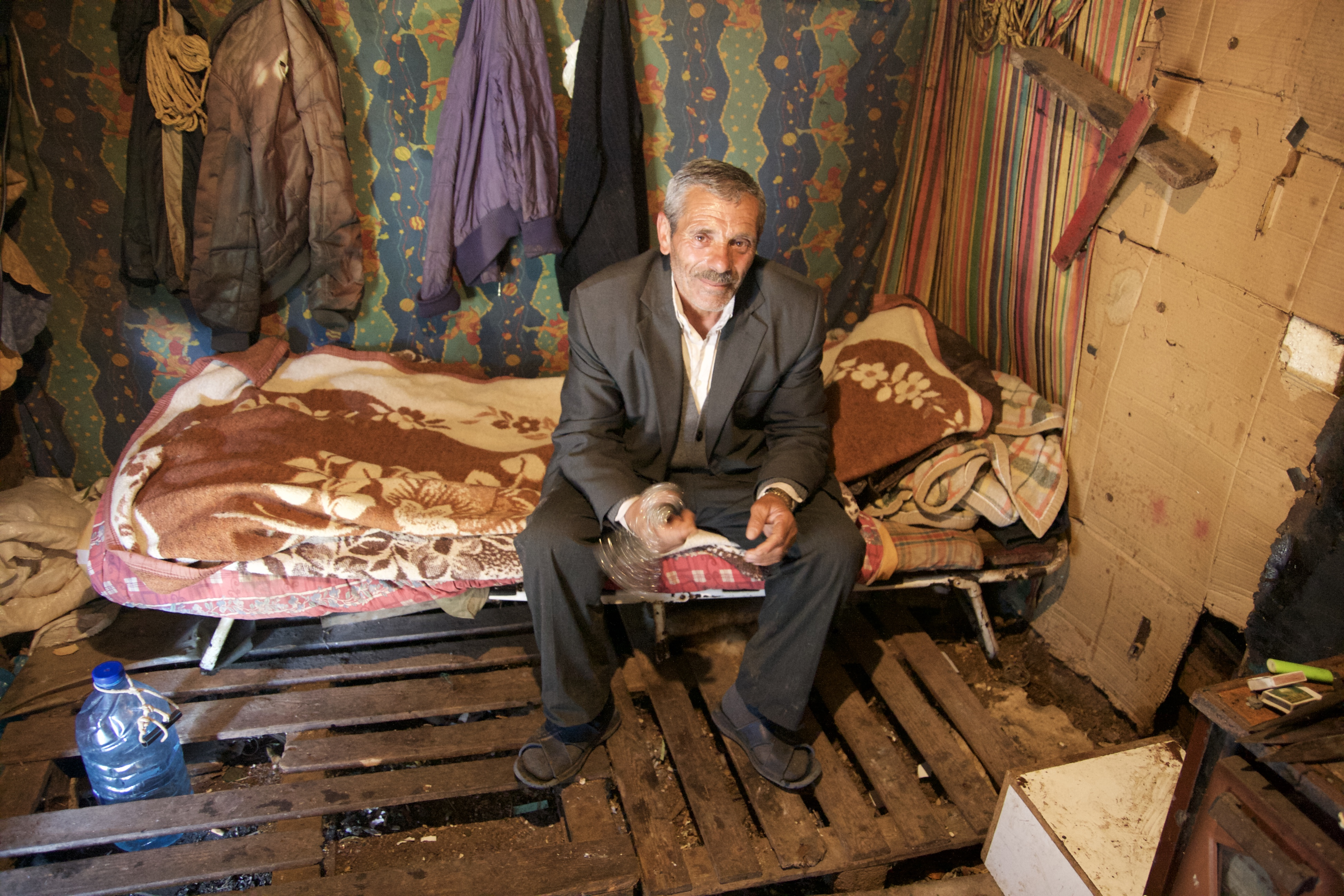 Journalist Nate Tabak discusses his project about Lazarat, the Albanian village that came to be...
RELATED ISSUES