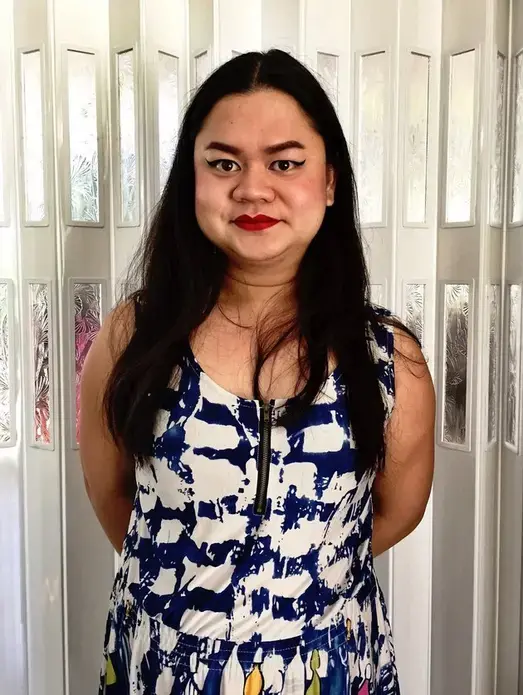 Kath Khangpiboon (above) says she doesn't understand the university's logic to reject her for the lecturer position. 'They use my lipstick that looks like a penis, and they said that it's an ugly picture for students,' she said. 'If someone, the parents of the students, see that you are the lecturer and [what] you put [on] your Instagram, you cannot be the lecturer. This is the Thai way of thinking.' Image by Julia Boccagno. Thailand, 2015.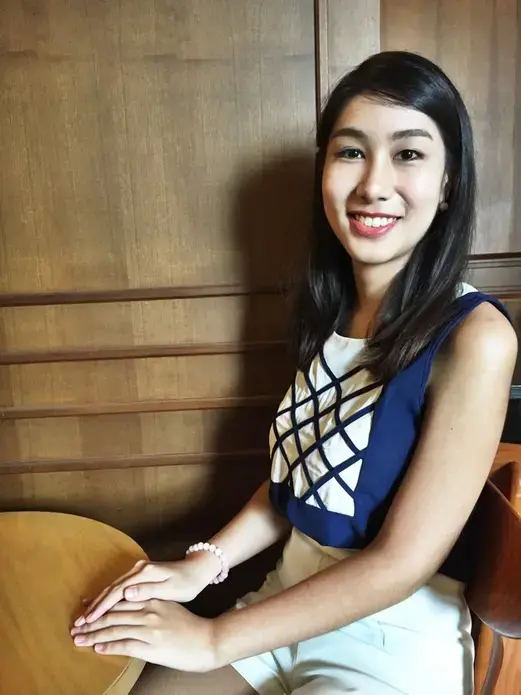 Bai Thong Tanasanti also spoke of the poor treatment she received from one of her colleagues. 'She tried to ban me,' she said. 'She said that my gender is a problem. She told other colleagues, 'Thong can't do this because she wears a girl suit.'' Image by Julia Boccagno. Thailand, 2015.

BANGKOK – Warat "Bai Thong" Tanasanti was a brilliant student who dreamed of becoming a lawyer. Her dreams came to a screeching halt, however, when she realized that this wasn't possible.
The reason for the 24-year old's struggle has nothing to do with her qualifications or with Thailand's employment rate. Rather, the reason for her struggle has everything to do with how she chooses to identify—as a transgender woman.
Tanasanti, a junior lawyer for Kamthorn Surachet & Somsak, cannot achieve her goal of becoming a prosecutor because she refuses to wear the uniform that aligns with her born-male sex. Cross-dressing in Thai Court is a crime worthy of probation, she explained, because it "mocks" the sanctity of the Judge.
"If I have to attend the Court, it's necessary [for me] to wear a male uniform," she said in between sips of her blended coffee drink. "But, that's not me."
Tanasanti's story, however, is not unique. Transgender individuals in Thailand—an overt population—have become cultural staples in the conservative Southeast Asian country of about 67 million people. Though it is difficult to find reliable numbers on the exact prevalence of the community, the International Journal of Transgenderism says numbers can be as high as 1 in 180, or as low as 1 in 3,000.
Visibility doesn't always align with formal acceptance, though. On a surface level, Thailand appears to be accepting of its transgender community—especially when compared to its neighbors. There are rarely any instances of hate violence and there's a myriad of hospital facilities to undergo sex-reassignment surgery. But, the stories of Tanasanti, and others, challenge this notion—suggesting that kathoeys ("lady boys") cannot obtain jobs in formal society.
Kath Khangpiboon is an accomplished 28-year-old activist who cannot obtain a job as a lecturer at Thammasat University, an institution where she not only received her Bachelor's and Master's degrees, but also where she served as a guest lecturer in the past.
Celebrated as the first transgender person to apply for the position, Khangpiboon survived the recruitment process. Passing a variety of grueling tests ranging from writing exams to psychological ones, the Faculty of Social Administration suggested to the University's Board Committee that Kath was a competitive and qualified candidate.
"From the beginning, I believe that I will get the approval and will pass based on the qualifications, but it's a turning point," she said in English, her second language. "It's a big change because the Board Committee, they reject me. They did not approve me as a lecturer."
The university's decision, which, according to Khangpiboon should have only taken a few weeks, came five months after she officially gained the support of the faculty. The Board Committee informed Khangpiboon of her rejection three weeks after she uploaded a photo on Instagram of a penis-shaped lipstick—a gift from her friend.
According to Thammasat University, Kath was unfit for the job because of her "inappropriate" social media behavior. However, Kath says social media activity isn't part of the job criteria, and the university has never used this argument prior to her case.
"I think they have a bias," she said. "And, the one thing that makes me confident is that they were waiting to do something. I got approval from my faculty in June. It took a long time. I posted this picture in November. I posted it because I wanted to thank my friend…It was a very nice [way] to talk about sexuality."
Qualified, but not hirable
Wannapong "Nhuun" Yodmuang, training manager at Rainbow Sky Association of Thailand (RSAT), spoke highly of Bai Thong Tanasanti. The two women attended the socially liberal and progressive Thammasat University law school together, a program Harvard describes as "strong." Yodmuang cited her colleague's competitive class percentage. Tanasanti graduated with a score of 76 out of 100 while the top of the class graduated with a 77.
Upon graduating, Tanasanti arranged around 10 interviews; however, she says only about half of them allowed her to interview for an entry-level lawyer position. Most companies encouraged her to apply for administrative, secretary or HR-related positions.
"I think my proficiency is moderate or high," she said. "But I can't progress because of discrimination, prejudice from someone. I think it's nonsense."
Tanasanti also says her interviewers often cornered her in uncomfortable situations. Many of them asked if she "passed the operation," referring to whether or not she has undergone sex-reassignment surgery.
"It's not about the proficiency of working," she said. "I think it's unbelievable to ask something [like that]."
Familial connections helped Tanasanti obtain her current job at Kamthorn Surachet & Somsak, a Thai law firm specialized in commercial legal matters. Both of her parents work within Thai judicial system.
"If I and my mother [didn't] know him [the CEO of the company], I don't think I can get a job because I'm transgender." She continued, "Even though I graduated from the famous law school and [got] a good percentage."
Rapeepun Ohm Jommaroeng, deputy secretary-general at Rainbow Sky Association of Thailand, echoed similar sentiments. He said, "It's already a tough competition if you go to the law school without having your parents as one of the people working in the Ministry of Justice or as the Court or anyone. This is a feudal society where you rely on your parents' occupation to pursue your occupation. So, if you don't have somebody big to back you up like that then it's already difficult to fight for yourself, let alone with having being a 'kathoey' [trans woman]."
Fighting the system
Kath Khangpiboon's vivacious personality creates additional roadblocks in her journey towards gender equality. Her tenacity and confidence are sores within Thai culture, which values indirectness, "saving face," and non-argumentative styles of communication.
"I think her expression is quite good, but [her] method is not the best. For example, she tries to show everything in the public space…Facebook or something like that. But sometimes, I think she has no strong evidence," Tanasanti said.
Rapeepun Ohm Jommaroeng adds that Thai people generally accept the status quo of society and fundamentally don't understand why change-makers—people like Khangpiboon—find it necessary to instigate unrest in a country known as the "Land of Smiles."
"If you're asking why we [Thai people] don't take these cases as a strong case for discrimination, the general public will say something like, 'Well, you still can do something else. Why do you have to continue fighting for that when you can go for other options?'" he said.
However, Khangpiboon refuses to let traditional norms encourage complacency. She says her parent's unconditional support and approval, especially throughout her transitioning, are the roots of her strength, allowing her to persevere despite public opposition.
"As someone said, I am too confident, overconfident, because I got a lot of support from my family and my parents," she said. "They did not destroy, they did not ignore me as myself."
It should be no surprise, then, that Khangpiboon didn't hesitate to file an appeal to the Board Committee's decision upon hearing of her rejection. However, it also should be no surprise, then, that the university dished out the same verdict this past June, meaning her case has been grinding through the system for more than a year.
Khangpiboon won't give up, though, and is bringing her case to the Administrative Court of Thailand, which she is able to attend dressed as a woman—unlike Tanasanti—because she isn't a licensed lawyer and doesn't have to adhere to the same professional standards.
It could take the judiciary up to six years to reach a decision about her case. Until that decision comes, Khangpiboon says she will continue to work as co-founder of the Thai Transgender Alliance, a national network of individuals advocating on behalf of transgender rights.
"I think it's not the end for me," she said. "It's a good chance to use my case as an example and to make a stand and to let the people know what gender discrimination is. I'm confident I will get a win."
A different approach
This is where these two seemingly parallel stories diverge. Bai Thong Tanasanti has accepted that she is unable to progress to a high lawyer position and has plans to go back to school to enter a field where professional progression is possible.
"I have a plan to go to the UK and study business management in the next month," she said.
"I hope to work in the Western, first world country, because I think it's easy to progress in the position, and I think I will get better treatment."
She continued, "I think the law field is the most appropriate for me, but it's hard, so I change to the business and management field. I think it's easier. It's [still] not easy."
Rapeepun Ohm Jommaroeng says Thai transgender people are hesitant to break the "glass ceiling" and fight for gender equality within the "formal" job market because of cases like Tanasanti's and Khangpiboon's.
"When you talk to people in the cabaret show, beautician, hair stylist or the florist, they would say that they are very well accepted because those are the occupations that since dawn, since the beginning of time, that transgender women are accepted," he said in an interview. "Job opportunity is confined to only certain types."
An uncertain future
Though Thailand has recently approved a change in its constitution making gender-based discrimination illegal, Khangpiboon and Jommaroeng caution celebration, suggesting the law lacks a clear definition of gender equality, which will allow cases of discrimination to persist.
Jommaroeng said, "It's a milestone, but it's not a winning point. It doesn't actually legally recognize any aspects of the LGBT people."
Instead of legal recognition, Tanasanti says an attitude adjustment is what stands between her, societal acceptance and a better standard of life.
"For me, I want to be a lawyer, but I can't do it," she said. "I know there are a lot of transgenders that their career is different from the general path. Maybe transgender want to be [an] engineer, lawyer, or, for me, [a] prosecutor, but they can't do it even though they have a strong proficiency, so the attitude should be changed."
RELATED ISSUES