Up in the mountains
For this project I'm profiling three siblings from a remote area of southwest China, whose parents went to work 1,000 miles away on the east coast, leaving them behind in the countryside—it is estimated that there are nine million other so-called 'left behind' children. I've travelled to many rural areas of China over the years, but I was still surprised by the conditions I saw on my first visit to Liangshan, the 'autonomous region' for the Yi—one of China's 56 ethnic groups.
We met 12-year-old Wang Bing by the roadside and started to walk along a narrow mountain path towards her house, me carrying my camera equipment in a backpack and a large roller bag, the wheels of which turned out not to be designed for precipitous paths of loose earth and rocks. After about 10 minutes, I politely asked how much further it was, and she replied shyly that it was just ahead. Another 30 minutes later, I, wheezing, asked the same question again, and got a similar answer. She marched on ahead as the assistant and I sat exhausted on a mountain side, wishing we had traveled light, as menacing thunder rumbled in the distance. After an hour and a half of heaving and cursing, we made it to the adobe-walled farmhouse high on a steep valley side with sweeping views. A little later the heavens opened and a storm lashed down, creating the feeling of being in a small boat lost at sea. The children diligently proceeded to make a potato stew on a fire built of gathered wood. The isolation of this place where they spend their weekends and some of their holidays—sometimes alone, sometimes with their maternal grandmother who lives 40-minutes' walk away—will stay with me. On Sunday, the siblings made the walk to their school dormitory, where they sleep during the week, in the pouring rain. What would bring a couple to leave their children here? Hopefully this project can find some kind of answer to what is surely a complex question.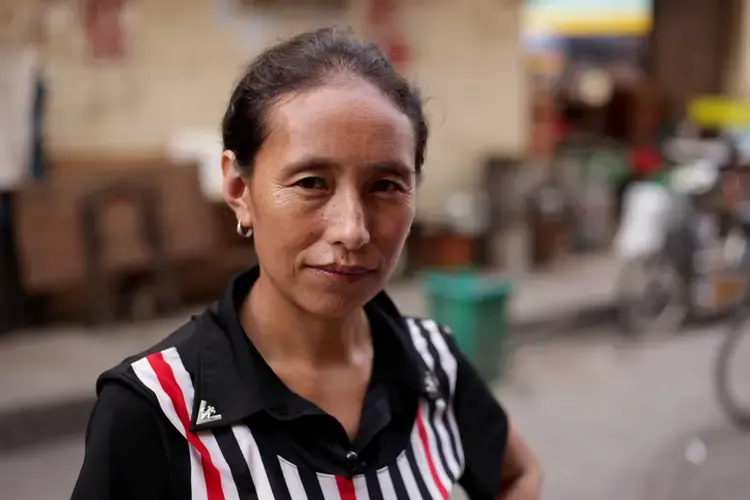 Meet the parents
I met the children's parents Jiajia and Quhere in Huizhou, a city of 5 million people in the Pearl River Delta, which I'd never heard of before (China now has over 100 cities with over 1 million people). The pair make headphones in an electronics factory and live in a small room in an "urban village," a dense neighbourhood of narrow alleyways where many migrant workers live. They speak only Yi, their native language, and it quickly became apparent that this place was as foreign to them as it was to me. The walls are plastered with signs they can't read, and their neighbours and managers talk in a language they don't understand. They can't even buy a train ticket by themselves, let alone negotiate a work contract or organise schooling for their children. To cater for an estimated 300,000 often-bewildered Yi people now working in the Pearl River Delta, a network of labor agents has emerged to organize everything from workers' jobs and accommodation to their transport to and from their hometowns. Perhaps having this cushion ironically stops them from integrating more or learning functional Chinese, which in turn might decrease the sense of shame that Jiajia feels here. It's 1,000 miles and 2 days travel from their home back in Liangshan, but for them it's another world. Their children, however, may live up in the mountains, but they use Chinese at school, idolise Mandopop singers, and already know that farming has little place in their own future.
This is a world they can inhabit.















Two festivals
The Torch Festival—the most important annual celebration of the Yi ethnicity's culture—happens towards the end of the sixth month of the Yi lunar calendar, but the specific day can differ in different areas, so I was able to be part of two very different celebrations.
Butuo County is famous for its games, and I joined the crowds scaling a mountainside to reach a natural amphitheatre formed from grassy hillsides where large crowds, many in their finest traditional outfits, whooped at a raucous succession of bull fights (fights between bulls, not the Spanish variety, and not to the death), ram fights, horse races, and beauty pageants whose blushing constants balanced impossible hats of towering silver on their heads—this is the image of Yi culture best know across China.
My other Torch Festival was spent with the siblings I've been profiling and their paternal grandparents, whom they visit each year. It's a time for family, and their parents' absence is conspicuous, but their grandparents and an unruly rabble of young cousins did their best to compensate. As dusk fell, they scampered out of the courtyard and up into the hills wielding flaming torches made from bundled twigs. Traditionally this was to kill pests that would damage the crops, but naturally it appeals to the pyromaniac inside every child. As they ran they sang:
Hey ho, It's the festival!
Poor people eat a chicken,
Rich people eat a goat,
Single people eat an egg,
Old widows eat bread and soup.
RELATED ISSUES

Women

Issue
Migration and Refugees
Migration and Refugees

Children and Youth