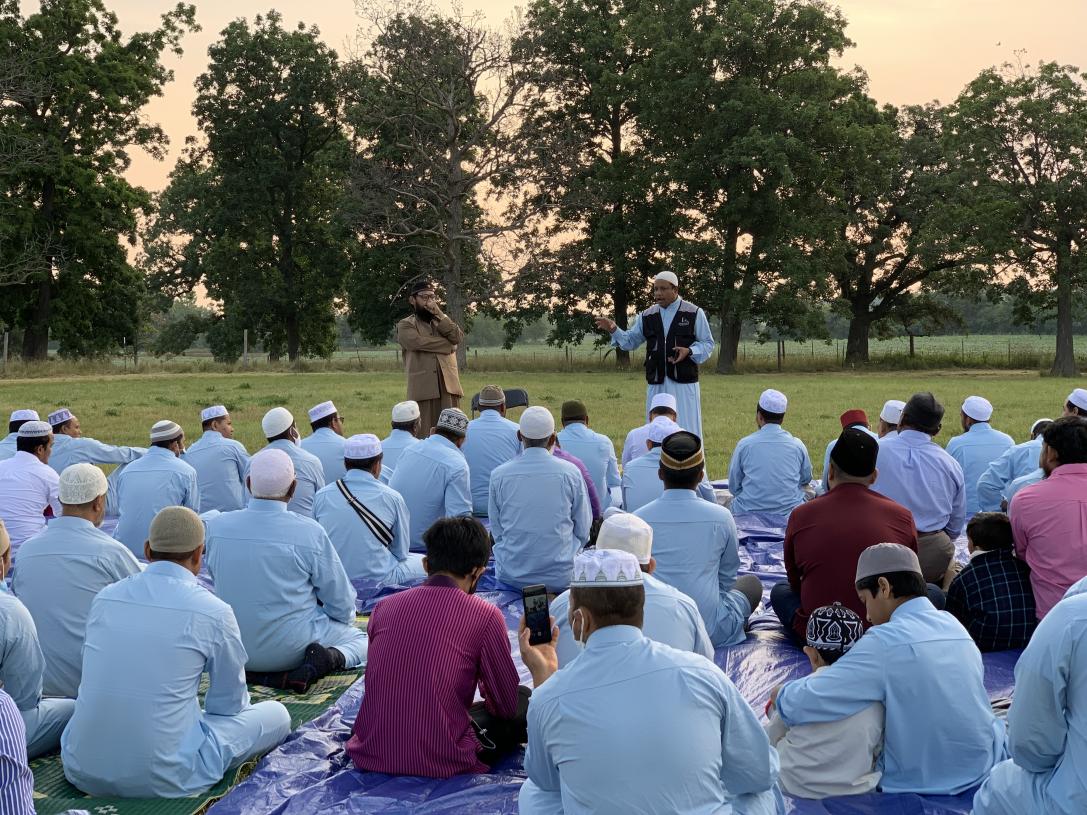 Pulitzer Center grantee Imran Mohammad Fazal Hoque has observed that a trail of sweet smiles, devilish sense of humor, and a great deal of sadness accompany the Rohingya people in the United States. A struggle that Imran knows all too well. 
The Rohingya are the Indigenous people of Arakan State in Myanmar, formerly called Burma, a country that has been ruled by a military junta since its independence; they are no stranger to adversity. They have been described as the "most vulnerable people in the world" by World Vision. According to Reuters, the U.N. refugee agency said more than 21,000 refugees had been "affected" by flooding while nearly 4,000 shelters had been damaged or destroyed in Myanmar. But in the United States there is a different kind of trial.
Newcomers to Western society, many Rohingya have settled in Chicago, Milwaukee, Indiana, and Texas. They have suffered significantly from decades of systemic persecution by their country's military. 
Some Rohingya people have found a haven in the U.S. as they try to recover from their past traumas, but on their journey they encounter many obstacles. Through interviews with Rohingya people, Hoque discovered that the majority are illiterate and their loved ones remain stateless.
"To become a U.S. citizen through the naturalization process, an applicant needs to be able to read, write, and speak basic English. The applicant is also required to demonstrate a knowledge and understanding of U.S. history and government. This is almost impossible for elderly Rohingya like Jan and Jahan because they were deprived of education all their lives." Hoque writes in his article, We Lost All, But Found Each Other.
Hoque's journey to the United States was challenging. Before making it to the U.S. he traveled to several countries by fishing boats, including Bangladesh, Malaysia, Indonesia, Australia, and Papua New Guinea . Most times there was little to no food on these journeys by sea. During one of his stops, he was arrested and detained in Indonesia for about two years. He had limited freedom because he was not allowed to work or attend school.
Education was always a primary focus for Hoque. While incarcerated, he taught himself how to speak and write in English. He improved his writing and speaking and he started to communicate with other journalists. He recalls being motivated by his people to learn the English language to be able to tell the stories of the Rohingya. 
"I would have been lost if I had not found passion for and love of writing."
Pulitzer Center intern Alexis McCowan spoke with Imran to learn more about his reporting and the inspiration behind  his narratives of Rohingya people. The following Q&A has been edited for clarity and length.
Alexis McCowan: Tell me more about your project and why you chose to write about the Rohingya.
Imran Mohammad Fazal Hoque: We are persecuted in our country (Myanmar) and we are not allowed to go to school to learn. When I came to the United States, I started college and wrote a research paper about Rohingya people who lived in the United States, but I couldn't find much information. Then I was very curious to learn more about my community, how they are doing in the United States, and what's happening. I think the motivation came from that research because there is a gap in this country. For example, doctors, social workers, and other professionals don't know much about our community and they don't know how to help. The services are there but they don't have the knowledge. 
AM: What challenges and barriers do the Rohingya face in the U.S.? 
IM: Girls are not allowed to go to school and they don't get to go outside of their homes in Myanmar. But girls who come to the United States struggle on so many levels because there are big changes. They don't fit in Western society because they don't fit into the community. They have language barriers and they mostly work in factories because they don't have other options. They also don't have the opportunity to learn about the system, country, or society. Older Rohingya people struggle because they can't work or have trouble receiving Social Security benefits as they can't fulfill the work requirements.
AM: In Myanmar, who is able to go to school?
IM: The people that can pay a lot of money to the military and the Buddhist people. Also if they (Rohingya) are able to go to school, they are treated badly. The Buddhist people do not like the Rohingya people and many parents do not want to send their children to school to keep them safe. 
AM: How old were you when you left Myanmar? 
IM: 16.
AM: Why did you leave your home country?
IM: I spent most of my time with my mother and sisters. We didn't go out because it wasn't safe. My good memories included spending time in the garden with my sister and working with my father in his grocery shop. This was one of the reasons I had to leave my country. The military came to our shop and collected money from my father, and if he didn't pay, the military would threaten him. I was always there and they (military) always saw me. One night, my father didn't have any money and one night they came to our home and my father told me that something terrible would happen and he asked me to leave. Those were the last words I heard from my father. 
AM: Describe the resettlement process in the U.S. What are the challenges?
IM: We are supposed to become self-sufficient within three months in the United States. We are coming in without any language, without any knowledge of Western society,and having to become self-sufficient in three months is terrible. They have to support themselves and their families, and pay their rent. Nothing has changed for them. Yes, they are safe but it is going to take a long time for them to improve their lives. And if there is not much attention from the federal government, nothing is going to change. 
AM: How did you report on this project?
IM: Working on this project helped me learn that my schedules didn't match well with interviewees. Most of them are working in factories and I had to meet with them at different times. A lot of them wanted to see me in person and I had to build trust with my community. When I initially came to this country, I thought, "We are safe now." We are not; there are so many issues that need to be considered and discussed. It has been challenging to work with my community because of their lack of knowledge and many don't understand how they are passing the trauma to the next generation.
AM: What do you want your readers to take away from your project?
IM: I hope these stories will help professionals provide better service for my community. When I came to this country I was assigned a caseworker, but she had literally no idea about Rohingya people. She was a caseworker and she had no idea about my life and what I had been through. But if you don't have any knowledge about my people or my past trauma, how are they going to help me? 
RELATED ISSUES

Issue
Migration and Refugees
Migration and Refugees

Religion