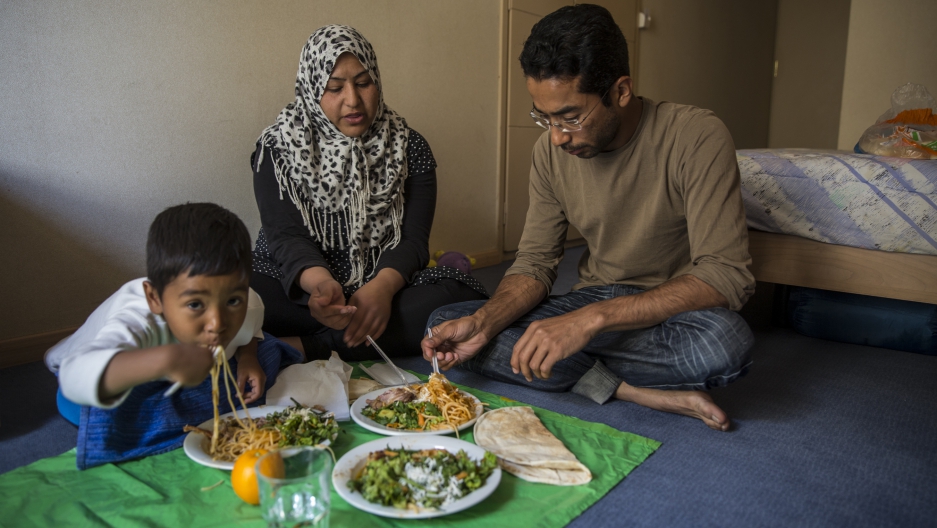 Ali Jaffari made the long trek from Afghanistan to Athens. After the Taliban abducted and threatened to kill Ali because he had worked as an interpreter for the US and British military, the computer scientist fled his hometown of Kandahar with his wife and two young sons.

Using all the money he got from selling his house and all his belongings, he paid smugglers to take them first to Pakistan, then Iran, Turkey and, finally, Greece. They walked for 16 hours in a foot of snow crossing the mountainous border between Iran and Turkey. The overcrowded dinghy they took across the Aegean from Turkey to the Greek island of Samos almost sank.

Tears rolled down his wife Wajiha's cheek as he recounts the horrifying boat experience. The couple doesn't know how to swim. As a Turkish Coast Guard vessel circled their dinghy, creating large waves, they thought they and their two sons, 4 and 2 years old, were going to drown.

When they finally arrived in Athens in mid March, exhausted, the EU-Turkey deal on migration went through and the Balkan route north closed down. Their path to their desired asylum in Germany was blocked. The family, along with 54,000 other refugees and migrants, was stuck in Greece.

There was no hotel waiting for the exhausted travelers. At Ellinikó camp outside of Athens, Ali and the family slept in a flimsy tent on hard ground. There were only a few bathrooms for several thousand people and the food was bad. The children got sick.

Then a week ago Ali got a call. It was Nikos, a Greek man he had met one day a month ago in a park. Nikos said he had a solution for Ali — a three-star hotel in downtown Athens. "I was worried it was a scam, so I left my family at the camp and went to see the place," Ali said.

We were sitting on the floor, Afghan style, enjoying a meal of pasta, chicken and salad in room #532 of the City Plaza Hotel in downtown Athens. The 2-year-old napped peacefully on one of the beds while his big brother played with stuffed animals.

It wasn't a scam after all. Finally, after their long ordeal, Ali and his family could relax.

City Plaza Hotel

"We want to build another society. It seems a little idealist," Nasim Lomani told me, laughing gently. "Maybe we can't change the world, but we can change our neighborhood, we can change ourselves."

Two weeks ago, Nasim and a coalition of dozens of activists in Athens occupied the City Plaza Hotel, a modern seven-story structure with 110 rooms in central Athens that has been closed for seven years, a casualty of the Greek economic crisis.

Yes, City Plaza is a squat. The activists broke into the building, which had all the furniture in place from its heyday during the 2004 Olympics, and invited a few of the 54,000 refugees currently stuck in Greece to take up residence. As of this writing, authorities have done nothing to evict the new occupants. Owner Aliki Papachela has, understandably, condemned the action.

We walk through the appealing lobby of wood and tile to reception, where room keys sit brightly in their individual cubbies. It could be a hotel anywhere, except, perhaps, for the high concentration of young children running up and down the stairs and the huge handwritten chore charts hanging on the walls.

Nasim, who arrived in Greece as a refugee himself more than a decade ago, explained that volunteers and refugees work together to clean the facility and cook three meals a day. There are currently 320 residents, refugees, who like Ali, were suffering in camps with inadequate services for long-term living. Many of the guests are families with children or other vulnerable refugees, unaccompanied minors, pregnant women or disabled people.

According to research by the Solidarity2refugees activists, there are at least 4,000 unoccupied public buildings in Athens. They hope that the Greek government and the local population will draw some kind of inspiration from the City Plaza Hotel project. "This problem isn't only about refugees," Nasim said. "Thousands of Greeks are homeless and these buildings could be used to host homeless people no matter if they are refugees or Greeks or anyone."

Whether occupation of private property is a viable model to deal with the complicated crisis now engulfing Greece, the new incarnation of the City Plaza Hotel is thriving for now.

Nasim points out that the most pressing issue for many refugees, especially women, isn't getting asylum, but having safe access to a clean bathroom, something that is sorely lacking in the refugee camps around Greece. Not only do the current guests at the City Plaza have rooms with bathrooms, they have their dignity restored.

Checking Out

But just like Hotel California, City Plaza in Athens could be heaven or it could be hell.

None of the 320 refugees fortunate enough to be staying there actually want to be guests. The severe economic crisis in Greece makes the country undesirable for refugees hoping to jump-start new lives for themselves and their families. With Greek unemployment hovering at 25 percent and a new slate of austerity measures about to kick in, what are the prospects for new arrivals?

Many are trying to avail themselves of their right to apply for asylum. But all of the refugees I spoke to, albeit an unscientific survey of maybe six groups I ran into randomly in the dining room, complained that the Skype system they were told to use to set up an asylum appointment wasn't working. Nasim said that speakers of Arabic, Farsi and other other refugee languages have a narrow window of only a few hours per week on Skype to try to connect with asylum authorities.

As for Ali, he's one content father. For now.

"I am so happy now to see my children relaxed and comfortable. But I am praying that the UN will take us out of this condition. Open the borders and close the camps and this hotel."
RELATED ISSUES

Issue
Migration and Refugees
Migration and Refugees

Women