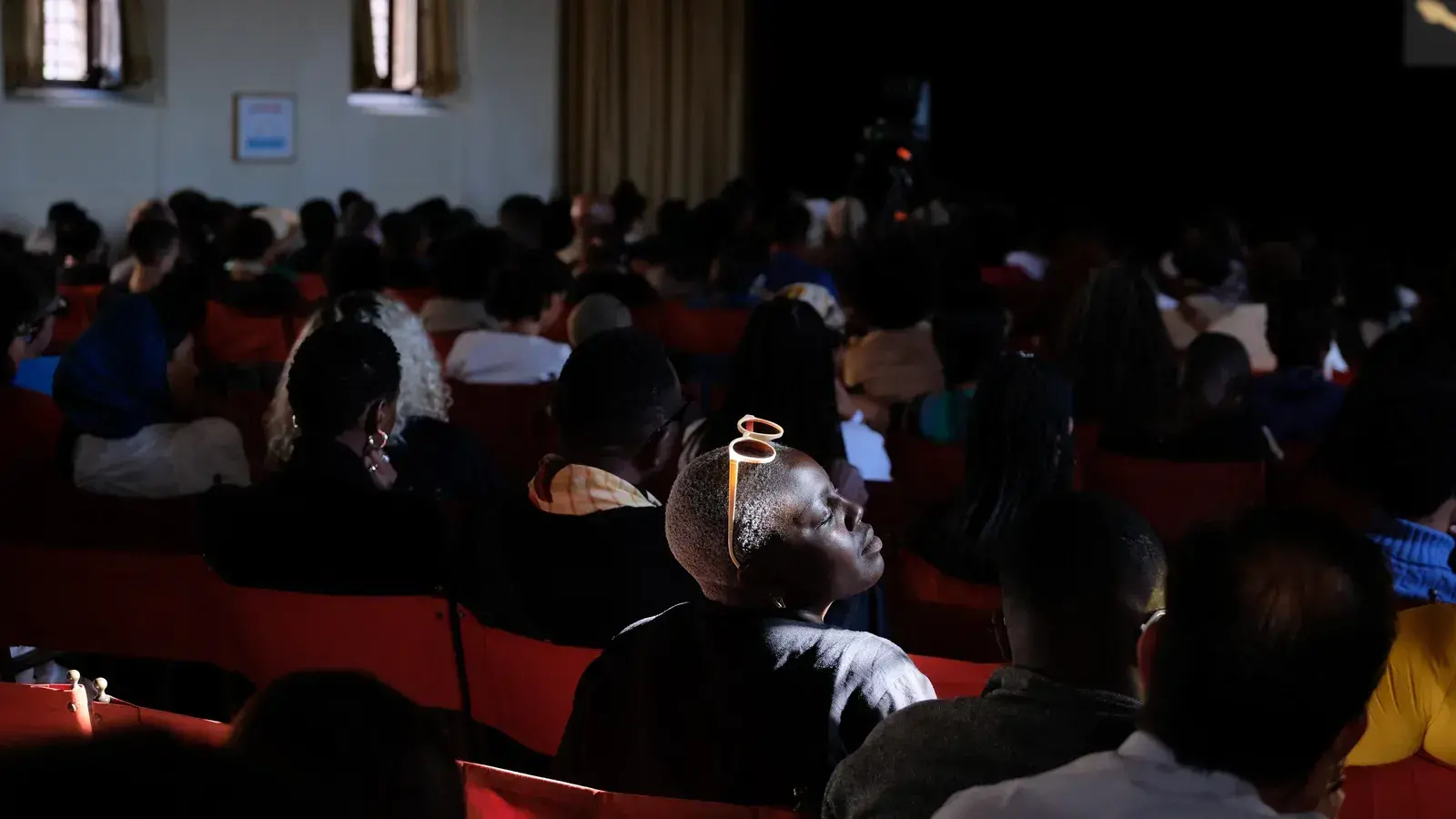 Black women are a marvel: Our intellectual and artistic labor merit reception and celebration in every museum, gallery, and international pavilion. When established institutions do not honor our contributions, we make our own spaces. We carve avenues of self-actualization, self-determination, and community care. We craft Loophole(s) of Retreat.
Within the Venice Biennale, a global stage that has a history of excluding artists from the Global South, and in Venice, a city tainted with overt violence and discrimination toward Black people, Simone Leigh convened over 700 people from across the African diaspora to celebrate the creative brilliance of Black women. Loophole of Retreat: Venice was a space of respite and imagination for Black women that exploded the narrow definition of who belongs in the fine art world.
Leigh, Rashida Bumbray, and several curatorial advisers organized the conference as a part of Leigh's exhibition at the 2022 Venice Biennale, the oldest and largest international platform of contemporary art. Leigh was the first Black woman in the Biennale's 127-year history to represent the United States. I studied Leigh and this arena for two semesters in a Spelman College seminar titled "Art, Craft, Theory: Simone Leigh."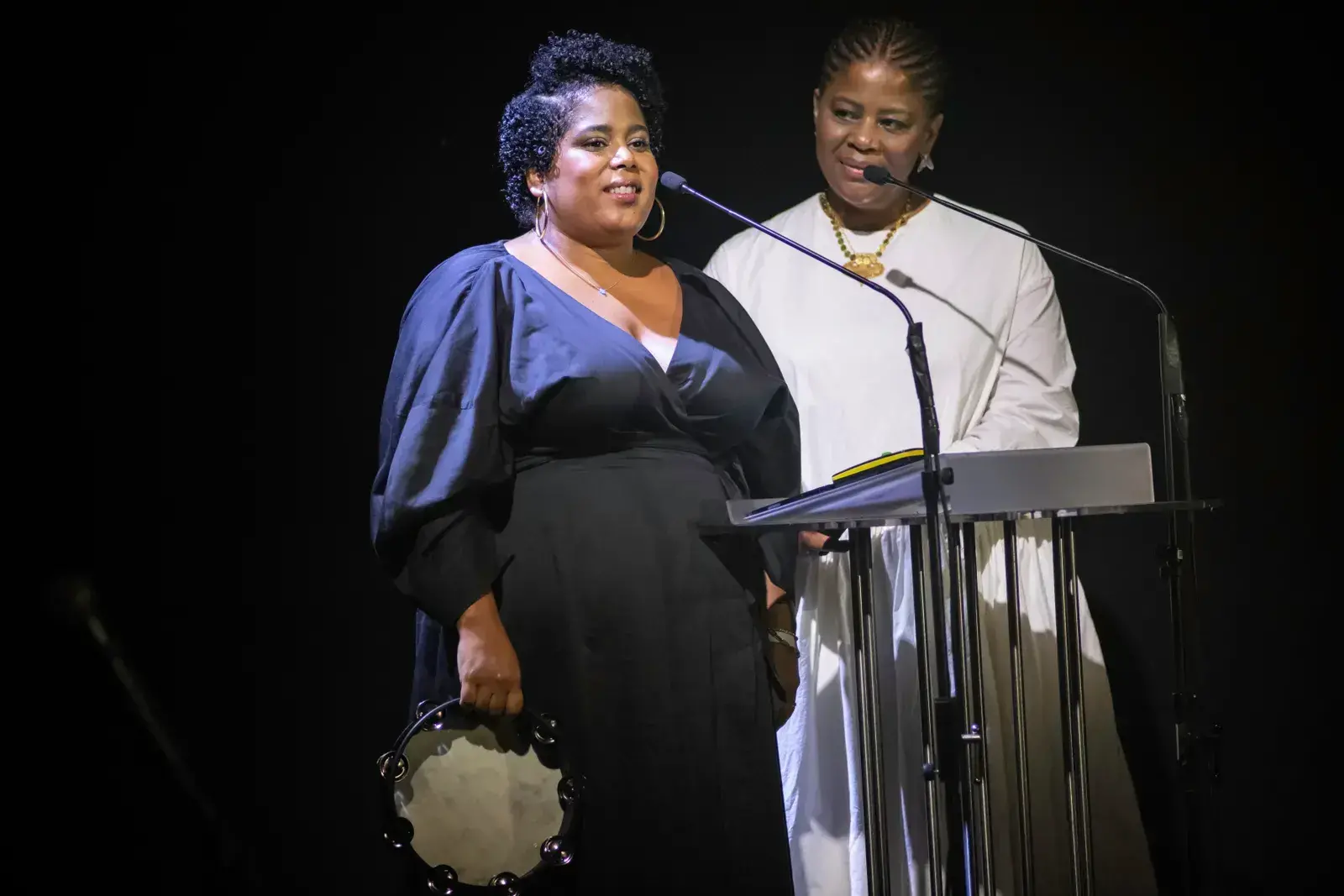 Leigh is a master artist with a rare interdisciplinary devotion to her materials and savvy for using size and scale to evoke the monumentality of Black women. She creates sculptures, films, installations, and participatory social practices that honor and celebrate Black women — and for whom Black women are the primary audience. Her works explore African traditions, Black feminist theory, postcolonial theory, and racial politics in ways that elucidate the ongoing creation of the Black diaspora and how the practice of making productive sense of the gaps and silences in the archive of transatlantic slavery — critical fabulation — is radical and essential.
---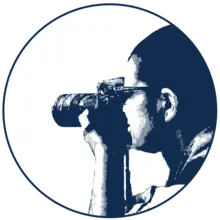 As a nonprofit journalism organization, we depend on your support to fund more than 170 reporting projects every year on critical global and local issues. Donate any amount today to become a Pulitzer Center Champion and receive exclusive benefits!
---
In early October 2022, I traveled with classmates to Venice. Our mission: Explore and celebrate Leigh's use of the Venice Biennale — one of the most ubiquitous symbols of empire in the already measurably discriminatory art world — to foreground Black women's intellectual and artistic brilliance.
But before we got to enjoy the safety and joy of being surrounded by Black creatives, an incident occurred that illustrated the need for Leigh's event in the first place. On day two, we boarded a vaporetto, a Venetian public waterbus, giggling and gleeful about our experience of a lifetime. My friend and fellow recent Spelman College graduate Jordan eased down the aisle of the boat, searching for open spaces. Her gorgeous golden braids sashayed against her emerald skirt. As she turned her head to alert us to an open row of seats, a hand extended from behind, grabbed a fist full of her braids, and yanked down. Jordan's head and neck lurched back.
Stunned, our group cocooned Jordan and ushered her to the main deck. In our arms, she whispered that she was "fine," trying to convince herself as much as those of us around her. I hugged her tighter and whispered back, "You don't have to be. We got you."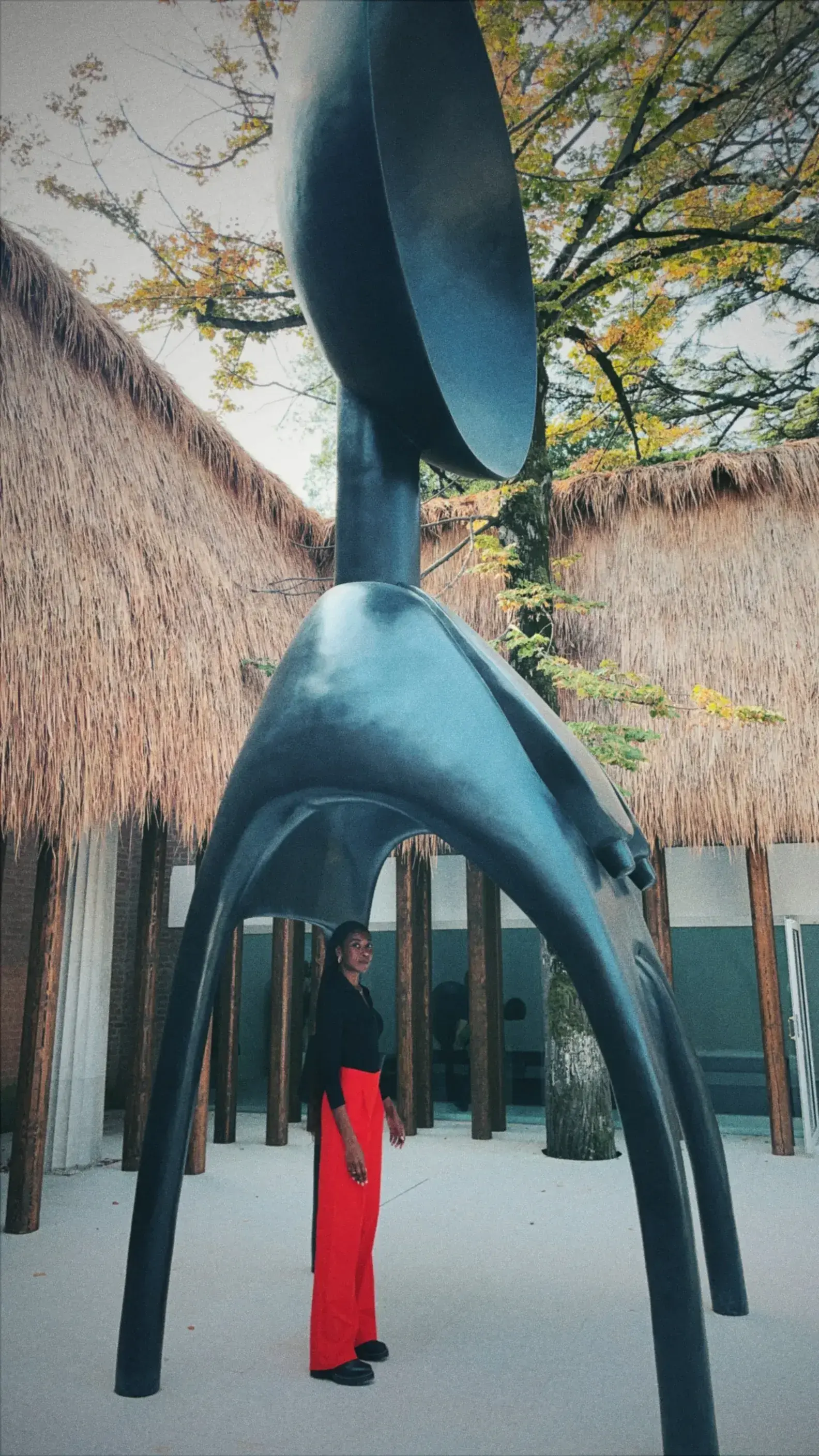 The assailant, a petite woman with chopped, mousy brown hair, scurried to the back of the boat. From her perch, she set a daggered gaze in our direction, while muttering with vitriol.
As my classmates tried to gather information from others who witnessed the assault, passengers squinted at us and shifted uncomfortably. A woman pushing a stroller took her child out of the carriage, clutched the baby to her chest and moved away from our group, asking, "Are you going to hit me?"
My heart sank, realizing that our inquiries in pursuit of justice were interpreted as a violent act, even though it was our friend who had just been physically harmed.
An eternity passed before we finally docked. Police came to the vaporetto and told our professors, who had reported the incident, that they would "look into it," and then moved on. No names were taken. No questions were asked.
The assault left us feeling desperate for a reprieve from the xenophobic and racist injury we faced and its lasting effect on our ability to enjoy Venice. Loophole of Retreat: Venice rescued our capsized psyches.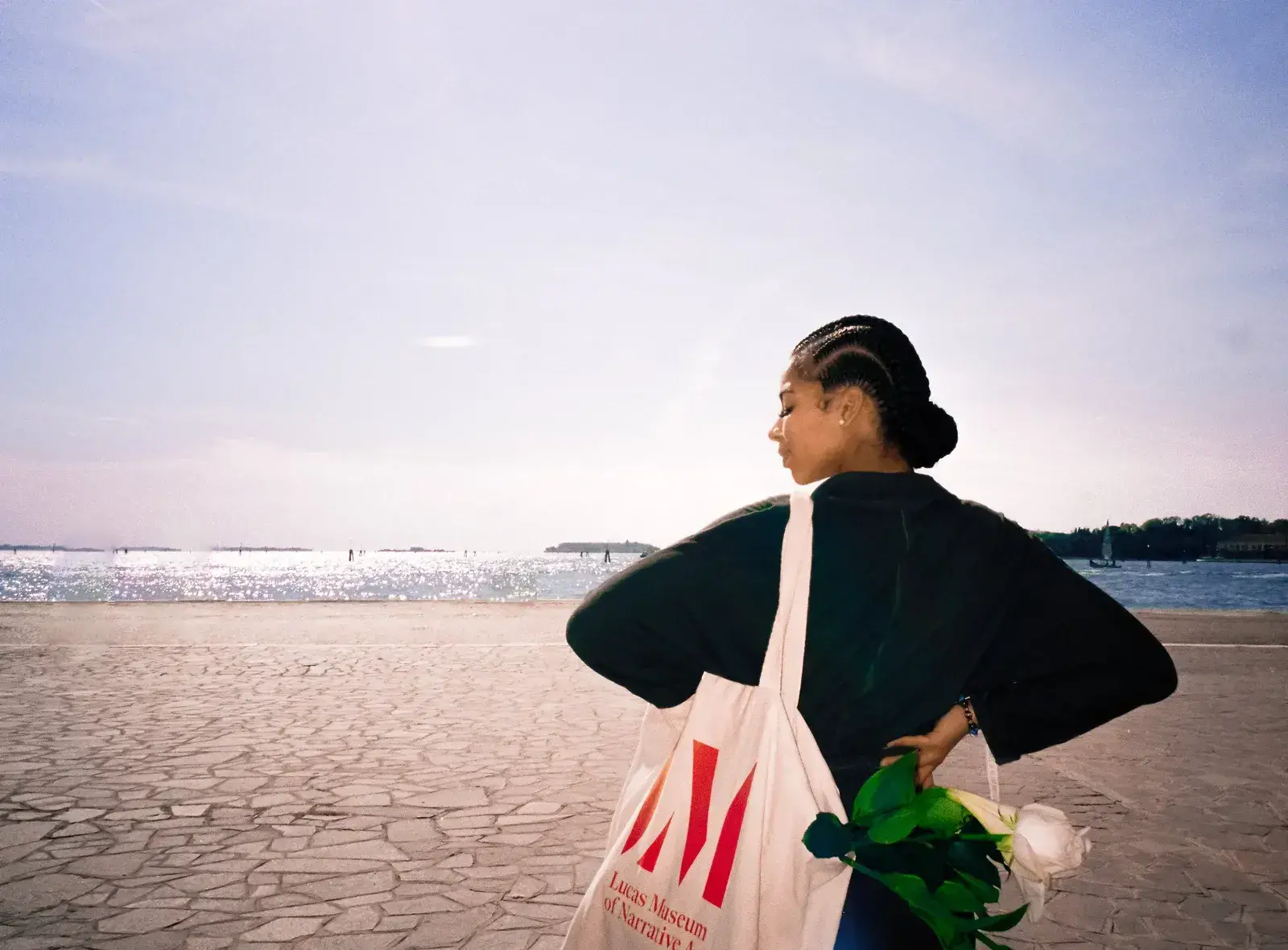 A blond-haired woman with the Loophole logo emblazoned on her torso guided me through the entrance corridor of Fondazione Georgia Cini. At Loophole of Retreat: Venice, the established "roles" present at most art events were reversed: Black women were the distinguished honorees being ushered and waited on by local white Italians. I was Lucy walking through the Spare Room's wardrobe and arriving in Narnia. Instead of finding a snowy forest, though, I was greeted by a lush green courtyard connected to three cobblestoned paths, each leading to another wing of the sprawling venue. Black women dressed as fashion goddesses hugged, talked, and laughed with one another throughout the multi-winged chateau.
The imposter syndrome I felt because of the grandeur and opulence dissipated upon my realization that I had experienced this degree of love and joy before. Loophole of Retreat: Venice felt like homecoming at Spelman College: the closeness of a family reunion, the opulence of an awards ceremony, and the pure bliss of a slumber party wrapped all in one. I was among family.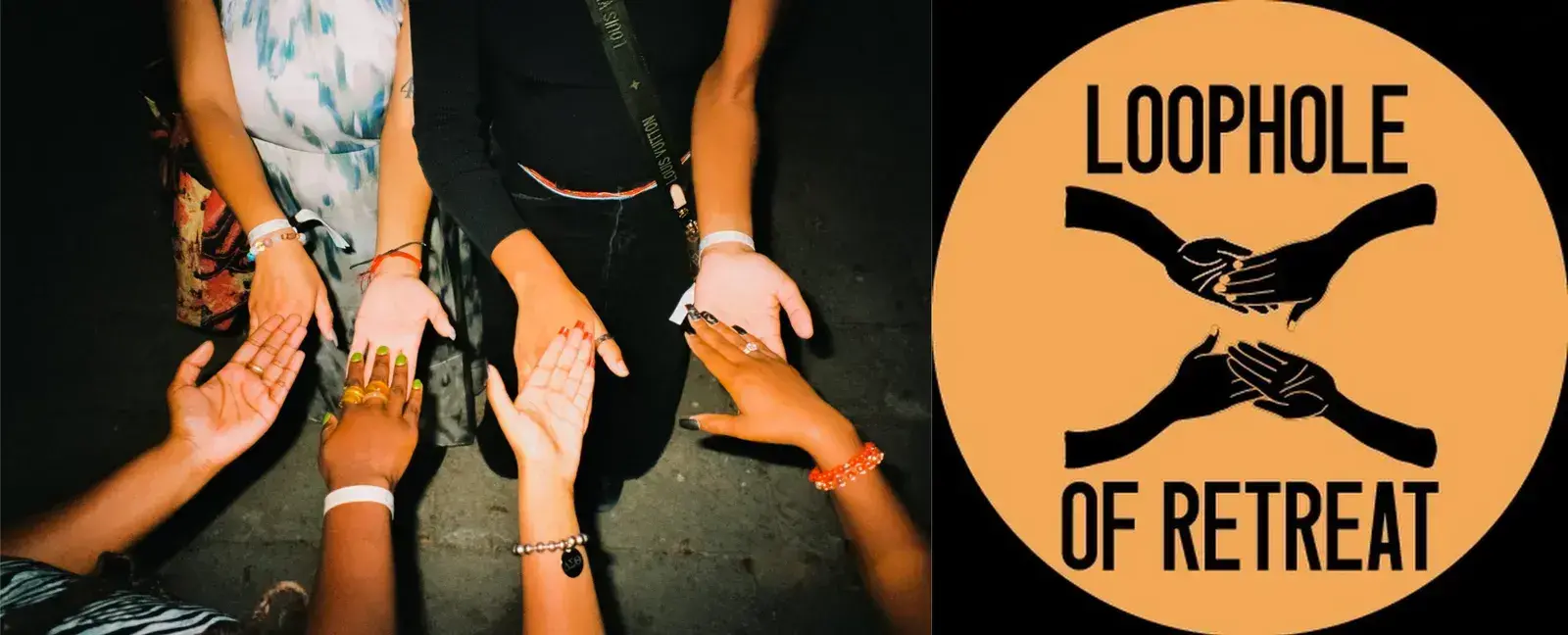 Leigh has a superpower. Yes, she is a rare talent who has reached the heights of the art world and beyond; she was even named one of TIME's most influential people. But her superpower is her ability to make every Black woman around her feel valued, special, beautiful, integral, and sublime. Leigh lifts as she climbs.
When Loophole panelist and presenter Ja'Tovia Gary was a student, Leigh welcomed her into her studio and allowed her to make a film about her practice. Gary is now a multiple award-winning filmmaker and credits Leigh with helping her succeed in the industry without sacrificing or diluting her vision for the palatability of white administrators. Similarly, Zenobia Marder, Leigh's daughter, shared that her mom had opened their apartment to burgeoning Black women artists throughout her childhood, including Firelei Báez, who is now a world-renowned visual artist who imagines new interpretations and possibilities of Black resistance.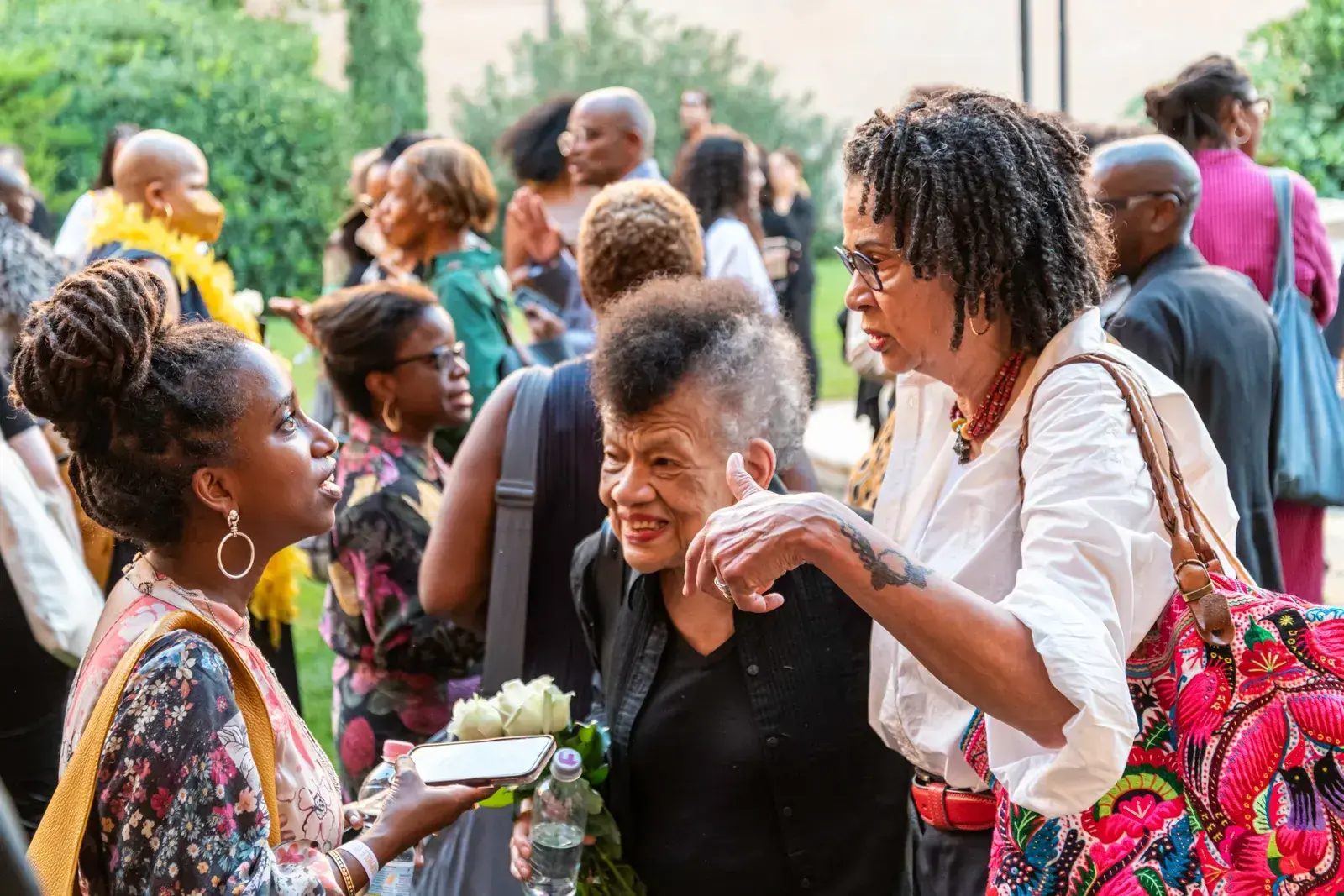 Leigh brings Black women with her into palpably inaccessible spaces and models how to make them our own. In the words of multidisciplinary artist and Loophole attendee Nafis White, the conference felt like "finding an oasis when one is slowly dying from thirst."
Loophole's restorative power was felt even more mightily as we — the more than 700 attendees — waded in the conference's backdrop: the colonial and often anti-Black waters of the Venice Biennale.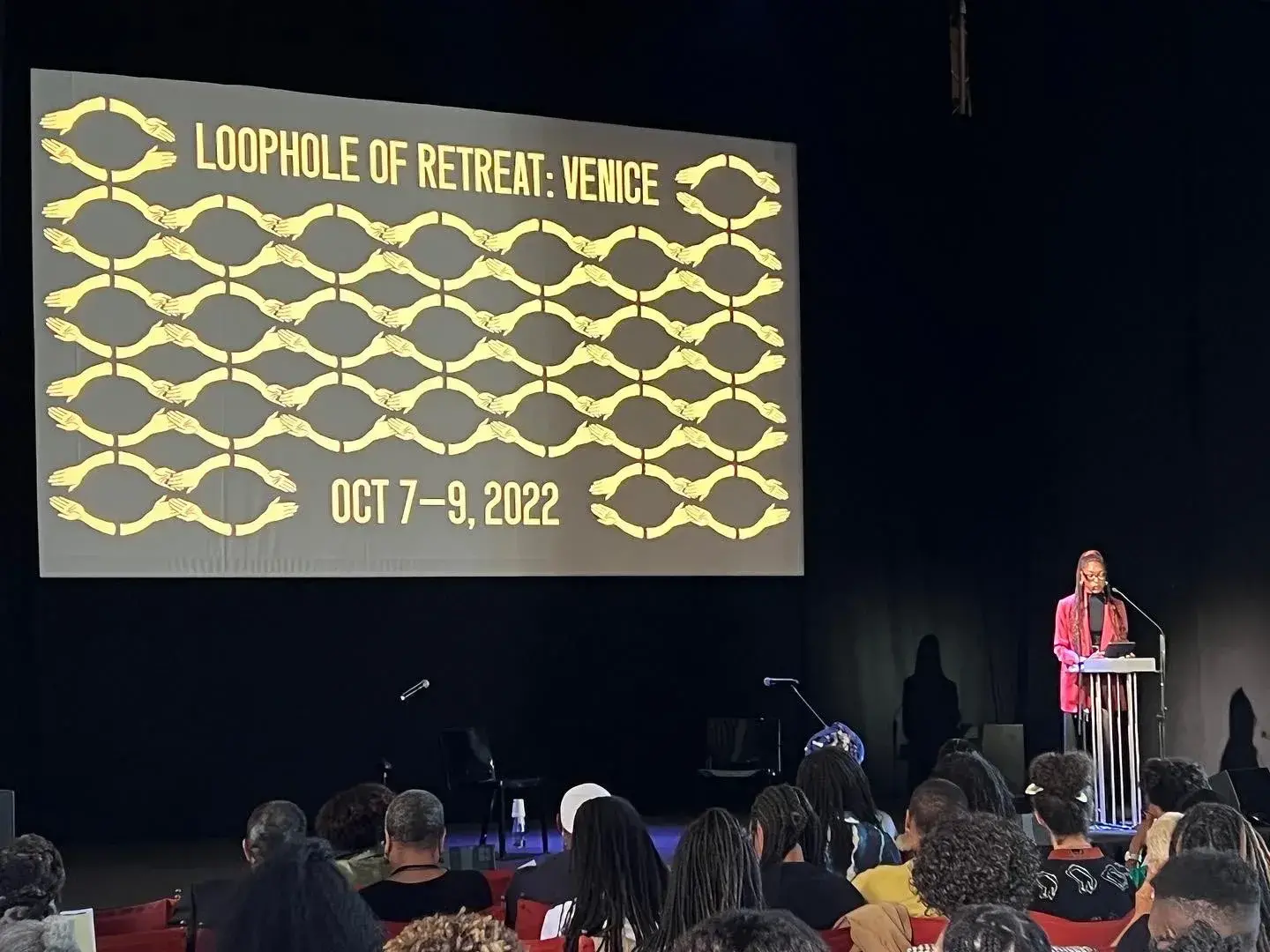 Simone Leigh was well aware of the Venice Biennale's imperial underpinnings when she was selected to represent the United States. She clarified, however, that she was not interested in playing into the nationalism and posturing that reverberated throughout the event. When I asked how she was considering the Biennale's audience in her preparation for the show, she replied, "I am just going to keep creating." Implicit in that pointed reply was a reminder of her resolve to create with Black women in mind as her primary audience and subject, no matter the arena.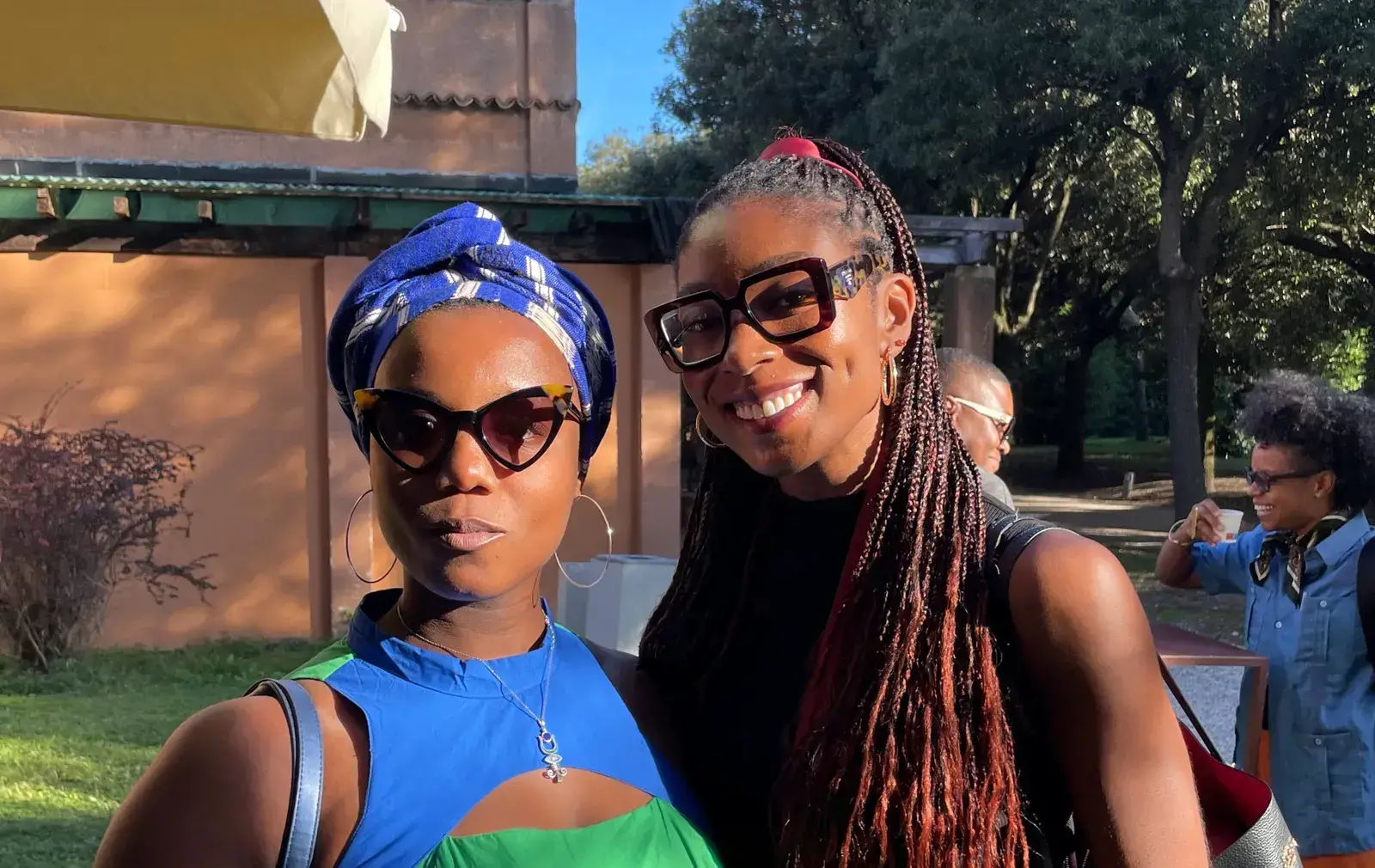 The Venice Biennale is an international stage where more than 135 countries select an artistic talent to create a new body of work to be displayed in their national pavilions in Venice. Although the Venice Biennale is lauded as a display of the best contemporary art from around the globe, a mere 5% of the national pavilions in the 2022 Biennale were from Sub-Saharan African countries.
Patrons of the Venice Biennale may interpret this missing demographic of artists as evidence of inferior skill or brilliance instead of what it truly represents: an inequitable system that is plagued by colonialism's lasting and untreated effects. Western countries with abundant funding have gained the upper hand by exploiting nations throughout the Global South for centuries. The result: Countries throughout the Global South without robust governmental cultural affairs budgets or funding from capital-rich foundations are excluded or occupy less-than-prime pavilion locations. While the Biennale's decision to deny financial support to any country that wishes to organize a pavilion may seem equal, it is far from equitable.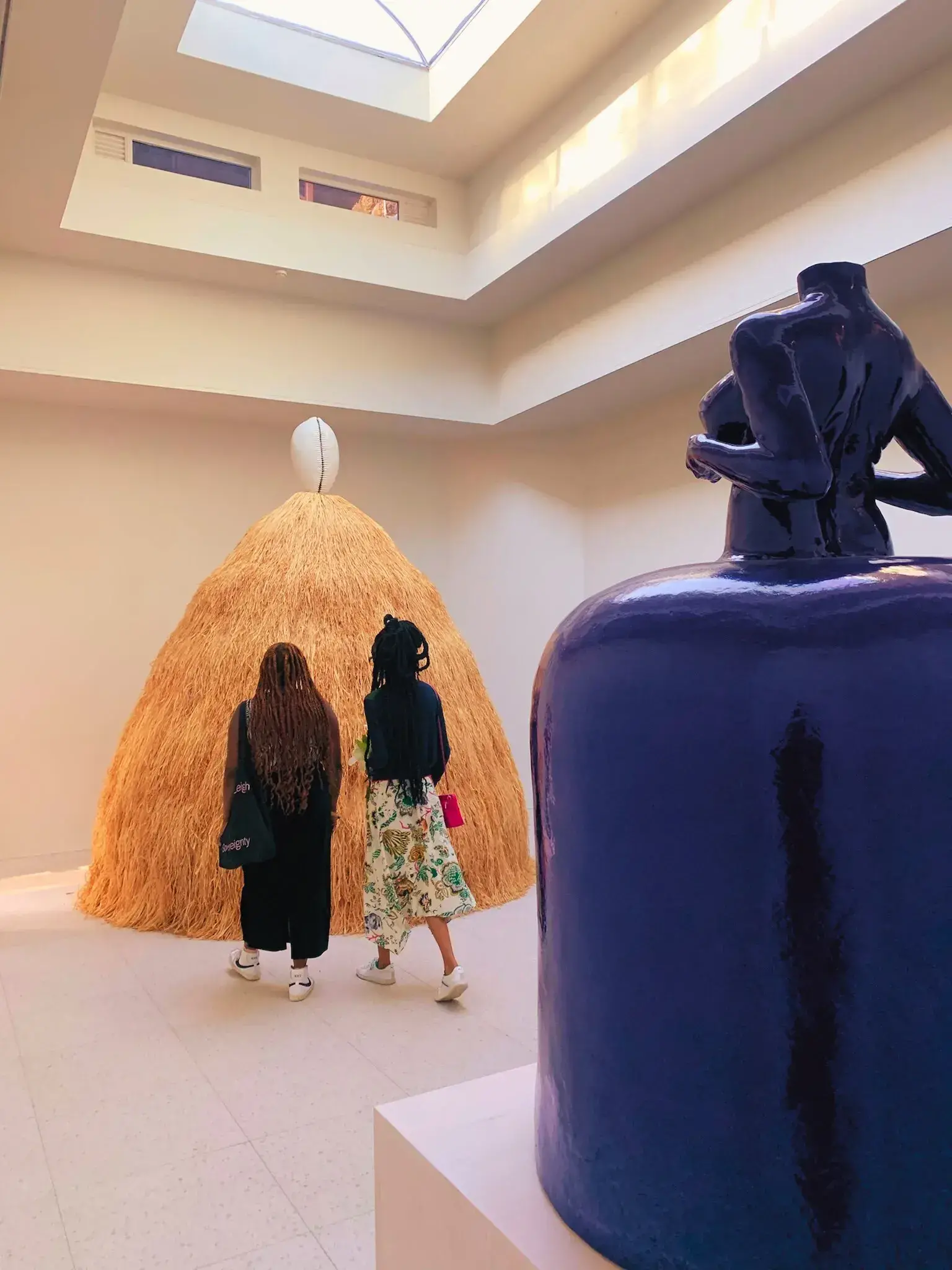 In the dissonance of the Venice Biennale's systemic inequities, Leigh's exhibition for the Venice Biennale, Sovereignty, gave the over 800,000 attendees ample opportunity to learn about long-overlooked and erased histories of the Black Atlantic, with an emphasis on Black women's experiences. One such woman is Harriet Jacobs, author, abolitionist, and originator of the concept of a "loophole of retreat."
Like Leigh, Jacobs dreamed of possibility from within unbelievable structures and used her enclosure as the drafting table for her roadmap to freedom. She was the author of Incidents in the Life of a Slave Girl (1861), arguably the most comprehensive narrative of enslavement in the United States from a Black American woman's perspective. Scholars have pieced together Jacobs' life and determined that the mental fortitude and determination required to write and publish a candid autobiography as a formerly enslaved Black woman in the 19th century likely took flame in her spirit when she decided to live in that dark, tiny garret above her grandmother's home for nearly a decade.
The performers and presenters on the schedule of Loophole of Retreat: Venice followed in Jacobs' footsteps, turning impossibly painful situations into declarations of remembrance and resistance. Among them was Tsedaye Makonnen. Cloaked in 15-foot-long iridescent blue, sculptural textile titled Ancestral Sea IV, Makonnen hurled her body to the ground of the performance space, causing some reflective pieces to disembark from the cloth. Beneath Makonnen's live movements, a video showing her scattering petals in front of a rusted fishing boat played. Her placement of the petals was in honor of the 800 refugees who died when the vessel capsized en route to Italy in 2015.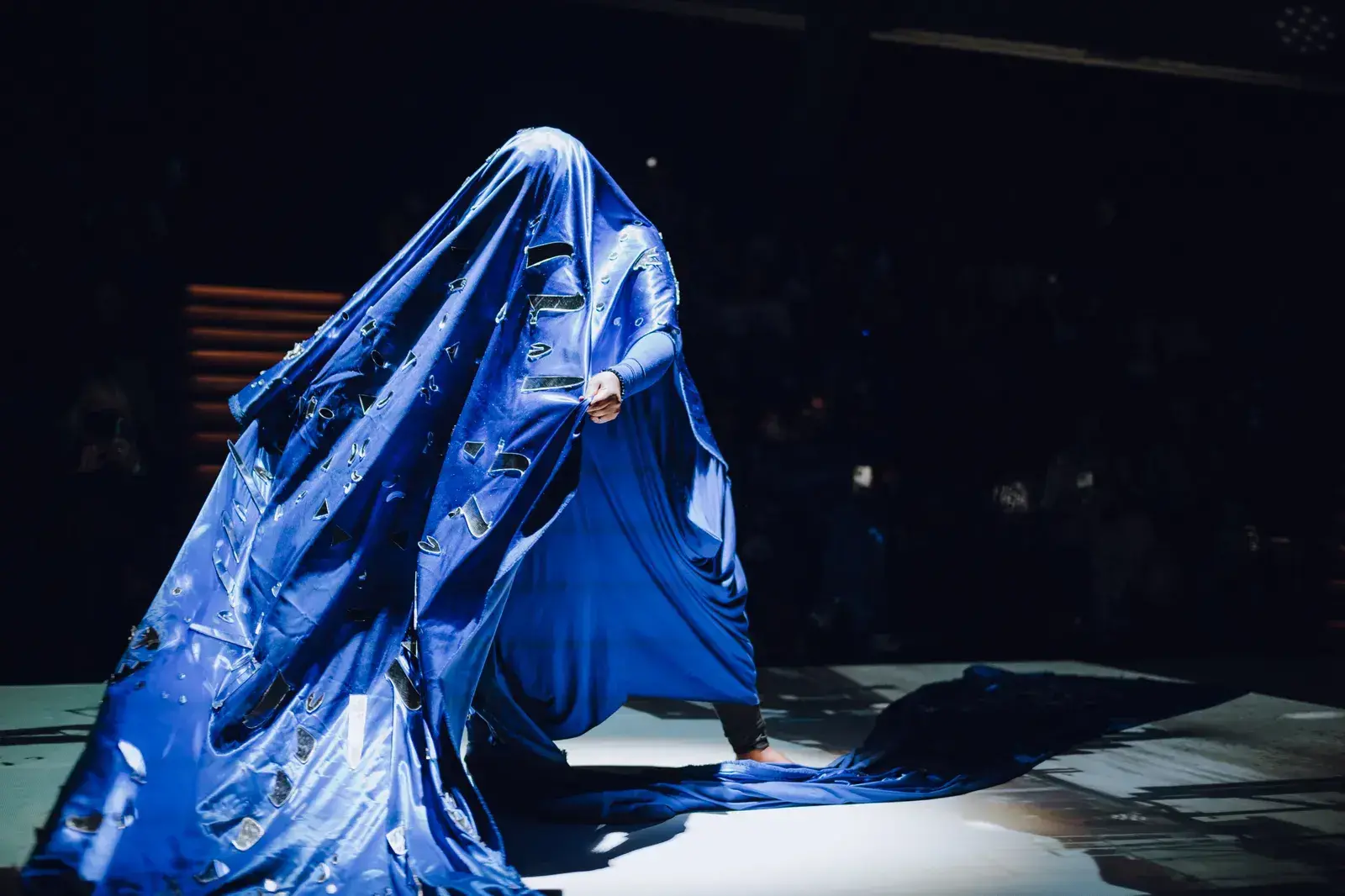 As Makonnen honored those lost lives, uniformed officials pushed through the crowd and demanded she stop. This censoring and aggression were nowhere to be found when Christoph Büchel displayed the vessel without labels or signs, when exhibition-goers ate, drank, and posed for color-coordinated group photos in the shadow of the ship, having absolutely no idea of the tragedy.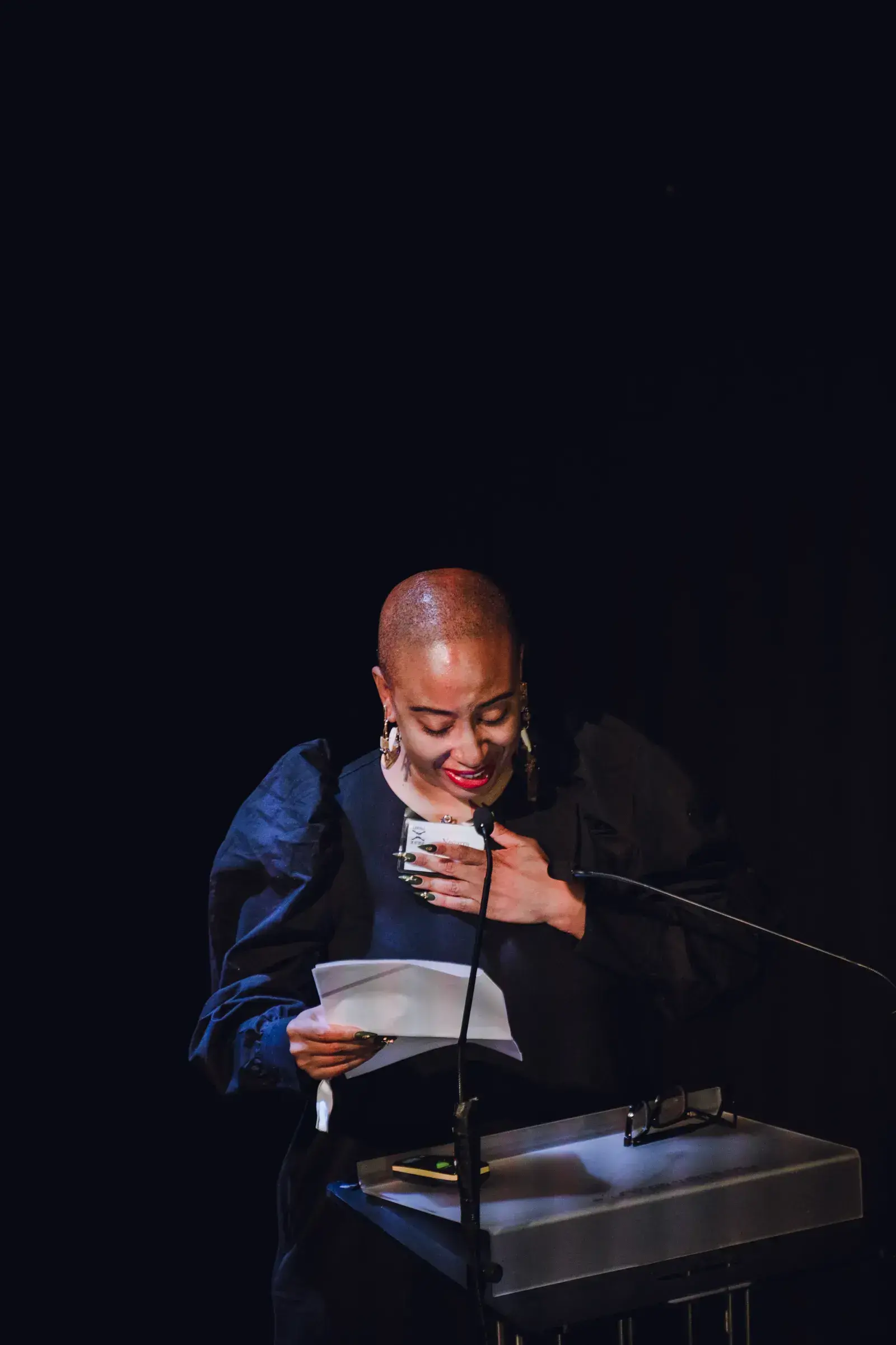 On the penultimate day of Loophole Venice, Tina Campt, one of the conference's organizers, floated from the crowd to Negarra Kudumu's side and wrapped her in a tender embrace. Sniffling in her arms, Kudumu shared that Leigh's selection as the first Black woman to represent the U.S. at the Venice Biennale was especially significant to her because Toni Morrison had died around the same time. With a taut voice, Kudumu explained that, though she was distraught to learn of Morrison's passing, she found solace and excitement in the fact that Leigh had received such a massive stage to continue Morrison's work — the work of fiercely and truly loving Black women.
Joy and sorrow welled at the corners of my eyes as she spoke. I was overcome by the reality that, yes, there is a massive dearth of people who fiercely and truly love Black women — the kind of love that allows us to show up as our true selves and find a warm embrace in all spaces; love that is not contingent upon categorization, sanitization, or dilution; unconditional love. But the joy came from the fact that I was sharing a room with people who do fiercely and truly love us. There was not a dry eye in the space as we collectively registered the call to action.
The grieving, rejuvenation, and profound joy present at Loophole of Retreat: Venice has stayed with me ever since. We will look back on the conference and the uptick in Black women as both selected artists and patrons at the 2022 Venice Biennale as a pivotal moment in the cultural zeitgeist, much like we do Summer of Soul and the Harlem Renaissance.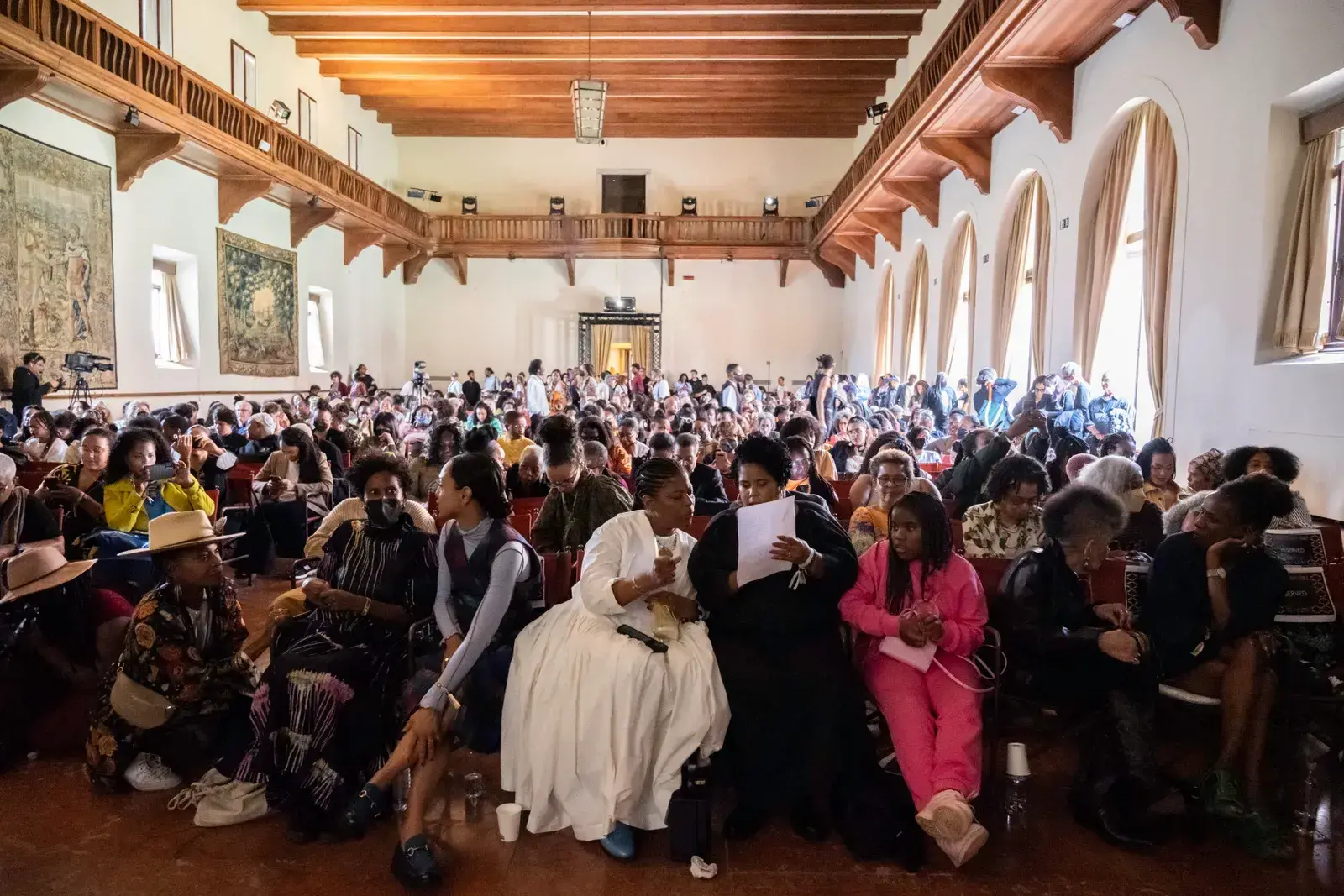 RELATED ISSUES

Racial Justice

Women