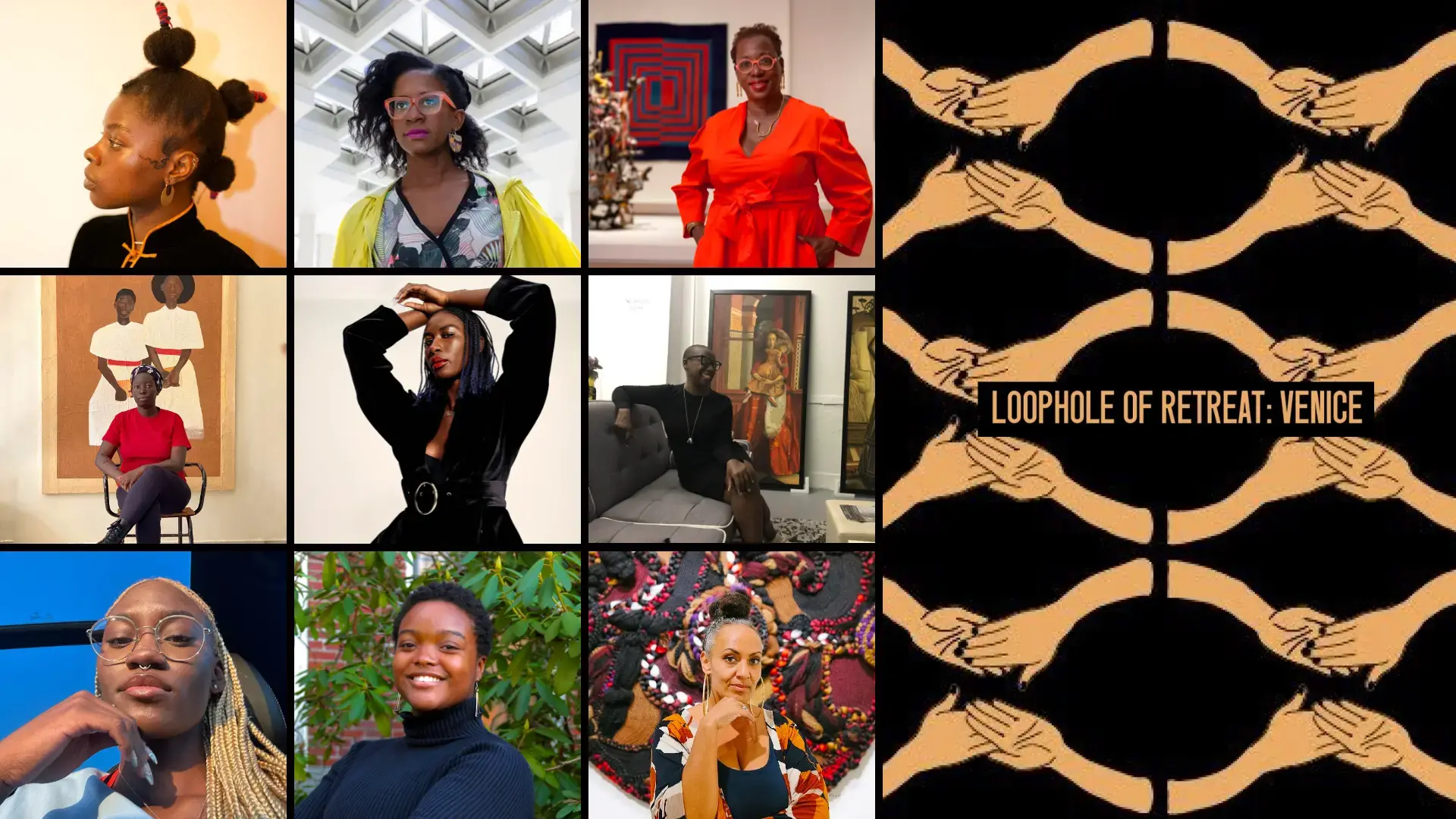 As a part of her historic exhibition Sovereignty at the Venice Biennale, Simone Leigh brought together over 700 scholars, artists, and activists from around the world for Loophole of Retreat: Venice. The conceptual framework and title were drawn from Harriet Jacobs's autobiography, Incidents in the Life of a Slave Girl (1861). Jacobs referred to the crawl space of her grandmother's house, where she lived for seven years plotting a way to freedom, as her "loophole of retreat." The three-day symposium took place from October 7 to 9, 2022, and comprised discussions, performances, and presentations, all focused on the intellectual and creative contributions of Black women.
On the final day of the conference, I asked several attendees, "How did Loophole of Retreat: Venice make you feel?" Shared just minutes after the final session concluded, these remarks elucidate the immediacy and potency of the conference's impact.
*Each conversation occurred on October 9, 2022, at Fondazione Georgio Cini in Venice, Italy. Audio transcriptions follow each video.
Jade Ayino
Jade Ayino, a multidisciplinary artist from Bristol, England, felt "pushed by the universe" to attend and left feeling "absolutely recharged."
"To be honest, I just feel completely recharged. I was walking around Venice, and I just saw loads of Black women, loads of older generation Black women and young generation, and I was like, 'Where are they all going? What's going on?' So to kind of have the universe push me to find my way into the Loophole of Retreat has been absolutely recharging, and I have everything I need to continue on with my journey."
Holly Bass
Holly Bass, a performance artist based in Washington, D.C., who presented on the first day of Loophole of Retreat: Venice, reflected on the conference being a "generative sanctuary."
"It's been such an incredible kind of generative sanctuary of Black feminist thought and action and art, and I just feel like my heart is full and my mind is also full. And I will be digesting this for days and weeks to come."
Valerie Cassel Oliver
Valerie Cassel Oliver, a curator based in Richmond, Virginia, thanked the primary organizers—Simone Leigh, Rashida Bumbray, Tina Campt, and Saidiya Hartman—for the convening, describing it as "desperately needed."
"It has been so restorative. After all that we have gone through in the past few years, it was so desperately needed. So thank you, Simone, thank you, Rashida, thank you, Tina, thank you, Saidiya; it's been phenomenal. Thank you to all the women who've been here." Image courtesy of the Virginia Museum of Fine Arts. Photographer Travis Fullerton. Italy, 2022.
Pamela Enyonu
Pamela Enyonu, a visual artist from Kampala, Uganda, shared that the conference was a "spiritual" and "affirming" reminder of our collective power.
"This has been one of the most amazing experiences for me. I feel like I've been fed; I have been loved on; it's been like church; it's been very spiritual for me, very affirming. I walked into this room and was like, 'There's so many of us. We can do this. We can take over the world.' That's what it felt like for me, and I called my partner back home. I was like, 'It's possible we can do this. We can take back what's been taken from us.' I can't describe it. I feel like, 'Yes, we can!'" [Laughs full-heartedly]
Saabah Folayan
Filmmaker and activist Sabaah Folayan called the conference "Black Girl Utopia" and expressed the immense sense of "belonging" and "pride" the space conjured.
"We're on the last day of the Loophole of Retreat, and I'm just feeling on cloud nine. This is Black Girl Utopia. I think the main thing I am leaving with is just feeling proud to be in a tribe like this and seeing so much brilliance reflected and feeling a sense of belonging around so many people that I admire and that inspire me with an incredible fashion sense. It's been a dream come true."
Monique Long
Monique Long, a writer and curator based in Harlem, New York, expressed gratitude to Simone Leigh for the "inspirational" convening that felt like "a little bit of heaven."
"I feel so lucky to be here. It's like a little bit of heaven. Inspirational. Wonderful. Thank you, Simone, for everything. Thank you."
Taylor Quaye and Kayla Bobb
Kayla Bobb and Taylor Quaye, students from Wellesley College in Wellesley, Massachusetts, reflect on the opportunities for growth the convening offered and how it felt "sublime."
Taylor Quaye: "This has just been really transformative. Even though it's been a few days, it has felt like so much—so much interaction with Black artists and Black intellectuals. It's been so inspiring for me. Still being really deep into academia as a junior and [Kayla] as a senior, it's really inspiring to see what can come from what we're doing.
Kayla Bobb: I feel like it's really been just transcendent in different ways. I keep hearing about the privilege of being here and being so young and being in this space and growing and learning, even from you [Nailah], from other people that are so much older, and it's just been beautiful…
TQ: … and [people] our age or even younger—to see them in this space, everybody interacting and just appreciating the Blackness that is gorgeous here… It's inspiring. It reinvigorates the love. It does.
KB: The word is sublime.
TQ and KB: Sublime, yes." [Snaps in agreement]
Nafis White
Nafis White, an interdisciplinary artist based in Providence, Rhode Island, shared that the conference felt like "finding an oasis" and being "renewed."
"How has Loophole of Retreat made me feel? [chuckles endearingly] What is it to be dying of thirst and find an oasis? What is it to be denied visibility and care—to come home but somewhere thousands of miles away from where your home is? That is what it feels like.
What it feels like is to be held in every corridor where there are Black people here. That is what this is. It is a recognition. It is a coming to. It is a communion. It is an energy. It is joy. It is a reflection.
It is the grief, in some ways of what could be imagined, and the kind of pain that we have all experienced and witnessed. When we come here, we can release it into the waters of Venice.
So, how does it make me feel? Renewed.
When you are walking amongst greats in the contemporary art realm, in the contemporary writing realm, when you are seeing creatives and performers and people you have loved and looked up to forever, and I mean Saidiya Hartman, walking with her, or dancing with Lorraine O'Grady in a soul train line or just being commanded [bell tolls once] I love how the bell tolls at that, how spirit is present… that's how I feel.
I feel like this is the right time. I feel like this is the beginning of a much bigger thing. I feel like—in a Toni Morrison kind of way—reaching out and grabbing others who aren't here right now and sharing these experiences with those who are missing. But also be here for the reconvening, wherever that reconvening is.
That Black women and Black people are powerfully present and that our work is actually that which generates creativity within the world. I mean, we are a marvel. That's how I feel. We are a marvel."
Conclusion
Each of us departed Venice with a charge to take the lessons of the convening, pay them forward, and advance initiatives that celebrate the brilliance of Black women. The primary graphic of the conference premonitions this ripple effect: We join hands across the diaspora, support each other with ferocity, and build bridges to the resources needed to construct a "utopian" world (read: respectful, equitable, loving, safe, nurturing, beautiful) for Black girls, women, and femmes everywhere.