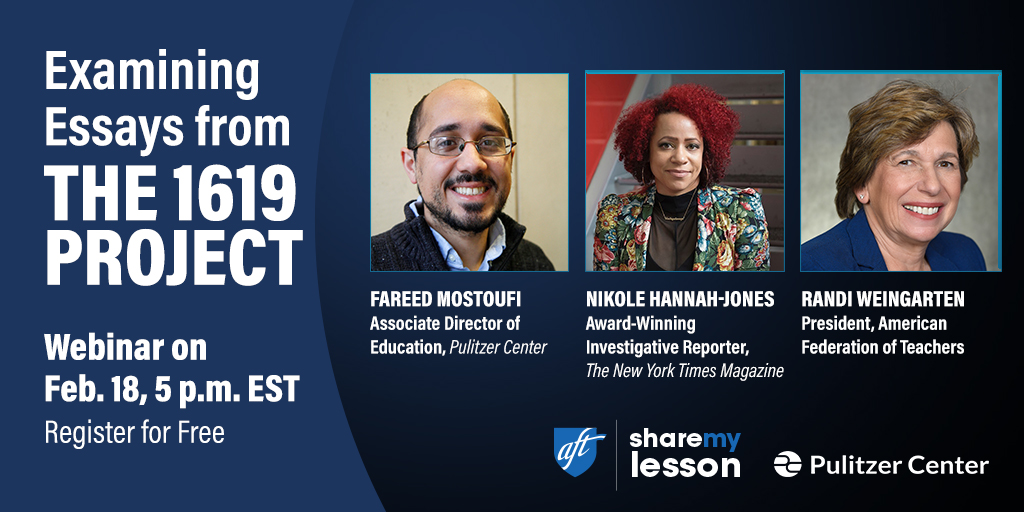 The Pulitzer Center education team, in partnership with the American Federation of Teachers (AFT), invites educators to join us for a webinar to explore The 1619 Project and the newly launched 1619 Project Education Network.
Join us as Pulitzer Prize-winning journalist and architect of The 1619 Project Nikole Hannah-Jones and other contributors to the project explore a selection of essays from this a groundbreaking edition of The New York Times Magazine that reexamines the legacy of enslavement in the United States and highlights the contributions of Black Americans to our democracy. AFT President Randi Weingarten will open the webinar.
To review the Pulitzer Center's 1619 Project curriculum, click here.
We invite educators, administrators, content specialists, and curriculum supervisors for K-12 schools and school districts to apply for the inaugural cohort of The 1619 Project Education Network. Educators and administrators working with adults and youth in jails, prisons, or youth detention facilities are also encouraged to apply.
As part of this paid, virtual program, a cohort of 40 education professionals will receive grants of $5,000 each to support exploration of key questions of racial justice and other pressing issues in a community that also includes award-winning journalists and the Pulitzer Center education team.
Additional 1619 Project Education Network Launch Events
Announcement Event, February 4 at 5:00pm EST
The Pulitzer Center education team will announce the call for applications for The 1619 Project Education Network, introducing The 1619 Project and our curricular materials and explaining how the network will function.
Teaching The 1619 Project: Educators Share, February 11 at 5:00pm EST
Nikita Stewart, contributor to The 1619 Project and journalist for The New York Times, and the Pulitzer Center education team will moderate a discussion with teachers and administrators on their experience developing curricula and teaching The 1619 Project over the past year.
Teaching Black History to Elementary and Middle School Students, February 25 at 5:00pm EST
Dr. LaGarrett King, director of the Carter Center at the University of Missouri School of Education, in conversation with Nikole Hannah-Jones, will share insights on teaching Black history to younger students.
RELATED ISSUES