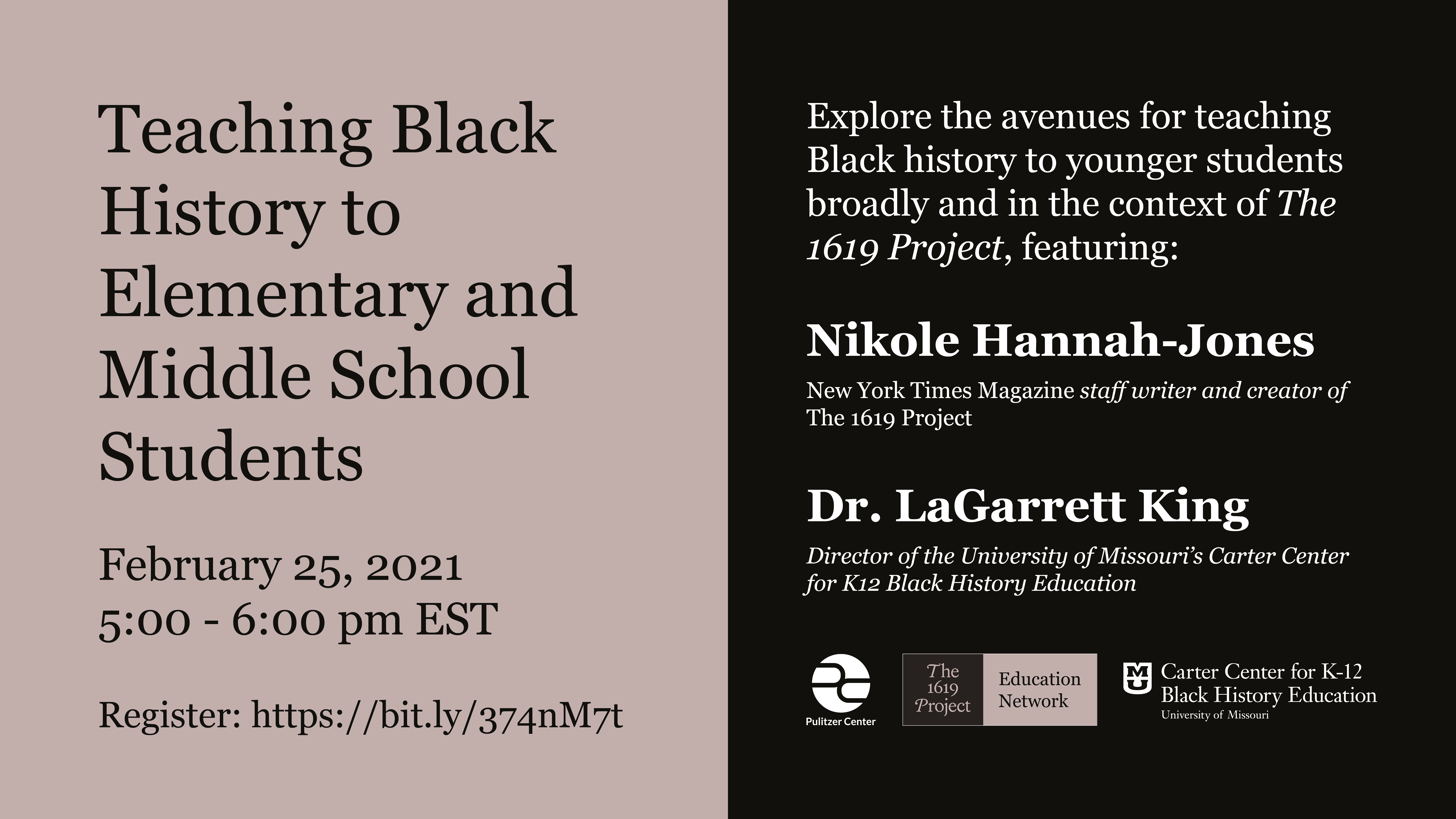 Join the Pulitzer Center on Thursday, February 25, 2021 for a conversation between journalist Nikole Hannah-Jones and Dr. LaGarrett King, director of the University of Missouri's Carter Center for K12 Black History Education. They will explore the avenues for teaching Black history to younger students broadly and in the context of The 1619 Project.
Hannah-Jones is a New York Times Magazine staff writer and creator of The 1619 Project, for which she received the 2020 Pulitzer Prize for Commentary. The Pulitzer Center is the education partner for The 1619 Project, The New York Times Magazine's groundbreaking exploration of the legacy of Black Americans starting with the arrival of the first enslaved Africans in 1619.
King is an associate professor of social studies education at the University of Missouri. He received his Ph.D. from the University of Texas at Austin after an eight-year teaching career in Georgia and Texas. His primary research interest examines how Black history is interpreted and taught in schools and society. He also researches critical theories of race, teacher education, and curriculum history.
This event is part of the 1619 Project Education Network launch. Applications for the network are now open, and those selected will join a cohort of 40 educators, administrators, curriculum supervisors, and content specialists supporting K–12 schools and incarcerated populations. They will receive grants of $5,000, professional development, and access to a supportive community while they develop, implement, and evaluate standards-aligned curricula that engage students in The 1619 Project and related journalism and historical sources. The application deadline is March 15.
Additional 1619 Project Education Network Launch Events
Announcement Event, February 4 at 5:00pm EST
The Pulitzer Center education team will announce the call for applications for The 1619 Project Education Network, introducing The 1619 Project and our curricular materials and explaining how the network will function.
Teaching The 1619 Project: Educators Share, February 11 at 5:00 pm EST
Nikita Stewart, contributor to The 1619 Project and journalist for The New York Times, and the Pulitzer Center education team will moderate a discussion with teachers and administrators on their experience developing curricula and teaching The 1619 Project over the past year.
Contributing Voices: Exploring The 1619 Project Essays with Nikole Hannah-Jones, February 18 at 5:00pm EST
Randi Weingarten, president of the American Federation of Teachers, will open this session on exploring some key educational resources in The 1619 Project. Nikole Hannah-Jones and two other contributors will discuss their work and examine why it is important for educators to to engage with the material.
RELATED ISSUES

Racial Justice

Children and Youth