---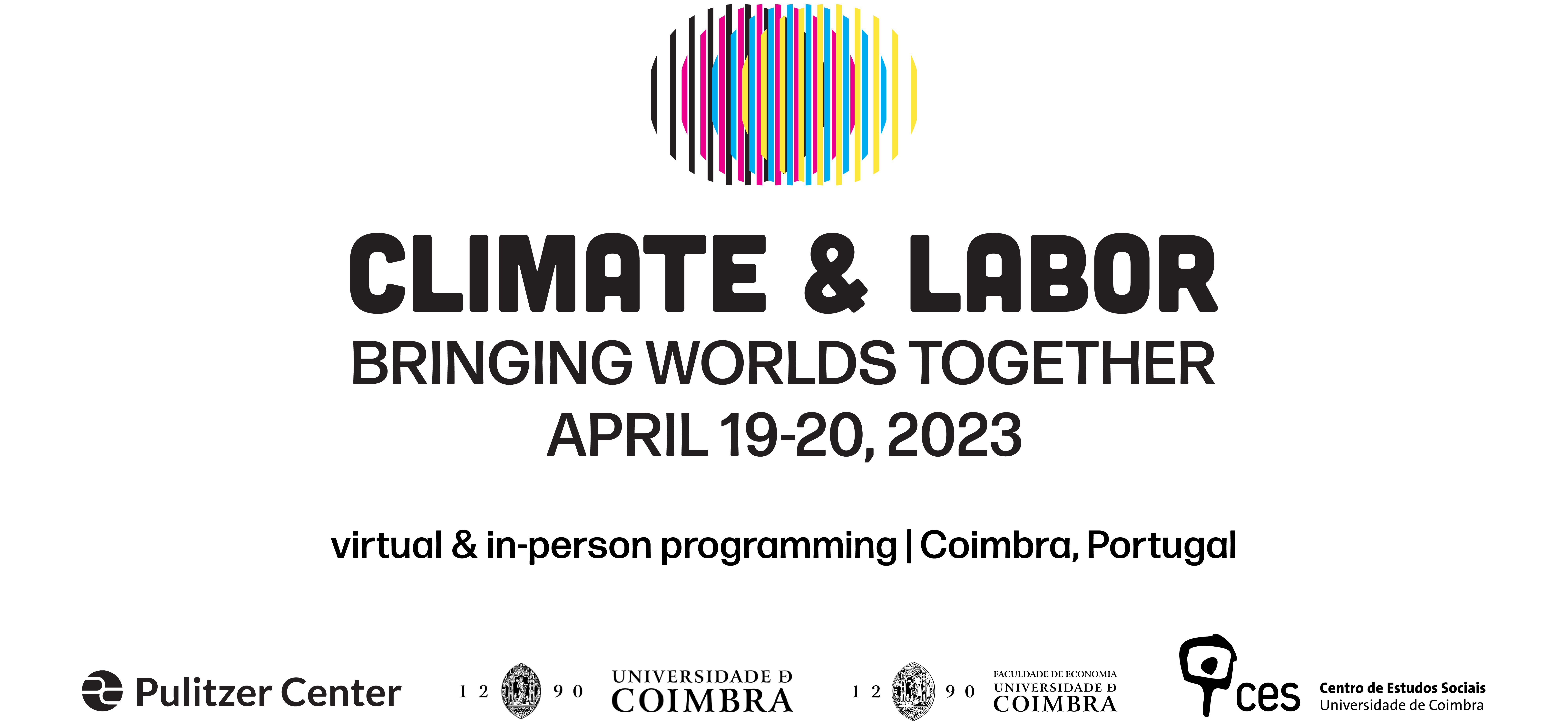 Workers are on the front lines of the climate crisis. As the world heats up, what real-world problems arise—and what jobs and employment sectors are threatened or must change?
Climate change has intensified extreme-weather conditions, like drought, severe floods, and frequent hurricanes, which are already changing human experiences, particularly working conditions. Using labor to discuss climate change can be a powerful engagement tool, as labor is a pathway into most adult lives on this planet. In contrast with the ubiquity and significance of this interconnection, and how important it is for human relations, it has been understudied and, mostly, underreported.
The outdated framing of tradeoffs between economic development and protecting the environment, present in media and fostered by industry stakeholders, is another key obstacle to tackle in the link between climate change and labor. Also, the complexity of this multi- and interdisciplinary topic makes its communication for society many-sided and tricky. Research carried out by the Pulitzer Center with interviews with climate and labor authorities around the world shows that despite climate change having had a profound effect on labor issues around the world, the media landscape has lagged in reporting on the complexity of these relationships.
Critical intersections—including gender discrimination, loss of traditional livelihoods, and a just transition to clean energy—are yet to be fully explored on a global scale and also in public and academic debates. Fostering the public, media, and university communities' dialogue, which includes strong representation from diverse voices, is key to filling these gaps.
The Centre for Social Studies, the Faculty of Economics of the University of Coimbra, and the Pulitzer Center will hold a two-day conference designed to start a discussion about the connection between climate change and labor rights.

#ClimateLabor2023
With a global and regional focus, the conference will cultivate powerful discussions amongst the academics, journalists, students, and social movements that are framing the future narrative of this issue in the context of climate justice. Attendees will engage in discussions on climate and labor themes, including global power, social justice, health, capitalism, colonialism, extreme heat, and land rights.
The in-person programming will take place in English and Portuguese. Webinar sessions will also be available in four languages: English, Portuguese, French, and bahasa Indonesia. #ClimateLabor2023: Bringing Worlds Together is a hybrid conference with an in-person agenda at the Faculty of Economics at the University of Coimbra, and virtual programming for a global audience via Zoom. #ClimateLabor2023 will take place on April 19-20. Join us!
Photo credit: Handprints in chromium sulfate accumulate on the outside of a tannery wall. Workers pat the walls during breaks to wipe chemicals from their hands. Air pollution from vehicle exhaust and coal-fired power plants affects millions more in the most congested cities of China, India and Eastern Europe, while indoor charcoal cooking fires are silently killing the poorest of the poor in Africa. Image by Larry C. Price. Bangladesh, 2016.









09:00 - 09:45 WEST
Opening Speeches
Featuring:

10:00 - 11:15 WEST
Keynote | Climate, Labor, and Global Power [online session]
What is preventing the global governance to meet the minimum requirements we need to guarantee a safe planet for all? The gaps and inequalities in economic systems have widened the spectrum of climate injustice on the most vulnerable groups, especially workers on the front line. More than talk about climate justice, we will also discuss colonial and racial artifices of manutention of the status quo and how globalization, geopolitics, and systems prolong the world's hyper-consumption and endless growth models from the lens of climate politics and power. 
Featuring:

11:30 - 12:45 WEST
Labor Rights and Climate Rights: A Discussion on Justice
Labor rights are uneven through the globe, and the (lack of) support for workers changes a lot from one country to the other. Climate change will make this even more unequal, with places where workers have fewer rights being the most affected by disasters. Focusing on some stories like the frequent catastrophes that some Indonesian coastal communities are facing and their search for justice from the international industry that has profited from fossil-based corporate giants, we will discuss the minimum labor rights and environmental laws to support and guarantee climate justice.
Featuring:

13:00 - 14:00 WEST
Lunch Break

14:00 - 15:15 WEST
Labor, Climate Change, and Health
In a world becoming more hostile and inhospitable, how do we guarantee health as a labor right? The session will discuss how climate change affects people's health—specifically workers'—in climate-vulnerable countries. Impoverishment of workers' conditions, increasing diseases, and even death due to climate change are already being described. (For example, the heat-related accidents and deaths among the Nepalese workers during the development of Qatar's 2022 World Cup). Another lens will be on the Indian experience in a downfall of food production as it depends on rainfed-cultivated crops and projected a grim food crisis in the coming years.
Featuring:

15:30 - 16:45 WEST
Climate Change, Labor, and Oceans
Coastal communities are already severely impacted by  climate change. Reducing of fishing stocks due to the change in sea temperature is leading to fish scarcity resulting in income reduction for many communities, and increasing their vulnerability. Coastal nations and cities are the main impacted due to the sea rising level. They are also on the front line of natural disasters and catastrophes and have their livelihoods and culture at stake. From climate change adaptation to climate change loss and damage, this panel, having the Ocean as a point of departure, will explore the need for a justice framing. 
Featuring:

17:00 - 18:00 WEST
Cultural Moment with Sebastian Zuñiga

09:00 - 09:45 WEST
Keynote | Climate Coloniality
This presentation explores the ontological multiplicity of the Anthropocene, a proposed geological epoch that illustrates the entwinement of human agency and wider planetary transformations. It stems from a research project on the Anthropocene in Portugal, funded by the Portuguese Foundation for Science and Technology, and examines some of the proposed socio-ecological, technological and subjective responses to the climate crisis. In this presentation, Antonio Carvalho will contend that the Anthropocene is characterized by an ontological ambiguity, delving into a series of tropes that problematize the "politics" of the climate crisis, such as Geoengineering, extractivism, neoliberal environmentalism and the so-called "green transition."
Featuring:

10:00 - 11:15 WEST
Territory, Labor, and Gender: Rainforest Perspectives
Women have been undermined in labor and human rights for centuries, and climate change will increase the gender inequalities. Therefore, gender is a key perspective in the intersection between climate change and labor. In this panel, by focusing the discussion on the relationship of climate, territory, and gender in the rainforests, the panelists will bring different perspectives on how women are experiencing climate risk most and are at a disadvantage in almost every labor market. But also, how women are organizing themselves as guardians of tropical forests, changing labor relationships, and defending their territories and their ways of life in the face of the dominant extractivist model that has been destroying nature and exacerbating the climate crisis. 
Featuring:

11:30 - 12:45 WEST
Extreme Heat and Climate Adaptations
Adapting to climate change has been a struggle for farmers, industries, businesses, and even street vendors that are often overlooked, in many countries. The session will focus on how workers in different sectors and geographies respond to climate change, specifically abnormal heat. Panelists will present how workers had to be adaptable and resilient even under the extreme heat of 40 degrees Celsius. It will discuss how these transitions have overlooked labor rights and working conditions. 
Featuring:

13:00 - 14:00 WEST
Lunch Break

14:00 - 15:15 WEST
Climate Change and Inequalities
Climate change has been fueling poverty amongst the most exposed workers and groups. The session will bluntly discuss the detrimental effects of climate change in increasing the vulnerability of targeted groups, increasing the risk of their survivorship and the manutention of their lifestyle, resulting in a huge impact on the social diversity in the world. We will discuss what is necessary to reduce such risks, the necessary adaptations, and minimum requirements to guarantee the wellbeing of people that are already threatened due to the destroyed ways the world has been ruled.
Featuring:

15:30 - 16:45 WEST
Keynote | Climate Citizenship
The main objective is to analyze the potential of citizenship as a post-right, operationalized through the notion of invisible citizenship in the context of climate change crises and the Anthropocene epoch. Climate change crises and extreme events are used as entry points to reflect on citizenship as the right to have rights. The intention is to study how States address the needs of citizens in the occurrence of extreme events, as States appear to be the last resort in guaranteeing the value of goods as well as people's lives. This will be furthered through the notion of climate citizenship.
Featuring:
---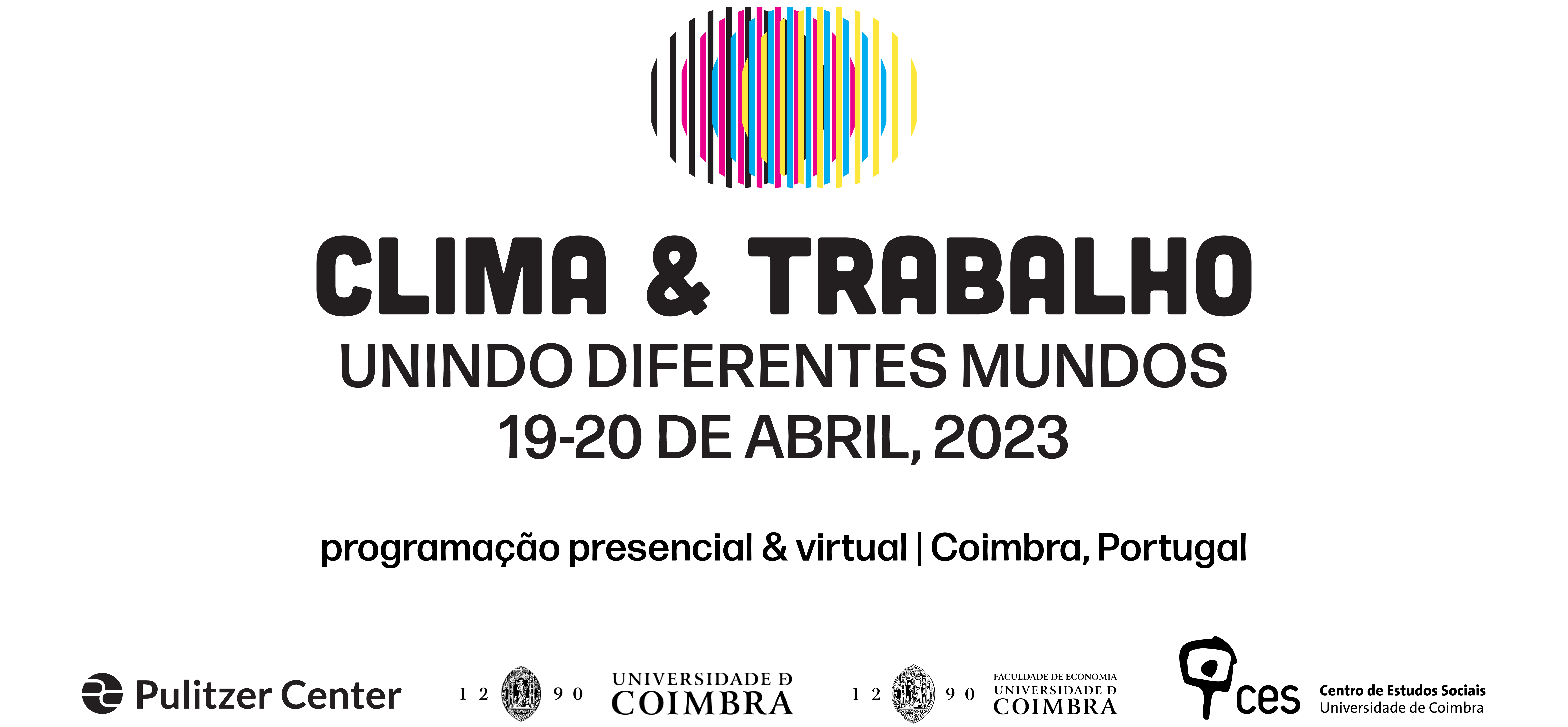 Os(as) trabalhadores(as) estão na linha de frente da crise climática. À medida que o mundo é afetado pelo aquecimento global, que problemas surgem – e quais os empregos e setores de atividade que estão ameaçados ou devem mudar?
As alterações climáticas aumentaram as condições extremas – secas, inundações severas e furacões frequentes – que já estão mudando a experiência humana, especialmente no campo do trabalho. Assim, utilizar o trabalho para discutir as alterações climáticas pode ser uma poderosa ferramenta de envolvimento, já que uma certeza na vida da maioria dos adultos neste planeta é a relação com o trabalho. Apesar da ubiquidade e da importância da interligação entre crise climática e direitos dos/as trabalhadores/as, e quão central ela é para as relações humanas, tal interação ainda é pouco estudada e, principalmente, subavaliada globalmente.
O modelo ultrapassado que procura combinar desenvolvimento económico e proteção do meio ambiente, presente nos meios de comunicação social de grande difusão e fomentado por partes interessadas da indústria, é outro obstáculo importante a ser enfrentado na relação entre alterações climáticas e trabalho. Além disso, a complexidade desse tema, na sua multi e interdisciplinaridade, torna a sua comunicação para a sociedade multifacetada e complexa. Uma pesquisa realizada pelo Pulitzer Center, com especialistas em alterações climáticas e representantes laborais em todo o mundo, mostra que, apesar das alterações climáticas terem um efeito profundo nas questões que afetam os/as trabalhadores/as internacionalmente, a comunicação social tem falhado em reportar a complexidade dessas relações. 
Intersecções críticas – incluindo a discriminação de género, a perda de meios de subsistência tradicionais e uma transição justa para a energia limpa – ainda precisam de ser totalmente exploradas numa escala global e também em debates públicos e académicos. Promover o diálogo entre o público, a comunicação social e as comunidades universitárias, incluindo a forte representação de diversas vozes, é fundamental para preencher tais lacunas.
O Pulitzer Center—em parceria com o CES (Centro de Estudos Sociais) e a FEUC (Faculdade de Economia) da Universidade de Coimbra, através do OSIRIS (Observatório de Risco), ECOSOC (Oficina de Ecologia e Sociedade) e do Programa de Doutoramento em Pós-Colonialismo e Cidadania Global—realizará uma conferência que, durante dois dias, vai tratar da ligação entre as alterações climáticas e o mundo do trabalho.

#ClimaeTrabalho2023
Com uma abordagem global e regional, a conferência promoverá o debate entre académicos, jornalistas, estudantes e movimentos sociais que discutem o futuro da questão entre clima e trabalho num contexto de justiça climática. Os participantes participarão de sessões que abordarão temas como o poder global, justiça social, saúde, capitalismo, colonialismo, aquecimento global e o direito à terra.
A programação presencial decorrerá em inglês e português, com tradução simultânea disponível. As sessões de Webinar também estarão disponíveis em quatro idiomas: inglês, português, francês e bahasa indonésio. #Climaetrabalho2023: unindo diferentes mundos é uma conferência híbrida com agenda presencial no Auditório da Faculdade de Economia da Universidade de Coimbra e com programação virtual para uma audiência global via Zoom. #Climaetrabalho2023 terá lugar nos dias 19 a 20 de abril de 2023. Junte-se a nós!
Crédito da foto: Marcas de mãos, em sulfato de cromo, acumulam-se na parte externa da parede de um curtume. Os trabalhadores batem nas paredes durante os intervalos para limpar os produtos químicos das suas mãos. A poluição do ar causada pelos gases de combustão de veículos e de centrais eléctricas alimentadas a carvão afeta milhões de pessoas nas cidades mais congestionadas da China, da Índia e da Europa Oriental, enquanto os fogões a lenha matam silenciosamente os mais vulneráveis no continente africano. Imagem de Larry C. Price. Bangladesh, 2016.








09.00 - 09.45 WEST
Sessão de abertura
Em destaque:

10.00 - 11.15 WEST
Sessão | Clima, Trabalho, e Poder Global [sessão online]
O que está impedindo o sistema de governação global de atender aos requisitos mínimos necessários para garantir um planeta seguro para todos(as)? As lacunas e desigualdades nos sistemas económicos ampliaram o espetro da injustiça climática sobre os grupos mais vulneráveis, especialmente os(as) trabalhadores(as) da linha de frente. Mais do que falar sobre justiça climática, discutiremos também os artifícios coloniais e raciais de manutenção do status quo e sobre como a globalização, a geopolítica e demais sistemas hegemônicos prolongam o hiperconsumo mundial e os modelos de crescimento sem fim a partir de uma política climática e de poder.
Em destaque:

11.30 - 12.45 WEST
Direitos Laborais e Direitos Climáticos: Uma Discussão sobre Justiça
Os direitos laborais são desiguais em todo o mundo, mas a (falta de) apoio aos(às) trabalhadores(as) varia muito de um país para outro. As mudanças climáticas tornaram a discussão em torno do tema do trabalho ainda mais diversificada, sendo os locais onde os(as) trabalhadores(as) têm menos direitos aqueles mais afetados por desastres. Centrando-se em algumas histórias, como as frequentes catástrofes que afetam as comunidades costeiras da Indonésia e sua luta pela justiça contra as multinacionais, que lucram com os combustíveis fósseis, discutiremos os direitos laborais mínimos e as leis ambientais apropriadas para se apoiar e garantir a justiça climática.
Em destaque:

13.00 - 14.00 WEST
Almoço

14.00 - 15.15 WEST
Trabalho, Alterações Climáticas e Saúde
Num mundo cada vez mais hostil e inóspito, como assegurar que ter uma vida saudável é um direito dos(as) trabalhadores(as)? Esta sessão discutirá como as alterações climáticas afetam a saúde das pessoas – especificamente dos(as) trabalhadores(as) – em países mais afetados pela crise climática. O empobrecimento dos(as) trabalhadores(as), o aumento das doenças e até a morte por desastres ambientais já são contundentemente observados. (Por exemplo, os acidentes e os óbitos relacionados com o calor extremo entre os trabalhadores nepaleses durante os preparativos para o Campeonato do Mundo de 2022, no Qatar). Outra perspetiva incidirá sobre a experiência indiana na quebra da produção alimentar, que depende de áreas cultivadas de sequeiro, projetando uma terrível crise alimentar para os próximos anos.
Em destaque:

15.30 - 16.45 WEST
Alterações Climáticas, Trabalho e Oceanos
As comunidades costeiras já são severamente afetadas pelas alterações climáticas. A redução dos stocks pesqueiros, devido à mudança na temperatura do mar, tem levado à escassez de peixes, resultando na redução de rendimento para muitas comunidades e aumentando a sua vulnerabilidade. Além do mais, nações e cidades costeiras são as principais afetadas pela subida do nível do mar. Também estão na linha de frente de desastres e catástrofes naturais, estando os seus modos de subsistência e cultura em risco. Da adaptação às alterações climáticas e as perdas e danos causados por alterações no planeta, este painel, tendo o oceano como ponto de partida, irá explorar a necessidade de uma perspetiva que promova a justiça global.
Em destaque:

17.00 - 18.00 WEST
Momento cultural com Sebastian Zuñiga

09.00 - 09.45 WEST
Sessão | Colonialidade Climática
Esta apresentação explora a multiplicidade ontológica do Antropoceno, uma época geológica proposta por estudiosos para ilustrar o entrelaçamento entre agência humana e transformações planetárias mais amplas. A conferência decorre de um projeto de investigação sobre o Antropoceno em Portugal, financiado pela Fundação para a Ciência e a Tecnologia, e examina algumas das respostas socioecológicas, tecnológicas e subjetivas propostas à crise climática. Nesta apresentação, Antonio Carvalho defenderá que o Antropoceno é caracterizado por uma ambiguidade ontológica, aprofundando-se numa série de tropos que problematizam a "política" da crise climática, como a geoengenharia, o extrativismo, o ambientalismo neoliberal e a chamada "transição verde".
Em destaque:

10.00 - 11.15 WEST
Território, Trabalho e Género: Perspetivas da Floresta
As mulheres têm sido prejudicadas no trabalho e no acesso a direitos mais amplos há séculos, e as alterações climáticas agravam as desigualdades que enfrentam. Portanto, o marcador de género é uma questão-chave na intersecção entre mudança climática e trabalho. Neste painel, que se centra na relação clima, território e género nas florestas tropicais, as participantes trarão diferentes perspetivas em torno de como as mulheres estão mais expostas ao risco climático e estão em desvantagem em quase todos os mercados de trabalho. Mas também como elas se organizam enquanto guardiãs das florestas tropicais, mudando as relações de trabalho e defendendo os seus territórios e os seus modos de vida perante um modelo extrativista dominante, que vem destruindo a natureza e agravando a crise climática.
Em destaque:

11.30 - 12.45 WEST
Calor Extremo e Adaptações Climáticas
Adaptar-se às alterações climáticas tem sido uma luta em vários países para agricultores(as), indústrias, empresas e até vendedores(as) ambulantes, que são muitas vezes negligenciados(as) em seus territórios. Esta sessão concentra-se na análise de como os(as) trabalhadores(as) de diferentes setores de atividade de diferentes contextos geográficos respondem às alterações climáticas, especificamente ao calor anormal a que estão expostos(as). Os(as) participantes abordarão a forma como os(as) trabalhadores(as) tiveram que ser adaptáveis e resilientes, mesmo sob um calor extremo de 40º C. Neste painel, será discutido como tais transições negligenciaram as condições dos(as) trabalhadores(as) e os seus direitos.
Em destaque:

13.00 - 14.00 WEST
Almoço

14.00 - 15.15 WEST
Alterações Climáticas e o Aumento das Desigualdades Sociais
As alterações climáticas têm aumentado a pobreza entre os(as) trabalhadores(as) e os grupos mais expostos a desastres ambientais. Esta sessão discutirá os efeitos prejudiciais das alterações climáticas no aumento da vulnerabilidade de grupos-alvo, colocando em risco a sua sobrevivência e a manutenção de seu estilo de vida, o que resulta num enorme impacto na diversidade social no mundo. Discutiremos o que é necessário fazer para reduzir tais riscos, as adaptações necessárias e os requisitos mínimos para garantir o bem-estar de pessoas que já se encontram ameaçadas pela destruição gerada pelas estruturas mundiais de poder.
Em destaque:

15.30 - 16.45 WEST
Sessão | Cidadania Climática
O objetivo central deste painel é analisar o potencial da cidadania como um pós-direito, operacionalizado a partir da noção de cidadania invisível no contexto da crise climática e do Antropoceno. A crise climática e os eventos extremos são usados como pontos de entrada para refletir sobre a cidadania como o direito a ter direitos. A intenção é estudar como os Estados atendem às necessidades dos cidadãos na ocorrência de eventos climáticos extremos, como o último recurso na garantia tanto do valor dos bens como da vida das pessoas.
Em destaque: