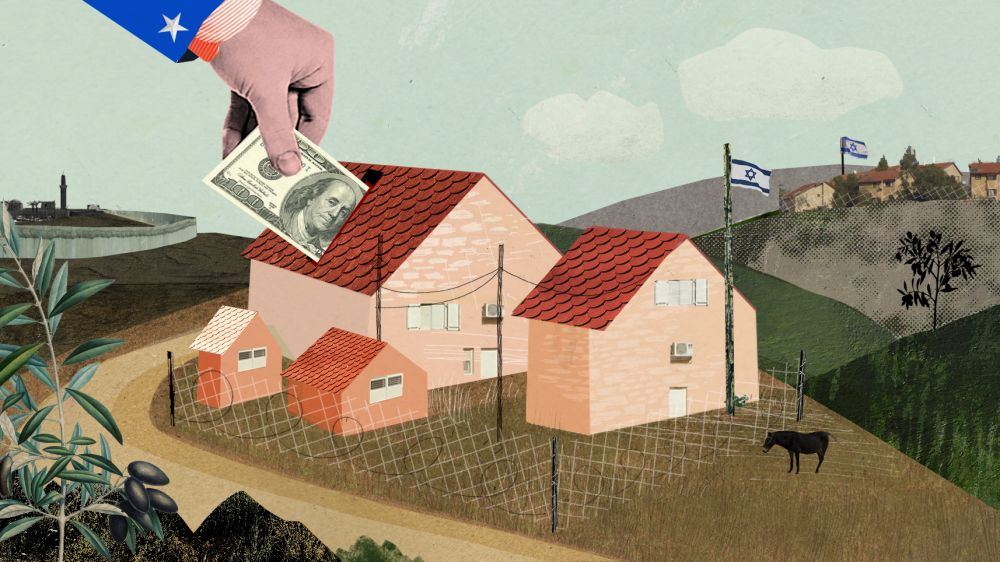 U.S. TAX BREAKS HELP FUND ISRAELI SETTLEMENTS

After a months-long investigation for Haaretz, Israel's leading daily, Pulitzer Center grantee Uri Blau reports that private U.S. donors are massively funding Israeli settlements, using a network of tax-exempt non-profits that funneled more than $220 million to Jewish communities in the West Bank during the five-year period between 2009-2013.

"The funding is being used for anything from buying air conditioners to supporting the families of convicted Jewish terrorists, and comes from tax-deductible donations made to around 50 U.S.-based groups," writes Uri. "Thanks to their status as non-profit charities, these organizations are not taxed on their income, and donations made to them are tax-deductible, meaning the U.S. government is incentivizing and indirectly supporting the Israeli settlement movement, which has been consistently opposed by every U.S. administration for the past 48 years."

For this project Uri exhaustively analyzed thousands of documents from the tax filings and official papers of dozens of American and Israeli not-for-profit organizations. More of his findings will be published—in English and Hebrew—in Haaretz over the coming weeks.

CASUALTIES OF THE ABORTION WARS

The "abortion wars" in America lived up to its grim name the day after Thanksgiving when a gunman named Robert Dear killed three people at a Planned Parenthood clinic in Colorado Springs. But as Pulitzer Center grantee Laura Bassett eloquently demonstrates in this piece for Huffington Post's "Highline," the collateral damage in this war extends far beyond our shores.

From the Middle East to Africa, rape has increasingly become a weapon of war, and each year thousands of rape victims undergo grisly and unsafe abortions because of U.S. policy. "The policy in question is the Helms amendment, which prevents American aid from being used to pay for abortions," writes Laura. In the U.S., programs like Medicaid can be used to fund abortions for women who are the victims of rape and incest, or whose lives are in danger. "But when it comes to Helms, the U.S. government does not allow any exceptions at all—not even for women who are raped in conflict or who would die without the procedure."

Laura and photographer Jake Naughton examine the consequences of this policy in Kenya, which has one of the 20 highest maternal mortality rates in the world and where unsafe abortions are a leading cause of maternal deaths. As Laura notes, this is a fixable problem. Most experts agree that the draconian interpretation of the Helms amendment is incorrect. President Obama "could simply issue an executive order clarifying that the law has exceptions—the same exceptions that already exist domestically—or he could publicly direct the head of the USAID to start writing the exceptions into its contracts."

CHANGING THE CLIMATE IN PARIS

Much of our work over the last several years has focused on the accelerating consequences of global warming. Two of our grantees who have done extensive reporting on the topic, Dan Grossman and Justin Catanoso, are in Paris to report on COP21, the climate summit that has drawn nearly 200 world leaders, including President Obama.

As Dan notes in his report for Yale Climate Connections, Obama has predicted a successful outcome of the negotiations: "His strong support for progress on an international treaty could be among the most important legacies of his presidency."

But even with the stakes so high, the recent terror attacks in Paris overshadowed the focus on climate change. Asked by journalists about terrorism, Obama took the opportunity to liken the overwhelming technical and diplomatic challenge of slowing global warming to the despair caused by terrorism. "It's not easy," he said. "It takes time. And when you're in the midst of it, it's frightening. But it's solvable."

Justin, who is director of journalism at Wake Forest University, one of our Campus Consortium partners, is covering the conference for the environmental journal Mongabay. Before heading to Paris, Justin told the Fox News affiliate in Greensboro and Winston-Salem that despite the president's upbeat message, "the U.S. is pretty much the only country on earth that has any kind of level of skepticism about climate change." The rest of the world, he said "gets what's happening now."

CIRCUS WITHOUT BORDERS IN PHILADELPHIA

Ladies and gentlemen and children of all ages in St. Louis and Chicago have already thrilled to the acrobatics of Guillaume Saladin and Yamoussa Bangoura in Circus Without Borders. Tonight the show moves to Philadelphia. Join the Pulitzer Center for a free screening of the documentary at International House in Philadelphia. A special performance and Q&A will follow with director Susan Gray and Guillaume and Yamoussa.

Until next week,

Tom Hundley
Senior Editor
RELATED ISSUES