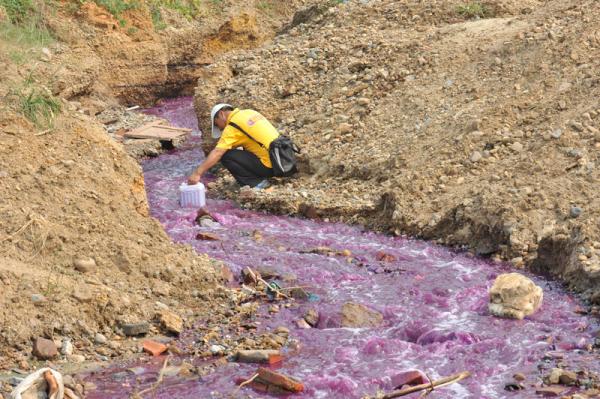 "Soil Pollution in China," He Guangwei's three-part series on the widespread poisoning of China's arable soil by cadmium and other industrial pollutants, has been picked up by news outlets across the globe.

The project, a Pulitzer Center collaboration with Yale Environment 360 and chinadialogue, addresses cases of soil pollution and explores the options for soil remediation as well as the challenges of implementing those plans. He Guangwei is a staff writer and investigative reporter with The Times Weekly, a national Chinese newspaper based in Guangzhou.

The series brings to light important information about the hidden threats of soil pollution and the dangers they pose to human health, food safety and food security, and the high cost and technical difficulty of remediation. The project also demonstrates the important role played by Chinese environmental journalists in documenting the challenges facing that country. The articles have been published in English and Chinese. The series has been featured on Yale Environment 360, chinadialogue, The Guardian, Asia Observer, China File, Asian Century Institute, and China File.

The coverage of the series is drawing much-needed media attention to the subject matter—the hidden but grave environmental threat of soil pollution related to industrial development that affects as much as one fifth of China's farmland. Outlets that have referred to Guangwei's reporting in news about soil pollution in China include UN Jobs, One World News, EU-China Twinning, Deutsche Welle, Liens de Chine, and South China Morning Post.

Said Isabel Hilton, CEO of chinadialogue: "This project has been a very important collaboration for chinadialogue: working with excellent partners at Yale and Pulitzer enabled us to give a young Chinese journalist the opportunity to report on one of China's most important, intractable and under-covered environmental stories. He Guangwei's series is a ground-breaking insight into the toxic legacy of China's industrial revolution."

Roger Cohn, editor of Yale Environment 360, also praised the series. "We were pleased and proud to collaborate on this series, which focuses on a major problem that the Chinese government is only beginning to acknowledge," he said. "The lion's share of the credit goes to He Guangwei, whose persistence and courage led to articles that gave the first truly in-depth look at this grave issue. By combining our resources with chinadialogue and Pulitzer, we were able assure that this series reached a wide international audience."
RELATED ISSUES