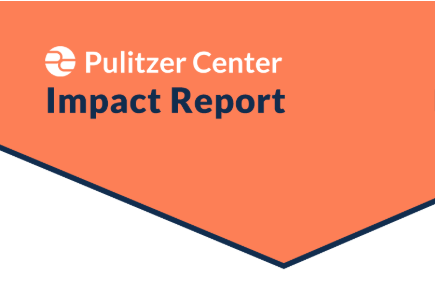 In the first quarter of 2019, Pulitzer Center journalist-grantees and student fellows have been honored by George Polk Awards, Overseas Press Club Awards, National Magazine Awards (for both print and digital media), SPJ's Mark of Excellence Awards, World Press Photo, Amnesty International, and the American Association for Cancer Research. 
Their Pulitzer Center-funded reporting projects not only won awards, but contributed to policy and legal changes, institutional actions, issue awareness, and attitude changes. Highlights include:

Jeffrey E. Stern received the Overseas Press Club's Joe and Laurie Dine Award for best international reporting in any medium dealing with human rights and Amnesty International's USA Award for his project, "From Arizona to Yemen: The Journey of an American Bomb." After the story was published online in The New York Times Magazine, the Saudi-backed coalition announced they were going to financially compensate the district targeted in the attack that Stern described. Both Stern's project and AP's year-long Pulitzer Center-supported Yemen series have contributed to greater awareness among the U.S. public and policymakers of the horrific humanitarian crisis in Yemen. Just last month, the Senate voted in favor of the U.S. military ending support for the Saudi-led war in Yemen. Actress Pamela Anderson also shared the story on Twitter.

Maggie Michael, Maad al-Zikry, and Nariman el-Mofty received the 2019 McGill Medal for Journalistic Courage for "Yemen's Dirty War," a year-long series of Pulitzer Center-funded reports for the Associated Press. Photographer Nariman El-Mofty was also awarded the Overseas Press Club's Olivier Rebbot Award for best photographic news reporting from abroad for the project "Yemen: On The Edge." 

Shiho Fukada received the Overseas Press Club's Feature Photography Award for best feature photography on an international theme for her Pulitzer Center-supported project, "For Many of Japan's Elderly Women, Prison Is a Haven."
Pulitzer Center grantees Jacqueline Charles and Jose Iglesias won the AACR June L. Biedler Prize for Cancer Journalism for their Pulitzer Center-funded reporting on the inaccessibility of cancer treatment in Haiti. After this series on "Cancer in Haiti" was published in The Miami Herald, St. Damien Pediatric Hospital in metropolitan Port-au-Prince, where Haiti's only childhood cancer program is housed, started accepting teens over the age of 14 with pediatric cancer for free treatment.

Patrick Brown was awarded the 2019 FotoEvidence Book Award from World Press Photo for his photography documenting the Rohingya crisis, including the Pulitzer Center-funded "Survivors of the Rohingya Genocide" for Rolling Stone.  His book, No Place on Earth, will include a written essay by co-grantee Jason Motlagh. Brown was also nominated for the 2019 National Magazine Awards for Print Digital Media (Ellies), along with fellow grantees Ben Taub and Nahal Toosi. Toosi's project, "The Genocide the U.S. Didn't See Coming," focuses on the Rohingya and was featured in Politico Magazine.

Two of our grantees won 2019 George Polk Awards. Photographer Larry C. Price, along with contributing reporters for Undark Magazine, won the Environmental Reporting award for the Pulitzer Center-supported series "Breathtaking."

Ben Taub's Pulitzer Center-supported New Yorker piece, "Iraq's Post-ISIS Campaign of Revenge," earned him the George Polk Magazine Reporting award.  Ben Taub was also named the winner of the 2019 Ellie Award for excellence in reporting. Taub's winning project, "Shallow Graves," in The New Yorker investigates the Iraqi government's brutal quest for revenge after the fall of ISIS.
Martin Docherty-Hughes, a member of the U.K. parliament, also cited "Iraq's Post-ISIS Campaign of Revenge" as a roadmap for questioning the defense ministry on the use of British money, training, and equipment to Iraq, citing the story by name several times. A legal advocacy group called the MENA Rights Group used the piece as a guideline for a legal filing on behalf of alleged "ISIS families" to the U.N. Working Group on Arbitrary Detention.
After grantees William Freivogel and Jacob Ryan published stories as part of "Taken: How the Police Profit from Seized Property," the Pulitzer Center's ongoing collaboration investigating civil asset forfeiture around the United States, state legislators in Kentucky and Missouri proposed bills to reform their respective state's laws against unlawful seizures of property by police departments.

The Society of Professional Journalists (SPJ) has announced regional finalists for the 2019 Mark of Excellence Awards. Nine Pulitzer Center student fellows were recognized for their reporting: Caron Creighton, Julie De Meulemeester, Jacqueline Flynn, Paul LeBlanc, Jared Olson, Esohe Osabuien, Elham Shabahat, Samira Tella, and Meg Vatterott.

Student fellows received recognition and awards from the ProPublica Diversity Scholarship program, the ProPublica Emerging Reporters Program, the U.S.-Ireland Alliance Mitchell Scholarship program, and the Overseas Press Club Founation. Student fellows were also named as finalists for the Amnesty International USA Media Awards for student journalists and the Television Academy Foundation's College Television Awards.
RELATED ISSUES