Pulitzer Center Update October 18, 2016
Pulitzer Center's 10th Anniversary Celebration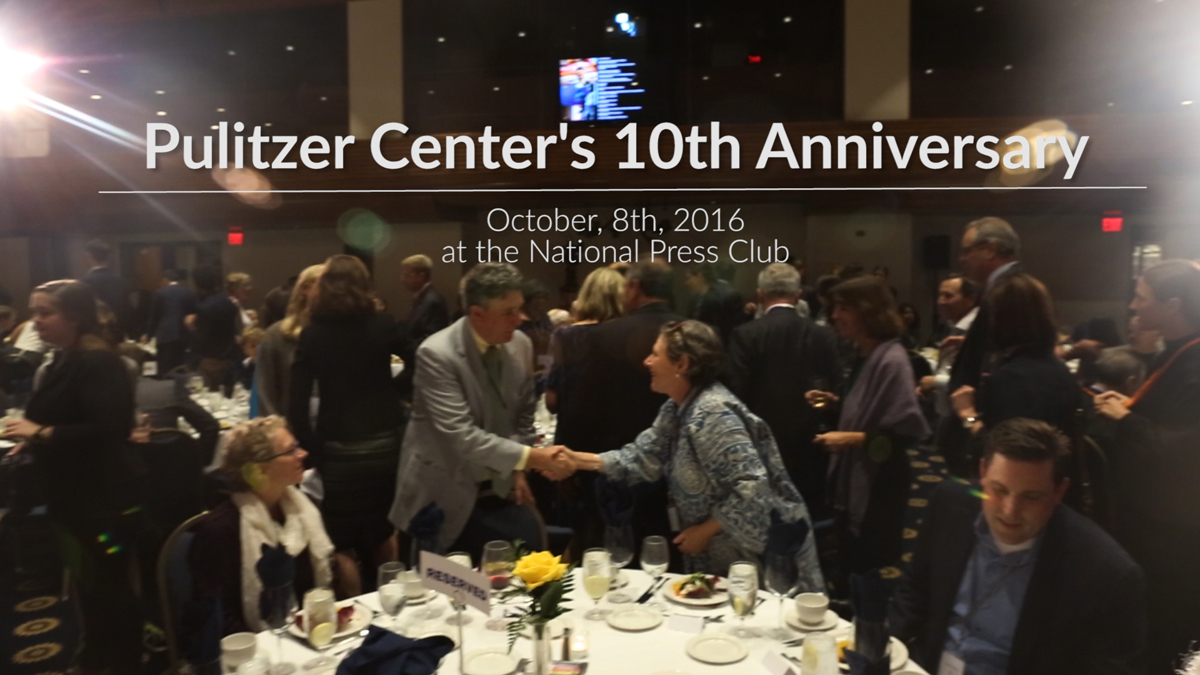 More than 200 grantees, student fellows, and education and media partners came together to celebrate the Pulitzer Center's 10th Anniversary at the National Press Club on October 8, 2016. All of the remarks made during the celebration dinner are online , as are summaries and full videos of the six panels held earlier in the afternoon.

With introductions during the dinner program by Managing Director Nathalie Applewhite and Executive Director Jon Sawyer, some of our grantees spoke about their experiences in the field and their gratitude upon return.

Photographer Tomas van Houtryve spoke his mind on the often disparate connection between journalism and money and what grant funding can provide for long-term reporting projects.

"Having an expense account just meant that I could fully concentrate on getting the story, rather than fretting and strategizing about money," van Houtryve said. "Having seed money to pursue ambitious projects became a real concern."

Van Houtryve spoke of the vital connection between the institutions that give the funding and their understanding of journalistic vision and integrity.

"Like many of the other freelancers here tonight, I initially came knocking on the doors of the Pulitzer Center for money. But, ultimately, I'm proud to say, what keeps me coming back is trust, admiration and friendship."

Reporter Ana P. Santos echoed Van Houtryve, saying that time is a valuable, yet habitually unattainable, commodity for long-form reporting.

"Grants from the Pulitzer Center give us the gift of time, to seek out and tell the untold stories. Giving voice to the forgotten and the overlooked, like migrant mothers in the Middle East and young Filipino au pairs in Europe," Santos said.

Santos discussed several of her reporting projects, including work conducted in her own country, The Philippines.

"When you look at my country, with four babies born every minute–by the last UN count–you'll see why we need more people like me, who spend more time talking and writing about sex, rather than having it," Santos said.

The New York Times Magazine Editor-in-Chief Jake Silverstein spoke at length of the monumental 42,000-word article by Scott Anderson, "Fractured Lands," with accompanying photographs by Paolo Pellegrin and virtual reality video by Ben Solomon. Silverstein addressed the lack of funding by major news organizations that allows reporters to pursue these long-term projects, and praised organizations like the Pulitzer Center for the creation of "a sort of laboratory of audacity".

"This is, undoubtedly, a new age of journalism that we're in. It's a challenged age. There are financial constraints unlike any we've faced in recent times and it's hard. And we have to be creative. And part of that creativity is in finding partners you can work with to amplify what you're trying to do," Silverstein said.

"That's true for everybody. It's true for small outlets and individual journalists, and it's even true for The New York Times. So, the Pulitzer Center has an absolutely huge role to play in all of this."

Sawyer recognized the dozens of journalist grantees gathered for the dinner. 

"You have brought us one incredible story after another, in many cases stories that would not otherwise have been told," he said. "You have taught us so much about how to harness the evolving tools of storytelling, how to engage the broadest possible public in these big global issues that affect us all."

Sawyer also noted a major theme of the evening, that the kind of journalism and education the Pulitzer Center supports is a public good.

"We are able to do this work only because of the generous support of foundations and individuals who understand that we need great reporting on big global issues – and that for many of these stories there is simply no commercial basis for getting that reporting done," he said. "It is a public good, one that requires support from individuals and foundations who are prepared to make that support available while allowing the full editorial independence that is essential if the journalism is to have value and impact."

To view all of the speeches at the Pulitzer Center's 10th Anniversary dinner, visit the full dinner program via YouTube.