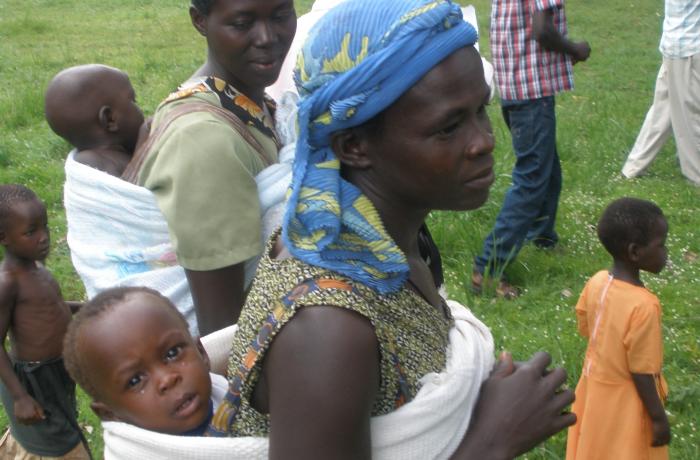 To view this newsletter in your browser, click here.

Dear Educators,

This week's lesson plans introduce students to the research for Roger Thurow's new book The First 1,000 Days, which explores the human impact of malnutrition in the first 1,000 days of a child's life. The book became available to the public last week and is a great way to start conversations with students about the rippling effects of malnutrition locally and globally.

News Bite Lesson: The Global Impacts of Malnutrition

This week's News Bite lesson plan utilizes videos, multimedia and the first chapter of Roger Thurow's The First 1,000 Days to explore how the dreams people have for their futures are impacted by what they eat, and how clean their environments are, from birth until they are two-years-old. The lesson also examines how Thurow structures written and filmed components of this project to emphasize different details. The plan concludes with a selection of extension activities that you can choose from to further student engagement in this topic through discussion, writing, presentation design and advocacy work.

Featured Lesson: Malnutrition in Guatemala

This week's featured lesson was written by Pulitzer Center interns Elana Dure and Seiler Smith and explores the challenges surrounding malnutrition in Guatemala. As part of the lesson, students examine resources from Roger Thurow and PBS NewsHour anchor Hari Sreenivasan's project "Guatemala: Hungry for Change." The project explores the growing numbers of malnourished, "stunted" children in Guatemala who are experiencing slow growth, poor school performance and, later in life, lower economic productivity. In addition to viewing short films, and synthesizing what they've learned into letters advocating for better international nutrition programs, students also reflect on their own vitamin take and examine malnutrition in their own communities.

Education News: DC History and Visual Arts Teachers Explore Using Pulitzer Center Resources in their Curriculums

Pulitzer Center staff and grantees presented professional development workshops for DC Public School (DCPS) visual arts and social studies teachers at Dunbar and McKinley Tech High Schools last week.

At Dunbar, 75 K-12 visual arts teachers explored a new middle school unit plan written in collaboration between DCPS and Pulitzer Center using the Center's Lesson Builder that focuses on photography skills and the role photography can play in encouraging perceptions of a community. Inspired by Austin Merrill and Peter DiCampo's Everyday Africa project, a photography initiative aimed at combating misperceptions of Africa by using Instagram to represent the everyday realities people from all over the continent, the Everyday DC unit plan will be part of the DCPS visual arts curriculum next year. Merrill came down from New York City to kick off the unit presentation and began by asking teachers to analyze their own perceptions/misperceptions of Africa.

"What's the first thing you think of when I say 'Africa,'" he asked?

"Conflict. The Lion King. Hunger. Poverty. AIDS. Misunderstood," teachers responded.

Merrill presented a word cloud (see below) representing how a group of students in Mombasa, Kenya responded when he asked them what they think of when they hear the word 'Africa.' The most common answers were culture, diversity and wildlife.

Teachers moved into a reflection about how media contributes to an understanding of a place. This got the teachers thinking about how DC is represented in the media, and ultimately to a debate about how photography could be used to change the narrative of DC. It was then revealed that the mission of the Everyday DC unit is to engage students in that same debate, and then to guide them towards photography exhibitions representing their realities of DC.

"How many of you are interested in using this project and working with the Pulitzer Center next year," Senior Education Manager Fareed Mostoufi asked at the conclusion of the unit presentation. Over half of the room raised their hands.

At McKinley Tech, grantee Oren Rudavsky led teachers in a discussion about the benefits and challenges of teaching the Israeli-Palestinian conflict to students, explaining that current international reporting can provide the much needed context lacking in many textbooks. He was invited by the social studies department at DCPS to provide context for a 10th grade World History standard that asks students to describe the process and impacts of Israel's establishment after World War II.

Rudavsky screened two clips from his film "Colliding Dreams" about the history of Zionism and the Middle East conflict.

"We're trying to give both narratives their due and maybe that leads to conflict in the classroom--or conversation," Rudavsky said, addressing a teacher's earlier concern that if she doesn't "tread lightly" over the topic, she may offend students with strong ties to the conflict.

At the conclusion of both clips, Rudavsky asked the 18 teachers in attendance how they would use the film in their classrooms. One teacher said the film could help students contextualize the Holocaust. Another said the clips give students the opportunity to make connections between the ways Jews were treated in Eastern Europe and the ways African Americans were treated in the South with Jim Crow laws.

Giving unsolicited testimony to the good work that Pulitzer Center lessons and grantees do in the classroom, School Without Walls at Frances Stevens art teacher Carmen Jenkins Frazier closed the visual arts session by sharing the success she saw when connecting Pulitzer Center journalists to her photography club this spring.

"Please, please use this free resource," she said. "It's free!"

If you are interested in hosting a professional development at your school to explore using Pulitzer Center resources in your curriculum, please contact [email protected].

Featured Project of the Week: The First 1,000 Days by Roger Thurow

Click here to learn more about journalist Roger Thurow and his project about the first 1,000 days of a child's life. Create your own lesson plan using Roger's work with our Lesson Builder.

Want more education news? Sign up for our newsletter here.
RELATED ISSUES