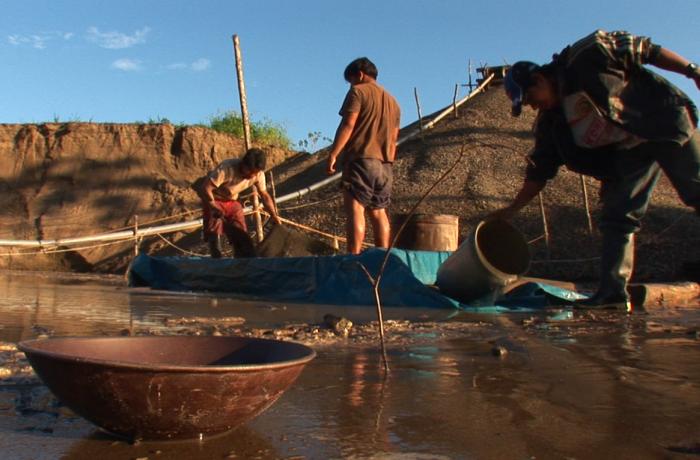 "What is the true cost of gold? Is it paid for in currency per ounce or in the blood, sweat and toil of those who mine it? Or is the ultimate cost paid by the environment which is desecrated to find it?"

These were the questions that came to mind when Heide Vella, a feature writer Mining-Technology, recently interviewed award-winning journalist and Pulitzer Center Senior Producer Stephen Sapienza about his experience in Peru where he reported on artisan gold mining. A third of a million Peruvians make their living from gold mining, but illegal tactics and deforestation methods are damaging the environment and inflicting health risks on the local population.

In 2011, Sapienza traveled to the Madre de Dios region in Peru in search of artisan miners, who were battling the government after illegal mining was met with violence. In the interview with Vella, he discusses the health hazards, social pressures and lack of government oversight associated with artisanal gold mining in Peru, and the need for sustainable small-scale mining in places like Madre de Dios.

In Peru, a country with a 30 percent poverty rate, informal gold mining has offered a third of a million Peruvians a chance to make a living. With few government regulations on mining, rising gold prices, and new miners joining the hunt for gold each day, Peru faces growing environmental, health, and security challenges as a result of this informal or small-scale mining.

While in Madre de Dios, Sapienza reported on the wanton environmental destruction caused by unrestricted, wildcat gold mining in one of the most pristine virgin rainforests on earth. It is the story of Peruvian law enforcement, concerned scientists, and local NGOs, who face near impossible odds in their attempts to halt the deforestation and deadly mercury pollution caused by illegal gold mining in the region.

He compares and contrasts the lives of the gold co-op members with the endemic poverty and dangerous conditions faced by small-scale miners. Sapienza's reporting also provides viewers with an inside look at the novel approach to mining gold that offers consumers an alternative to buying gold that was extracted through environmentally unsafe or exploitative means.

Pulitzer Center recently published "Tarnished: The True Cost of Gold," an e-book which details the human and environmental struggles behind the global gold industry. Sapienza was one of eleven journalists who traveled to 10 countries, from Peru to the Philippines, to tell the stories of people whose way of life is threatened by gold mining and who are fighting back.

The stories in this book detail the human and environmental struggles behind the global gold industry. "Tarnished: The True Cost of Gold" is available for free download on iTunes and is also available on Amazon Kindle.