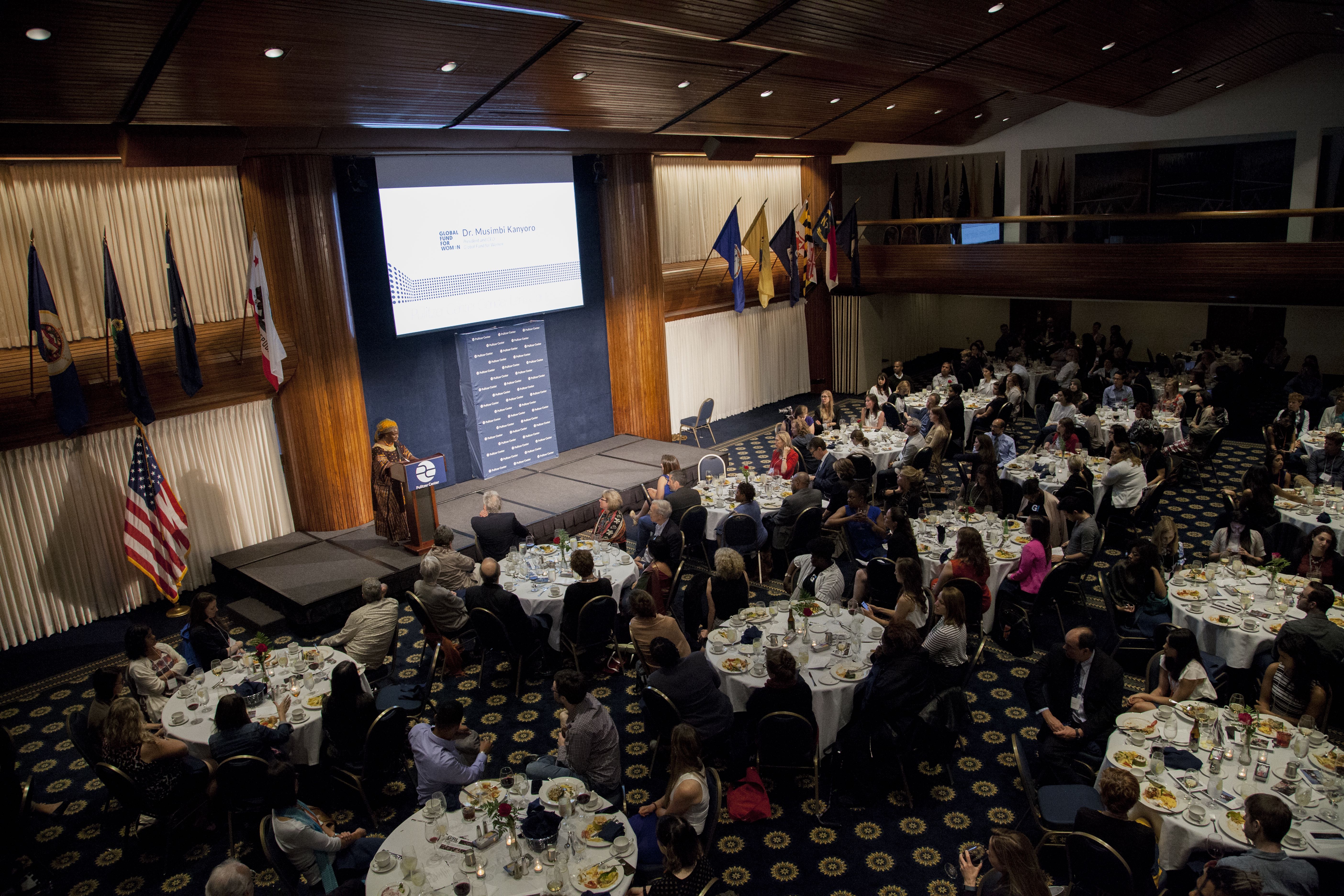 "We have always been focused on supporting reporting that digs beneath the surface to uncover the root causes of crises that do make headlines. As a result, gender issues consistently cut across so much of our reporting since our earliest days. We hope these conversations, and our program this evening, will help spark ongoing dialogues and connections around the issues introduced," said Pulitzer Center managing director Nathalie Applewhite during the Gender Lens conference evening program.
The Pulitzer Center held a special dinner program for the Gender Lens Conference on June 3, 2017, with keynote speakers Dr. Musimbi Kanyoro, president and CEO, Global Fund for Women, Susan Goldberg, editorial director, National Geographic Partners, and editor in chief, National Geographic Magazine, and Ben Taub, Pulitzer Center grantee and staff writer for The New Yorker, and a special performance by Girl Be Heard inspired by Pulitzer Center reporting.
Jon Sawyer, Pulitzer Center executive director, welcomed journalists, news-media and education partners, and those new to the Pulitzer Center community, with thanks to the Foundation for a Just Society, a principal donor in our reporting on gender issues, and to the Henry Luce Foundation, the Kendeda Fund, and other donors who support the Pulitzer Center in broadening our focus on these issues.
"We're so glad you're here—and we hope so much that you'll become more deeply involved, in our journalism, in our educational outreach, and in our mission overall—to engage the broadest possible public in the big global issues that affect us all," Sawyer said.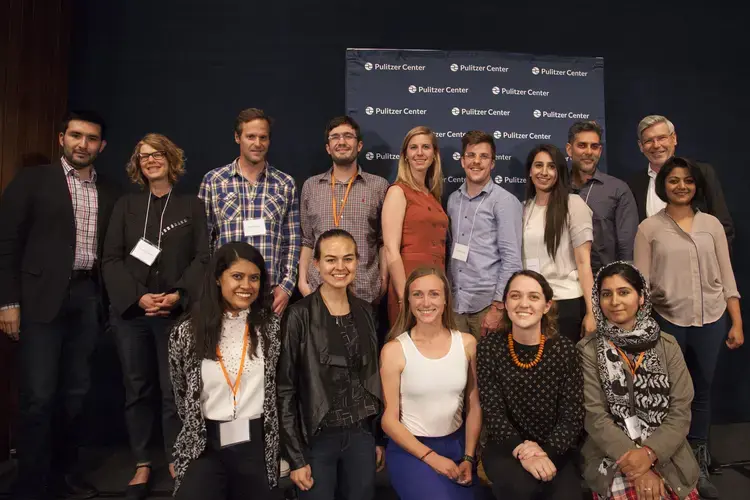 Sawyer also recognized freelance journalists from across the U.S. and from Venezuela, El Salvador, and India, who are participting in a five-day hostile environment and first-aid training course, beginning June 4, 2017, in Pennsylvania. The Center will support another group of 15 freelancers who will receive similar HEFAT training this August in Northern Ireland. Both trainings are funded by the Pulitzer Center, The New York Times, and A Culture of Safety Alliance (ACOS).
"We're so grateful to ACOS—and to David Rohde, the journalist who serves on both our boards, for leading the drive to make freelancer safety and training a core issue for journalists and media outlets alike," Sawyer said.
Applewhite noted the thread of a gender lens throughout the reporting the Center supports. "In fact, our first Issues Gateway was Women and Children, which pulls from a number of reporting projects around the globe that illuminate the adversity and outright crimes endured by women and children, as well as creative responses to these challenges."
As a special performance, Girl Be Heard, a youth group that focuses on social justice issues, based their work on Pulitzer Center reporting on gender as a departure point for the program.
Together, the young women presented spoken word, song, and movement scenes based on Ben Taub's documentation of the journey of teenage girl's route to Europe amidst trafficking; Cassandra Vinograd's reporting in South Sudan on children being forced to become soldiers; student fellow Julia Boccagno's stories on the transgender experience in Thailand; and Amy Toensing's photography of widowhood around the world. With courage and grace, Girl Be Heard honored the stories of trauma and resilience, and brought the people's experiences to life. (Please note that their performance was inspired by the reporting and is not meant to reflect a literal translation of it. Creative interpretation was used in the process and the performances do not necessarily reflect factual representations of the original reporting.)
Kanyoro provided a set of practices to keep in mind when journalists write a story, take a photograph or begin to develop a pitch or proposal for funding.
"It's such an honor to be in this room with so many inspiring journalists and leaders working on some of the most pressing issues of our time. From peace and security to global health and the refugee crisis, the challenge for all of us here is how to apply a gender lens to reporting, to photography, to research and analysis on these issues. What we all understand is that gender is inextricably connected to all of these issues and so many more," Kanyoro said.
She challenged the audience to bring a woman's perspective in quotes or telling the story of a woman or girl to illustrate reporting topics, urged people to challenge gender norms through their stories, through word choice, such as swapping the word "victim" for "survivor," and asked that people stop idealizing women's stories of resilience as newsworthy.
"All women are resilient most of the time," she said, sparking applause.
"These are things you can use gender lens or use other lenses for justice. I would like to thank the Pulitzer Center for the leadership that you are providing in creating a new way of actually reporting. I have been impressed by what I have heard from the people on panels, I have been impressed by the kind of scholarship in the gender lens and the new formation that you are making into the future. I know if we are careful and wear gender lens glasses, we will make the world better," she concluded.
Welcoming Goldberg, Applewhite said: "Susan has been a true pioneer in the space as a women in the field of journalism. Susan alongside so many at National Geographic, have helped us develop very strong partnerships with the magazine and the news division, on dozens of projects over the years."
"At National Geographic we have a saying, we believe in the power of science, exploration and storytelling to change the world. We do that everyday, and great opportunities every month in our magazine, and over and over again we have had the opportunity to make a difference because of partnerships that we've had with the Pulitzer Center. We've had more than 70 major stories that we have partnered with them on," Goldberg said. "One of the largest stories that we have partnered with them have been stories that have involved gender. It is the story about widowhood around the world. In many parts of the world, widowhood plays out as a dire example of gender inequality, where the husband's death becomes the death of the women's wealth. Women who are in a state of widowhood are cast out, their possessions, land and children can be taken from them."
Taub spoke about his recent works made possible by funding from the Pulitzer Center, including an award-winning investigative story about Syria, a story with the potential to lay out the war crimes of President Bashar al-Assad in a way that had never before been done, and his most recent ambitious attempt to get at the roots of Europe's migrant crisis and its effect on women and children.
"As with every project I have done for The New Yorker, the reporting process for this piece began as a series of fumbled steps, or missteps, which led me to discover something I had never considered looking into—not because I had dismissed it, but because I hadn't known that it existed, or of its urgency," Taub admitted.
His advice to journalists was to consider the following in their reporting:
"What obsession keeps you awake at night and hijacks your thoughts during quiet moments in the day? What awful or beautiful thing did you alone learn, because you were there? This is the project you must take on. Research it like mad and write, desperately, until you can let it go," Taub "And most of all, be ever careful not to tread on the rights or dignity of anyone you meet. Try to imagine all the ways in which your work could hurt the most vulnerable among them, so that it does not," he said.
He went on to share advice he learned from his own mentors along the way.
"Be confident and uncompromising in your pursuit of the truth, but never forget that all facts require context, and history, and rigorous interrogation. Keep in mind that the people you encounter in difficult places may be unaware of the ways in which their lives intersect with broader networks or mechanisms, and when that is so it is your responsibility to build the context on your own," he said.
"And most of all, be ever careful not to tread on the rights or dignity of anyone you meet. Try to imagine all the ways in which your work could hurt the most vulnerable among them, so that it does not," Taub concluded.