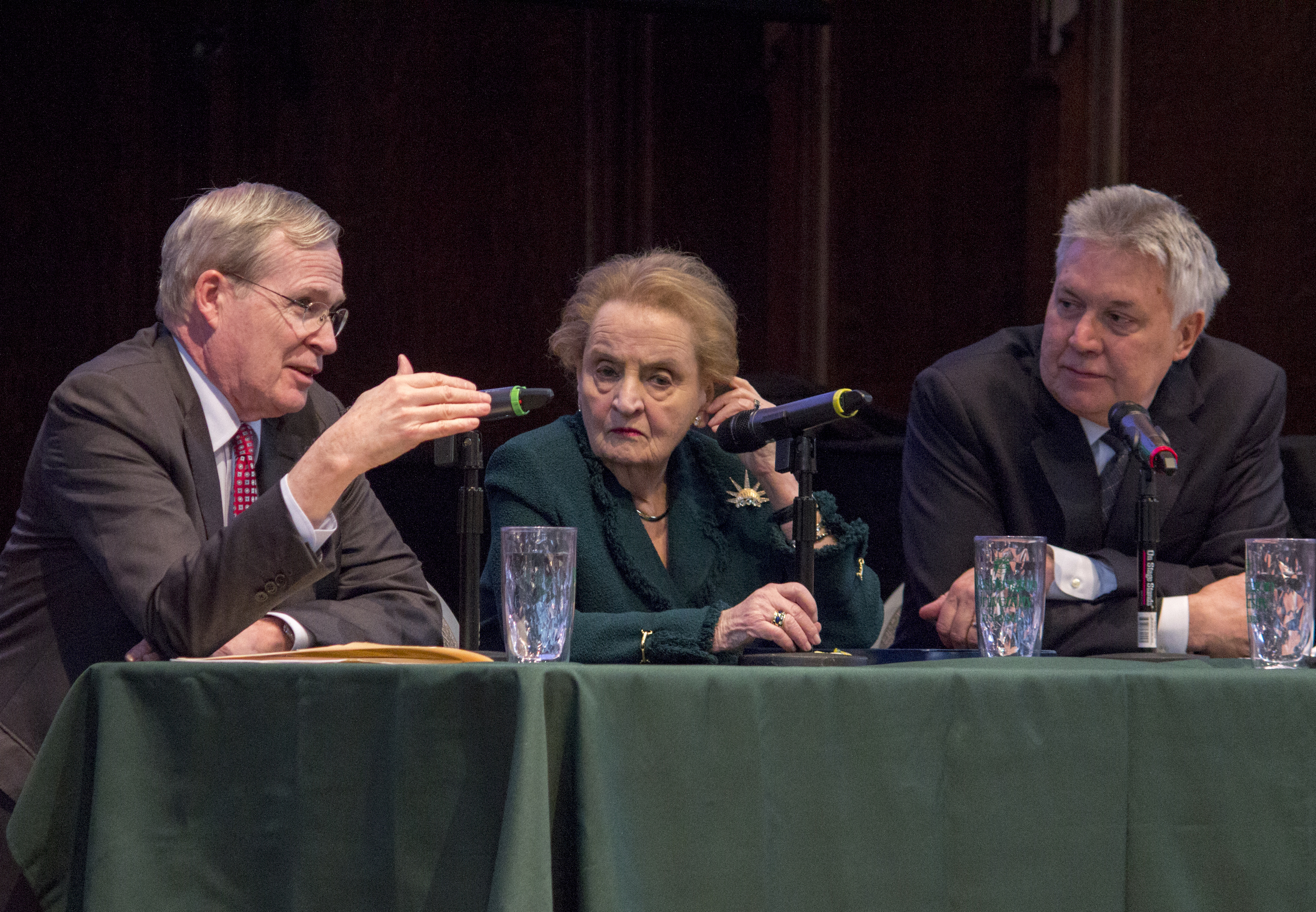 Sunlight streamed in through stained glass in the Graham Chapel at Washington University in St. Louis where diplomatic leaders would soon shine light on the global crisis in the Middle East, for some 500 students and faculty.
On Wednesday, February 8, 2017, Jon Sawyer, executive director of the Pulitzer Center, moderated the first of a series of campus lectures involving Madeleine Albright, secretary of state under President Bill Clinton, and Stephen Hadley, national security advisor under President George W. Bush—co-chairs of the Middle East Strategy Task Force (MEST), a two-year initiative of the Atlantic Council's Rafik Hariri Center. The speakers later spoke to more than 600 students and faculty at Nerinx Hall High School in Webster Groves, MO.
In his introductory remarks Sawyer quoted from the Task Force conclusion, that "there is nothing inevitable or unfixable" about the problems of the Middle East. He said the fact that the task force was led by distinguished states-persons of both parties "gives us hope that perhaps 'there is nothing inevitable or unfixable' about the political polarization within our own country, too."
In the 11 years since the Pulitzer Center began, no issue has received as much of its attention as the Middle East, from coverage of wars in the region to tensions with Iran, the Arab Spring, and the most recent refugee exodus.
The St. Louis events were the first in a series of lectures organized by the Pulitzer Center in collaboration with the Atlantic Council. In his introductory remarks Sawyer noted that the work of the task force had taken place against the backdrop of spiraling violence across the Middle East, a flood of refugees larger than at any time since World War II, and a presidential campaign in the United States that upended every expectation and left the U.S. more divided than ever.
Discussion at both schools focused on the role of the United States in aiding countries that have initiated steps of their own toward a more peaceful, prosperous future, supporting local efforts and encouraging regional leaders to view their own people as key partners.
"There are all kinds of people who want to step forward and take responsibility and fashion the future for their countries. We've found local officials also want them to have a role," Hadley said.
Nerinx Hall High School
The Pulitzer Center has been bringing journalists to Nerinx Hall for nearly a decade.
Teacher Karen Johnson-Budd has been a key partner in engaging the all-girls student body with Pulitzer Center journalism. She reflected on the connections made: "The Pulitzer Center speakers have educated, enlightened and entertained us. This year is no exception. Once again the Pulitzer Center is giving us a chance to better understand our complicated and often chaotic world."
Albright dazzled the students packed into the auditorium, beginning her remarks by noting that she had researched the school and had chosen an all-green ensemble—from dress to stockings to shoes—to show off her Nerinx Hall green. She also recalled that her first job was in Missouri, as an all-purpose feature/ad/obit writer at the Rolla daily newspaper. 
"It's a long way from Rolla to our subject today which is the Middle East," Albright said. "Whether we like it or not, we are all affected by what happens in that region of the world. It is combustible and consequential for all of us. We both can attest, it is the most difficult problem we have come across in our careers because it is not just a crisis in the Middle East, it is a crisis of the Middle East that is affecting the entire globe, including the United States," Albright said.
Hopeful for the future, Albright noted the evolving influence of the youth and local leaders in the Middle East. "Some leaders are beginning to recognize that its region's largest resource is not its oil, but its people. The days when outside powers could dictate the affairs of the Middle East are over. We recognize and indeed we welcome that reality and that is why our report calls for a new strategic approach emphasizing partnership."
Students Ask: What Comes Next in the Middle East?
Students also sought to understand what led to this cycle of crisis. The question on many minds was the impact the current travel ban has or could have on the Middle East.
"One of the things that those of us in working in the government always believed is that you need to know what could go wrong. What are the unintended consequences? One of the things I teach my students to do is to write what are the arguments against what they're suggesting," Albright said.
One student voiced the admiration of many: "What an honor it is for us to have you here, such a strong female role model. Something we really need in a time like this. How do you think that having an all girls education has impacted your career and your character?"
Albright spoke highly of her experience both at an all-girls high school and Wellesley College:
"I never expected to be who I turned out to be. I am an immigrant, I came here what I was 11 years old . . . What I used to do, wherever I went, was start international relations clubs—and make myself president."
"I treasure the fact that I had the honor to be able to talk on behalf of the United States, and to finally use that voice that I had studied to develop. I am not going to be silent now, and I have not been silent...I'm going to speak out about the importance of recognizing what America's role is in the world. It can't be America first because if that is what it is, we are the losers."
Hadley offered this advice for students: "We actually thank you for the opportunity to be with you because you are the future of this country," he said. "The responsibility for all these issues is coming your way. You are now preparing yourselves to take on that responsibility . . . I think it is terribly important as you move forward, and move through college and after, be engaged in politics, be engaged in the public debate, support candidates—Vote, for heaven's sakes! If we've learned anything, use your vote."
He noted the importance of giving back through public service at local and national levels. "If you ever have the opportunity like Madeleine and I had to represent our great country on the world's stage, take it, because there's nothing more thrilling and more rewarding than representing the United States of America" he said, to resounding applause.
Albright concluded on a hopeful note, focusing on inclusion and bipartisanship: "This has been so much fun and really terrific to see so many smart and engaged people, and those give us hope, there is no question. You've shown not just your interests but your probing to ask the difficult questions. I think we don't get anywhere if we don't ask the difficult questions. Stephen and I are from different parties. We have worked very hard for this to be a bi-partisan or nonpartisan report because we believe that this country has to come back together and you all are the ones that can make that happen."
Sawyer said that in his view Nerinx Hall, an all-girls Catholic school, was a perfect venue for this event.  "Nerinx has been one of our most engaged, brightest, and best partners, and I know that every one of the journalists we've sent has been thrilled to be here [because of] the quality of your questions, your commitment, and how much you care about being involved in the world. I thought, what better place for the first woman secretary of state to come to speak as part of this tour than to be here at Nerinx Hall."
This visit to St. Louis is the first in series of lectures Madeleine Albright, Stephen Hadley and Jon Sawyer will have across the country, bringing a diverse set of Pulitzer Center partner schools into conversation about evolving issues in the Middle East.










RELATED ISSUES